We're into the second week of our salad days, and for this stretch Ren made this fantastic Greek-inspired bread salad with feta cheese. I've never had bread salad of any kind before so thought this to be an intriguing dish.
Unlike croutons that are hard and crunchy like glass, the bread in this salad has a firm exterior but soft, spongy interior. It soaks up the lemon-oregano dressing, so when you bite into it, the bread gently gives, releasing the juices from its center. It's a pleasant texture that only a good crusty bread can achieve.
To finish off the dish, the soft, creamy crumbly feta cheese imparts its signature sharpness, giving you a bright and refreshing salad reminiscent of the Mediterranean.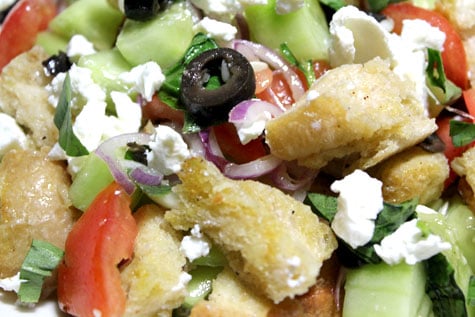 Ingredients
For vinaigrette
1/2 tsp Dijon mustard
3 Tbsps fresh lemon juice
1/2 cup good olive oil
1/2 tsp ground oregano
1/2 tsp kosher salt
1/4 tsp white pepper
For salad
3 Tbsps olive oil
1 small crusty French bread, torn into bite-size pieces (2 cups)
1 tsp kosher salt
2 ripe tomatoes, cut into 1 inch cubes
1 cucumber, peeled and sliced 1/2 inch thick
1 small red onion, cut in 1/2 and thinly sliced
3 Tbsps sliced black olives (preferably Kalamata)
1/4 cup feta cheese, crumbled
Bunch of basil leaves, torn
Directions
Heat oil in large saute pan. Add bread and salt. Cook over low to medium heat, tossing frequently, for 10 minutes or so until nicely browned. Add more oil as needed.
For vinaigrette, whisk all ingredients together.
In large bowl, mix tomatoes, cucumber, red onion, black olives, and basil. Add bread cubes and toss with vinaigrette. Season generously with salt and pepper.
Crumble feta cheese over salad and serve, or allow salad to sit for about half an hour for flavors to blend.
DID YOU KNOW?
That feta cheese is a source of national pride for the Greeks? Deemed by EU legislation as a protected designation of origin (PDO) product in 2002, only cheeses produced in a traditional way in some areas of Greece – mainland and the island of Lesbos – may bear the name "feta". They must also be made from sheep's milk, or a mixture of sheep's and goat's milk (up to 30%) from the same area.