Crispy Shredded Lamb and Mushroom Farrotto
As promised, Ren used the farro perlato sent by her brother to make this beautiful, rustic dish of crispy shredded lamb and mushroom farrotto‏. "Farrotto" is a funny, slightly awkward sounding portmanteau word for "farro risotto."
I've never had farro before so eagerly looked forward to this dish. I've read that many people didn't like the texture of farro grains, and I can understand why, but I personally didn't mind it. It's chewier than most grains, with a thicker hull that gives it added bite. I thought its texture went very well with the sponginess of the mushrooms and the crisp, smoky gaminess of the seared, shredded lamb.
The farotto draws in a lot of water, making this a very hearty and satisfying dish. When Ren gets in her groove and starts whipping up these rustic Italian dishes with lamb as the protein, you know that you're in for an inspired, heartwarming plate of food. 😉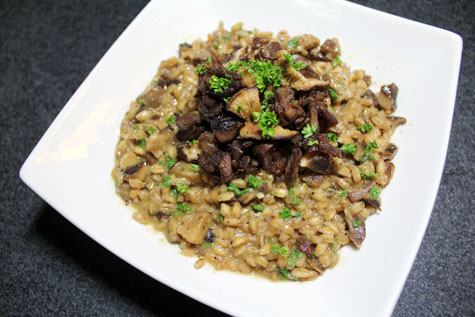 Perfectly cooked farro risotto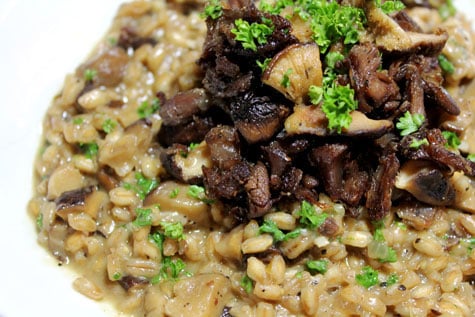 Crisp, shredded bits of lamb. Think twice cooked adobo texture but with the gaminess of lamb.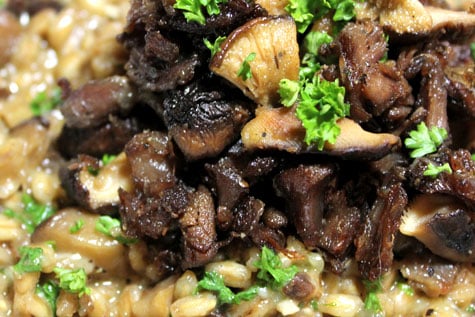 Ingredients
250 g lamb shanks, braised and shredded (braising liquid ingredients and recipe below)
1 cup rehydrated dried mushrooms, finely diced (liquid reserved and strained)
4 Tbsps butter
3 Tbsps extra virgin olive oil
2 cloves garlic, minced
1/2 cup finely chopped shallots or white onion
1 Tbsp fresh thyme leaves or 1/2 teaspoon dried thyme
1 cup farro perlato (can substitute quinoa or barley)
1/2 cup white wine
3 cups combined reserved and strained braising and mushroom liquids
1/2 cup parmesan cheese, grated
1/4 cup all purpose cream
Sea salt and freshly ground black pepper, to taste
2 Tbsps chopped parsley plus extra for garnish
For Braising Liquid
1/2 cup beer or white wine
1 Tbsp soy sauce
1/2 Tbsp Worcestershire sauce
6 cloves garlic, crushed
1 onion, quartered
2 bay leaves
1 tsp peppercorn plus sea salt to taste, if needed
Enough beef or chicken stock to cover 2/3 of lamb placed in a single layer in a pot
Directions
Prepare and braise lamb shanks preferably a day in advance.
Brown lamb shanks in olive oil before pouring in braising liquid. Braise for 1 to 1 1/2 hours or until fork tender. When cooled, refrigerate until ready to use.
Remove surface fat that has formed, then transfer lamb meat to plate and shred to pieces. (Make sure you also scoop out marrow if any and set aside.) Reserve braising liquid, strain and set aside.
Combine liquid used in soaking dried mushrooms and reserved braising liquid to make 3 cups. Add chicken broth if needed.
In heavy, large non-stick skillet over medium high heat, heat 1 Tbsp butter and 1 Tbsp olive oil. Add shredded lamb and leave to fry for a few minutes, until browned and crisped. Transfer to plate.
Heat another 1 Tbsp butter and 1 Tbsp olive oil then add mushrooms. Season to taste with sea salt and black pepper and transfer to plate with lamb.
Heat remaining butter and olive oil. Saute onions until translucent then add garlic. Sprinkle fresh or dried thyme.
Add farro and stir for a few minutes. Pour wine and stir until liquid is completely absorbed.
Start adding 1/2 cup of broth, making sure you stir constantly while allowing farro to completely absorb the broth before adding next half cup. This will take around 25-30 minutes.
When last half cup is almost absorbed, add half of lamb and mushrooms and stir to combine until fully incorporated. Turn off heat.
Add cream, parmesan cheese, marrow (if any), and parsley. Adjust seasoning to taste with sea salt and freshly ground black pepper. To serve, transfer to individual bowls or plates and top with remaining lamb and mushrooms and parsley to garnish.
DID YOU KNOW?
That emmer wheat (Triticum dicoccum), or farro as it is known in Italy, is higher in fiber than common wheat? Because of its higher fiber content, its becoming increasingly popular as a pasta-making component in response to the health food trend.