Linguine with White Clam Sauce
Something's fishy here. Ren knows I'm a seafood guy and she's been whipping up these fantastic seafood dishes week after week. First it was the baby octopus, then the mussels, and now these succulent baby clams with linguine in an exquisite white wine reduction sauce. Either I'm doing something right or there's something that she wants from me. 😀
I'm partial to tomato-based sauces so regrettably don't get to enjoy pasta dishes like this one very often. Light and crisp with some depth from the anchovies and a hint of acidity from the dijon mustard and calamansi, the flavors from the white wine reduction are more refined so as not to overpower the pasta, which usually happens with heavier tomato-based sauces.
We Filipinos are so accustomed to strong, bold flavors that the sensations from eating perfectly cooked al dente pasta often go unnoticed. A dish like this serves to accentuate that subtlety in flavor and texture and makes you appreciate just how enjoyable simple pasta can be. As Mario Batali likes to say, "the pasta should always be the star," and that certainly is the case here.
Speaking of stars, if this recent seafood trend is any indication, it just might be written that a lobster is coming my way soon.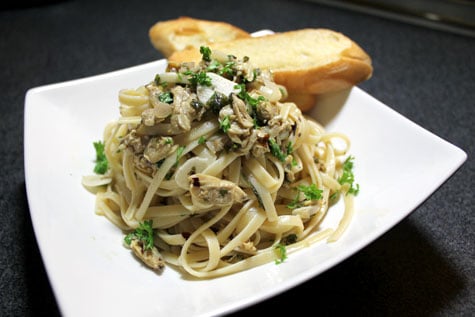 A beautifully plated dish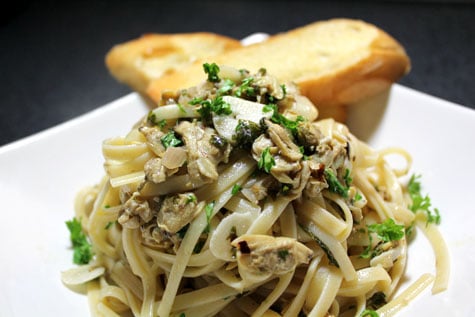 Ingredients
2 Tbsps butter
1 Tbsp extra virgin olive oil
6 garlic cloves, very thinly sliced
1 tsp crushed red pepper
4 anchovy fillets
1 red onion, caramelized and finely chopped
1/2 cup white wine
1 (250g) can of baby clams, juice reserved
Reserved juice of baby clams plus water to make 1 cup
1 Tbsp dijon mustard
1/2 Tbsp calamansi juice
1 Tbsp butter, to finish
350 g linguine
Sea salt and white pepper, to taste
Chopped parsley, to serve
Directions
Cook linguine until al dente, reserving about 1/4 cup of pasta water. Drain completely. Drizzle 1 Tbsp olive oil onto pasta and toss to coat. Set aside.
Heat butter and olive oil in large skillet over medium high heat. Add garlic and saute until fragrant. Add crushed red pepper and anchovy fillets and cook until anchovy melts into sauce. Add caramelized onion.
Pour wine and let reduce to half. Add clam juice with water, dijon mustard and calamansi juice. Let boil for 3 minutes, then add baby clams. Cook for 1 minute more or until clams are just heated through.
Turn off heat and add butter to finish sauce. Season to taste with white pepper and sea salt if needed.
Add linguine to skillet and toss until sauce sticks to pasta. Add pasta water if too dry.
Sprinkle chopped parsley and some more extra virgin olive oil. Toss again and serve.
DID YOU KNOW?
That a specimen of the Arctica Islandica clam, commonly known as the Ocean Quahog, holds the record for being the world's oldest living animal? Known for their exceptional longevity with many specimens living over 100 years, the record-holding clam, caught off the coast of Iceland, was discovered to be at least 405 years old.