Mussels with Tomato-Saffron Butter
True to her word, Ren made me this fabulous Moules Marinières dish as promised following our meal at Tender Bob's a few weeks ago.
Frequently looking to the masters for ideas, what better chef to draw her inspiration from for this classic French recipe than a master French chef renowned for his seafood dishes? One of our favorite celebrity chefs, the venerable but always humble Eric Ripert published the original recipe for this dish in his book: Avec Eric: A Culinary Journey with Eric Ripert.
Being as creative in the kitchen as she is in other places ;), Ren added her own twist, resulting in a beautiful interpretation of this classic French dish. I believe she would have done Eric proud.
With its tenacious aroma, the mildly spicy and pleasantly bitter saffron flavor shines through along with the bright, sour-sweet acidity of the calamansi. Subtle and unassuming but with burts of bold vibrant flavor, this is a quietly confident dish without any pretense, much like the man who inspired it.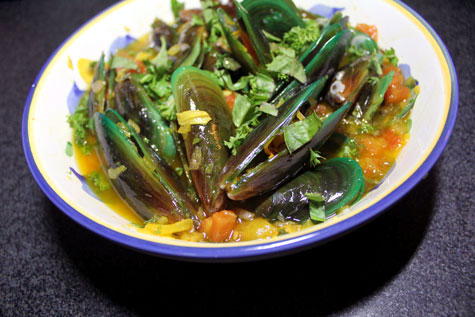 Peek-a-boo I see you…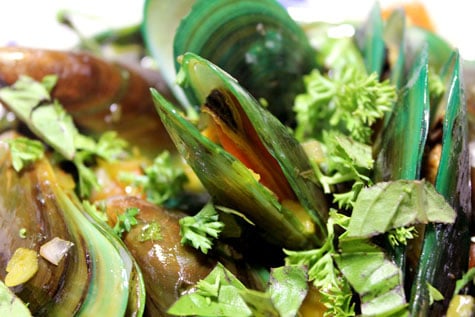 Adapted from "Avec Eric: A Culinary Journey with Eric Ripert" by Eric Ripert.
Ingredients (serves 2-4)
1 tsp (tightly packed) saffron threads
2 Tbsps fresh calamansi juice
4 Tbsps soft unsalted butter
Fine sea salt and freshly ground black pepper
1 kilo mussels
3 Tbsps extra virgin olive oil
2 garlic cloves, sliced
3 shallots, finely chopped
4 tomatoes, peeled, seeded and diced
1/2 cup dry white wine
3 Tbsps chopped Italian parsley
Crusty bread
Directions
In small mixing bowl, steep saffron in calamansi juice for 5 minutes. Add softened butter and whisk until fully blended.
Season to taste with salt and pepper.
Scrub mussels well under cold running water, discarding any with broken shells. Remove beards from mussels.
Heat olive oil in heavy large skillet over medium-high heat. Add garlic and sauté until lightly toasted, about 1 minute. Add shallots and sauté until translucent. Add mussels, tomatoes, white wine and parsley. Toss to combine. Add saffron butter, cover skillet and cook mussels until they all open, about 3 minutes.
Season to taste with salt and pepper. Serve in bowls with crusty bread.
DID YOU KNOW?
That Eric Ripert's flagship restaurant in New York City, Le Bernardin, which is ranked among the best restaurants in the world, holds maximum ratings of four stars from the New York Times, and three stars from the Michelin Guide?