Zucchini with Pecan and Fig Loaf‏
Ren has been making this on occasion and I have to admit that I wasn't too thrilled with the idea at first. I'm not partial to dessert to begin with, so I couldn't get excited about a vegetable being baked into something sweet. Give it to me fried a la Carl's Jr! 🙂
One bite though and I was a changed man. Zucchini, when grated and mixed into the batter, adds moisture and a soft texture to what is essentially a spice loaf. You can throw in some figs, pecans and other interesting add-ons as well to create your own unique blend of flavors and textures.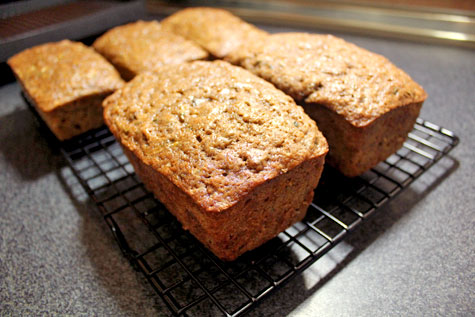 This was made with black mission figs.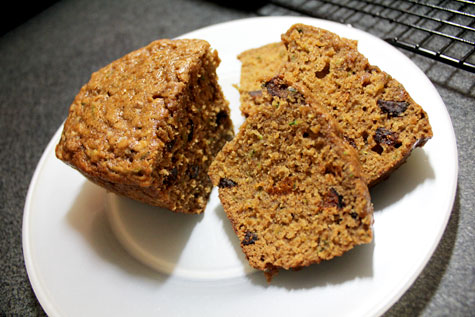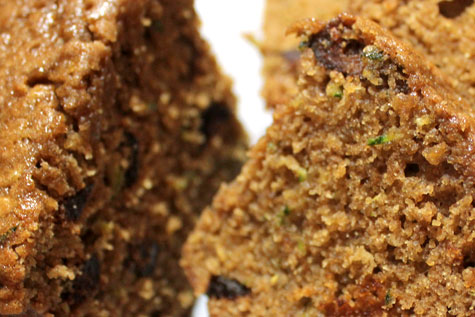 This one was made with pecans.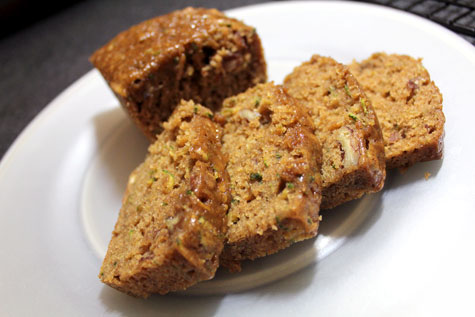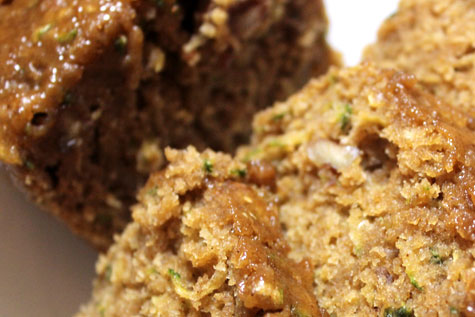 Ingredients
1 1/2 cups all-purpose flour (spooned and leveled)
1 cup packed dark-brown sugar
2 tsps baking powder
1 tsp ground cinnamon
1/2 tsp salt
1 zucchini (10 ounces), coarsely grated (1 1/2 cups)
1/3 cup vegetable oil
2 large eggs, lightly beaten
1 tsp pure vanilla extract
Add ons: 1/2 cup chopped nuts and/or 1/2 cup chopped figs
Directions
Preheat oven to 350 degrees F.
In medium bowl, mix together flour, brown sugar, baking powder, cinnamon, and salt. Mix in add ons.
In another bowl, combine zucchini, oil, eggs, and vanilla. Add to flour mixture, and mix until just combined (do not overmix).
Pour into one standard loaf or into 2 mini loaf pans. Bake until toothpick inserted in center of loaf comes out clean, for standard pans about 50-55 minutes, for mini loaf pans about 40-45 minutes.
Cool in pan on wire rack for 10 minutes. Turn loaf out, right side up, and cool completely.
DID YOU KNOW?
That despite zucchini being treated as a vegetable in a culinary context – ie it is usually cooked and presented as a savory dish or accompaniment – that botanically it is actually an immature fruit, being the swollen ovary of the female zucchini flower?