Deconstructing Chicken Tikka Masala
I LOVE chicken tikka masala.
During my college days in Washignton, DC, my buddy Tony and I would eat at Aditi Indian Cuisine on M St. every 2 weeks or so. Chicken tikka masala would always be on our table. When I moved to San Francisco after college, my non-American friends and I would eat at Indian Oven on the corner of Haight and Fillmore Streets every Thanksgiving. And what would we have instead of turkey? Chicken tikka masala. For those unfamiliar with the dish, it's a tomato-based curry like murgh makani (butter chicken), but made with boneless grilled pieces of chicken meat.
Instead of the usual lemon or lime, Ren was experimenting with calamansi to add some acidity. She had me sample a piece of the grilled chicken marinated with calamansi and it was delicious. It had a sweet citrusy flavor reminiscent of sour orange. Worried that immersing the chicken in the curry might drown out this calamansi flavor, she keep the chicken and the curry separate, resulting in this semi-deconstructed chicken tikka masala.
Hands down, this is the best curry dish Ren has ever made. Eat it with the leavened flatbread and it's a dining experience like naan other.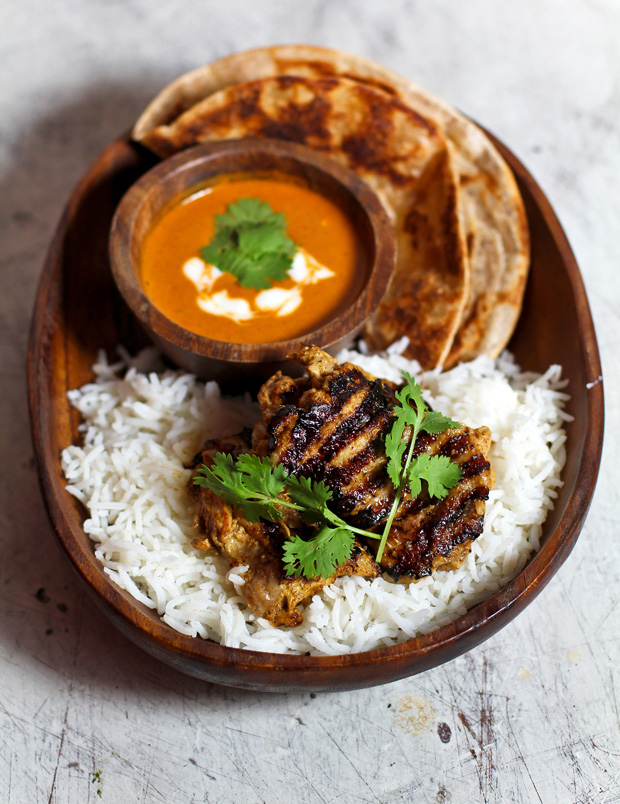 Lovely charred chicken tikka with cilantro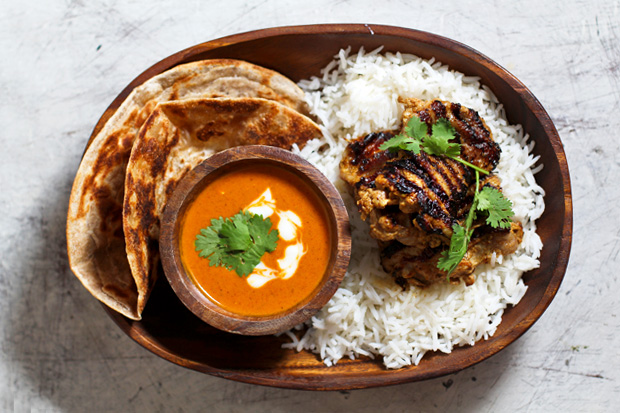 Charred Gutierrez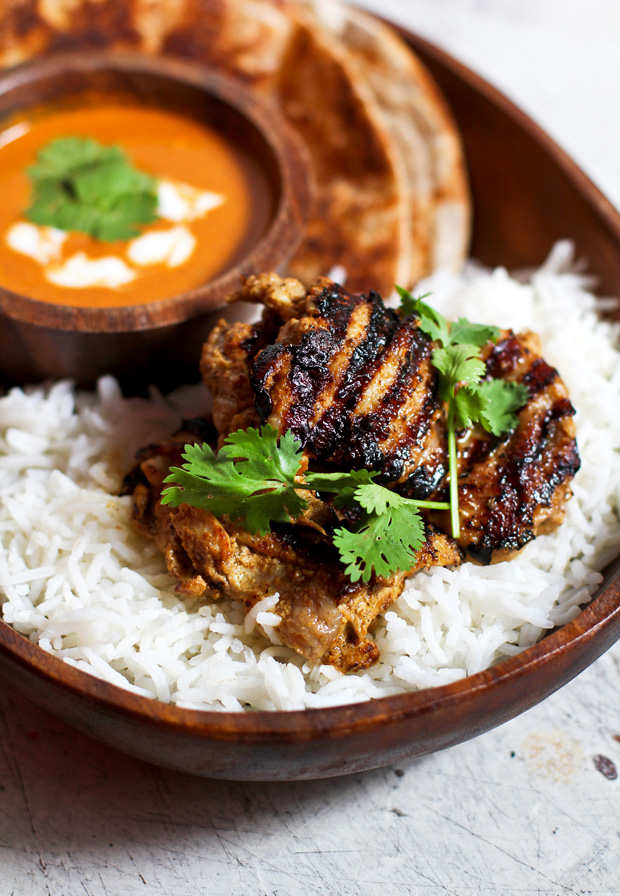 Chicken Tikka Masala
Ingredients
For Marinade:
1 kilo boneless chicken thighs, cut into bite-sized pieces
1 cup yogurt
3 garlic cloves
1 Tbsp fresh ginger, minced
2 Tbsps fresh calamansi juice
2 tsps ground cumin
1 tsp allspice
1-2 red chilies
2 Tbsps chopped cilantro
2 tsp fresh cracked pepper
For Gravy:
1 Tbsp ghee or clarified butter
2 garlic cloves, minced
1 large red onion, minced
2 red chilies, finely chopped or 1 teaspoon chili powder
1 tsp ground turmeric
2 tsps ground cumin
2 tsps paprika powder
1 Tbsp light brown sugar
1 (400 g) can diced tomatoes, pureed
1 Tbsp tomato paste
1 (400 g) coconut cream
Handful of coriander/cilantro leaves, chopped
Fish sauce, to taste
Directions
Blend all ingredients for marinade in food processor. Pour in ziplock bag. Add chicken pieces and turn to coat. Refrigerate overnight.
Thread chicken pieces onto skewers, discarding marinade. Grill chicken evenly on all sides until juices run clear, approximately 5-6 minutes. Season with salt and cover with foil.
To prepare gravy, heat large skillet to medium heat and melt ghee/clarified butter. Sauté garlic, onion and chilies (if using) until fragrant. Sprinkle rest of spices and brown sugar. Cook for 1-2 minutes until mixture turns into paste.
Pour in tomatoes and tomato paste. Simmer uncovered for approx. 10-15 minutes on low heat until sauce begins to thicken, then add grilled chicken pieces and coconut cream. Simmer for an additional 10 minutes, thickening sauce further and to heat chicken and cream through. Season, adding fish sauce as needed.
Serve sprinkled with fresh chopped coriander leaves, and with steamed Basmati rice and/or fresh naan bread. (Recipe below)
Naan Bread
Ingredients (makes 6 pieces)
2 cups All Purpose flour
1 tsp active dry yeast
1 tsp salt
1 tsp sugar
Pinch of baking soda
2 Tbsps of oil
2 1/2 Tbsps yogurt (curd or dahi)
1/2 cup lukewarm water
1 tsp of clear butter or ghee to butter the Naan
Additional 1/4 cup All Purpose flour for rolling
Directions
In lukewarm water, dissolve active dry yeast and let sit for 10 minutes or until mixture becomes frothy.
Add sugar, salt and baking soda to flour, then mix well.
Add oil and yogurt mix. This will become crumbly dough.
Add water/yeast mixture and make into soft dough. After dough rises, it will become a little softer.
Knead dough until smooth. Cover dough and keep in warm place for 3-4 hours. The dough should almost double in volume.
Heat oven to 500 degrees F with pizza stone for at least thirty minutes so stone is hot. Using a pizza stone will help give naan close to same heat as clay tandoor.
Turn oven to high broil.
Knead dough for about 2-3 minutes then divide into six equal parts.
Take each piece of dough, one at a time, and roll into 8-inch oval shapes. Dust lightly with dry flour to help with rolling.
Before putting naan in oven, lightly wet your hands and take rolled naan and flip between your palms. Place onto baking/pizza stone into oven.
You can place about 2 naan on baking/pizza stone at a time. Naan will take about 2-3 minutes to cook, depending on your oven. After naan is baked, it should become golden brown on top.
Take naan out of oven and brush lightly with clear butter or ghee.
Wait 2-3 minutes before baking next batch of naan. This will give your oven the chance to again reach maximum heat.
DID YOU KNOW?
That despite Chicken Tikka Masala being associated with Indian cuisine, it is widely believed to have its roots in the UK? Though the original chicken tikka is undisputedly a dish of Indian origin, the chicken tikka masala loved in the UK was said to have been invented to satisfy the British desire to have their meat served in gravy.
Legend has it that it was created in the 1960s when a restaurant customer in the UK demanded some spicy gravy on his dry chicken tikka. The chef improvised by adding a can of Campbell's tomato soup, yogurt and some spices to the dish. The customer loved it and so was born the first chicken tikka masala dish.
Today, chicken tikka masala is the most popular dish in British restaurants and has been called a "true British national dish."