Homemade Italian Sausage Pizza and BBQ Chicken Pizza ala CPK
At long last! I've been asking Ren to make one of her pizzas as a Reneelicious Recipe for quite some time now so I'm excited to finally post it here.
These are just 2 of the many delicious varieties and combinations she's made over the years. Some featured familiar toppings like pepperoni and mushroom while others showcased more exotic ingredients like roast duck, portobello mushrooms and blue cheese.
That's one of the great things about pizza, each rolled out piece of dough is a blank canvas so only your imagination is the limit. Chicken tikka masala pizza anyone? 🙂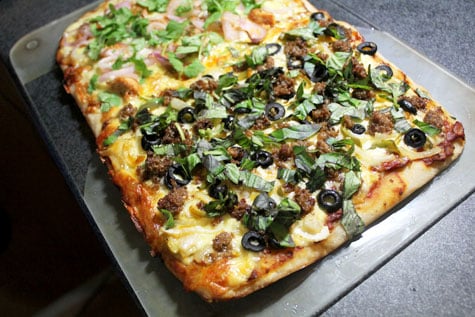 Italian sausage with mozzarella, onions, green peppers, black olives and basil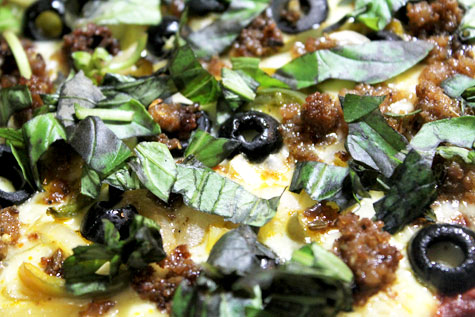 BBQ chicken ala CPK with gouda, red onions and cilantro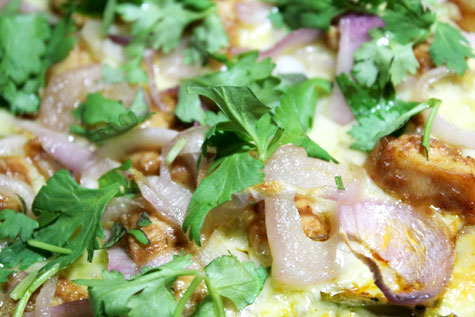 Ingredients
1 package active dry or fresh yeast
2 tsps sugar
1 cup warm water, 105 to 115 F
3 cups all-purpose flour
1 tsp kosher salt
1 Tbsp extra-virgin olive oil, plus additional for brushing
Large cookie sheet
Small and big bowl
Fork
Directions
In small bowl, dissolve yeast and sugar in 1/4 cup warm water.
In large bowl, combine flour and salt, then add oil, yeast mixture, and remaining 3/4 cup of water.
Mix until entire mixture forms a ball.
Turn dough out onto lightly floured surface.
Knead by hand for 2-3 minutes until dough is smooth and firm.
Cover dough with clean, damp towel and let rise in cool spot for about 2 hours. (When ready, dough will stretch when lightly pulled)
Divide dough into 2 balls. (Alternatively, you could divide into 4 balls to make into 4 pizzas, about 6 ounces each, to make 8 inch pizzas)
Work each ball by pulling down sides and tucking under bottom of ball. Repeat 4-5 times.
On smooth, unfloured surface, roll ball under palm of your hand for about 1 minute until top of dough is smooth and firm. Cover dough with damp towel and let rest for 1 hour. (At this point, balls can be wrapped in plastic and refrigerated for up to 2 days)
Preheat oven to 500 F or highest temp. Lightly oil cookie sheet with extra-virgin olive oil.
Roll out dough ball on lightly floured surface to shape of cookie sheet. Carefully transfer dough to cookie sheet and lightly press and stretch out to edges of sheet.
Add sauce, but not too much, and toppings. Start with sauce, then cheese, then veggies, then meat.
Cook for 10-12 minutes, maybe more depending on thickness of crust due to size of pan used.
Toppings
Italian Sausage Pizza
Tomato sauce
Mozzarella cheese, grated
Italian sausage, crumbled (CLICK HERE for recipe)
Onion, diced
Green pepper, diced
Black olives, sliced
Basil leaves, roughly torn
CPK's BBQ Chicken Pizza
BBQ sauce
Gouda cheese, grated
Chicken breast fillet (cubed, sauteed until cooked then coated with 2 Tbsps BBQ sauce)
Small red onion, sliced into rings
Cilantro, roughly torn
DID YOU KNOW?
That King Ferdinand I (1751–1825) was once said to have disguised himself as a commoner just so he could enter a poor neighborhood in Naples unrecognized? Why did he do this? Legend has it that he wanted to sink his teeth into a food that the queen had banned from the royal court — pizza.