Homemade Hummus and Flour Tortillas
This was actually one of Ren's earlier Reneelicious Recipes and part of the larger Beef Shawarma post. As a staunch lover of hummus, however, I felt that it deserved to have its own post so here it is. Ren makes a killer hummus with cumin for maximum flavor.
You can enjoy it by dipping pieces of tortilla in the hummus or you can eat it like I do – apply a generous helping of hummus to a tortilla, add a few freshly chopped pieces of tomato for some juicy crunch, roll it up and eat it like a little burrito. Dee-licious!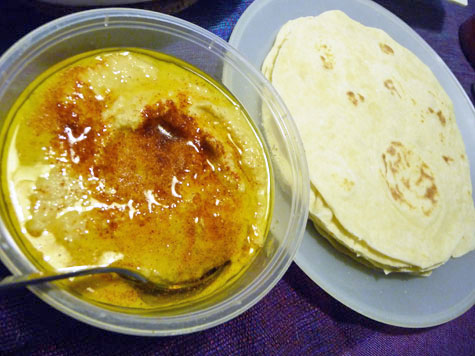 Homemade Flour Tortillas
Ingredients
2 cups all-purpose flour
1 1/2 teaspoons baking powder
1 teaspoon salt
2 teaspoons vegetable oil or non-hydrogenated lard
3/4 cup lukewarm milk
Directions
Stir the flour, baking powder, and salt together in a mixing bowl. Add vegetable oil to the lukewarm milk and briefly whisk to incorporate. Slowly add the milk to the flour mixture. Work the mixture with your hands until it turns into a sticky dough.
Place dough onto a surface dusted with flour. Knead vigorously for about 2 minutes or until dough is no longer sticky.
Return dough to bowl. Cover bowl with a damp cloth and allow to rest for 10 -20 minutes so it becomes easier to roll out.
Divide dough into 8 balls of equal size. Cover and let rest again for another 20 minutes. Avoid letting them touch if you don't want them to stick together.
Dust a clean pastry board or surface with flour.
Remove each piece of dough one at a time. Press it out into a 5-inch circle. With a flour dusted rolling pin, roll out the tortilla from the center out until the tortilla measures a little less than 1/4 inch thick and is a 7 or 8 inch circle.
Transfer the tortilla to a dry preheated skillet or griddle. When the tortilla begins to blister, allow it to cook for 30 seconds, flip it and cook the other side the same way.
Remove the tortilla, place it in on a clean paper towel and cover loosely with foil. Repeat for remaining tortillas.
Wrap extra tortillas tightly in plastic, removing any air pockets. Tortillas freeze well and will keep frozen for several weeks.
To serve tortillas which have been frozen, thaw them at room temperature, wrap in foil then heat in a warm oven.
Hummus
Ingredients
600g canned chickpeas, drained, rinsed
3 garlic cloves, crushed
100 ml olive oil
2 tbs tahini paste
1 tsp ground cumin
Juice of 1 lemon
Directions
Place the chickpeas, garlic, olive oil, tahini paste, cumin and lemon juice in a food processor and process until blended. Add 1/4 cup (60ml) of water and process again until the mixture is smooth.
Place hummus in a bowl and serve with the flour tortillas.
DID YOU KNOW?
That the largest hummus dish, according to the Guiness Book of World Records, weighed 10,452 kg or 22,994 lbs? Set in May 2010, the winning dish, cooked by 300 cooks in the village of al-Fanar, Lebanon, was made from a recipe that included 8 tons of boiled chick peas, 2 tons of tahini, 2 tons of lemon juice and 70 kg (154 lbs) of olive oil.