This is actually part of the Longganisa ala Spanish Chorizo with Scrambled Eggs, Country Fries and Homemade Focaccia recipe, but Ren makes a delicious focaccia so I felt it deserved to have its own post as well. Enjoy!

Freshly baked, straight from the oven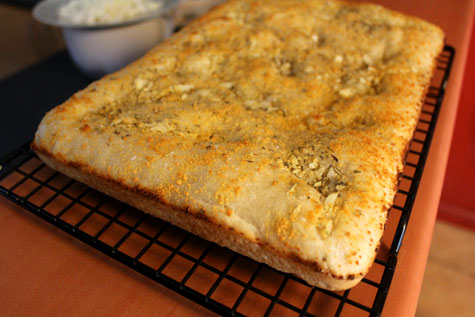 It's like the surface of the moon, but golden brown, edible and delicious.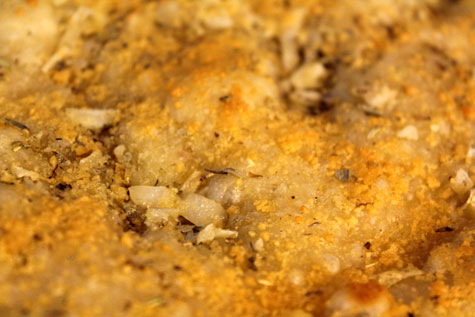 Ingredients
FOR FOCACCIA
3 cups bread flour
1 tsp salt
2 tsps white sugar
1 Tbsp active dry yeast
1 tsp italian seasoning
1 cup warm water
1/3 cup olive oil
1/3 cup grated Parmesan cheese
1/4 tsp salt
FOR FOCACCIA TOPPING
1/4 cup olive oil
1-1/2 tsps dried oregano
1/4 cup garlic, coarsely chopped
Directions
FOR FOCACCIA BREAD
Stir together flour, salt, sugar, yeast and Italian seasoning in large bowl. Mix in olive oil and water.
When dough has pulled together, turn it out onto a lightly floured surface. Knead until smooth and elastic. Lightly oil a large bowl, then place dough inside and turn to coat with oil. Cover with damp cloth and let rise in a warm place until size doubles.
Punch dough down with oiled hands, evenly press it into a greased 9″ x 13″ pan. Make indentations in dough using fingertips.
Cover and let rise in a warm place for 30 minutes.
Prepare topping in the meantime. In small skillet, heat olive oil. Add garlic and oregano and quickly remove from heat.
Preheat oven to 400 degrees F (200 degrees C). Use fingers to press dimples into dough again. Spoon topping mixture evenly over dough. Sprinkle with Parmesan cheese and salt.
Bake for 20 minutes, or until golden brown. Serve warm.
DID YOU KNOW?
That focaccia bread topped with olive oil, spices and other products is considered to have been an early prototype of modern pizza?
For many centuries in Italy, it has had an association with the holidays of Christmas Eve and Epiphany, with various regions adding their own array of toppings on plain focaccia, resulting in different kinds of what essentially became known as pizza. These enrichments made focaccia so different from plain bread that it was once known to have escaped a tax placed on bread in at least one region in Italy.