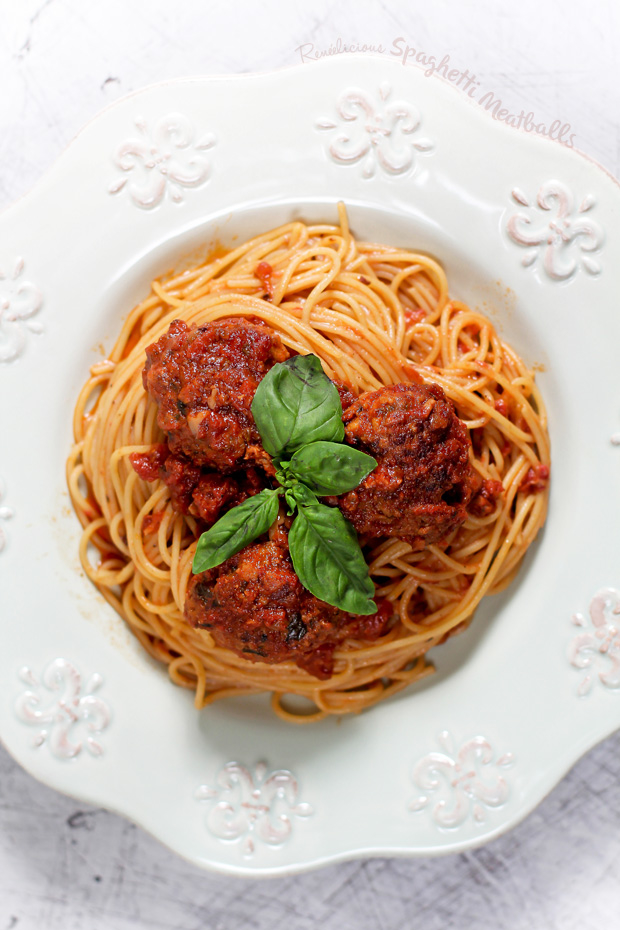 In many Asian cultures such as the Philippines, it's customary to serve spaghetti / noodle dishes at birthdays to symbolize long life.
One such birthday dish has been fondly dubbed "children's party spaghetti." With a very red, sometimes sickeningly sweet sauce and grated cheddar cheese on top, it's commonly served at kiddie parties along with fried chicken and those patent Pinoy red hot dogs.
Think of this as the grown up version of that.
If you're like me and prefer less sweet and more savory in your sauce, then you'll love this recipe. Earthy, slightly tangy, with large meatballs that are nicely browned on the outside but still tender and juicy on the inside, this is one spaghetti dish I'll be looking for at the 18th anniversary of my 20th birthday. 🙂
Few dishes are more comforting than a heaping bowl of authentic Italian spaghetti meatballs.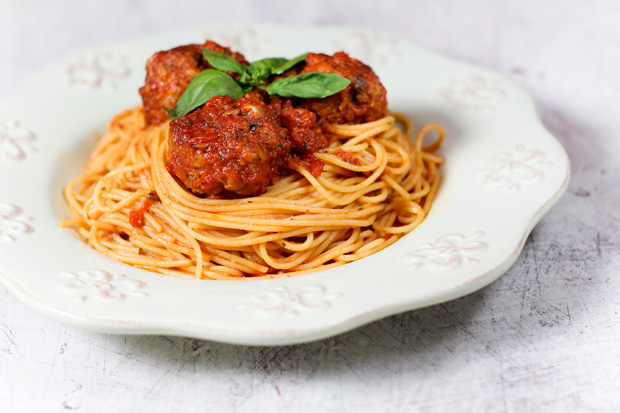 Ingredients
FOR TOMATO SAUCE
2 Tbsps olive oil
1 1/2 cups chopped yellow onions (1 medium yellow onion)
1 Tbsp minced garlic
1 tsp dried basil
1 tsp dried oregano
Two 28 ounce cans whole peeled tomatoes
3 Tbsps tomato paste
2 cups water
Salt, pepper and sugar, to taste
1/2 tsp crushed red pepper (optional)
FOR MEATBALLS
3 cups day-old bread, cut into 1-inch cubes
1/2 kilo ground beef
1/2 kilo ground pork
3 eggs, beaten
3 cloves garlic, minced
3/4 cup pecorino or parmesan cheese, grated
1/4 cup finely chopped fresh Italian parsley and basil
1/2 tsp ground oregano
1/4 cup pine nuts, toasted and ground
1/2 tsp salt
1/2 tsp pepper
1/4 cup extra-virgin olive oil
Directions
FOR TOMATO SAUCE
Heat olive oil in 5-quart pot over medium heat. Add onions, garlic, salt, basil, oregano and black pepper, then cook while stirring for about 5 minutes until soft.
Place tomatoes in large bowl then squeeze to break into small pieces. Add tomatoes, tomato sauce, tomato paste, water, and sugar to pot with onions, then stir well.
Bring to simmer over medium-high heat. Lower heat to medium-low, then simmer uncovered for 5 hours while stirring occasionally with long-handled wooden spoon.
Prepare meatballs.
FOR MEATBALLS
Cover bread crumbs with water and soak for 20 minutes. Drain bread cubes and squeeze out extra moisture.
In large bowl, combine bread, meat, eggs, garlic, cheese, parsley, pine nuts, salt, and pepper, then combine with hands until mixed, taking care not to overwork the meat. With wet hands, form mixture into golf ball-sized meatballs.
In large, heavy-bottomed skillet, heat oil over high heat until almost smoking. Add meatballs and cook for about 10 minutes until deep golden brown on all sides. Work in batches if necessary to avoid overcrowding pan.
When ready to serve, heat meatballs in sauce for about 15-30 minutes. Serve over cooked spaghetti.
DID YOU KNOW?
That despite the somewhat muddled history of the meatball, some of the earliest records of ground meat recipes date back to ancient Rome?
Apicius, a collection of Roman recipes thought to have been compiled in the late 4th or early 5th century AD, lists round meat patty concoctions in order of preference, beginning with meatballs made from peacock, followed by pheasant, rabbit, chicken and lastly, suckling pig.
JB and Renée are the Traveleaters behind Will Fly for Food, a travel blog for the gastronomically inclined.  They enjoy experiencing food from different cultures so they've made it their mission to try every country's national dish.  Read more about them and their National Dish Quest here.