Beef Tapa‏ Marinated in Fish Sauce
Ren LOVES tapsilog. It's one of the very few times she'll eat rice with reckless abandon. For any non-Filipinos who chance upon this post, "tapsilog" is an acronym for "TAPa" (dried or cured beef, mutton or venison), "SInangag" (garlic fried rice) and "itLOG (fried egg)."
There are several varieties of "silogs" – longsilog, bangsilog, tocilog, etc. – many of which are now such a vital part of Filipino cuisine and culture that the true origins of the dish have become obscured by countless cooks, restaurants and turo-turos laying claim to its invention. Anyone remember "tapsi-turbi?" (tapa, sinangag, turon, bibingka)
In homage to the Filipino's love affair with tapsilog (and clever wordplay), here's the first of 2 Reneelicious Recipes for beef tapa I'll be posting here. This one involves a patis (fish sauce) marinade, while next week's recipe will be steeped in soy sauce. Enjoy!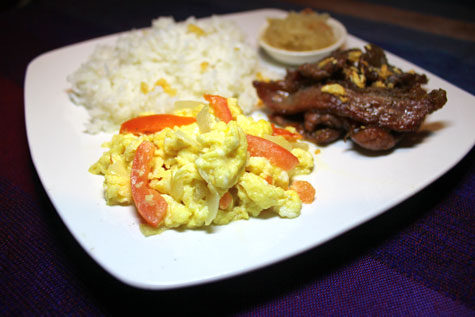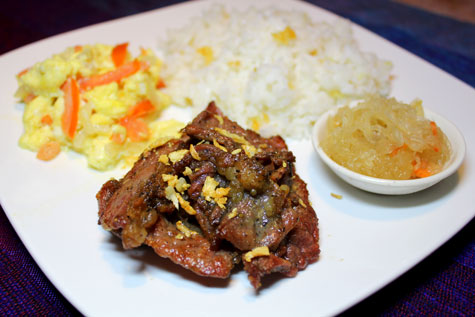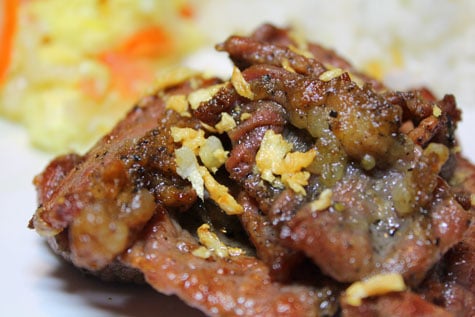 Ingredients
1/2 kilo sirloin tapa special, thinly sliced
1/2 cup fish sauce (patis)
1/4 cup refined sugar
1 head garlic, crushed and minced
1 tsp ground pepper
1/2 cup cooking oil
Directions
Mix all ingredients in large bowl.
Marinate for at least 4 hours, or keep overnight in refrigerator.
Heat cooking oil in large wok.
Fry marinated beef for 15 minutes or until golden brown.
Serve hot with garlic rice.
DID YOU KNOW?
That despite the hotly debated topic over tapsilog's true origins, it's often mentioned that it was first popularized by comedians Tito, Vic and Joey in their beloved 80s sitcom "Iskul Bukol."
JB and Renée are the Traveleaters behind Will Fly for Food, a travel blog for the gastronomically inclined.  They enjoy experiencing food from different cultures so they've made it their mission to try every country's national dish.  Read more about them and their National Dish Quest here.