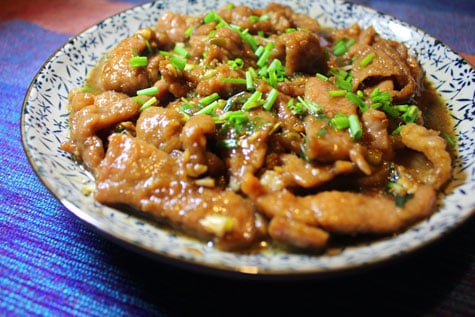 In keeping with this week's Chinese-American theme, Ren made this fantastic Mongolian Beef dish for dinner. Velvety tender with a sweet, ginger-soy flavor, you can enjoy it with a bowl of fried or plain rice. It looks easy enough to make too, so much so that I think even I could do it. Hmmmm…JB-licious recipes…kinda has a nice ring to it right? Not. 🙂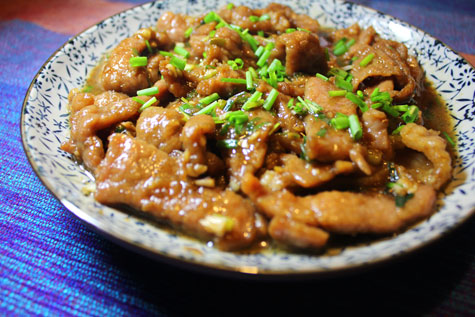 I have tons to learn still with this new DSLR. I was trying to get the foreground to focus but couldn't do it, so I had to settle for this shot. That's the thing with food photography, there are hungry people waiting so you either learn to get the perfect shot quickly or get mauled trying.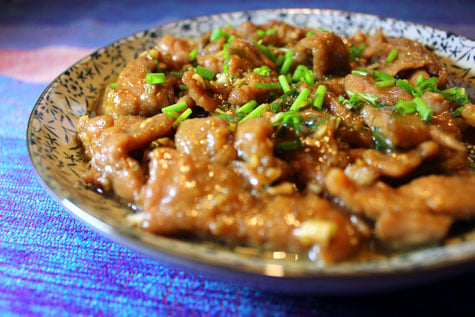 Aaaaah finally. It only took me like 10 shots or so. I can still feel Ren's dagger looks in my back.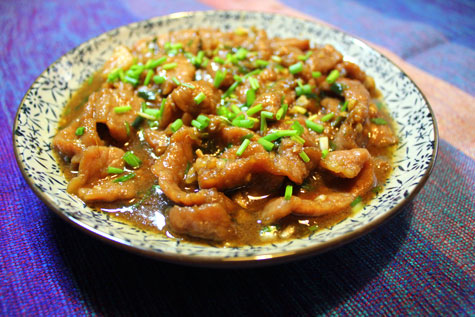 *Original recipe from Rasa Malaysia
Ingredients
FOR BEEF
8 oz beef tenderloin (thinly sliced)
2 Tbsps cooking oil
2 stalks leeks/scallions (sliced diagonally)
1 inch ginger (finely chopped)
3 cloves garlic (thinly sliced)
FOR MARINADE
1 tsp corn starch
1 tsp soy sauce
1 Tbsp water
1 tsp Chinese cooking wine (rice wine or Shaoxing wine)
FOR SAUCE
2 tsps oyster sauce
2 Tbsps soy sauce
1/2 tsp dark soy sauce
3 dashes white pepper powder
1/4 tsp sesame oil
1/4 tsp Maggi seasoning
1 Tbsp sugar, or to taste
Salt to taste
Directions
Marinate beef slices with seasonings for 30 minutes. Heat up wok with 1 Tbsp oil, then stir-fry marinated beef until half-done. Remove beef from pan and set aside.
Heat up another 1 Tbsp oil and saute garlic and ginger until aromatic. Put beef back into wok then add sauce.
Stir-fry until beef slices are almost done, then add leeks/scallions into wok. Stir-fry a bit more then add salt to taste.
DID YOU KNOW?
That despite its "Mongolian" moniker, this dish has absolutely nothing to do with traditional Mongolian cuisine in any way? Speculation has it that Robert Hsi, the founder of the original Dynasty Restaurant in San Francisco, named it "Mongolian Beef" in the seventies to make it sound more exotic.
JB and Renée are the Traveleaters behind Will Fly for Food, a travel blog for the gastronomically inclined.  They enjoy experiencing food from different cultures so they've made it their mission to try every country's national dish.  Read more about them and their National Dish Quest here.