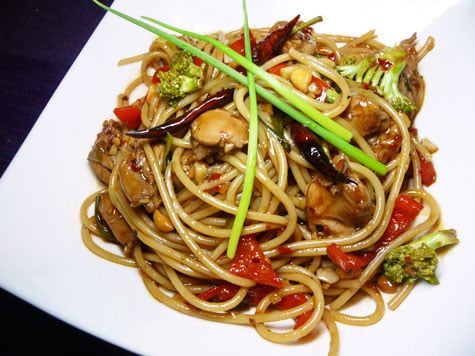 Kung Pao Chicken Spaghetti
NOTICE: Some of our articles contain affiliate links. The ones that do will have a disclosure statement at the bottom. You can refer to our privacy policy and terms of use for more information.
Kung Pao chicken was one of my go-to Chinese takeout dishes during my time in the US. That along with General Tso's chicken and mushu pork.
Whenever my college roommates and I grew tired of eating Domino's, we'd get some Chinese takeout to fuel our all-night study sessions. It was fast, easy to eat, and MSG-licious. Plus we could eat them straight out of those convenient little Chinese takeout boxes so we didn't have to wash any dishes afterwards. A big plus for lazy college students.
In memory of those collegiate days, Ren whipped up this killer kung pao chicken with spaghetti dish, as inspired by Chef Martin Yan. A more refined version of the classic, it's every bit as delectable as I remember it to be. Now if only it came with a side of General Tso's chicken and mushu pork…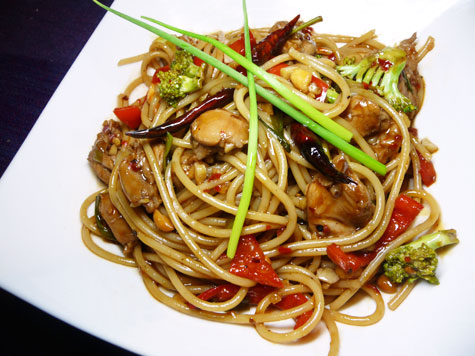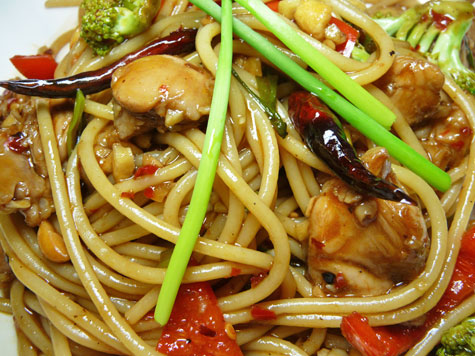 *Recipe adapted from Martin Yan's Kung Pao Chicken
Ingredients
250 grams boneless, skinless chicken breasts or thigh fillets
2 1/2 Tbsps peanut oil
8 small dried red chilies
10 garlic cloves, minced
1 cup green onions/scallions, chopped
1 small red bell pepper, cut into 1-inch squares
1 1/2 cups broccoli florets
1/2 cup unsalted dry roasted peanuts
2 tsps cornstarch dissolved in 1 tablespoon water
250 grams cooked spaghetti
FOR MARINADE
2 tablespoons oyster-flavored sauce
1 teaspoon cornstarch
FOR SAUCE
1/4 cup black vinegar or balsamic vinegar
1/4 cup chicken broth
3 Tbsps Chinese rice wine or dry sherry
2 Tbsps hoisin sauce
1 Tbsp soy sauce
2 tsps sesame oil
2 tsps chili garlic sauce
2 tsps sugar
Directions
Cut chicken into 1-inch pieces.
Combine marinade ingredients in bowl then add chicken. Stir to coat and let stand for 10 minutes.
Combine sauce ingredients in new bowl then set aside.
Place wok over high heat until hot. Add 2 tablespoons oil, swirling to coat sides. Add chilies and cook while stirring until fragrant, for about 10 seconds.
Add chicken and stir-fry for 2 minutes. Remove chicken and chilies from wok.
Add remaining 1/2 tablespoon oil, swirling to coat sides. Add garlic and cook while stirring until fragrant, for about 10 seconds.
Add green onions, bell pepper, broccoli and peanuts, then stir-fry for 1 1/2 minutes.
Return chicken and chilies to wok and stir-fry for 1 minute. Add sauce and bring to boil.
Add cornstarch solution and cook while stirring until sauce boils and thickens. Add cooked spaghetti and toss to coat.
DID YOU KNOW?
That Kung Pao chicken is a classic Sichuan dish, originating from the Sichuan Province of central-western China?
Though its exact origins are unknown, legend has it that it was named after Ding Baozhen (1820–1886), a late Qing Dynasty official who served as head of Shandong province and later as governor of Sichuan province. The name "Kung Pao" was derived from his title – "Gōng Bǎo," meaning "Palatial Guardian."
Because of its association with Ding Baozhen, the dish was deemed politically incorrect during the Cultural Revolution. It was thus renamed "fast-fried chicken cubes" (hong bao ji ding) or "chicken cubes with seared chiles" (hu la ji ding) until its political rehabilitation in the 1980s.
JB and Renée are the Traveleaters behind Will Fly for Food, a travel blog for the gastronomically inclined.  They enjoy experiencing food from different cultures so they've made it their mission to try every country's national dish.  Read more about them and their National Dish Quest here.