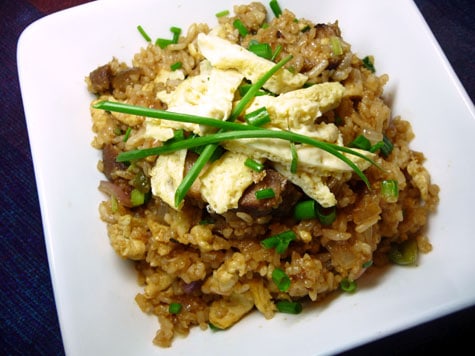 NOTICE: Some of our articles contain affiliate links. The ones that do will have a disclosure statement at the bottom. You can refer to our privacy policy and terms of use for more information.
For me, few things are more comforting than a nice bowl of fried rice. A meal in itself, it's simple, filling, and a great way to use leftovers. There was some pork left over from Ren's Puerco Fritas dish the night before, so she re-seasoned and incorporated it into this recipe.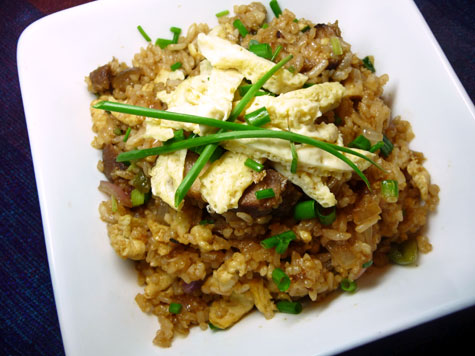 Hmmm, what can I garnish this with? Onions spring to mind. 😛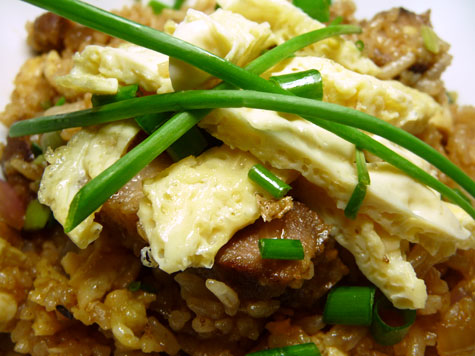 Ingredients
1 1/2 cups of cooked pork, cut into strips (best time to use leftovers!)
4 Tbsps of vegetable oil
4 eggs, lightly beaten
1 small onion, finely diced
1/3 cup green pepper, finely diced
1 Tbsp ginger, finely minced
2 garlic cloves, finely minced
2 tsps white sugar
2 Tbsps hoisin sauce
1 Tbsp light soy sauce
1 Tbsp liquid Aminos or Maggi seasoning
1 Tbsp rice vinegar
1 tsp sesame oil
4 cups cooked white rice
1/3 cup green onions, finely chopped
Directions
Heat half of oil in large pan or wok until hot then pour in half of the eggs. Let it set for a few seconds before lightly scrambling. Cook until almost done and transfer to a plate. Cut into strips.
In the same pan, pour in rest of oil and add onions, green pepper and ginger. Saute for about a minute. Add sugar and stir-fry for a few seconds. Add garlic and stir-fry until fragrant. Add pork and stir in hoisin sauce, soy sauce, seasoning, rice vinegar, sesame oil and cook for a minute.
Toss in rice and stir-fry for a few minutes until well combined. Add the rest of the eggs and continue cooking until eggs are cooked.
Gently fold in the egg strips and green onions and remove from heat.
Transfer to a serving plate.
DID YOU KNOW?
That some foods may even be better the following day? So long as they're stored properly, food items such as pizza, soups, stews, pasta and turkey have the potential for great next-day flavor.
JB and Renée are the Traveleaters behind Will Fly for Food, a travel blog for the gastronomically inclined.  They enjoy experiencing food from different cultures so they've made it their mission to try every country's national dish.  Read more about them and their National Dish Quest here.