Calamari Pasta Puttanesca‏
NOTICE: Some of our articles contain affiliate links. The ones that do will have a disclosure statement at the bottom. You can refer to our privacy policy and terms of use for more information.
Jazz musician Charles Mingus* once said: "Making the simple complicated is commonplace; making the complicated simple, awesomely simple, that's creativity."
That, to me, aptly describes this dish. Simple to make, but inspires a depth of feeling with its bold, passionate flavors.
If you're like me and enjoy intense flavors – the salty punch of anchovies, the briney tang of olives and capers, the spicy heat from red peppers, the earthy flavor of garlic, and the chewy, spongy texture of calamari – then this is a recipe you should definitely try.
A vibrant plate of "stinking whore." (explanation at bottom) 🙂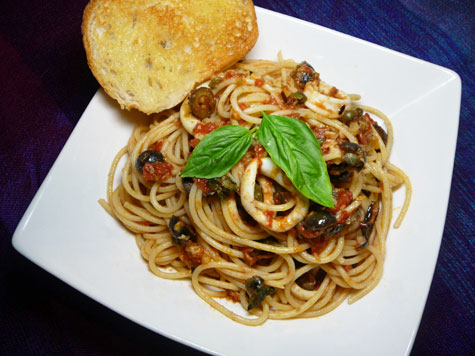 Ingredients (serves 2-4)
1/3 cup extra virgin olive oil
1 small head garlic, minced
1/2 tsp crushed red pepper
5 anchovy fillets, finely minced
1/3 cup pitted Kalamata or black olives, sliced (a combination of black and green olives is great too!)
2 Tbsps capers, rinsed
1 (14oz) can of whole peeled tomatoes, drained
250 grams or 1/2 lb. of squid rings
250 grams or 8oz pasta of your choice
1/3 cup parsley or basil, chopped
Directions
Prepare pasta according to directions.
While pasta is cooking, heat oil in 12-inch non-stick skillet over medium heat.
Add garlic, crushed red pepper and anchovies and cook until fragrant and anchovies have melted.
Add whole tomatoes and crush with a potato masher or back of fork. Increase heat to medium-high and allow to boil for a few minutes.
Stir in olives and capers, then reduce heat and allow to simmer until pasta is almost done. (Timing here is of the essence!)
Add squid and allow to cook until it turns opaque, about 3 minutes.
Once squid is cooked, quickly drain pasta, reserving about 1/4 cup of pasta water, and transfer to skillet. Turn off heat, add pasta water and toss to combine. Stir in parsley/basil and keep tossing until sauce clings to the pasta.
Transfer to serving bowl and serve with good, crusty bread.
DID YOU KNOW?
That the name puttanesca literally translates to "in the style of the whore?" The name was derived from the Italian word puttana which means "whore." Puttana in turn, stems from the Latin word putida which means "stinking."
Though most have heard some version of the story, the truth is that there is no definitive explanation as to how this dish became associated with such sordid content. One interpretation cites the name as a reference to the sauce's spicy flavor and smell. Another claims that the dish was offered to prospective customers at a low price to entice them into a brothel. A third alleges that it was a quick and cheap meal that prostitutes could prepare between customers.
Regardless of its true origin, one thing for certain is that puttanesca is a passionate dish, one that has inspired stories that are just as colorful and spicy as its own flavors.
*Mingus Amungus
This has nothing to do with food but the quotation at the top of this post reminded me of this painting so I dug it up.
I find the improvisational nature of jazz music inspiring, so much so that it spawned two solo painting exhibitions in the early 2000s. Here's a portrait of Charles Mingus shown at Kind of Blue: Jazz Revisited in 2002, my last one-man show.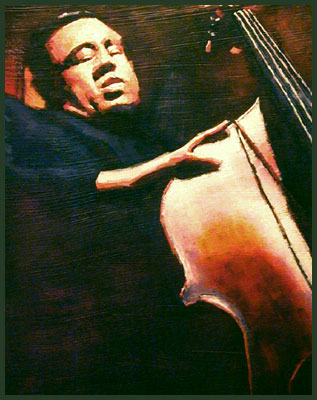 Original Faubus Fables
Oil on Canvas
24″ x 30″
JB and Renée are the Traveleaters behind Will Fly for Food, a travel blog for the gastronomically inclined.  They enjoy experiencing food from different cultures so they've made it their mission to try every country's national dish.  Read more about them and their National Dish Quest here.