Bugnay Wine Chicken with Fig and Basil Gnocchi
NOTICE: Some of our articles contain affiliate links. The ones that do will have a disclosure statement at the bottom. You can refer to our privacy policy and terms of use for more information.
After Ren received a big bag of black mission figs from her brother, she quickly transitioned from her leek phase to her fig phase. The stunningly beautiful (and equally delicious) dish you see below is the result.
For a perfect bite, slice some chicken with a piece of pillowy basil gnocchi, add a fruity sliver of fig, top with a strip of crisp, salty bacon, then swirl in the zesty, lemony wine sauce and you've got an orgasm on a fork every time.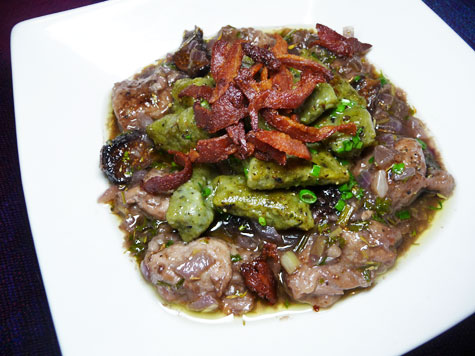 Gorgeous colors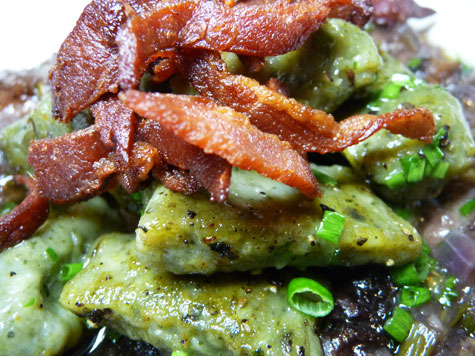 Bugnay wine. This was a gift from Mike of Kapuluan Vista Resort in Pagudpud, Ilocos Norte. Thanks again Mike! I'm glad Ren found a terrific use for this. How lucky am I to have such a creative (and beautiful) wife? 😉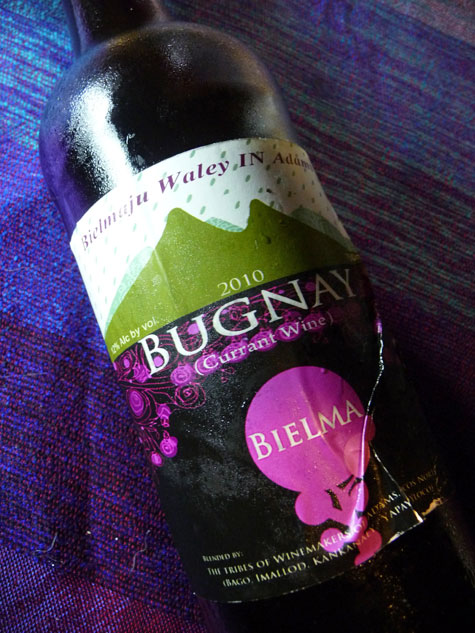 Bugnay Wine Chicken with Fig and Basil Gnocchi*
*Recipe adapted from Rachael Ray's Montalcino Chicken with Fig and Buttered Gnocchi
Ingredients (serves 4)
150 grams or 1/3 pound bacon, cut into strips
1/2 kilo or 1 pound boneless chicken thighs, cut into large chunks
Salt and pepper
Flour, for dredging
2 Tbsps extra virgin olive oil
1 onion, thinly sliced
4 cloves garlic, crushed
1 bay leaf
14-16 dried figs, stems removed and halved
1 cup Bugnay (currant) wine or any dry red wine
1 to 1-1/2 cups chicken stock
1/3 cup parsley or fresh basil, chopped
Zest of 1 lemon
1 Tbsp chopped fresh thyme (about 4 sprigs) or 1 teaspoon dried
Prepared basil gnocchi (recipe follows)
3 Tbsps butter
1/4 tsp freshly grated nutmeg, optional
2 to 3 Tbsps chopped chives or green tops from green onions if chives not available
Directions
Prepare basil gnocchi. (recipe below)
In a 12-inch non-stick skillet over medium-high heat, fry bacon in little oil until crisp. Transfer to a plate with a slotted spoon and set aside. Leave about 1 tablespoon of bacon fat in skillet and discard the rest. Add olive oil.
Meanwhile, heat a large pot of water to boil for gnocchi.
Season chicken with salt and pepper and lightly dredge in flour. Add to skillet in batches and lightly brown on both sides. Transfer browned pieces to a plate. When done, add onions, garlic, bay leaf and figs to pan. Saute for about 5 minutes then mix in chicken.
Add wine and cook until reduced by half.
Stir in chicken stock, herbs and lemon zest. Reduce heat to simmer and cook while you prepare gnocchi.
Salt boiling water and add the gnocchi several pieces at a time. Cook until 1 minute after it floats to the surface. Drain and prepare sauce.
Heat a medium non-stick skillet, then melt and brown butter. Once browned, add drained gnocchi. Raise heat to medium-high and lightly brown gnocchi. Season with salt, pepper and nutmeg (if using). Toss, then add chives/green onions and remove from heat.
Adjust seasonings on chicken and figs. Transfer to a serving bowl and top with some of the basil gnocchi. Garnish with crisp bacon strips.
Basil Gnocchi
Ingredients
2 cups of potatoes, steamed, peeled and grated while still warm (about 450 grams or 1 pound)
1 cup packed fresh basil
1 large egg, beaten
1/4 cup grated parmesan cheese
1 tsp sea salt
1 cup all-purpose flour, plus more for dusting
Directions
Puree basil and 1/4 cup of cold water in blender until smooth.
In a large bowl, stir basil puree, egg, cheese and salt into grated potatoes and combine.
With your hands, add flour a little at a time until mixture forms a rough dough. Do not over mix. Transfer dough to a lightly floured surface and gently knead for 1-2 minutes until smooth, adding a little bit more flour, if needed, to keep from sticking.
Divide dough into 3. Roll each piece into a rope about 1/2 inch in diameter and cut into 1/2 inch-long pieces. Dust lightly with flour, if necessary. (Gnocchi can be cooked as is or you can use a gnocchi board or the tines of the back of the fork to achieve the classic gnocchi shape.)
Transfer gnocchi to a parchment-lined baking sheet and refrigerate while making the sauce.
DID YOU KNOW?
That bugnay wine is a proud product of Adams, a quaint town in the northeastern side of Ilocos Norte?
The Adams winemaking industry was started a few years ago in an effort to help the community increase their income as well as promote local culture and tourism. Aside from bugnay wine which is made from wildberry fruit, they are also known for tapuey, a sweet and delicate wine made from half-cooked glutinous rice.
JB and Renée are the Traveleaters behind Will Fly for Food, a travel blog for the gastronomically inclined.  They enjoy experiencing food from different cultures so they've made it their mission to try every country's national dish.  Read more about them and their National Dish Quest here.