Chocolate Fig Bread Pudding with Spirited Sauce
Over the weekend, my brother-in-law's care package arrived and in it was this big bag of black mission figs. Ren on occasion makes bread pudding so incorporated them into her recipe to make an extra special version for breakfast. I frequently tell her not to bother making me breakfast as I'm normally content with my black cup of joe, but I think I'll be conveniently recanting that statement this week. Go fig. 🙂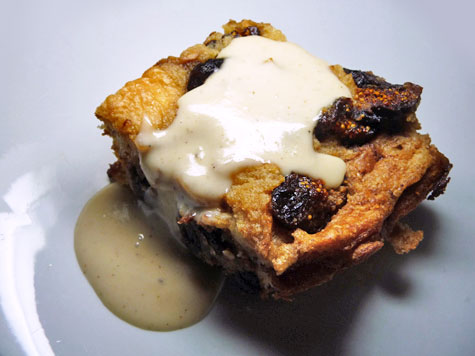 Check out those gorgeous figs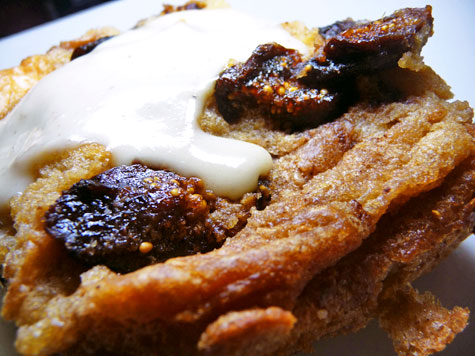 Imported black mission figs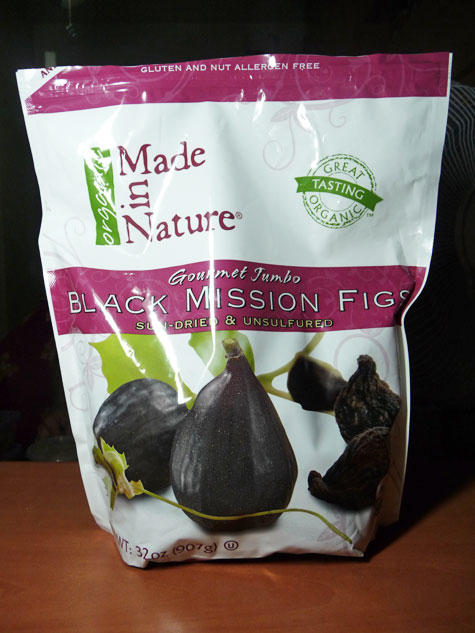 Chocolate Fig Bread Pudding
Ingredients (serves 4-6)
4 cups (3/4-in. cubes) firm white bread
1 cup coarsely chopped sun-dried Mission or Calimyrna Figs, stems removed
1/2 cup (3 oz.) chocolate morsels or coarsely chopped chocolate
2 cups milk
2 Tbsps butter
2 large eggs
1/4 cup granulated sugar
2 tsps vanilla
1/4 tsp salt
Directions
Heat oven to 350°F. Grease 1 1/2-quart baking dish. Combine bread cubes, figs and chocolate in baking dish.
Heat butter and milk until butter is melted. Do not boil.
Combine eggs, sugar, vanilla, and salt. Blend well.
Add hot milk mixture to egg mixture, stirring constantly. Pour over bread and fig mixture. Let stand for 5 minutes.
Bake uncovered for 50 minutes or until knife, when inserted in center, comes out clean. If needed, baked pudding may be prepared several days ahead.
Cover and refrigerate. Reheat in oven at 325°F for 15 minutes. Prepare Spirited Sauce (recipe below). Serve warm over bread pudding.
Spirited Sauce
Ingredients
1 1/4 cups powdered sugar
6 Tbsps butter
1 large egg, beaten
1/4 cup dark rum or brandy
Directions
In a saucepan, combine all sauce ingredients. Cook over low heat, stirring constantly for about 3 minutes.
DID YOU KNOW?
That bread pudding is a dish with very old roots? For the vast majority of human history, people could ill afford to waste food, so devised many ways to use stale bread. Aside from pudding, they also used it to make stuffing, thickeners and edible serving containers.