Vanilla Panna Cotta with Macerated Strawberries‏
Renée is on a roll. I think my blogging about her cooking is really inspiring her. This is the first time in over 5 years that she's made panna cotta, and with macerated strawberries to boot! I must be doing something right. 😉
I swear, when looking at this picture I can almost hear that heavenly sound, the one they use on TV and in movies whenever someone is having an out-of-body-experience: "Move your fat ass JB and come to the light…"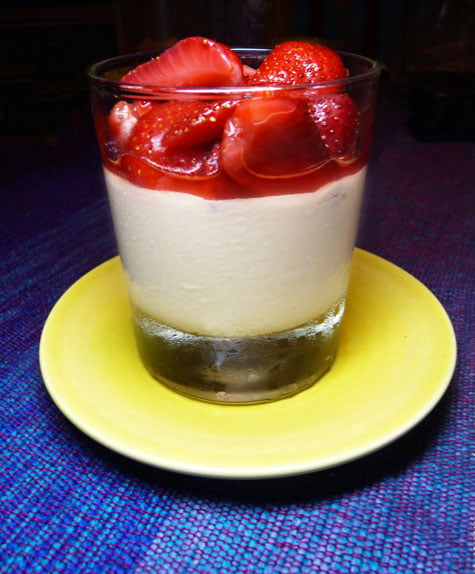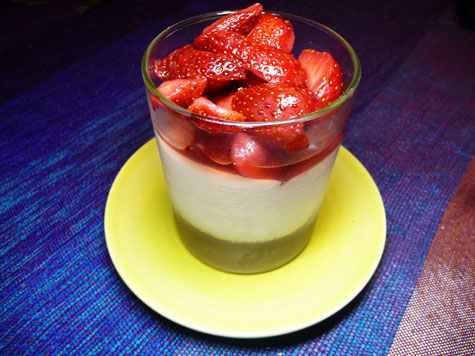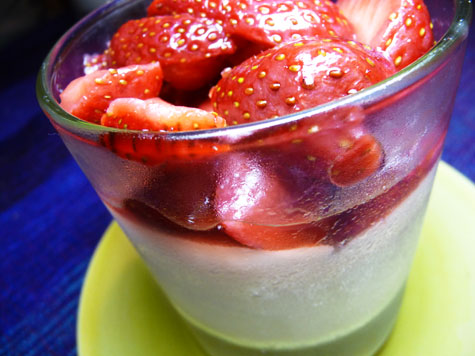 Vanilla Panna Cotta
Ingredients
4 cups all-purpose cream (or half-and-half)
1/2 cup sugar
2 tsps. of vanilla extract, or 1 vanilla bean, split lengthwise
2 packets powdered gelatin (about 4 1/2 tsps.)
6 Tbsps. cold water
Directions
Heat heavy cream and sugar in a saucepan or microwave. Once sugar is dissolved, remove from heat and stir in vanilla extract. (If using a vanilla bean, scrape seeds from the bean and into the cream then add bean pod. Cover and allow to infuse for 30 minutes. Remove the bean then rewarm the mixture before continuing.)
Lightly oil eight custard cups with a neutral-tasting oil.
Sprinkle the gelatin over the cold water in a medium-sized bowl and let stand for 5 to 10 minutes.
Pour the very warm panna cotta mixture over the gelatin and stir until the gelatin is completely dissolved.
Divide the panna cotta mixture into the prepared cups, then chill until firm. If you have little time, pour the panna cotta mixture into wine goblets so you can serve them in the glasses without having to unmold them.
Run a sharp knife around the edge of each panna cotta and unmold each onto a serving plate. Top with macerated strawberries. (recipe below)
Macerated Strawberries
Ingredients
1/4 kilo strawberries, hulled, quartered
2 Tbsps. Cointreau or brandy
2 Tbsps. powdered sugar, sifted
Directions
Place strawberries, Cointreau (or brandy) and sugar in a bowl. Toss well to combine.
Set aside at room temperature for at least 30 minutes until juices are released.
DID YOU KNOW?
That according to London food critic Jay Rayner, properly done panna cotta should "wobble like a woman's breast?" Good to knooow. 🙂
JB is one half of Will Fly for Food and its chief itinerary maker.  He's the one to blame for all the crappy photos and verbal diarrhea on this blog.  Don't listen to him.
Latest posts by JB Macatulad (see all)