Sesame Shrimp with Steamed Broccoli and Thanh Long / Crustacean-Inspired Garlic Noodles
If I were to make a list of my favorite Reneelicious Recipes, then this would be amongst the top. The combination of flavors and textures is just amazing.
The sweet, spicy shrimp is succulent and always perfectly cooked. I love taking a bite and following it up with a crisp, peppery piece of broccoli. I didn't know this before, but broccoli stalks are very crunchy and fresh-tasting, so Ren likes to mix in a few slices to go with the usual broccoli florets. Not only does broccoli taste great, but it's really good for you as well. You can check out this article to learn about all the health benefits of broccoli.
To complete the dish, she places the shrimp and broccoli on a bed of garlic noodles. If you're Filipino and have been to San Francisco, then chances are you've already experienced the magic of Thanh Long (Crustacean) garlic noodles. Impossibly delicious but difficult to replicate, I'd say that Ren's version comes pretty darn close. Enjoy! 🙂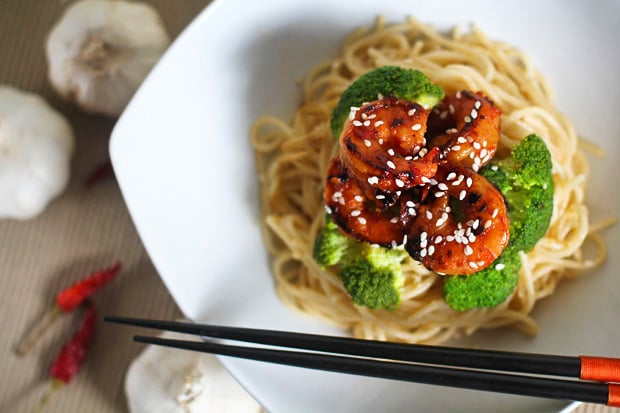 Thanh Long garlic noodles are out of this world.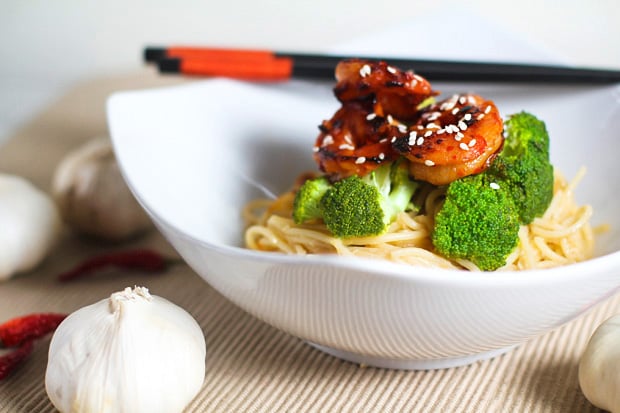 So, is your stomach grumbling yet? 😆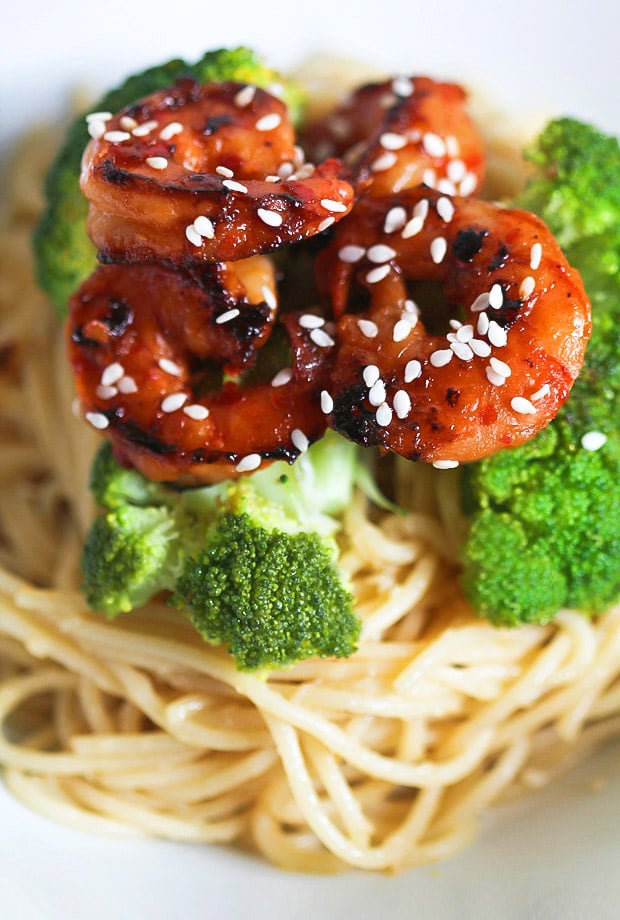 SESAME SHRIMP
INGREDIENTS
12 pcs medium-sized shrimp, peeled and deveined
2 tsps honey
1 tsp ginger, minced
2 tsps chili garlic paste
1 Tbsp soy sauce
1 Tbsp & 2 tsps sesame oil
2 tsps sesame seeds, toasted
DIRECTIONS
Combine honey, ginger, chili garlic paste, soy sauce, and 2 tsps sesame oil in resealable bag.
Add shrimp and seal bag, then turn to coat. Refrigerate for an hour.
Drain and discard marinade. Heat remaining sesame oil in skillet.
When hot, sear shrimp on both sides until pink, then remove. Sprinkle with sesame seeds. Serve with steamed broccoli and garlic noodles. (recipe below)
THANH LONG / CRUSTACEAN-INSPIRED GARLIC NOODLES
INGREDIENTS (serves 4 as side dish)
250 grams noodles or pasta
1 Tbsp rice wine or dry sherry
Scant 1 Tbsp Maggi seasoning sauce
1/4 cup unsalted butter
2 heads grated fresh garlic mixed with 2 tsps water
1 tsp light brown sugar
Fish sauce to taste
DIRECTIONS
Bring large pot of lightly salted water to boil. Add pasta and cook until tender (go beyond normal, chewy al dente).
Ladle out and reserve 1/2 cup of slightly thick cooking liquid. Drain pasta but do not flush with water.
Add rice wine (or sherry), Maggi seasoning sauce, and fish sauce to reserved cooking liquid.
Heat skillet over medium-high heat and add 1/4 cup butter. Once melted, add garlic and sugar. Cook while stirring frequently for 1-2 minutes until softened, fragrant, and just about to turn color. Add reserved cooking liquid and stir to combine. When mixture vigorously boils, raise heat to high, then add warm pasta.
Cook while stirring with tongs until sauce clings to pasta and there is no liquid visible in skillet. Remove from heat.
DID YOU KNOW?
That both the Thanh Long Restaurant and Crustacean have secret kitchens in addition to their main kitchens?
Only members of the An family are allowed inside to prepare their famous crab and garlic noodle dish, among others. These secret kitchens are completely sealed with only a small slot, similar to what you would see on prison doors, through which the food is passed. Talk about secretive! 🙂