I know I'm supposed to be on a diet. But today's my birthday so I allowed myself a little indulgence. When Ren asked me if I wanted anything special for my birthday, I said Tiramisu.
She knows how to make it just the way I like it too. Not too sweet with a robust, mildly bitter coffee taste. This, my friends, is heaven on a plate. 🙂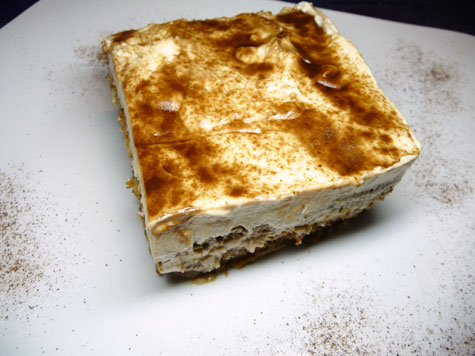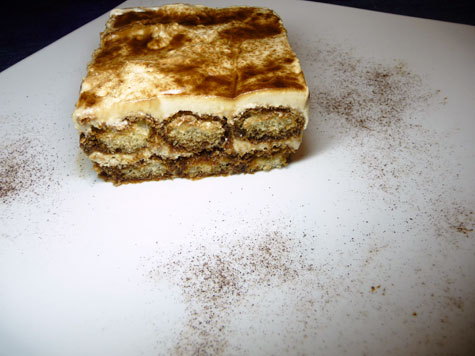 Man, check out those layers of lady fingers….mmmmmmmmmmm!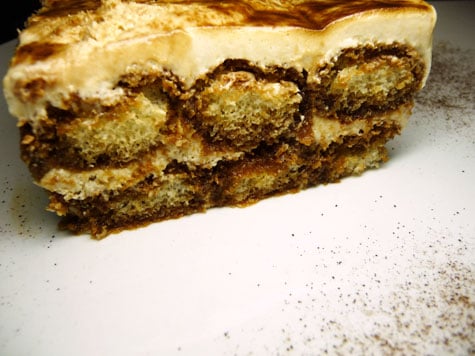 Ingredients
16 ounces mascarpone cheese or 2 (8oz) pkg. cream cheese, softened*
1/3 cup sugar
1 (300 ml.) pkg. all purpose cream
1/2 cup good dark rum or brandy, divided
1 1/2 cups brewed espresso, divided
30 Italian ladyfingers, or savoiardi*
Instant coffee powder for dusting
Optional: Confectioners' sugar
* You can find savoiardi and mascarpone cheese at Santi's Deli.

Directions
Beat softened cream cheese and sugar on medium to high speed until smooth and creamy. Lower speed to medium, then add 1/4 cup rum or brandy, 1/4 cup espresso, and all purpose cream. Blend until smooth.
Combine remaining 1/4 cup rum and 1 1/4 cups espresso in a shallow bowl. Dip 1 side of each ladyfinger in the espresso/rum mixture and line the bottom of a 9 x 12 x 2 inch dish.
Pour half of the espresso cream mixture evenly on top. Dip 1 side of the remaining ladyfingers in the espresso/rum mixture and place them in a second layer in the dish.
Pour the rest of the espresso cream over the top. Smooth the top and cover with plastic wrap. Refrigerate overnight.
Before serving, dust lightly with coffee powder and confectioners' sugar, if desired.
DID YOU KNOW?
That the word tiramisu means "Pick me up" in Italian? So named for its high energy ingredients – eggs, sugar and strong espresso coffee.