Pan-seared Cream Dory with Mango Salsa over Curried Rice
As mentioned in my last post, Ren and I decided to go pescetarian again in an effort to eat healthier and lose some much unwanted poundage. This was Ren's first creation and a delectably fantastic start to our diet.
The cream dory was light and perfectly cooked, the mango salsa sweet, citrus-y, and very refreshing. The onions and cucumber in the salsa gave the dish some bite, with the curry rice an aromatic helping of starch to complete the dish. This satisfied my appetite without giving me that heavy and bloated feeling that usually comes with eating too much meat.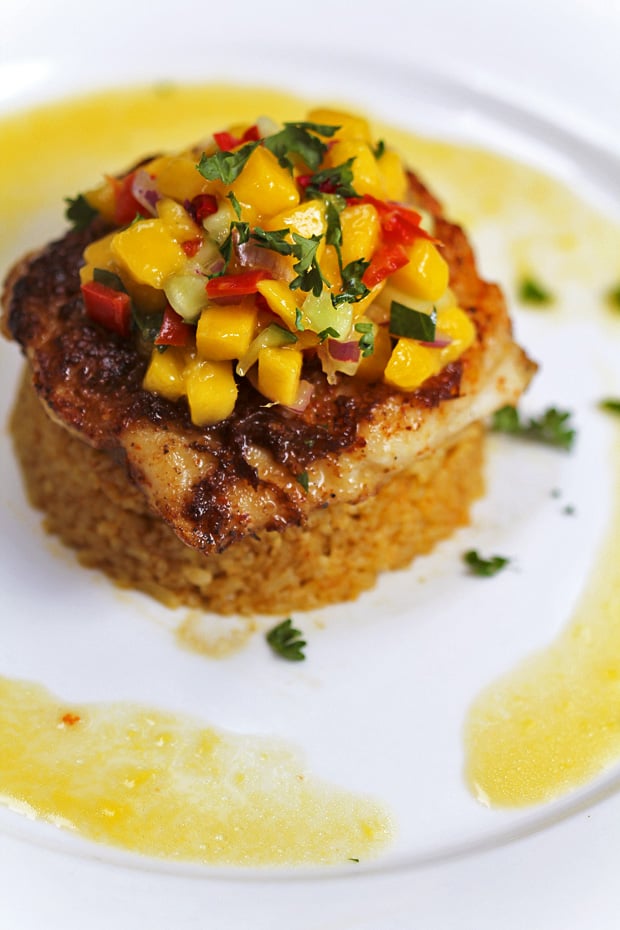 INGREDIENTS
4 cream dory fillets
Salt and pepper to taste
2 Tbsps olive oil
FOR SALSA
2 small mangoes, peeled and chopped into 1 inch cubes
1 small red bell pepper, finely diced
1 small red onion, finely diced
1/3 cup cucumber, finely diced
1/4 cup chopped cilantro
1/2 tsp. crushed red pepper
2 Tbsps. fresh lime juice
1 Tbsp. fresh lemon juice
2 tsps. (or to taste) fish sauce
1 Tbsp. olive oil
2 tsps. honey
FOR CURRIED RICE
1 small onion, finely chopped
2 garlic cloves, finely chopped
2 Tbsps. vegetable oil
1 cup long-grain white rice, uncooked
2 cups chicken broth
2 tsps. curry powder
1/2 tsp. turmeric
1 tsp. salt
DIRECTIONS
In a 3 to 4 quart heavy saucepan over moderately low heat, cook onion and garlic while stirring until softened.
Add curry powder, turmeric and rice. Cook while stirring for 1 minute.
Add broth and salt. Boil uncovered and without stirring, until surface of rice is covered with steam holes and grains on top appear dry. This will take around 8 minutes.
Reduce heat as low as possible, then cover pan with a tight-fitting lid and cook for 15 more minutes.
Remove pan from heat and let rice stand for 5 minutes while covered, then fluff with a fork.
Season fillets on both sides with salt and pepper. In a skillet, heat olive oil over medium-high heat. When pan is hot, add fillets and cook until golden brown and fish flakes easily. Cook for about 3 minutes on each side.
Combine all ingredients for the salsa in a medium bowl.
Serve the fillets over the curried rice and top with the salsa. Serve immediately.
DID YOU KNOW?
That salsas originated in Central and South America with the Aztec, Incan and Mayan cuisines?
Although no authentic recipes exist, the tradition of making uncooked sauces from fruits and vegetables dates back to pre-Columbian times in Central and South America. It came into European and North American cooking via the Spanish invaders in Latin America. Spanish conquistadors adopted this technique in the sixteenth and seventeenth centuries, giving it the name it bears today – "salsa fresca", or "fresh sauce."