For this month of May, Ren and I decided to go easy on the meats and revert back to our pescetarian diet, at least at home. I haven't yet shed any of these unwanted pounds so I more than welcomed the idea. In fact, if I could just cut all animal proteins out from my diet entirely, that would be fantastic. I'm vehemently against any form of animal cruelty and often feel hypocritical and guilty each time I enjoy a Big Mac. Alas, I do not yet have the fortitude to give it up completely but this at least is a step in the right direction.
I'm trying to practice moderation as well so have asked Ren to plate all my meals, giving me no opportunity for seconds (or thirds).
Italian egg sandwich garnished with some cumin gouda. Yum!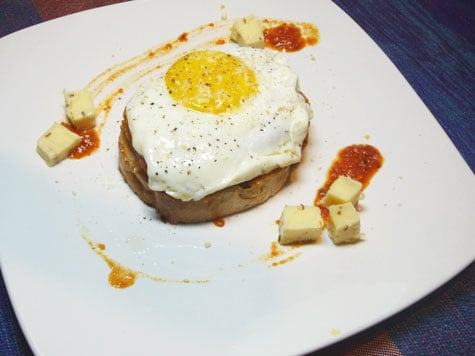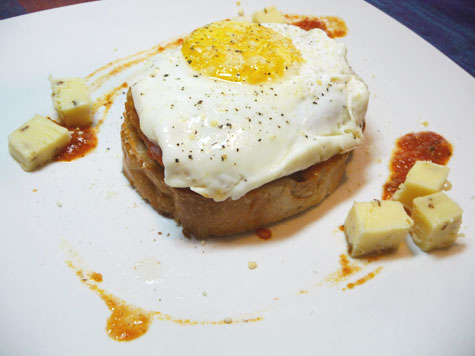 Ingredients (serves two)
2 large eggs, cooked sunny side up
2 slices of sourdough batard, toasted and rubbed with garlic after
2 pan-fried hash browns
1/2 cup home-made marinara sauce
Parmesan cheese
Freshly ground black pepper
Directions
Place a slice of the toasted batard on a plate and top with a hash brown.
Spoon over 1/4 cup of the marinara.
Top with a fried egg and sprinkle with some parmesan and pepper.
NOTE: The cubes of cheese you see in the photos were not indicated in the recipe since they're not necessary. They're cumin flavored gouda which we saw at Robinson's Supermarket so had to try them. Dee-licious! Robinson's also carries Village Gourmet bread which is among the best commercially available bread we've had here in Manila.
DID YOU KNOW?
That my wife discovered this recipe on an episode of Everyday Italian? She modified it and made it her own though, adding the hash browns. Nice touch I must say. 🙂