This could not have come at a better time. I'm pushing 40 and am the heaviest I have ever been. I'm not obese or anything, my midsection is just noticeably bigger and my cheeks are plump. In photos I look like a chipmunk storing food for the winter. Until I can find the motivation to exercise regularly, the next best thing would be to moderate my diet and eat healthier. At my age, this is rapidly becoming a necessity.
The road to sveltehood is never a piece of cake. But thanks to healthy and delicious recipes like Renee's tofu walnut burger, it can be just as delectable.
Tofu's bringing sexy back baby! Just pretend you didn't see all those fries. 😆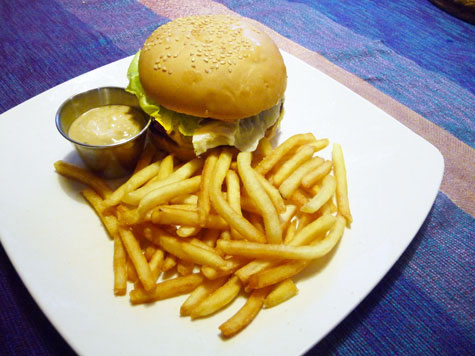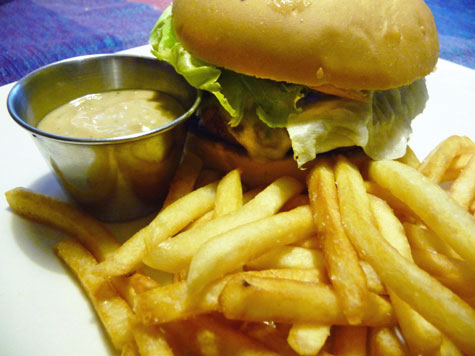 Tofu Walnut Burgers
Ingredients (serves eight)
2 cakes firm tofu (16 oz. each)
2 Tbs. vegetable oil
2 cups diced onions
2 cloves garlic, minced
1 cup peeled and grated carrots
1 cup diced bell peppers
1 tsp. italian seasoning
1/2 cup fresh basil leaves, chopped
2/3 cup chopped walnuts
1 cup bread crumbs
2 Tbs. tahini
2 Tbs. light miso
2 Tbs. soy sauce
Optional: 2 Tbs. Dijon mustard
Directions
Preheat oven to 400F. Oil baking sheet generously.
Sandwich tofu between two plates, and put a heavy weight on top of the plate. Keep pressed for about 15 minutes. Drain away liquid from the bottom of the plate.
Meanwhile, heat oil in skillet and saute onions, garlic, carrots, peppers and Italian seasoning for about 7 minutes, or until vegetables are just tender. Crumble pressed tofu into large bowl. Stir in basil leaves, walnuts, bread crumbs, tahini, miso, soy sauce and mustard. Add sauteed vegetables. Mix well. Using about 3/4 cup of burger mix per burger, form 8 patties by hand, then place on baking sheet about 2 inches apart.
Bake for about 30 minutes, or until burgers are firm and browned. Serve hot!
Serve with tahini dressing, lettuce, cheese or tomato on a whole wheat bun.
Tahini Dressing
Ingredients
1 tbsp olive oil
1 clove garlic
1/4 c tahini
2 tsp balsamic vinegar
2 tbsp fresh lemon juice
1/4 cup water
3 tbsp fresh, chopped parsley
Salt and pepper
Directions
Put all ingredients except the parsley in a food processor and pulse until smooth and creamy.
Fold in the parsley.
DID YOU KNOW?
That tofu is a great source not just for protein, but for omega-3 fatty acids as well?
In just 4 ounces, tofu provides 14.4% of the daily value for these especially beneficial fats. With a broad array of health benefits, omega-3s help prevent erratic heart rhythms, make blood less likely to clot inside arteries (which is the ultimate cause of most heart attacks), and improve the ratio of good HDL to bad LDL cholesterol. They also prevent cholesterol from clogging your arteries, thereby reducing the risk for inflammation.