Beef Shawarma with Homemade Flour Tortillas
Yes, my wife makes shawarmas. She makes them from thinly sliced sukiyaki cuts of premium beef. Though shawarma is normally served with pita bread, we find it too filling so she makes her own flour tortillas from scratch. As a side dish, she makes the most delicious cumin infused hummus to complement the shawarmas, the recipe for which you can check out HERE. Her hummus is so good that I sometimes make sandwiches out of it. No beef, just hummus and veggies wrapped in her warm, pillowy homemade tortillas. Wrap and roll baby. I love it!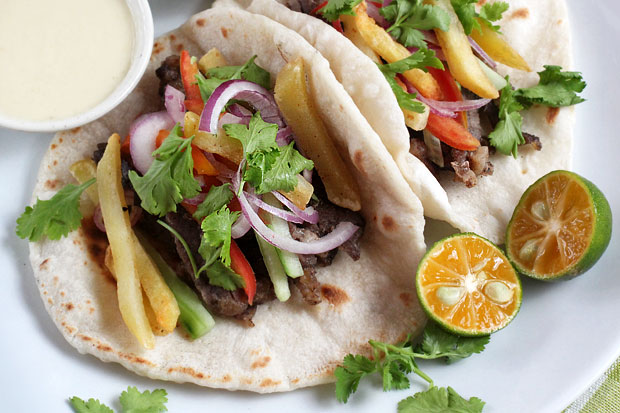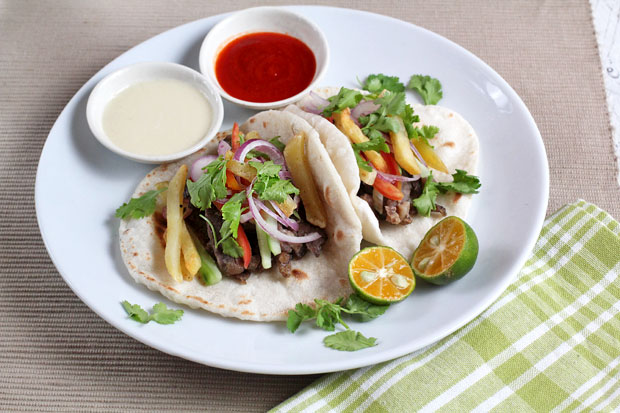 Beef Shawarmas
Ingredients
FOR THE BEEF:
1 kilo sukiyaki cut prime beef
2 cloves garlic, crushed
1 teaspoon pepper
1/2 teaspoon salt
1 teaspoon five spice powder
1 teaspoon allspice
1 teaspoon cumin
Juice from 1 lemon
FOR THE SAUCE:
1 cup tahini
2 cloves garlic, crushed
1/4 cup lemon juice
2 tablespoons yogurt

FOR THE TORTILLA FILLINGS:
Thinly sliced cucumbers
Thinly sliced onions
1/2 teaspoon sumac (if not available, substitute with a mixture of lemon zest and salt or lemon pepper)
Thinly sliced tomatoes
French fries
Optional: 1/2 cup fresh parsley, finely chopped
Optional: Pickle slices
Directions
Combine all ingredients except for beef, fillings, and sauce ingredients to make marinade.
Add beef, cover and refrigerate for an hour.
In a non-stick skillet, over high heat, sear beef briefly in little oil until done. Be sure not to overcook!
Prepare the sauce. Combine sauce ingredients and mix well. Set aside.
Take the onions, tomatoes, cucumbers and sprinkle with sumac. Add other filling ingredients in a large bowl and combine well.
Homemade Flour Tortillas
Ingredients
2 cups all-purpose flour
1 1/2 teaspoons baking powder
1 teaspoon salt
2 teaspoons vegetable oil or non-hydrogenated lard
3/4 cup lukewarm milk
Directions
Stir the flour, baking powder, and salt together in a mixing bowl. Add vegetable oil to the lukewarm milk and briefly whisk to incorporate. Slowly add the milk to the flour mixture. Work the mixture with your hands until it turns into a sticky dough.
Place dough onto a surface dusted with flour. Knead vigorously for about 2 minutes or until dough is no longer sticky.

Return dough to bowl. Cover bowl with a damp cloth and allow to rest for 10 -20 minutes so it becomes easier to roll out.
Divide dough into 8 balls of equal size. Cover and let rest again for another 20 minutes. Avoid letting them touch if you don't want them to stick together.
Dust a clean pastry board or surface with flour.
Remove each piece of dough one at a time. Press it out into a 5-inch circle then flatten with tortilla press. If using a flour dusted rolling pin, roll out the tortilla from the center out until the tortilla measures a little less than 1/4 inch thick and is a 7 or 8 inch circle.

Here's Ren's tortilla press, bought from Amazon.


Transfer the tortilla to a dry preheated skillet or griddle. When the tortilla begins to blister, allow it to cook for 30 seconds, flip it and cook the other side the same way.
Remove the tortilla, place it in on a clean paper towel and cover loosely with foil. Repeat for remaining tortillas.
Wrap extra tortillas tightly in plastic, removing any air pockets. Tortillas freeze well and will keep frozen for several weeks.
To serve tortillas which have been frozen, thaw them at room temperature, wrap in foil then heat in a warm oven.
DID YOU KNOW?
That the name shawarma (pronounced SHWAR-muh) comes from the Turkish word çevirme, meaning "turning?"