Philly Cheese Steak Sandwich
One of my absolute favorite comfort foods in the world. I LOVE Philly cheese steaks and my Renee makes a mean one. Her secret? Cumin! It adds an extra dimension to an already flavorful sandwich. I like mine with just Cheez Whiz, mozzarella, mushrooms and sauteed onions. And remember to use good bread. It won't matter how good your meat and other ingredients are if the bread is sub-par.


Check out that bad boy!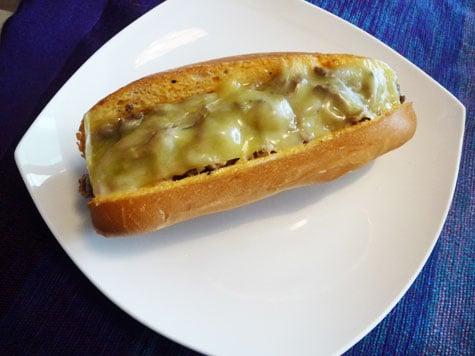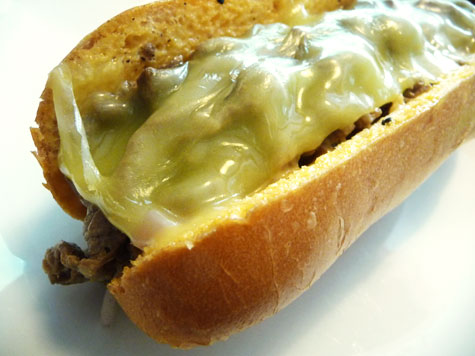 Ingredients
1 tablespoon olive oil
1 pound sukiyaki cut beef
2 onions sliced into rings
Mushrooms
Salt and pepper
4 French bread rolls split lengthwise and toasted
Cheez whiz
8 ounces shredded mozzarella cheese or provolone
1 teaspoon cumin
Optional: 2 green bell peppers cut into 1/4 inch strips
Directions
Preheat oven to 500 degrees F (260 degrees C).
Heat oil in a large skillet over medium heat. Saute beef until lightly browned. Stir in mushrooms, onions and green pepper. Season with salt and pepper. Saute until vegetables are tender, then remove from heat.
Spread each bun generously with cheez whiz. Divide the sauteed beef with vegetables and mushrooms evenly among the buns. Top with shredded cheese then place sandwiches on a baking pan.
Heat sandwiches in preheated oven until cheese is melted or lightly browned.
DID YOU KNOW?
That although pundits often argue what type of cheese should be used on a "true" Philly cheese steak, that the original in fact had no cheese at all?
The Olivieri Brothers, Pat and Harry, operated a hot dog and sandwich stand in Philadelphia in the 1930s, but didn't have Philly cheese steaks on the original menu. They decided to make a steak sandwich for themselves with onions for lunch one day when a cab driver saw what they were doing and asked for one. The first Philly cheese steak (minus the cheese) was born and sold for a nickel.
It wasn't until 1960 that cheese was actually introduced to the sandwich. The cheese of choice? Cheez Whiz, though other cheeses were offered as well such as Provolone which was combined with pizza sauce for a pizza steak version of the Philly cheese steak.
Pat's King of Steaks, which the brothers opened on East Passyunk Avenue in Philadelphia in 1940, still stands in its original location today. The restaurant is open 24 hours daily with lines frequently out the door.