EDITOR'S NOTE: In this Croatian food guide, Traveleater BJ Macatulad shares twelve dishes that you need to try in Croatia.
The source of modern Croatian cuisine's intricacy and multi-layered character might be best captured by one of the country's winemakers, Ivica Matosevic, who told The Huffington Post, "My grandfather lived in Austria, my father was born in Italy, I was raised in Yugoslavia, and my daughter was born in Croatia, yet nobody ever moved."
Like the country itself, Croatian cuisine has absorbed multiple influences, from the highlights of the Mediterranean diet to the hearty fare of Eastern Europe. Add to that the bounties of the Adriatic Sea, and you have one of the most remarkable arrays of gastronomic riches.
While no list can be comprehensive enough to do justice to the incredible experience in store for epicures in Croatia, here's some classic fare I had the privilege of experiencing on my trip to the Dalmatian Coast and the region of Istria.
Save This on Pinterest!
No time to read this Croatian food guide now? Click on the save button and pin it for later!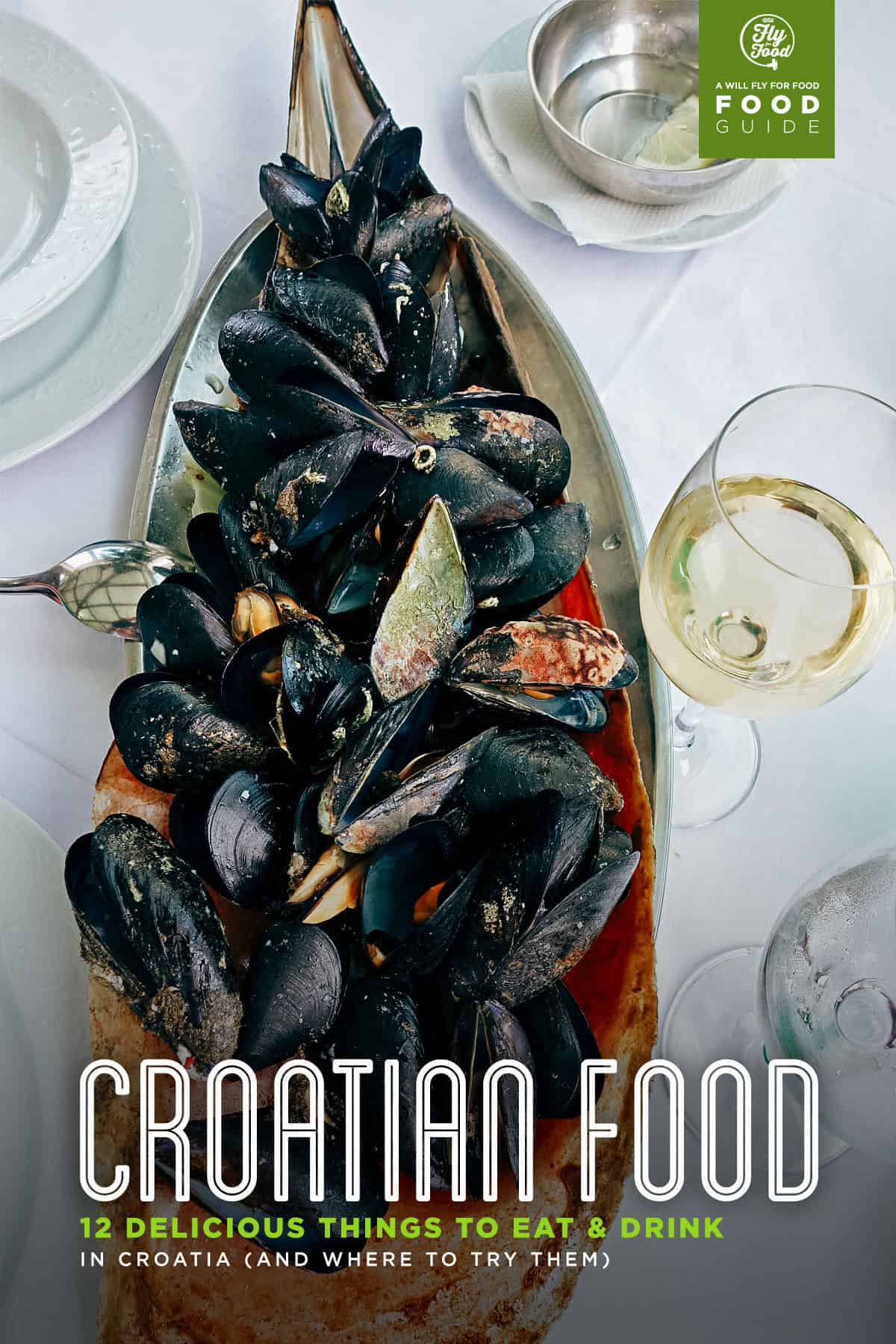 WHAT TO EAT IN CROATIA
1. Grilled Adriatic Squid
My first meal at my first stop in Croatia, Dubrovnik, was a glorious introduction to Croatian fare. Croatia is bounded by water along its southern coast, so it is no surprise that seafood takes pride of place among its most celebrated dishes.
Grilled Adriatic squid is a typical — though by no means ordinary — Croatian meal which consists of 8 or 10 small squid grilled very lightly to maintain maximum flavor, usually paired with boiled green beans and potatoes.
The version I had at Konoba Moby Dick was served with the cephalopod's black ink intact, but I was happily oblivious to my husband's laughter as I flashed a big ink-y smile after my first tender bite.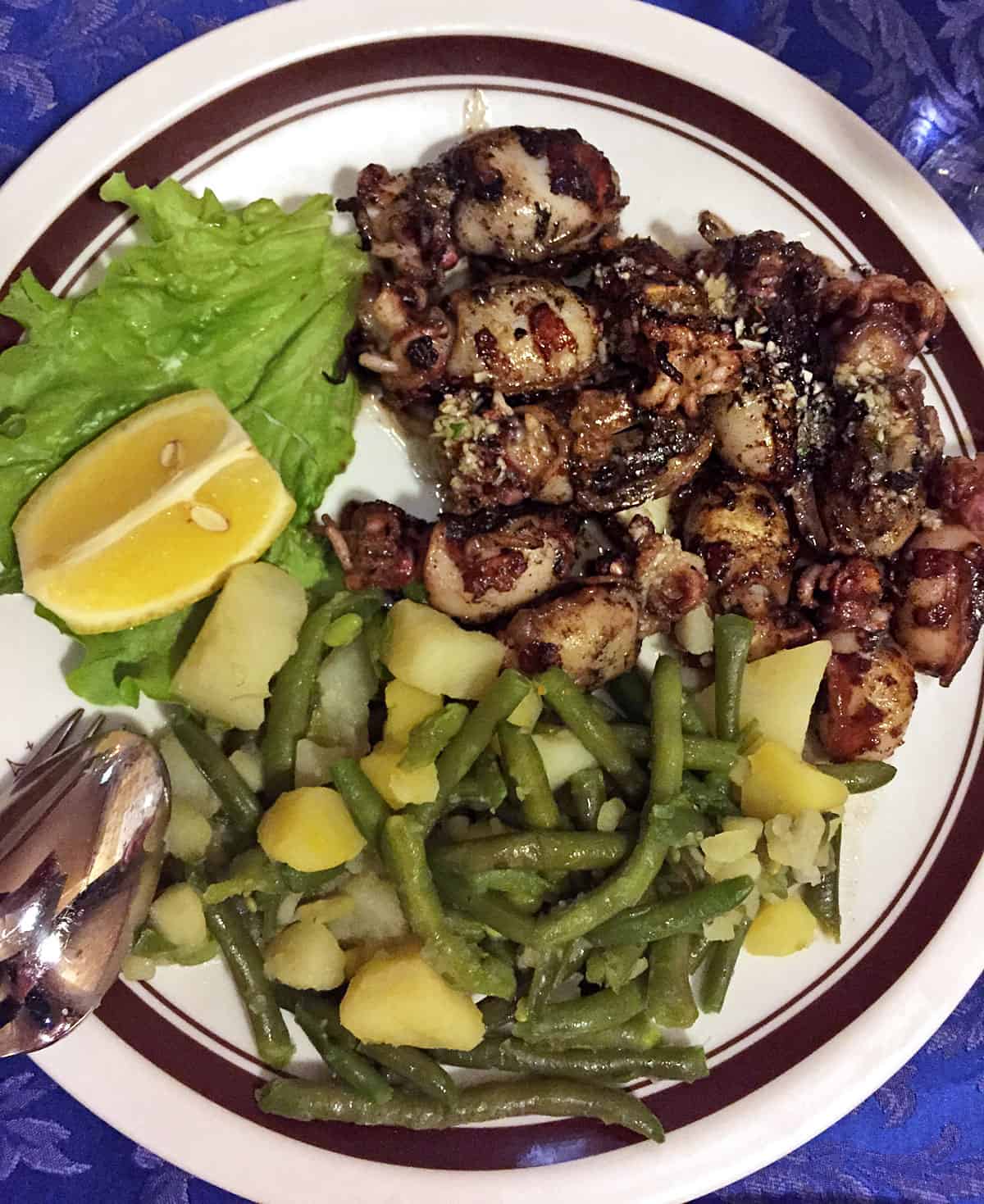 Prijeko 20 Old City, Dubrovnik 20000 Croatia
Tel: +385 20 321 170
2-3. Dalmatian Prosciutto & Pag Cheese
As our local guide Matijas said, if you're invited to dinner in Croatia and your host doesn't offer prsut as an appetizer, it must mean you're in the dog house.
Prsut, Croatia's answer to Italian prosciutto, is a ubiquitous local staple and every household is a stout proponent of their version. The difference? Dalmatian prsut is lightly smoked, and the key ingredient is the fierce, dry wind that blows from the north, the bura.
The ham is hung outside so the wind can do its part in the drying process. The result is a very dry, salty and surprisingly moreish* ham whose unique location and climate is captured in its distinct taste.
It is especially good when paired with sheep cheese from Pag Island. The island's pastures along the sea are sprinkled with salt carried by the bura, resulting in saltier grass, saltier milk, and an inherently salty cheese.
For a truly decadent Istrian experience, go the distance and dip the Pag cheese in honey with white truffle, and wash down with a glass of white Malvazija (more on these below). Oooooooh.
*A Kiwi/Aussie term I picked up from my husband that means "makes-you-want-more," very descriptive and apropos.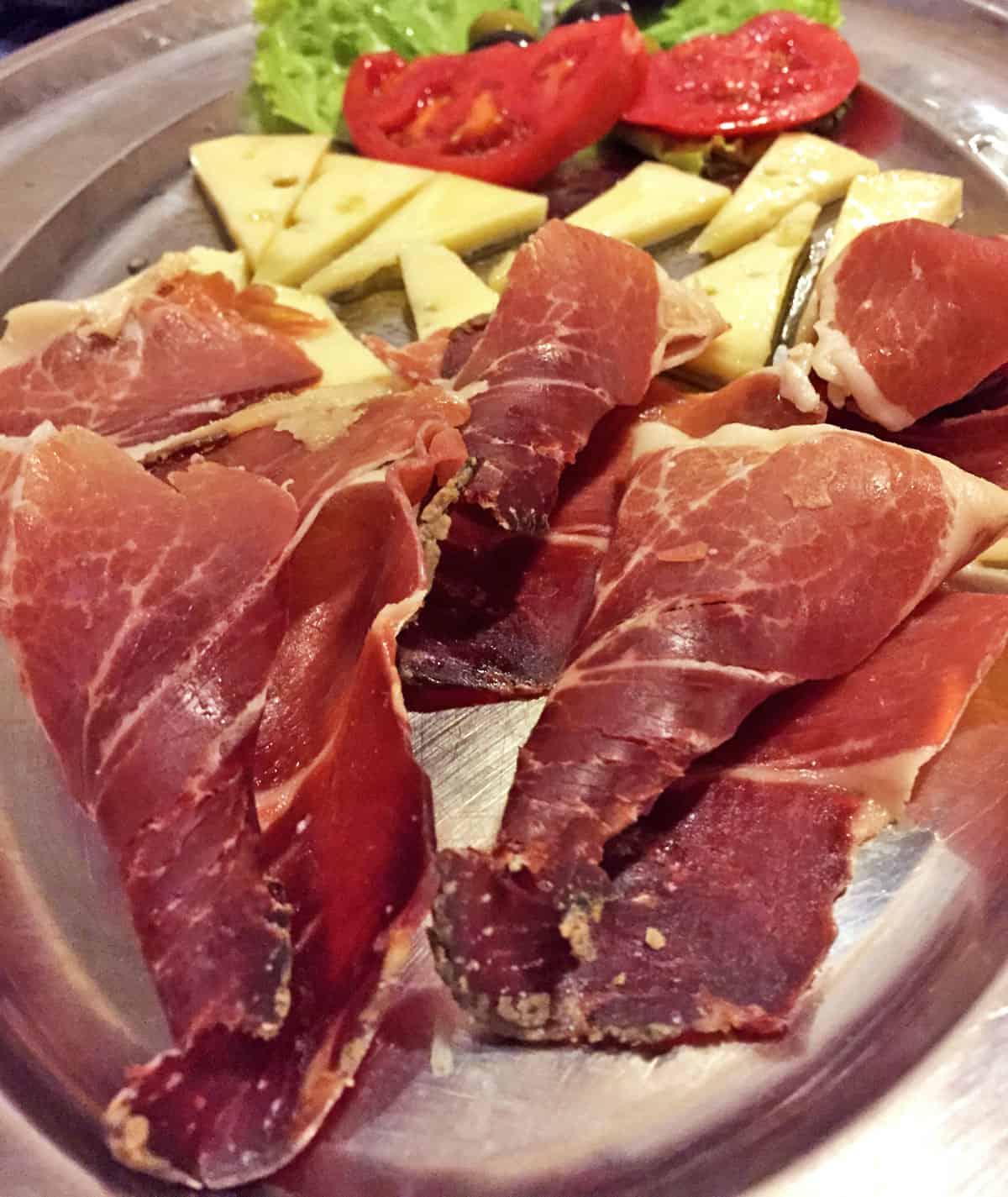 4-5. Oysters & Mussels in Mali Ston
Ston and Mali Ston (or "little Ston") seem like mere sleepy fishing villages on the main road from Dubrovnik to Split. But Mali Ston is a mandatory stopover for its deservedly famous — and extraordinarily well-priced (meaning, affordable) — oysters and mussels, grown right on the bay.
There are two restaurants in Mali Ston synonymous with fresh oysters: Kapetanova Kuca and Villa Koruna. Unable to decide, my husband and I chose the most logical option: we went to both.
We started with an appetizer of a dozen fresh oysters at Kapetanova Kuca. The oysters were plump, juicy, salty. Eating the oysters raw was a sensual delight, like a slow kiss from the sea.
We then moved on to the homey Villa Koruna, where we tried oysters tempura-style and spaghetti with a creamy sauce mixed with octopus, clams and white fish, both utterly delicious. But the piece de resistance was the mussels buzara (wine sauce) which was served in one giant mother of a clam shell. Talk about presentation!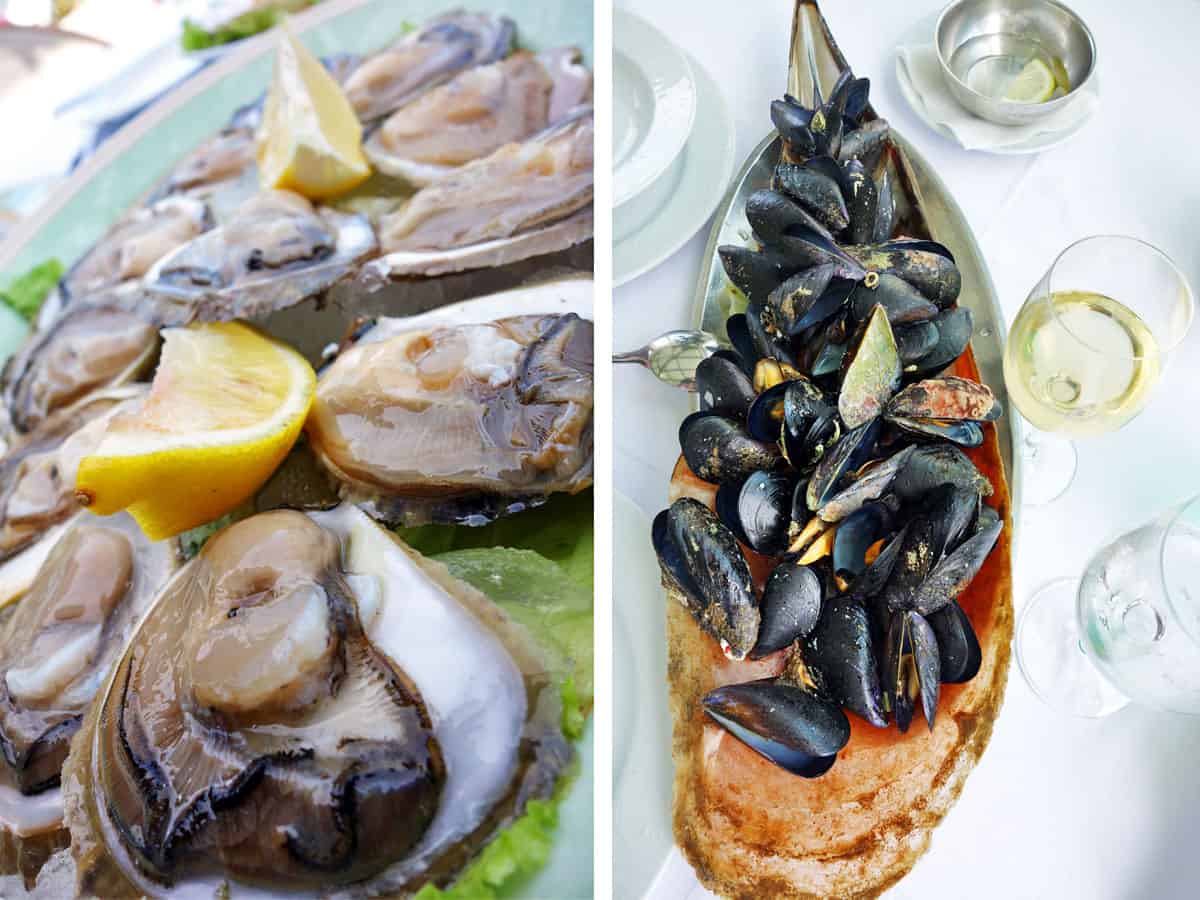 Obala Dr. A. Starcevica Mali Ston, 20230 Ston, Mali Ston 20230 Croatia
Tel: +385 20 754 555
Mali Ston Bb, Mali Ston 20230 Croatia
Tel: +385 98 344 233
6-7. Pasticada with Gnocchi
This slow-cooked dish consists of beef (or lamb) stewed and left to soak overnight with pancetta, garlic, onion, celery, laurel, Mediterranean herbs and red wine. The result is an especially tender meat and a thick, rich sauce that is perfectly sopped up by handmade njoki (gnocchi) or mashed potatoes.
Pasticada has been a Dalmatian staple for centuries, and we enjoyed it at the very laid-back Buffet Fife, a restaurant along the promenade of Split which was recommended by every single local person we asked. Very authentic, and apparently unfamiliar with inflated prices for tourists.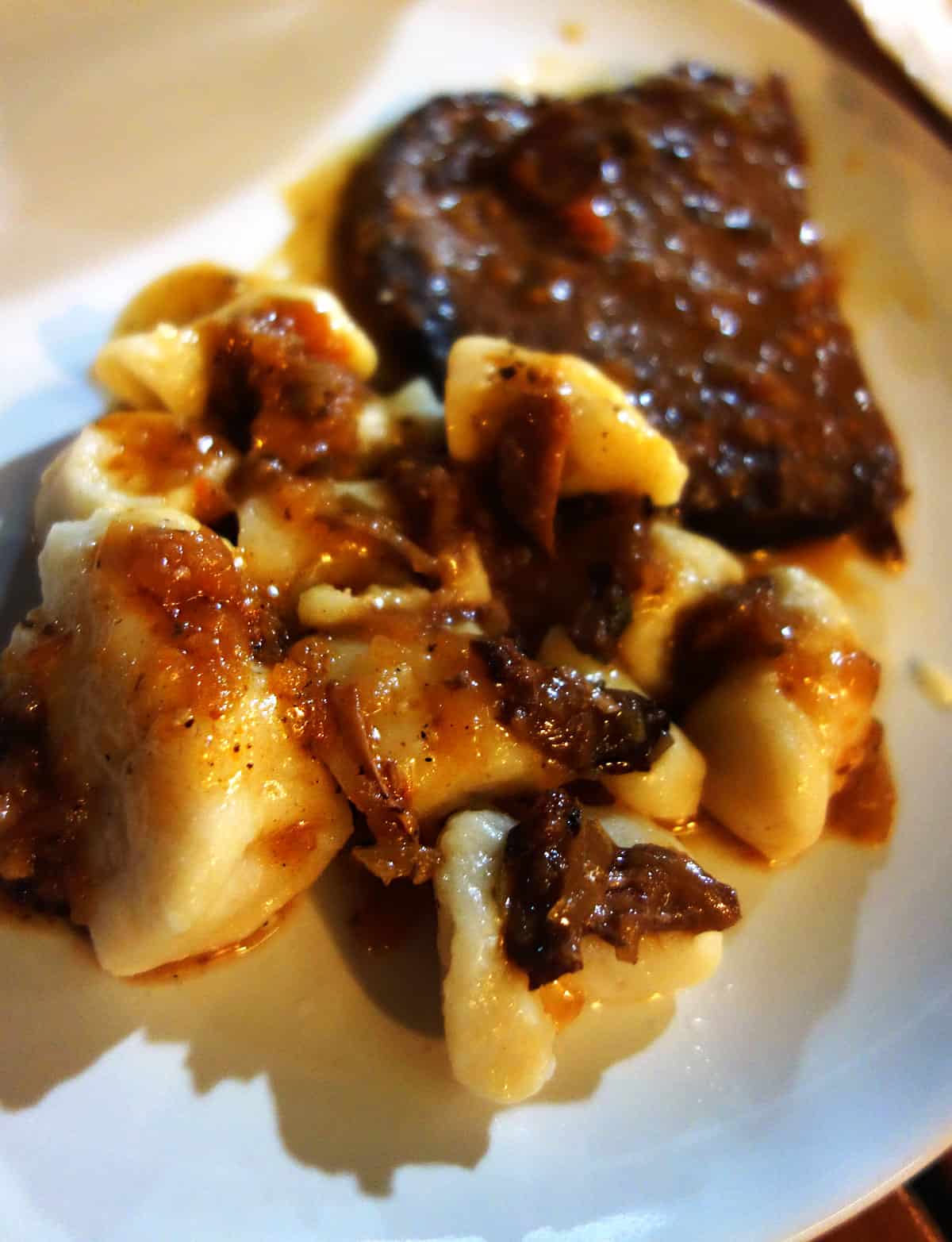 Trumbiceva Obala 11, Split 21000 Croatia
Tel: +385 21 345 223
8. Grilled Sea Breem
It may surprise you to learn that with the plethora of interesting and tasty foods we found in this country, this meal of simple grilled fish was hands down my favorite dining experience in Croatia. My husband's too.
The meal we enjoyed at Konoba Marjan, a longstanding local favorite in Split run by the same family over several generations, was one of those experiences where everything came together at just the perfect pitch. For starters, the sea bream could not have been fresher.
One advantage of running a restaurant for several decades is that the family behind Konoba Marjan knows all the best fish vendors and has their pick of the best seafood plucked that day from the Adriatic. This white fish — grilled with no more than olive oil, salt and pepper — was so delicate and delectable that, while I hate to resort to lazy clichés, this fish really did melt in my mouth.
And when I read food writers talk about sauces that "elevate" a dish, I usually dismiss them as pretentious snobs. But the sauce that accompanied the sea bream, a deceptively simple mix of olive oil, garlic and parsley, truly did transform this dish stunningly.
Having grown up the Philippines, a country that teems with excellent seafood, I didn't think that a humble fish dish could still manage to surprise and delight me. Add to that the honest and friendly service, a glass of easygoing white wine, and a perfectly crisp and sunny early autumn day, and you have a singularly special dining experience.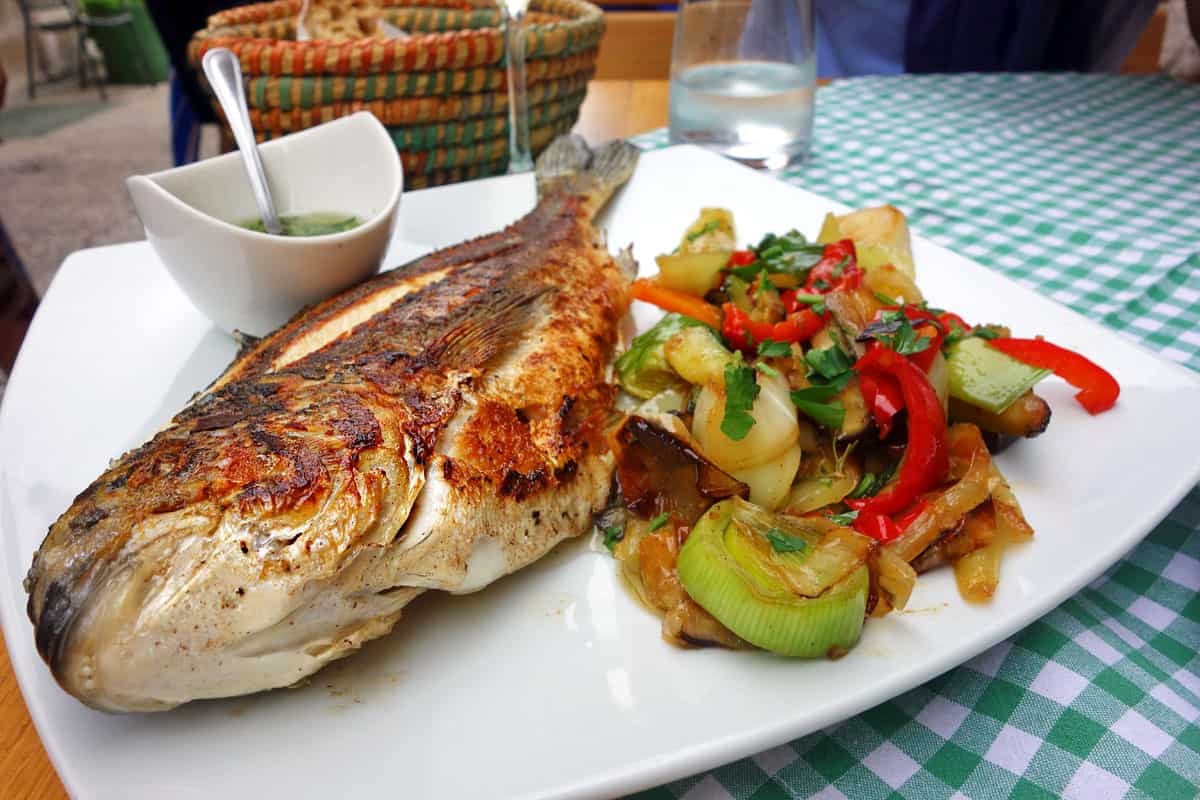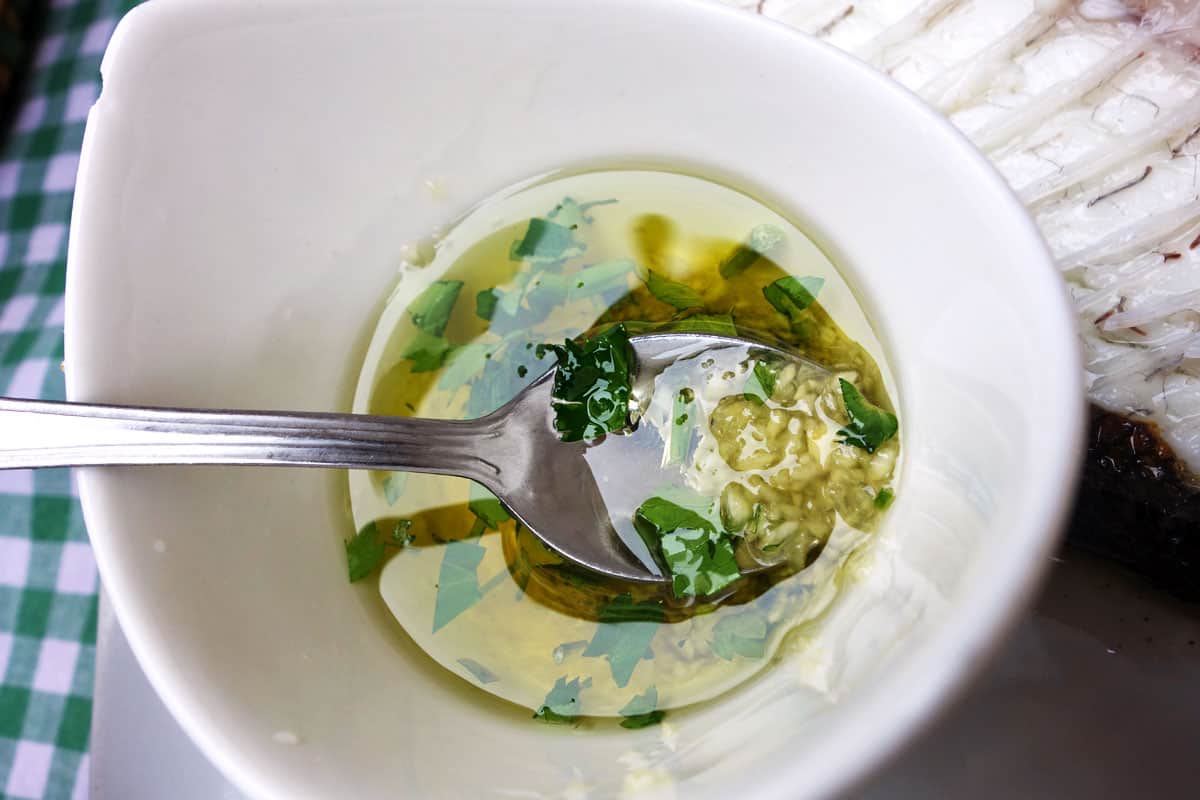 Senjska 1, Split 21000 Croatia
Tel: +385 98 934 6848
9-10. Homemade Fuzi with White Truffles
It was no accident that our trip in October coincided with the start of white truffle (tartufi) season, which is abundant in the inland hills of Istria. Regular restaurant-goers may by now be suffering from black truffle fatigue (truffle fries…truffle mac & cheese… truffle steak…you know what I'm talking about), but the superstar white truffle's much more intense aroma and flavor almost render its black truffle sibling to the role of Plain Jane.
At a cost of up to 10 times per kilo over the price of black truffle, white truffle on anything is a real treat! But my favorite is one of the simplest ways it is served: in a sauce to accompany homemade fuzi, or pasta twists. We enjoyed a much-anticipated truffle lunch at Restaurant Marino, one of the first restaurants that began offering truffle extensively on its menu over 40 years ago.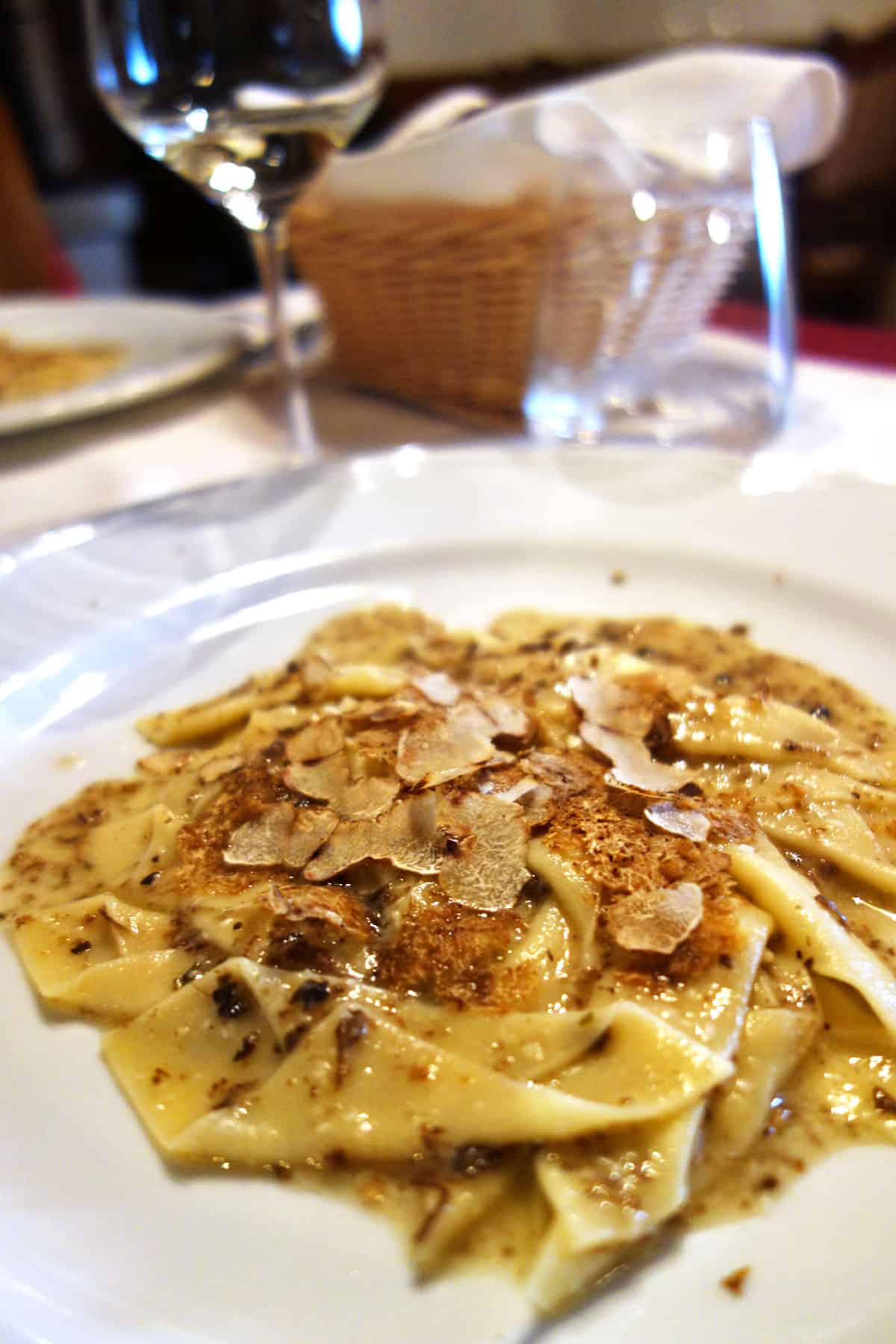 Kremenje 96/B, Momjan 52460 Croatia
Tel: +385 52 779 047
11. Istrian Malzazija (paired with anything)
Vineyards abound from the Dalmatian Coast to Istria, and best known among Croatian wines may be Istria's signature crisp wine from the white grape variety called Istarska Malvazija. It is the perfect companion to seaside dining, from calamari and sardines to seafood pasta and snacks at sunset.
Istrian Malvazija is fresh, light, uncomplicated. Consequently, it is praised and maligned in equal measure as a "breakfast wine." But personally, I love unpretentious, drinkable white wine… especially when it is so cheap! A bottle from the grocery store costs little more than 30-40 kuna (4-5 Euros), and one from one of the top vineyards such as Kozlovic Winery in Istria can be had for only 80 kuna (11 Euros).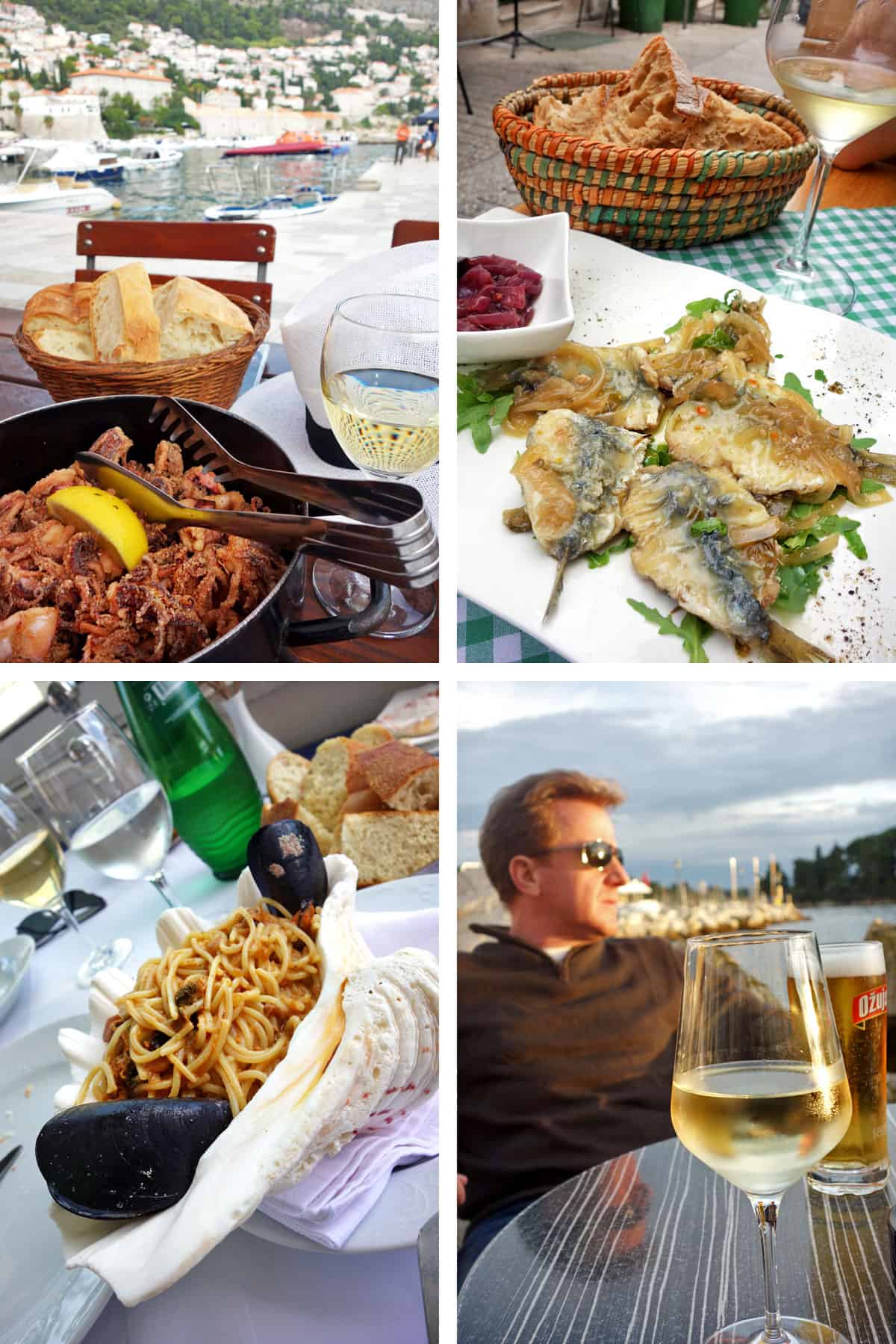 Vale 78, Momjan 52460 Croatia
12. Organic Extra Virgin Olive Oil
An olive oil tasting tour at the Chiavalon Olive Oil Estate, run by the charismatic brothers Sandi and Tedi Chiavalon, introduced me to really, really good olive oil. When olive oil is good, it smells grassy and has a pleasant bitterness. Never was another cliché so perfectly appropriate and called for: I never knew it could be like this. I was so fascinated by Tedi's tour that I wrote a separate article to extol the virtues of Chiavalon Extra Virgin Olive Oil.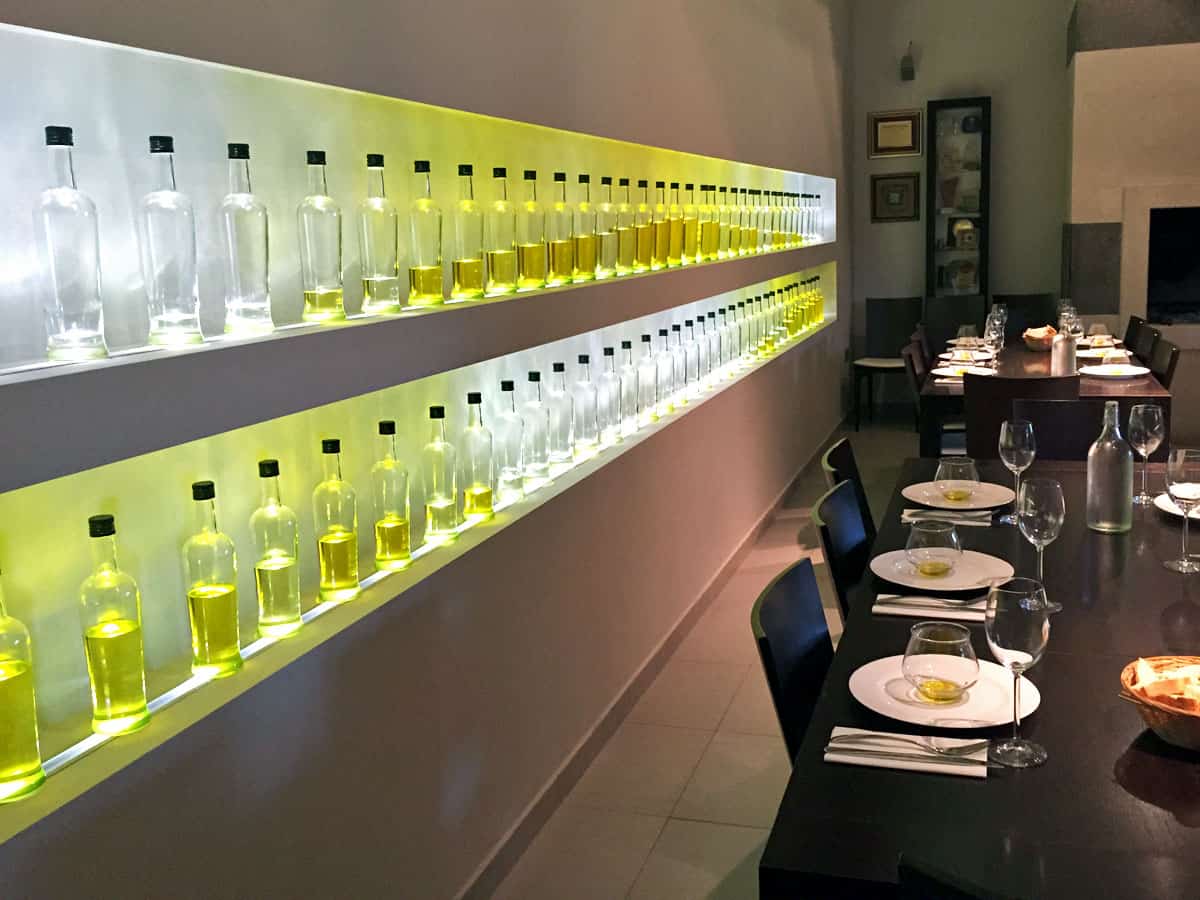 Ulica Salvela 50, Vodnjan 52215 Croatia
FINAL THOUGHTS
These foods represent but a small sliver of the culinary riches of this yet under-the-radar gem in the Adriatic. If I have whetted your appetite for a full-blown gastronomic tour of Croatia, do include a few days in Istria. After arriving in Zagreb, most travelers prioritize Split and Dubrovnik. But a stay in Istria is not to be missed, especially for lovers of food and drink.
I highly recommend staying in the town of Rovinj, where pretty, pastel-hued buildings seem to rise out of the sea…more on this in another article – "10 Days, 10 Reasons to Visit Croatia."
And if you do visit Istria, a full-day food and wine tour with a local guide is the way to go, especially if your time in Istria is limited. We spent almost ten hours on a private tour with Matijas Sekulic, a veritable sage on all things Istria. The best day of our 10-day jaunt, and worth every penny.
Matijas Sekulic
Bookings: toursbylocals.com
Email: [email protected]
Disclosure
Some of the links in this guide are affiliate links. We'll get a small commission if you make a purchase at no additional cost to you. We only recommend products and services that we use ourselves and firmly believe in. We really appreciate your support as it helps us make more of these free travel guides. Thank you!
Photos by BJ Macatulad