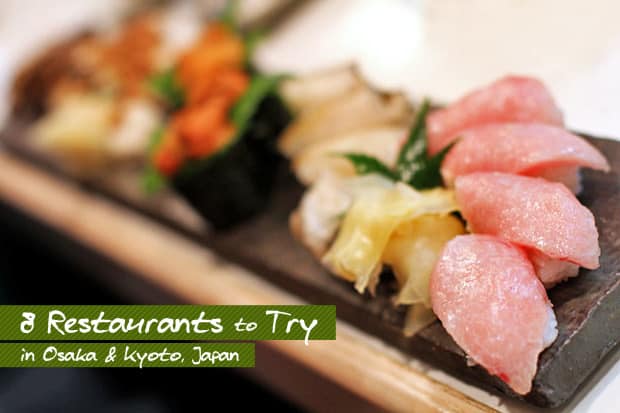 8 Restaurants to Try in Osaka & Kyoto, Japan
With the constellation of Michelin stars to be explored in the Kansai region, is it even possible to create a list of "must-try" restaurants? The simple answer is, no. I don't think so. You can try, but you won't be doing the region justice.
For a restaurant to be considered "must-try", it has to be one of the best. Or at least offer something that other places can't. With the exception of one or two, I don't know if the places on this post can do that. So instead of trying to create an impossibly concise list of must-try restaurants, I've put together a small group that I'd be happy to recommend instead. Some made it on novelty, others on value. But they're all linked by a common thread — quality. They're all really good.
Here's a list of 8 restaurants that I hope can help you navigate through the ocean of deliciousness that is the Kansai region.
1. Kura Sushi (Osaka & Kyoto)
One of the most popular kaiten-zushi (conveyor belt sushi) chains in Japan, a meal at Kura Sushi isn't just cheap and delicious, it's super fun too. Every single plate of sushi on that conveyor belt – from maguro, to hamachi, to unagi, to chuotoro, to hotate, to katsuo – goes for an even ¥100. At the time, that was equivalent to about a dollar. I LOVED this place.
CLICK HERE for more pictures and information.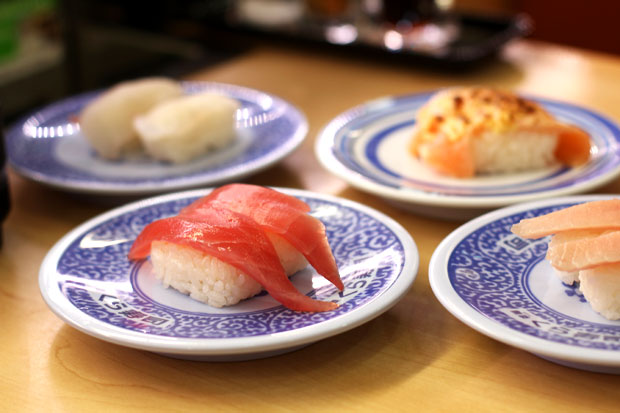 Expect to Pay: ¥1,000-1,500 per person with drinks
2. Fujiya 1935 (Osaka)
Cited by the Diners Club as one of the world's 50 best restuarants, Fujiya 1935 is one of just four 3 Michelin-starred restaurants in Osaka. Helmed by Spanish-trained chef Tetsuya Fujiwara, the seven-course lunch we enjoyed here was outstanding.
CLICK HERE for more pictures and information.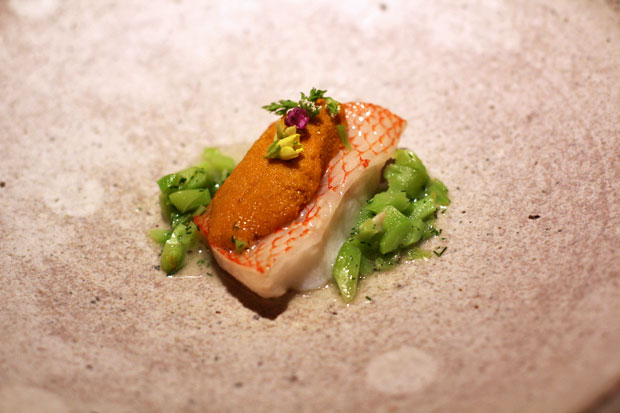 Expect to Pay: ¥9,000 per person for lunch with drinks / ¥17,000 per person for dinner with drinks
3. Gion Kappa Restaurant (Kyoto)
Nestled in the heart of the Gion entertainment district, Gion Kappa restaurant is a gem. A favorite among Kyoto locals, it was highly recommended for two reasons: 1) they serve good, authentic Japanese food; and 2) almost everything on the menu goes for just ¥390. You can enjoy a good meal here for a modest ¥1,500. Though cheap, the servings are small so you'll wind up ordering several plates. We ordered off the menu and had some of the best sushi we've ever tasted in our lives.
CLICK HERE for more pictures and information.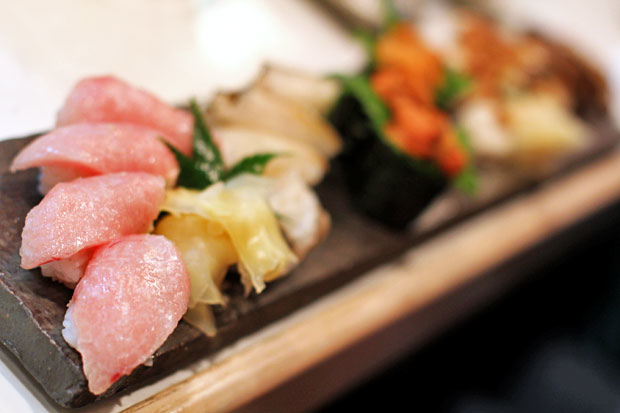 Expect to Pay: ¥2,500-3,500 per person with drinks
4. Tsurugyu (Osaka)
This place is all about Kobe beef. We wanted to try this legendary brand of beef but we were afraid of its exorbitant prices. Luckily, we had insider knowledge. A Japanese friend of mine who worked at a 5-star resort heard about this place from his meat supplier. Apart from serving top quality meat, it's fairly priced for Kobe beef which is why it came so highly recommended. Cooked yakiniku style right at your table, it was INSANELY good. Seriosuly, if you've been wanting to check off Kobe beef from your bucket list, this is the place to do it.
CLICK HERE for more pictures and information.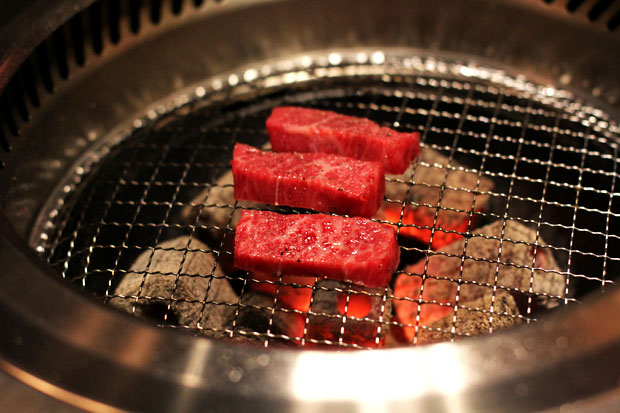 Expect to Pay: ¥6,500 per person with drinks
5. Iroha (Osaka)
We enjoyed a fantastic thirteen-course kaiseki dinner here. Owner of one Michelin star to date, it's helmed by chef/owner Masatoshi Yoshimoto who specializes in fish. The second of two kaiseki meals we enjoyed in Japan, Iroha is more traditional Japanese while Fujya 1935 is modern fusion. Both were outstanding.
CLICK HERE for more pictures and information.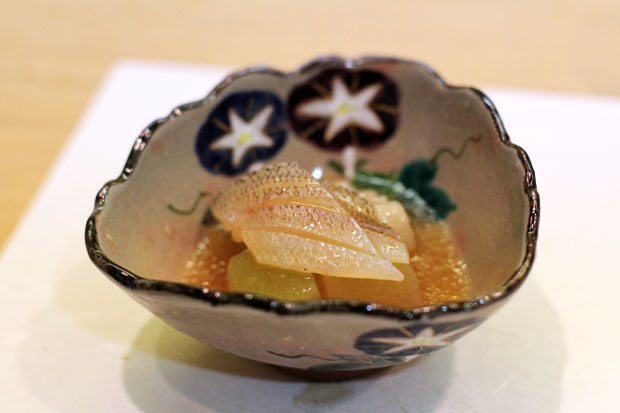 Expect to Pay: ¥15,000 per person for dinner with drinks
6. Donguri (Kyoto)
Though more commonly associated with Osaka, you can have great okonomiyaki in Kyoto as well, right here at Donguri. If you've never had this Kansai delicacy before, it's a savory pancake made with a base of wheat flour, eggs, and cabbage, with a slew of other ingredients thrown in like seafood, beef, pork, and cheese. Really hearty and delicious.
CLICK HERE for more pictures and information.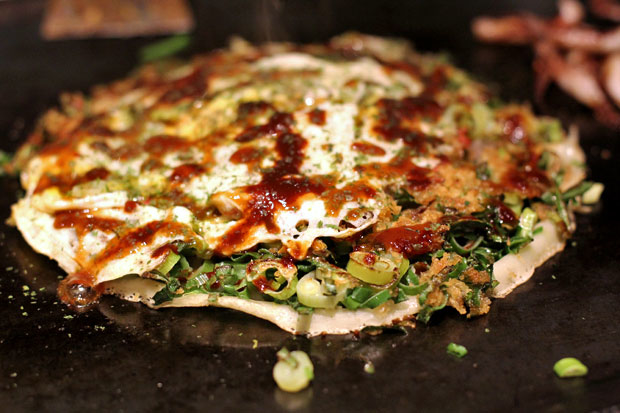 Expect to Pay: ¥1,500-2,500 per person with drinks
7. Jinen (Osaka)
Our very first meal in Osaka, Jinen is just a few minutes walk from Best Western. It's home to some fantastic sushi. At the center of the picture below are the most delicious pieces of blow-torched salmon nigiri. They sprinkle them with salt so no soy sauce is necessary. Seriously good!
CLICK HERE for more pictures and information.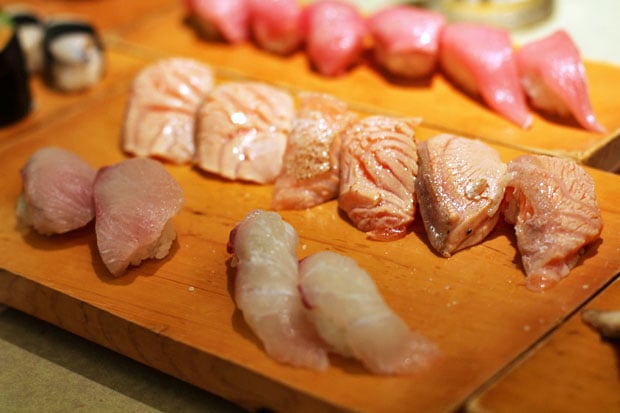 Expect to Pay: ¥4,000 per person with drinks
8. Zuboraya (Osaka)
If you've ever wanted to try that infamous dish known as fugu (blowfish), then this is a good place to do it. A restaurant chain that specializes in this (potentially) deadly delicacy, you can enjoy just a few pieces of sashimi or indulge in an entire 8-course meal.
CLICK HERE for more pictures and information.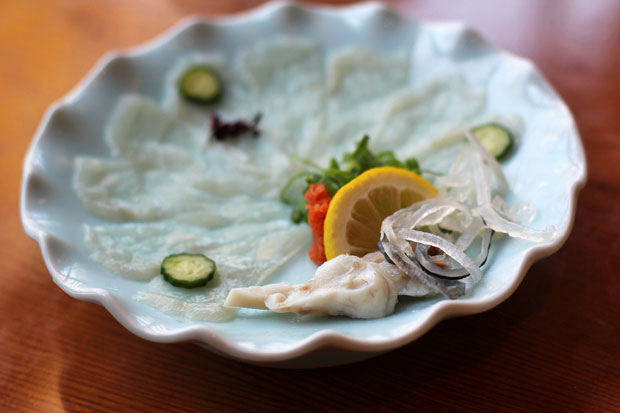 Expect to Pay: ¥2,000-3,000 per person with drinks (small meal, lunch)
As mentioned up top, I was hesitant to label any of these as "must-try" restaurants no matter how good they were. There's just too much good food to be had in the Kansai region to make such a bold, definitive statement.
As of this writing, there are 251 restaurants in Kyoto, Osaka, Kobe, and Nara that hold at least one Michelin Star. Fourteen have the maximum of three. Such is the quality of food that can be found here.
Among this list of eight, I'd say that Kura Sushi, Fujiya 1935, and Tsurugyu are the three that I enjoyed the most. Kura Sushi for its overall experience and value, Fujiya 1935 for the quality and inventiveness of their food, and Tsurugyu for the thrill of trying Kobe beef for the first time. Sure, you can find Kobe beef or the comparable Matsusaka or Saga beef elsewhere, but Tsurugyu provides some pretty good value for money.
With so much delicious food to be had, you're almost guaranteed of having a great meal no matter where you go. Even the street food in Osaka is outstanding. Be sure to check out my post on Kuromon Ichiba Market for information on where to get some terrific street eats outside of the popular Dotonbori area.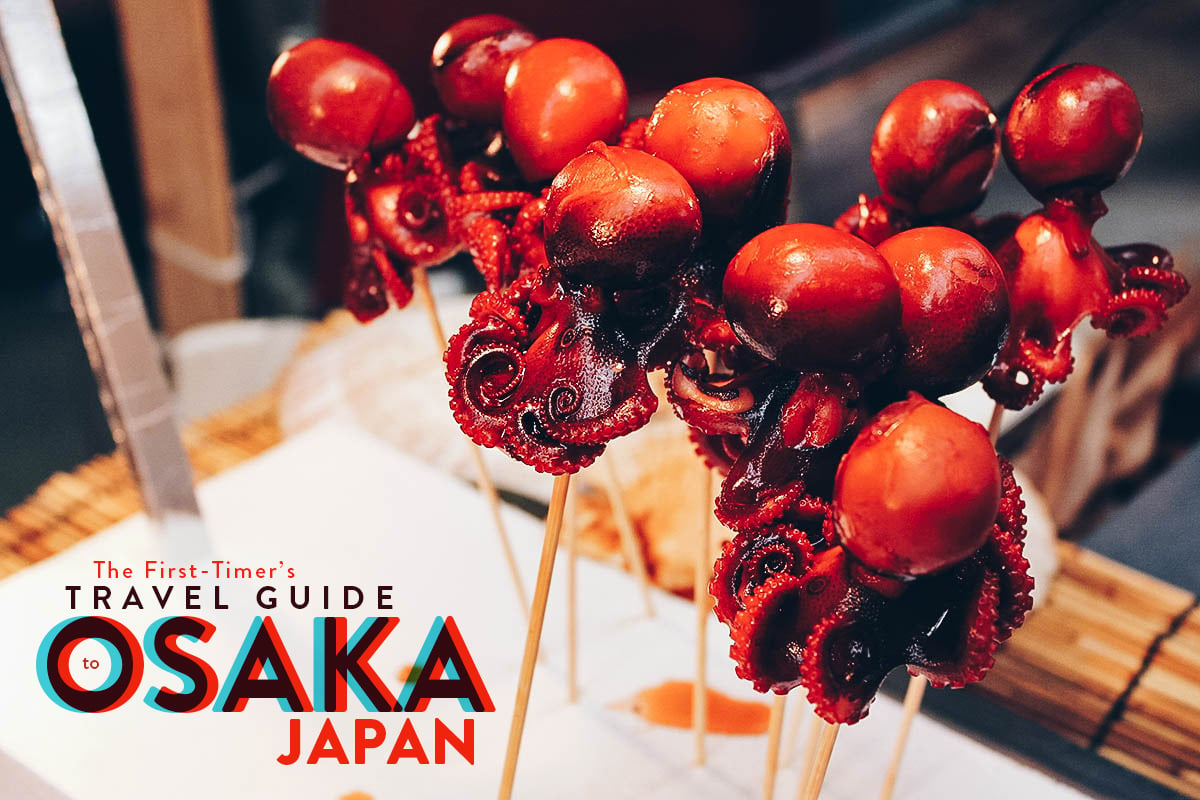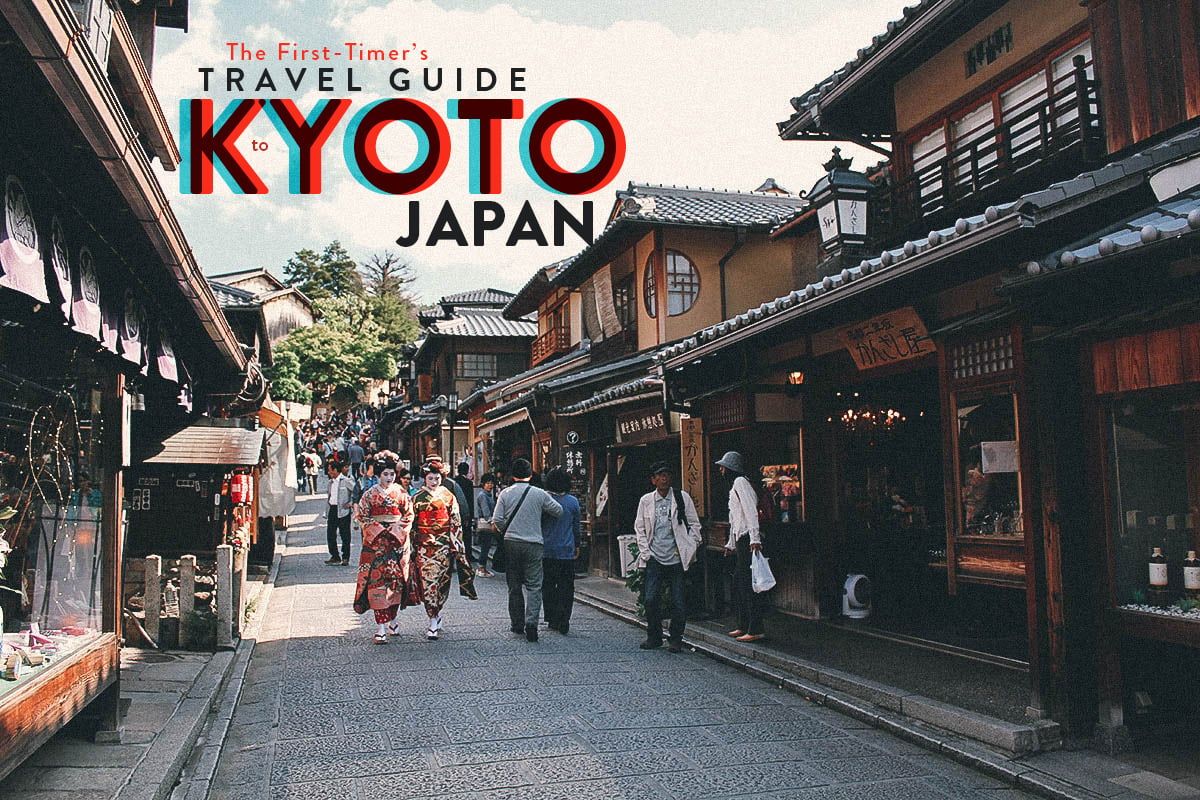 JB is one half of Will Fly for Food and its chief itinerary maker.  He's the one to blame for all the crappy photos and verbal diarrhea on this blog.  Don't listen to him.

Latest posts by JB Macatulad (see all)