Wagyu Yakiniku at Sandaya
We had the good fortune of eating at this fantastic yakiniku restaurant called Tsurugyu in Osaka, Japan last May. That yakiniku dinner of wagyu and Kobe beef was hands down one of the best meals we have ever had in our lives. It wasn't just good, it was life-changingly good, prompting Ren to call their wagyu beef tongue one of the five best things she had ever put in her mouth.
That experience left us with such a yearning for yakiniku that when a voucher to Sandaya restaurant popped up on Groupon, we jumped on it. 40% off on wagyu yakiniku? Like a lion stalking a fat limping impala, we pounced on that fucker.
If we thought that the prospect of eating wagyu yakiniku was thrilling enough, imagine how we felt when we saw an entire page on their menu dedicated to just beef tongue.
One of the five best things that we ever ate, all over again. Seriously, there were no words.
L: Restaurant interior
R: All yakiniku sets are served with lettuce, kimchi, crisp cabbage, nira, and fresh sprouts salad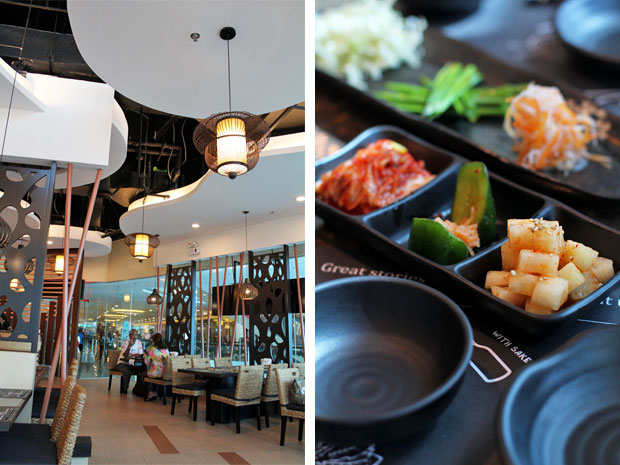 Premium Assorted Yakiniku Set – PHP 3,800 (900 g) / PHP 2,200 (500 g) – Choice cut meat platter with wagyu
Cat got your tongue? Not entirely sure what cuts were on this gorgeous platter, but I believe it included boneless short ribs, chuck tender, beef tongue, hanging tender, and pork belly leek rolls among others. YUM!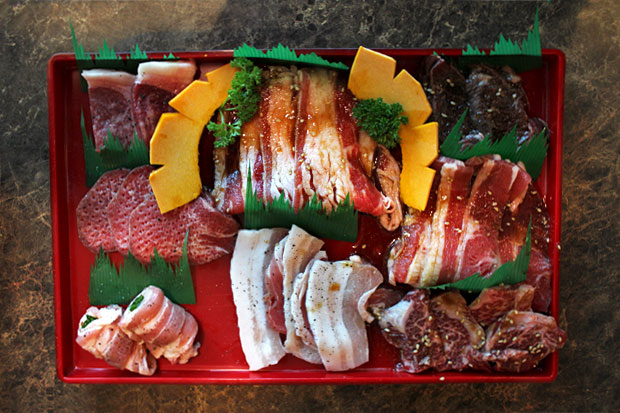 Grillin' like a villain baby! I have ambitions to give up mammalian meat but meals like this make it almost impossible.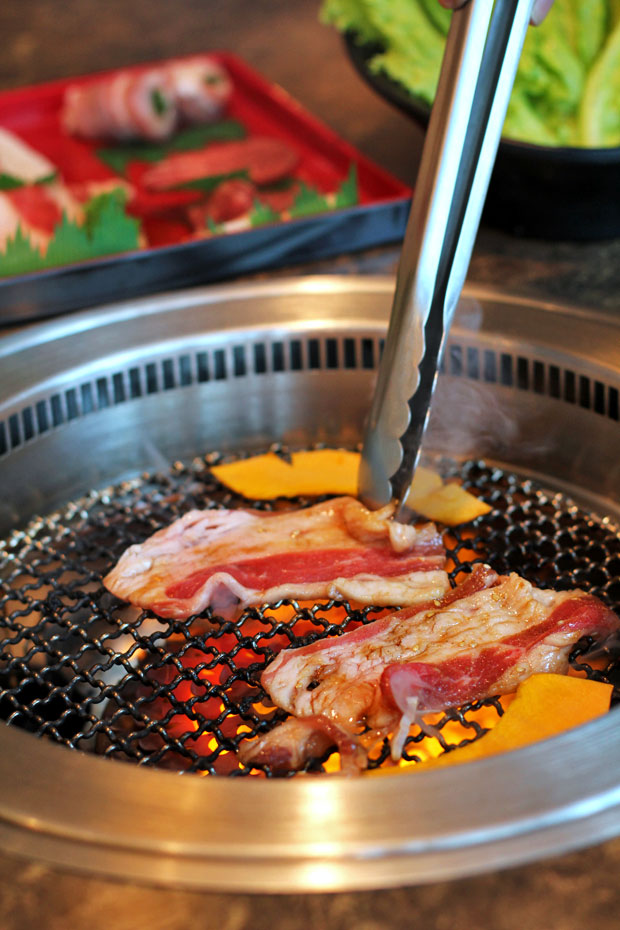 Everything on the platter was good but some cuts were phenomenal. Charred and caramelized to perfection, the thinly cut slices of wagyu beef were unbelievable when paired with the sticky rice.
Sadly though, we were disappointed with the tongue. It was good but not nearly as good as the tongue at Tsurugyu. Sandaya's tongue was flavorful but a little tough. 🙁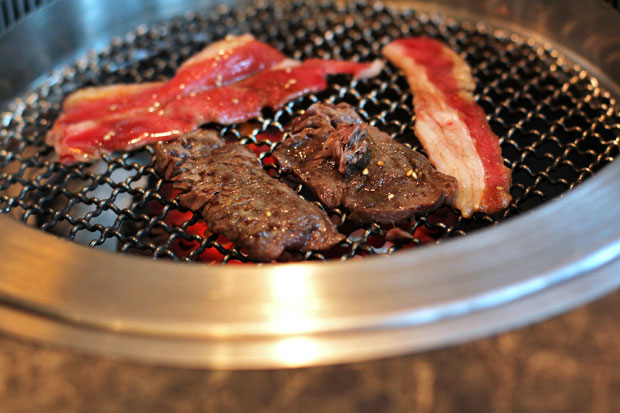 The pork was pretty good but not mind-blowing. The wagyu beef was just on a different level.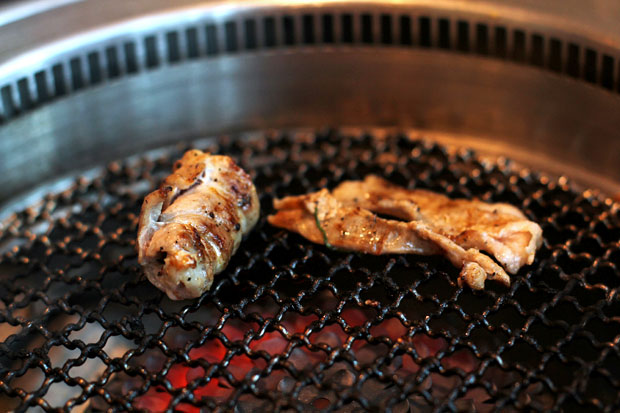 I have to admit, as good as this meal was, that dinner at Tsurugyu was light years better. And I can think of four reasons why.
One, it was in Japan. Everything is just better there. Two, the quality of meat was far superior. The wagyu at Sandaya is no slouch, but Kobe beef is Kobe beef. It's the Michael Jordan of meat! Three, they pair each cut of meat with a different set of sauces and dips to maximize its flavor. Never had I seen such meticulousness in food pairing before that. And four, they use charcoal. Not just any charcoal, but Japanese charcoal. Cooking over charcoal imparts a whole new dimension to food.
Seriously, if you're ever traveling to Osaka, then you have to eat at Tsurugyu. I've had several people tell me that my post convinced them to eat there, and that I was absolutely right. It really is THAT good.
But until then, Sandaya is a terrific alternative. Be sure to try their wagyu yakiniku. You'll thank me later.
Sandaya Yakiniku Fisher Mall
3F Fisher Mall, Quezon Avenue corner Roosevelt Avenue, Quezon City
Tel: 287-8984
Website: sandayayakiniku.com
Facebook: sandayafishermall
Instagram: sandayafishermall
Operating Hours: Mon-Sun, 10AM-10PM
Sandaya Yakiniku Pasay Road
2/F Colbella Bldg, Pasay Road, San Lorenzo, Makati
Tel: 893-2039
Facebook: sandaya.yakiniku.philippines
Operating Hours: Mon-Fri, 6-11PM / Sat, Sun, 12NN-11PM
JB is one half of Will Fly for Food and its chief itinerary maker.  He's the one to blame for all the crappy photos and verbal diarrhea on this blog.  Don't listen to him.
Latest posts by JB Macatulad (see all)