CiÇou's Kouignoù-amann have Landed!
I have a confession to make. I was having doubts about how good CiÇou's kouign-amann really was.
As I described in THIS POST, Brasserie CiÇou's kouign-amann was one of the best desserts I had ever tasted in my life. I had never heard of a kouign-amann before then, but one rich, intensely buttery bite was enough to make me a fan. I'm not much of a dessert person but I was hooked. It was that good.
So enamored was I with this magical pastry that when the Eric Kayser patisserie finally opened in Manila, I knew exactly what to get – the kouign-amann. Surely, with all the hullabaloo that this French boulanger was making, theirs would be stellar.
It wasn't. It was hard and dry, not at all like the buttery confection we had come to know at CiÇou.
So what went wrong? Was Eric Kayser's kouign-amann really that inferior? Hard to believe considering his reputation, so I started to think that maybe CiÇou's wasn't as good as I initially thought. Unlike Eric Kayser's, theirs was served with a dollop of salted caramel ice cream. Could that have been the reason why it tasted so rich and creamy? After all, what pastry doesn't taste better a la mode?
Thinking that my taste buds may have been duped, our friend Anna Soenen sent us this box of nine kouignoù-amann from their recently opened kiosk in SM Mega Fashion Hall. They offer just kouign-amann in twelve sweet and savory flavors, all without the added bonus of ice cream.
Approaching these with some trepidation, it didn't take me long to learn that not all kouignoù-amann are created equal. Rich, moist, flaky, chewy, and intensely buttery, CiÇou's really are just that much better. The ice cream had nothing to do with it.
My doubts eased and with nine new flavors to relish and enjoy, it was like falling in love all over again with Manila's very BEST dessert. ♥
Kouign Amann "KA" by CiÇou offers twelve different flavors in three categories — Glazed, Premium, and Savory. Not pictured here are the Cheesecake, Leeks & Goat Cheese, and Sundried Tomato & Basil.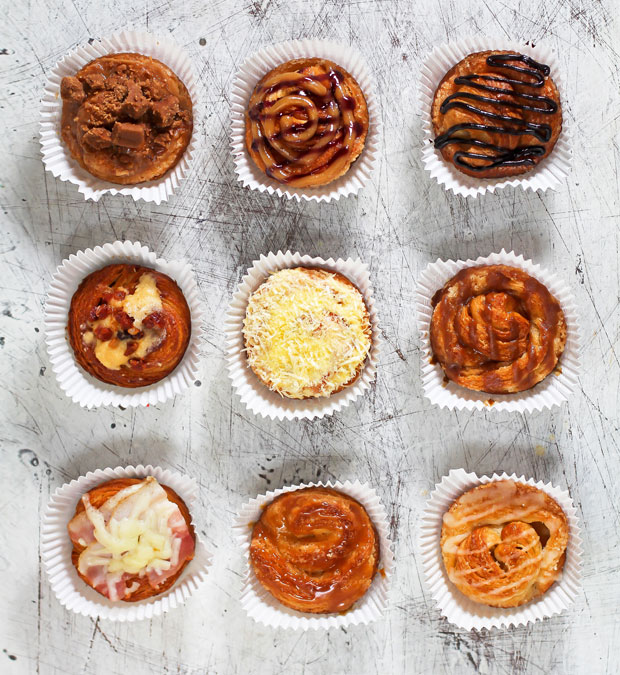 Glazed – PHP 90
My favorites. The pastry itself is so good that it needs little embellishment. Like glazed Krispy Kreme donuts, I prefer my kouign-amann as simple as possible. All four glazed varieties are outstanding.
Chocolate



Lemon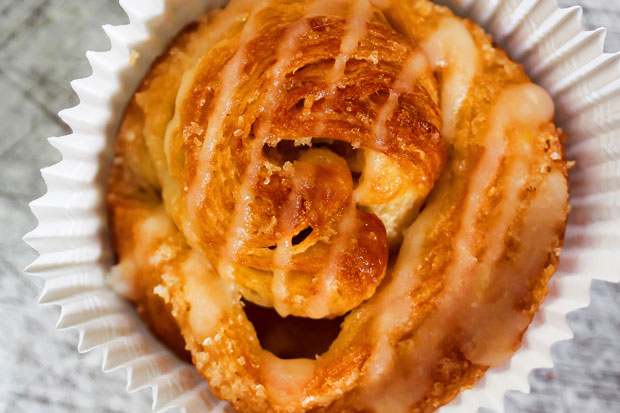 Caramel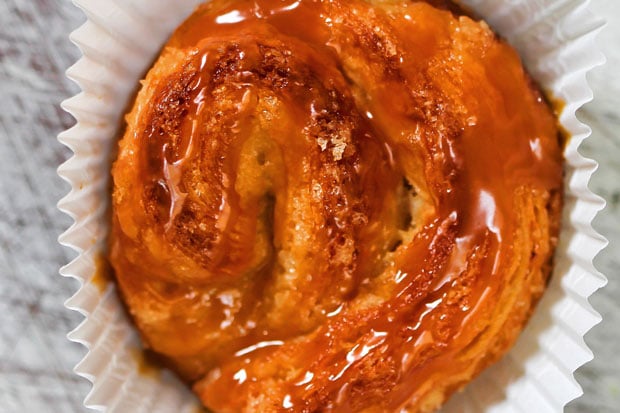 Coffee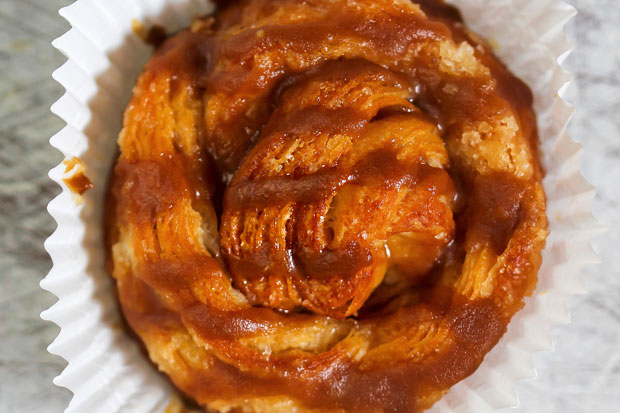 Premium – PHP 99
For people looking for a little more pizzazz on their pastry. Like the Glazed, all three Premium flavors that we tried were delicious.
Ensaymada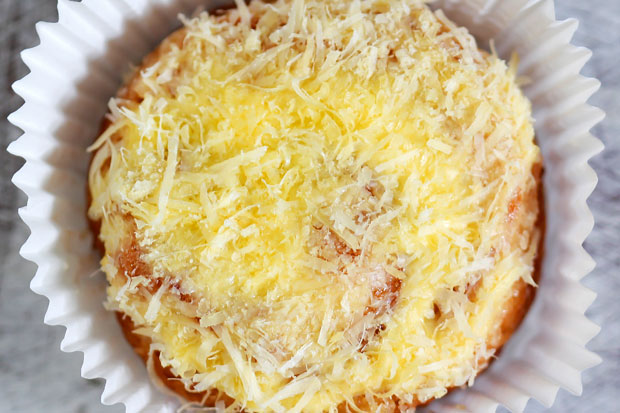 Chocnut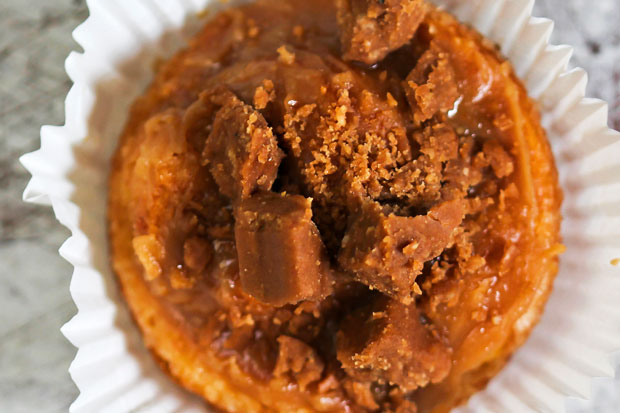 Peanut Butter & Jelly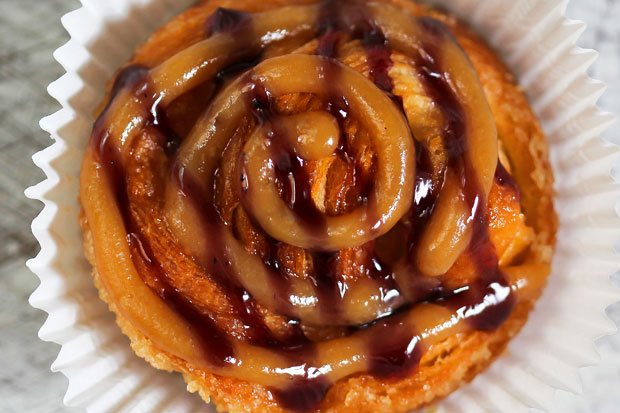 Savory – PHP 109
This is a matter of personal preference, but I enjoyed the sweet more than the Savory. If you enjoy savory pastries though, then you should definitely give these a shot.
Chorizo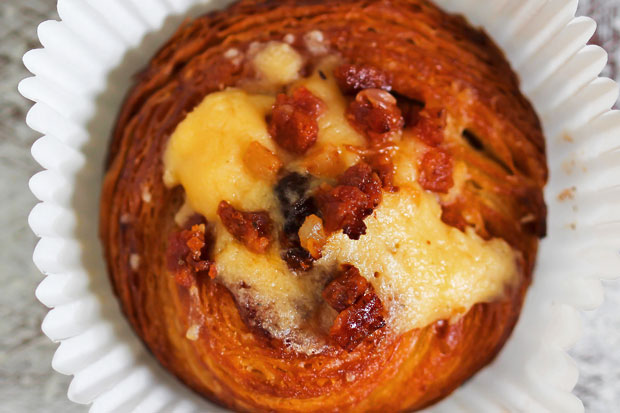 Bacon & Cheese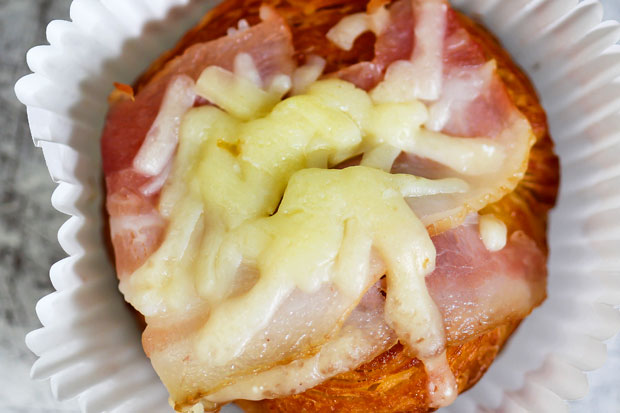 Kouign Amann "KA" by CiÇou
2F SM Megamall Fashion Hall (beside Zara)
Mobile: 0917-790-0589
Facebook: Kouign-Amann-KA-by-CiÇou
Email: ka@restaurantcicou.com
Operating Hours: Mall hours
Disclosure
This box of 9 kouignoù-amann was a gift from Anna Soenen of Brasserie CiÇou.
JB is one half of Will Fly for Food and its chief itinerary maker.  He's the one to blame for all the crappy photos and verbal diarrhea on this blog.  Don't listen to him.
Latest posts by JB Macatulad (see all)