Mariachi Cantina Mexicana
As it was, this compound was already cool. It had Backyard Burgers with its inventive burgers and beer, and Baba's Kebab House with its comforting Persian cuisine. Both are tasty and inexpensive and great choices for Friday night drinking sessions. Now add to that Mariachi Cantina Mexicana and its selection of burritos and quesadillas, and you've got a veritable hat trick of hole-in-the-walls.
Located at a car wash compound across the street from ABS-CBN along Sgt Esguerra Street, the restaurants share common outdoor seating so you're free to order dishes from each. Apart from the diversity, we like this place because they let us bring our two fur babies — Henry and Mona. ♥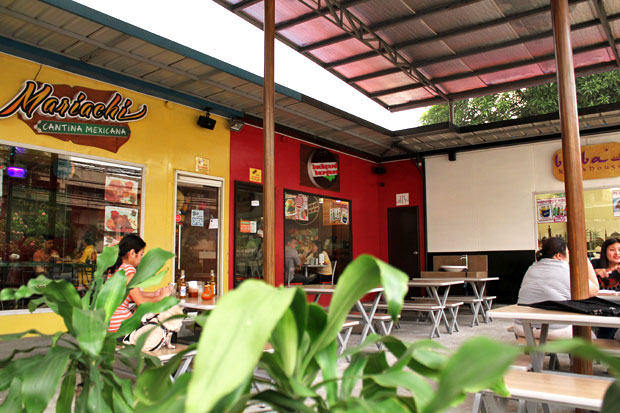 L: Henry: "Can I get a burrito too mama?"
R: Mild, Wild, Mona.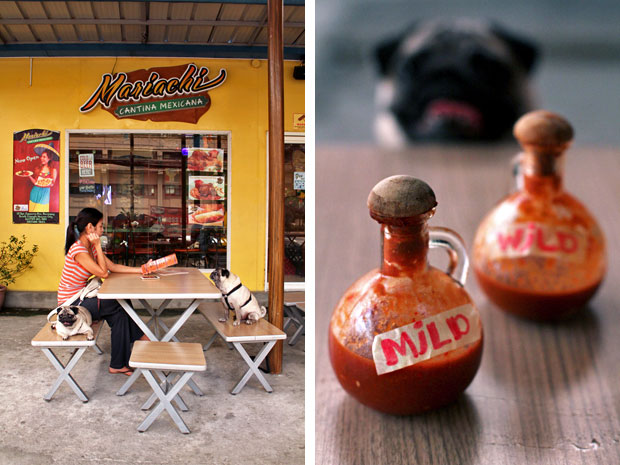 Macho Nacho – PHP 170 – Nacho chips topped with chili beef and ranchero salsa, then drizzled with cheese sauce and sour cream
The only thing that we didn't like. It's a great deal for just PHP 170 but the beef we thought was too salty. It also lacked cumin and cilantro — two staple Mexican flavors that we love. This seemed to be the case with all the dishes that we ordered tonight.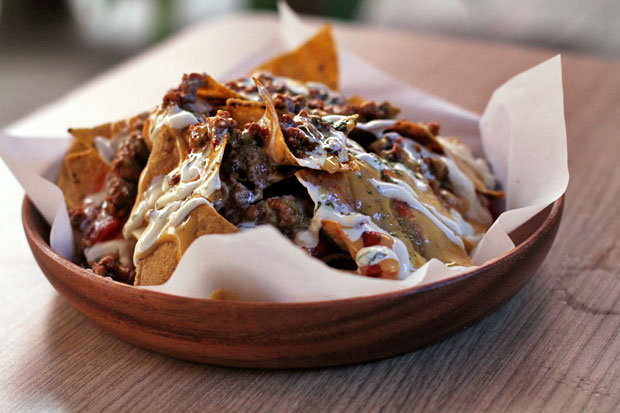 Chorizo Quesadilla – PHP 265 (macho) / PHP 140 (poco) – Toasted tortilla filled with chorizo and three kinds of cheese. Served with sour cream and ranchero salsa.
This was good. Judging from the number of choices, it looks like Mariachi specializes in quesadillas and burritos. Apart from chorizo which was recommended to us by our server, they also have barbacoa, camaron, carnitas, pollo asada, jalapeno con quezo, and tomato con quezo. Every quesadilla come in two sizes — macho and poco. We had the poco which was around 6″ in diameter.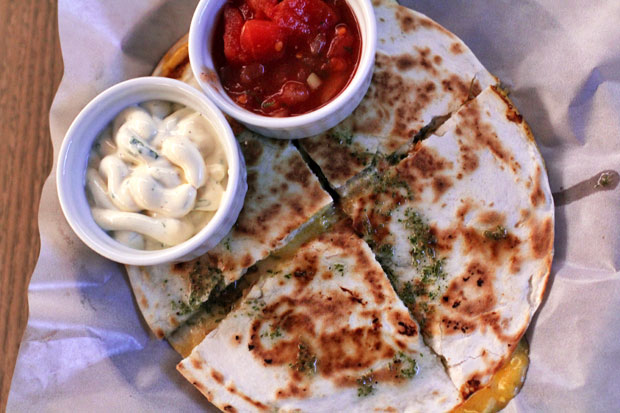 Barbacoa Burrito – PHP 230 (macho) / PHP 160 (poco) – Soft flour tortilla filled with shredded slow-cooked beef, Mexican style rice, beans, and cheese. Served with a side of ranchero salsa.
Both burritos we ordered tonight were good. We asked our server again for recommendations and he said that the barbacoa and pollo asada are their biggest sellers. Other available fillings are camaron, carne asada, carnitas, chorizo, pescado, and veggie.
Unlike some of those "everything but the kitchen sink" burritos, Mariachi's are fairly simple — just meat, rice, beans, and cheese — which I prefer. I just wish they added cumin and cilantro for more depth of flavor. Like the quesadillas, their burritos come in macho and poco sizes. Pictured below is half a poco, which is pretty petite and perfect for small-ish appetites.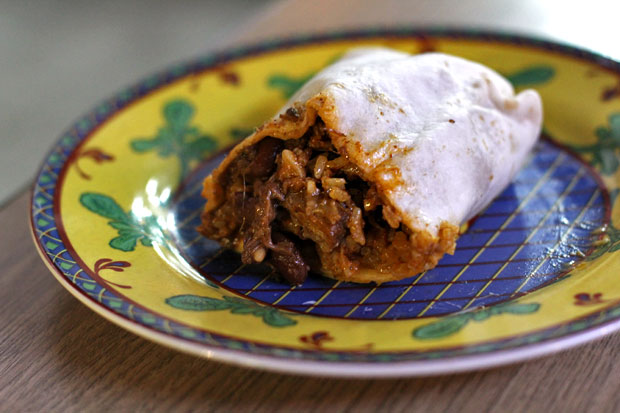 Pollo Asada Burrito – PHP 225 (macho) / PHP 150 (poco) – Soft flour tortilla filled with barbacoa, Mexican style rice, beans, and cheese. Served with a side of ranchero salsa.
Very tasty pollo asada burrito. Mona and her mama enjoyed it. ♥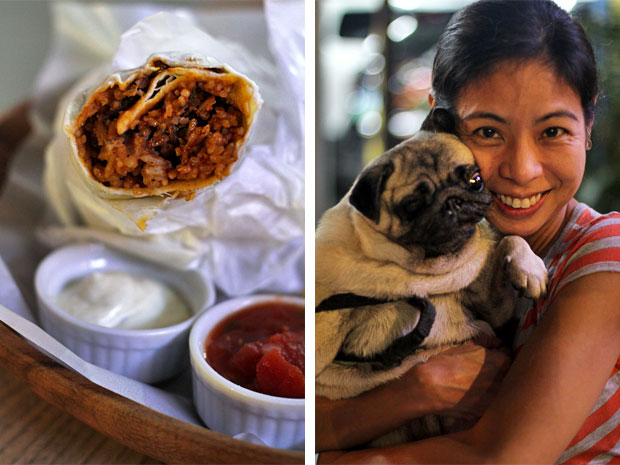 If you work around the Scout Quezon City area and are looking for a good place to unwind after a long work week, then you might want to consider Mariachi. The choices are plentiful and the prices non-prohibitive. The food isn't the most authentic we've had, but it does taste good. Be sure to get the quesadillas and burritos. You can't go wrong with those. 😉
Mariachi Cantina Mexicana
52 Sgt. Esguerra Avenue, Barangay South Triangle, Quezon City (in front of ABS-CBN)
Tel: 500-9445 | Mobile: 0917-815-9811
Facebook: MariachiCantinaMexicana
Operating Hours: Mon-Sat, 10AM-11PM / Sun: 10AM-10PM
JB is one half of Will Fly for Food and its chief itinerary maker.  He's the one to blame for all the crappy photos and verbal diarrhea on this blog.  Don't listen to him.
Latest posts by JB Macatulad (see all)