I Fell in Lab with Grand Front Osaka, Japan :)
A mall is one of the last places I would visit on any trip. I don't have anything against them, I just prefer markets. They provide much more in the way of atmosphere and interesting photo-ops. I want to feel like I'm in a foreign place when I travel, and hanging out in a mall just makes me feel like I'm back home in Manila.
This place though, was different. Recently opened in 2013 as part of the Umekita redevelopment project, it consists of a wide variety of shops and restaurants in a trendy, ultramodern setting. Spanning three hectares in some of Osaka's most valuable real estate, it's a spectacular development, even by Japan's standards.
Located directly north of Osaka Station, Grand Front Osaka is comprised of two buildings – North and South. The Southern Wing is your typical shopping mall, filled with global brands names that you can find in any major city. But it's the Northern Building, with its Knowledge Capital and Umekita Dining floor, that makes this place unique and worthy of your itinerary.
The Northern Building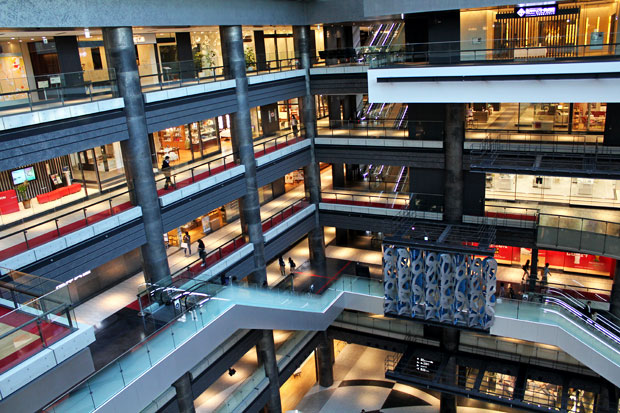 A self-styled "intellectual entertainment arena", the Knowledge Capital features large interactive exhibits that give the place a fun science center feel. Pictured here is the ground floor lobby with its artfully designed seating area.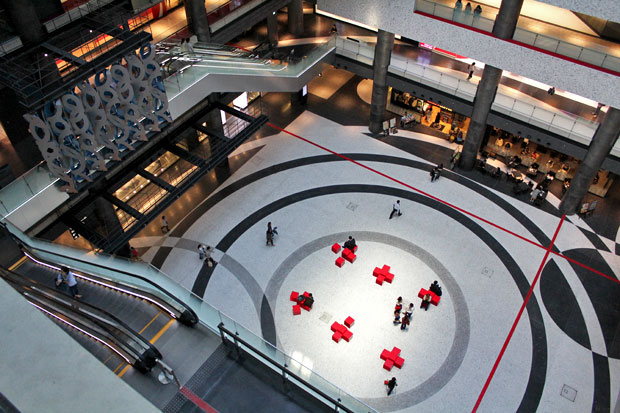 Interestingly, the shops here aren't even called shops. They're called "labs". Spacious and laboratory-like, they feel like a cross between a commercial space and a research facility. Here's one for Subway. Notice the fresh greens farmed in-shop?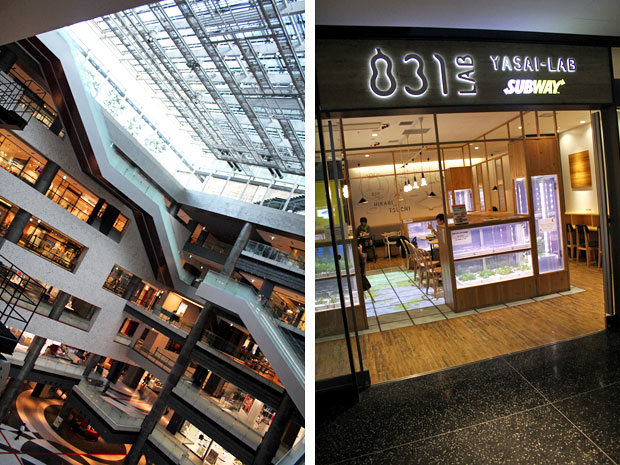 Here's a lab for an urban farm. Pretty awesome huh? I remember seeing a Coca-Cola lab, one for robotic pets, and a Suntory cafe/store/museum that sold furniture made from whiskey casks. Needless to say, most of the stores here aren't the type that you'd find in your typical shopping mall.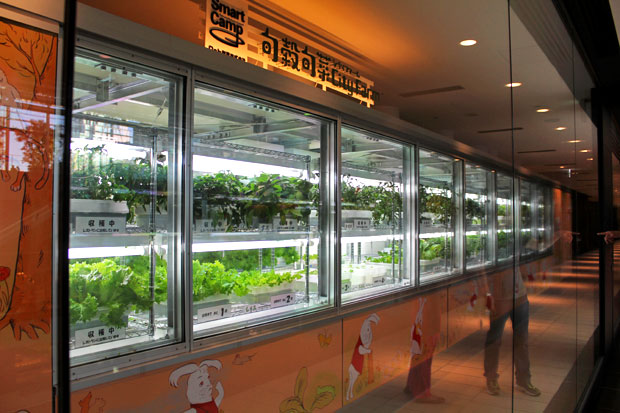 Umekita Dining
As interesting as the labs were, what I enjoyed most about Grand Front Osaka was the Umekita Dining area on the 6th floor. Here you can find sixteen restaurants set in a communal but stylish food court dining space.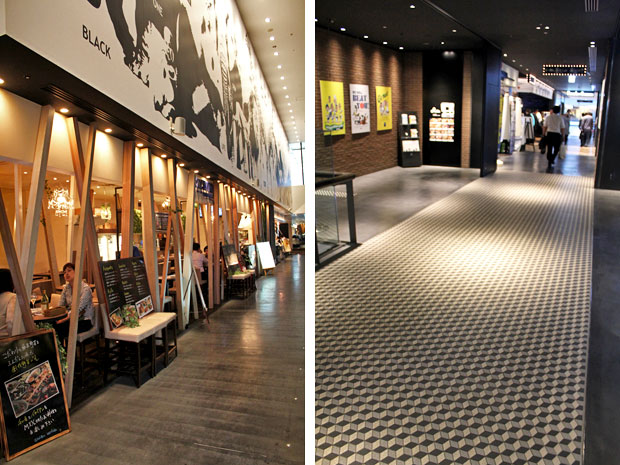 Every single restaurant here was well-designed and trendy. This one, with the accordion gates to separate diners from passers-by, was my favorite.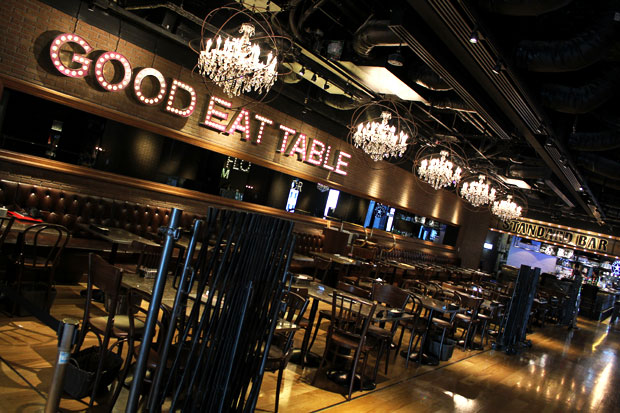 Many of the places here are affordable, at least by Japanese standards. Some stay open until 4 AM, making it a popular hangout amongst the post-work crowd.



Notice how the floors are different in each of these pictures? The attention to detail was impressive. I loved all the graphics and textures.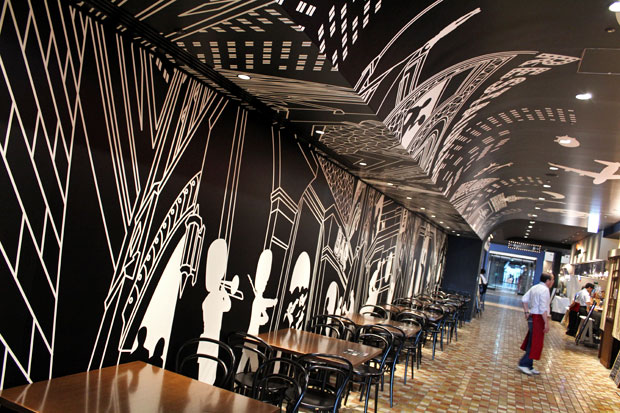 We went here twice during our trip, the first after an afternoon visit to Umeda Sky building and the second on our very last night in Osaka. I don't remember the name of the restaurant, but we had dinner and a few parting drinks with a Japanese friend. Coming from the Philippines, I can't say that the restaurants here are cheap, but they're relatively affordable compared to other establishments in this upscale Umeda area. It's definitely worth a visit, even just to experience the trendy vibe of the place.
Though a few of the restaurants here stay open until 4 AM, please remember that the last subway train departs from Osaka Station just before midnight. Better to give yourself some time to make it to the station lest you prefer a more expensive cab ride back to your hotel. 😉
Grand Front Osaka
3-1 Ofuka-cho, Kita-ku, Osaka, Osaka Prefecture 530-0011, Japan
Tel: +81-6-6372-6300
Websites: grandfront-osaka.jp (Grand Front Osaka) / kc-i.jp (Knowledge Capital) / gfo-sc.jp (Shops & Restaurants) / umekita-floor.jp (Umekita Floor)
Facebook: GRAND.FRONT.OSAKA
Twitter: GFOsaka
YouTube: グランフロント大阪
Regular Operating Hours: Mon-Sun, 10AM-9PM (Shops) / 11AM-11PM (Restaurants, though some eateries on the Umekita floor stay open as late as 4AM)
HOW TO GET THERE:
Grand Front Osaka is accessible from Osaka Station via the 2F connecting deck or B1F walkway. It's a five-minute walk at street level west of Umeda Station. CLICK HERE for more information.
JB is one half of Will Fly for Food and its chief itinerary maker.  He's the one to blame for all the crappy photos and verbal diarrhea on this blog.  Don't listen to him.
Latest posts by JB Macatulad (see all)