Gostoso (e Acessível) Piri Piri!
Places like this, they make me happy.
When it comes to new restaurants, certain characteristics get my juices flowing. Things like simple, vibrant food that's both interesting and comforting. Intimate, graphically-driven spaces that are quirky and not cookie-cutter are always a joy to find. And of course, good food that's fairly priced is very important.
These are the traits that make me giddy about unfamiliar eateries. Gostoso Piri Piri, located in the heart of one of my favorite restaurant hunting grounds, had them all.
L: Restaurant interior. It's an intimate, well-designed space with a maximum seating capacity of around 30. Check out the piri-piri-shaped lighting fixtures. That's hot.
R: Olive rice and three sides which came with our Gostoso Platter. For the sides, you can choose from creamed corn, creamed spinach, mac n' cheese, chick pea salad, and potato gratin. We went with creamed spinach, chick pea salad, and potato gratin, all of which were delicious. The rice was pretty good too.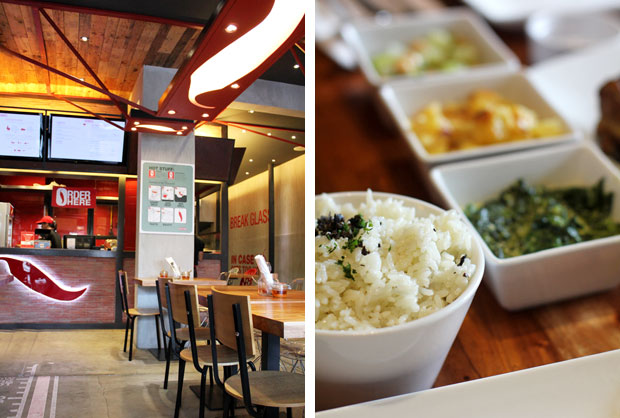 Gostoso Platter – PHP 1,045 (all three) – Half chicken, slab of pork, and two shrimp skewers with three olive rice bowls and three sides (good for 3-4)
Ren and I were here on a Sunday with my mom, so we wanted something that represented the best that Gostoso had to offer. This platter of chicken, pork, and shrimp fit the bill perfectly.
Grilled over an open flame, the proteins are first marinated using a traditional Portuguese recipe that's been handed down from generation to generation in Chef Joao's family. The ensuing meats are smokey and delicious, and not too spicy until you add their Piri Piri sauce below. We enjoyed all three proteins, though the shrimp was our consensus favorite. It was flavorful and very succulent.
For the entire meal with a pitcher of iced tea, we paid just PHP 1,300. Not bad eh? We even got to bring home some leftovers. 😉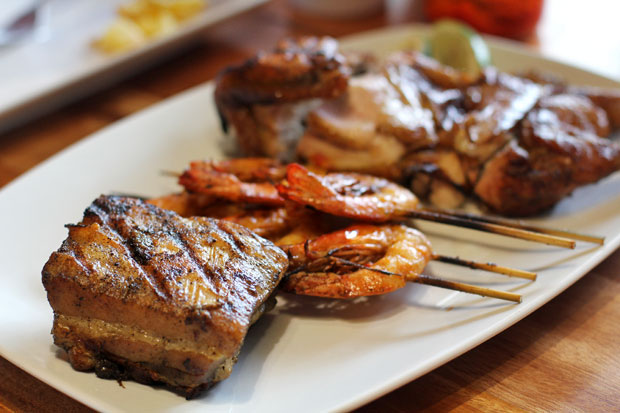 Their signature piri piri sacues. The Starter is a mild sauce made with mashed piri piri and olive oil, while Joao's Piri Piri is a much spicier blend made using Chef Joao's grandfather's heirloom recipe. Piri piri, as you've probably guessed by now, is a type of chili pepper that's also known as African bird's eye chili.
Based on my research, piri piri sauce is usually made from crushed chillies, citrus peel, onion, garlic, pepper, salt, lemon juice, bay leaves, paprika, pimiento, basil, oregano, and tarragon. Recipes may vary from region to region, but the common ingredients are chili, lemon, oil, red bell peppers and garlic.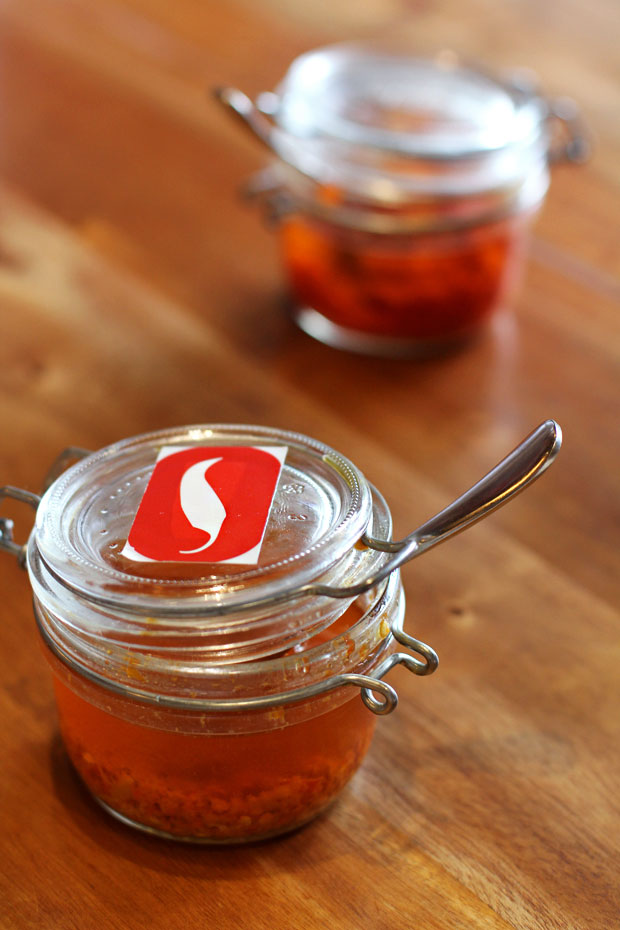 I first learned about this place from a friend's Facebook feed. Despite the ticker tape barrage of information, this post stood out for three reasons. One, he called it "one of the best new restaurants in the metro"; two, it's Portuguese, which isn't a cuisine we see too often in Manila; and three, it's in Kapitolyo.
Oddly enough, it's that last reason that carried the most weight for me. Together with Maginhawa in Quezon City and Aguirre in Paranaque, Kapitolyo is one of my favorite places to eat.
If you haven't been restaurant hunting in Kapitolyo lately, then I suggest you go pronto since there are many new establishments in the area. Gostoso Piri Piri is an excellent place to start. 🙂
Gostoso Piri Piri
51-B East Capitol Drive, Barangay Kapitolyo, Pasig
Tel: 477-7330
Facebook: ilovegostoso
Operating Hours: Mon-Thu, Sun, 11AM-11PM | Fri-Sat, 11AM-11PM
JB is one half of Will Fly for Food and its chief itinerary maker.  He's the one to blame for all the crappy photos and verbal diarrhea on this blog.  Don't listen to him.
Latest posts by JB Macatulad (see all)