Luzviminda 2: Celebrating Philippine Independence and Cuisine at F1 Hotel Manila
If independence means having the freedom to make choices, then what better way to celebrate Philippine Independence Day than with a bountiful, all-Filipino feast helmed by one of the country's top chefs?
Lucky enough to be invited to the opening of Chef Sau del Rosario's Luzviminda Buffet at F1 Hotel Manila, we commemorated our independence today with a wealth of dishes hailing from the country's different regions. Representative of Luzon, Visayas, and Mindanao – hence "Luz-Vi-Minda" – dishes like kare-kareng Pampanga, Visayan balbacua, and durian panna cotta from Davao are just a few of the many delicious dishes that you can find at this limited time buffet.
Going through the different sections as if I were backpacking through the Philippines, I found some dishes to be comforting and familiar, others exciting and new, with all being indicative of just how colorful and diverse our culinary landscape really is. Clearly, we Filipinos are passionate about food, and this buffet is a testament to that. What a feast! 😀
Event invitation. Three chefs were tasked to create dishes representative of each region. Chef Tristan Encarnacion represented Luzon, Chef Editha Singian the Visayas, and Chef Victor Barangan Mindanao.
Available for a lmited time only from 12-26 June 2014, the buffet can be had for PHP 1,700 per person.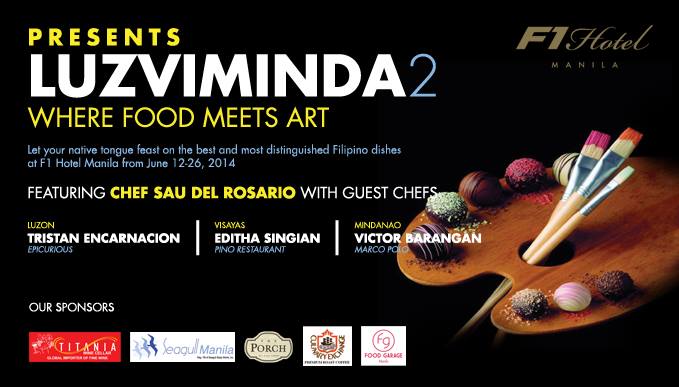 Entryway to the dining hall on the third floor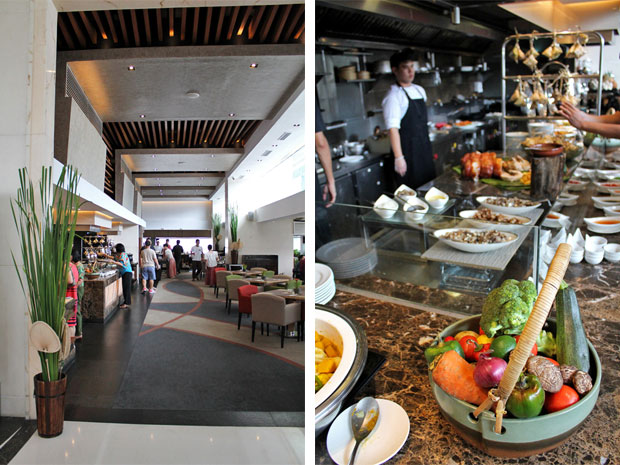 Carving Station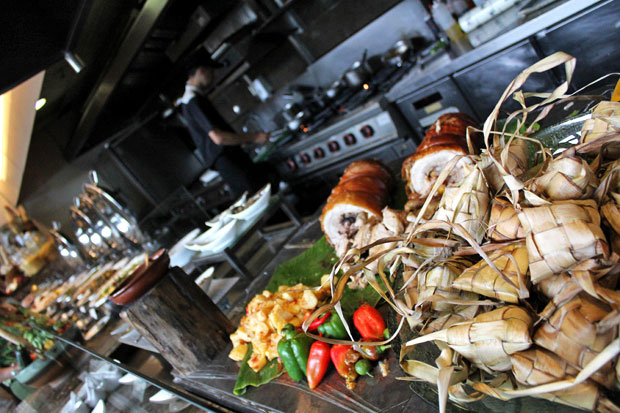 Linunok na Manok ni Lechon Baboy. This pig was stuffed with whole chickens yo!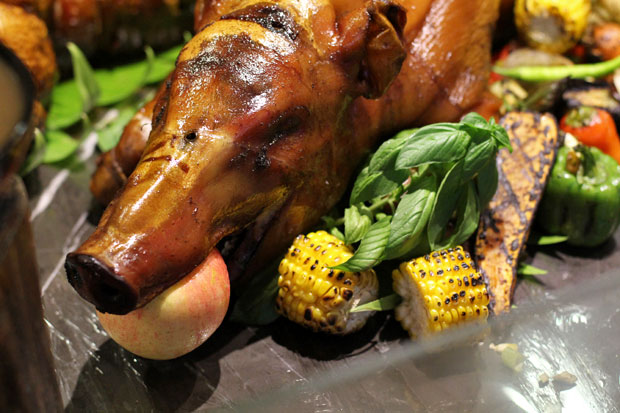 L: Stuffed Lechon Belly Roll
R: Sisig 3 Ways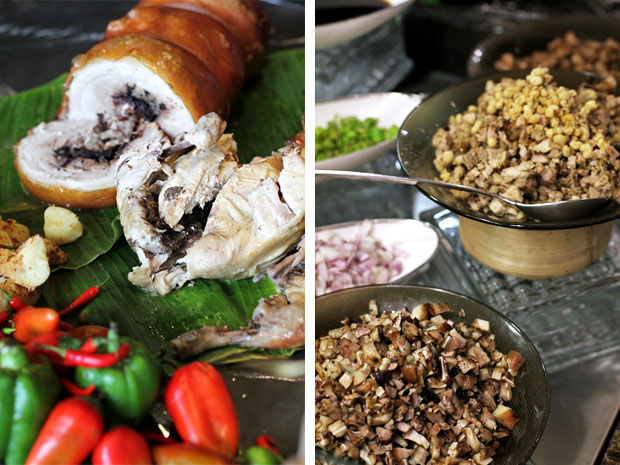 Sisig 3 Ways, to represent each region. Luzon's version was made with pork, Visaya's with chicken inasal and cornicks, and Mindanao's with tuna.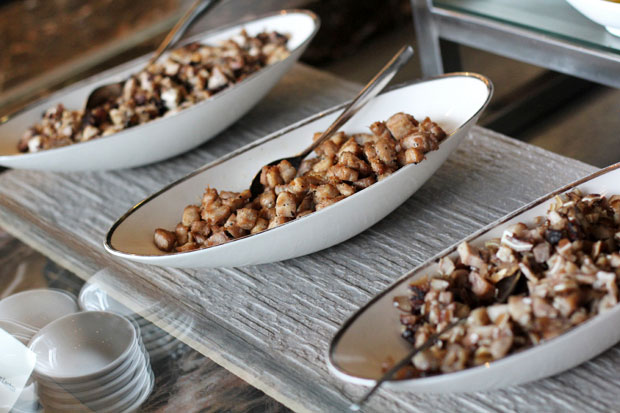 Puso rice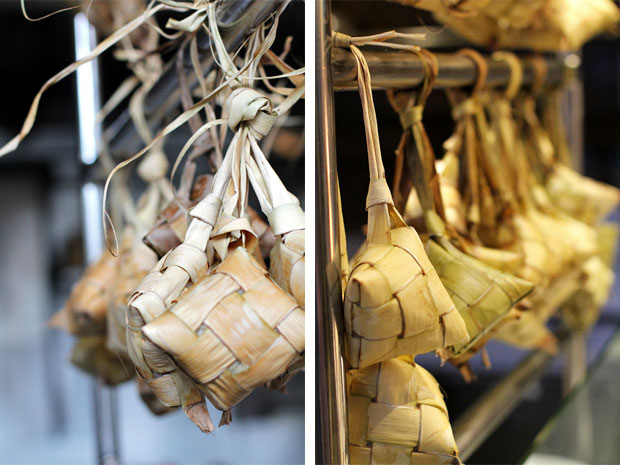 Cheese Platter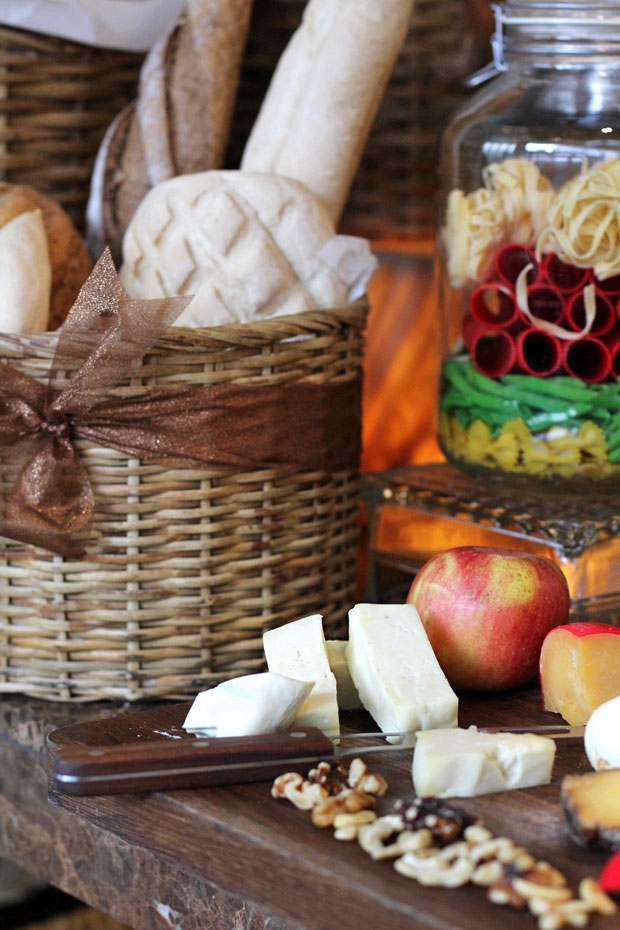 Considering today's theme, I'm guessing that many of these cheeses came from Malagos? Ren and I can't wait to visit their farm this September. 🙂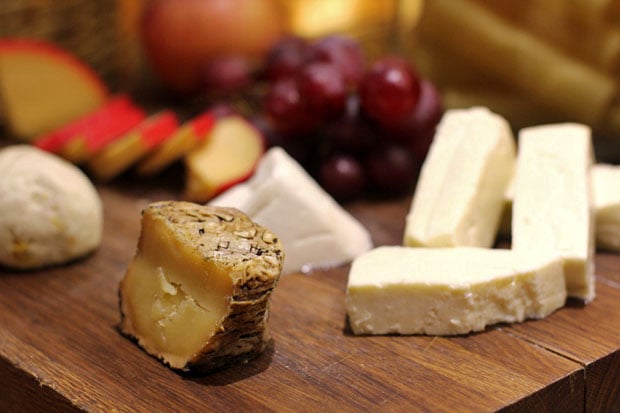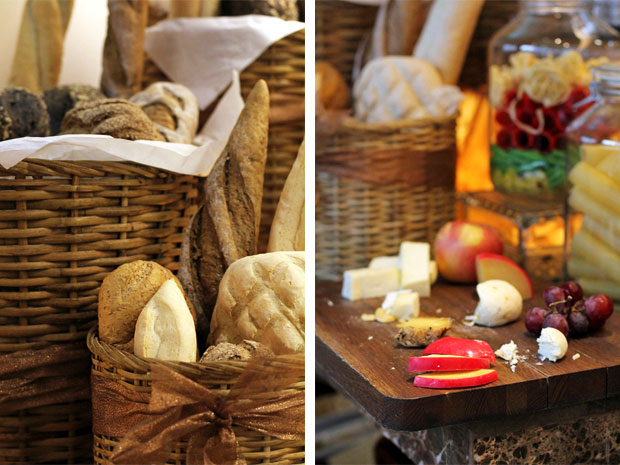 Mains
Bam-I (Visayas)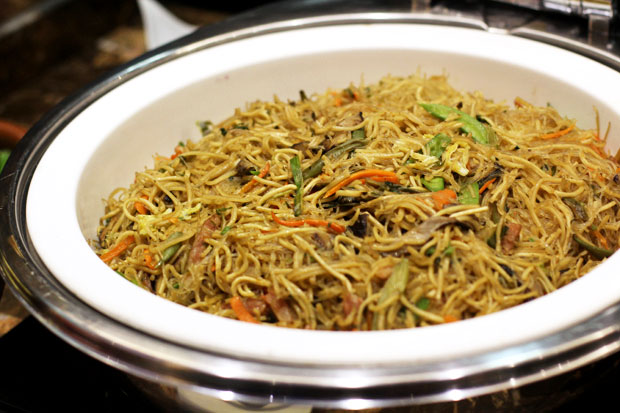 Adobong Bihod (Mindanao) or fish roe. Delicious!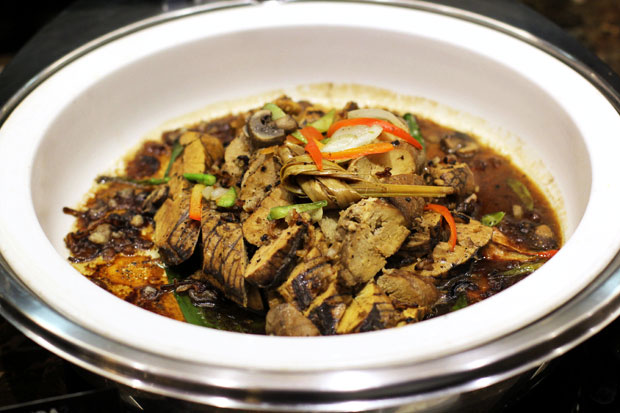 Bulanglang with Grilled Boneless Bangus (Mindanao)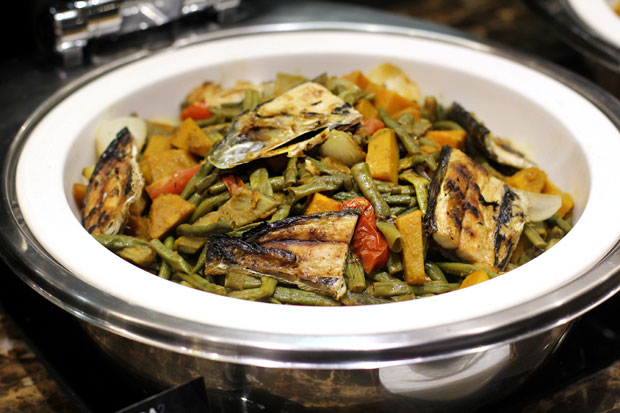 Sauteed Crabs in Alavar Sauce (Mindanao). This rich, flavorful crab dish was one of the dishes prepared during the cooking demo. I'll post the recipe for it soon.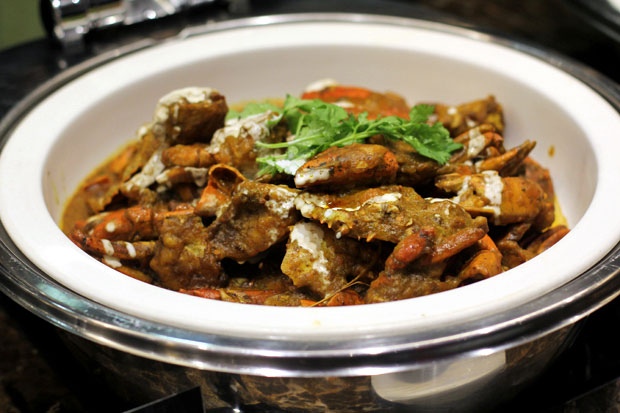 Kare-Kareng Pampanga (Luzon)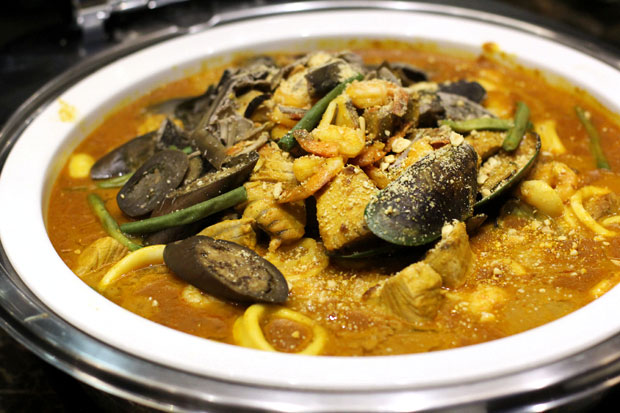 Kanding sa Nangka (Mindanao)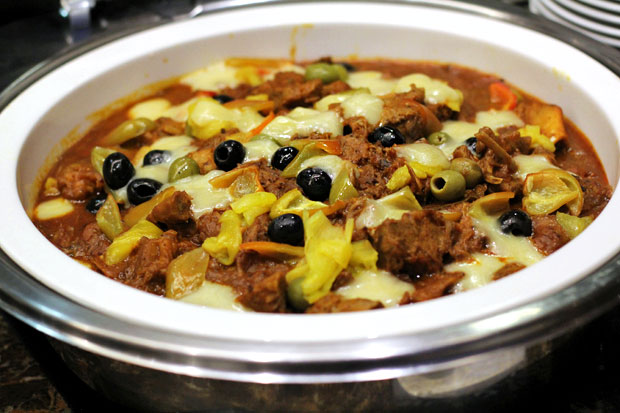 Kinunot na Pagi (Luzon). Stingray!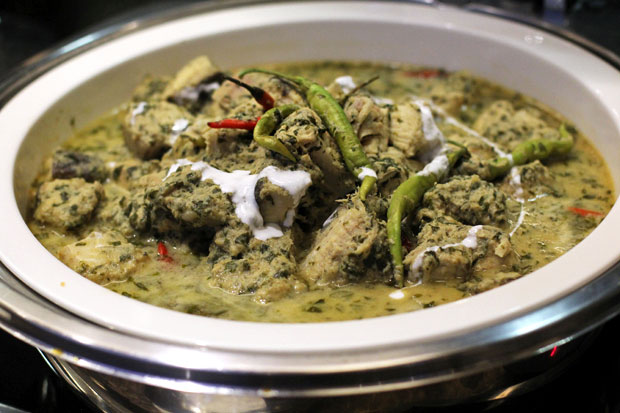 Balbacua (Visayas). Really, really good. The meat is slow cooked until very tender and flavorful.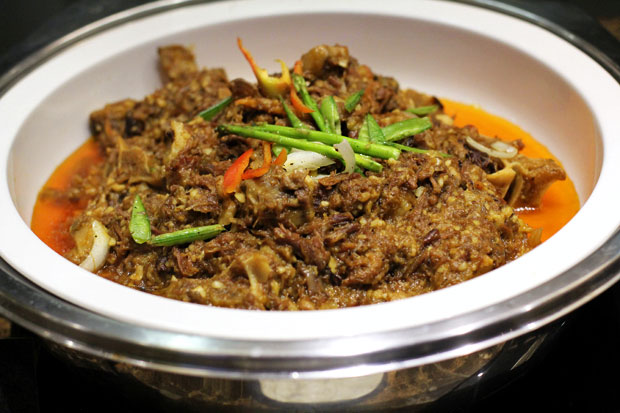 Hinurnong na Manok sa Luyang Dilaw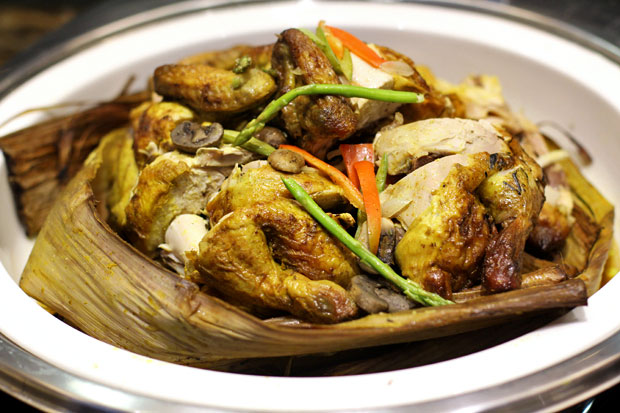 Vegetable Spring Rolls (Luzon)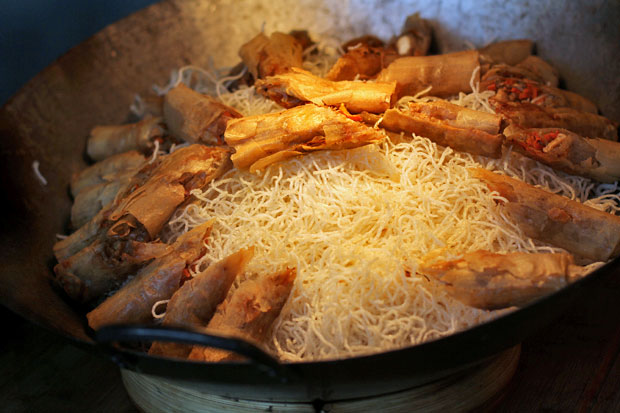 Pochero Bisaya (Visayas)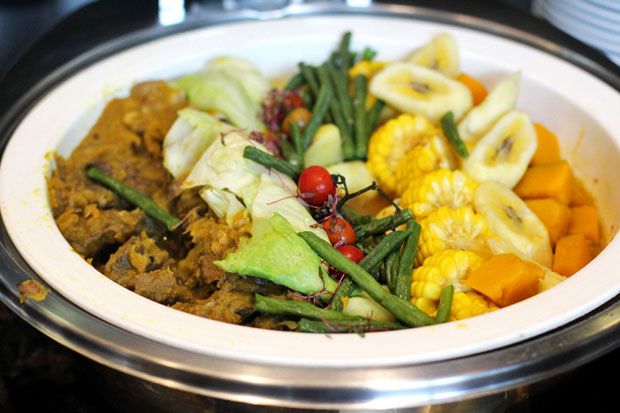 Stuffed Nukos with Prawn Paella (Mindanao). One of my faves!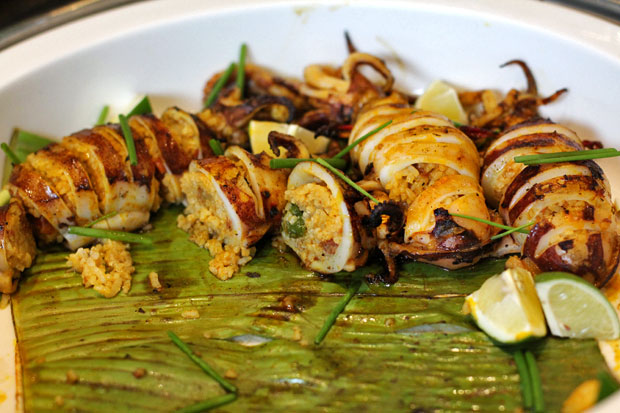 Kawaling Hinipunan (Visayas). Probably my favorite dish from the entire buffet. Tender with a crackingly crisp piece of skin, the pork was beautifully complemented by the strong bagoong flavor of the sauce. Really delicious.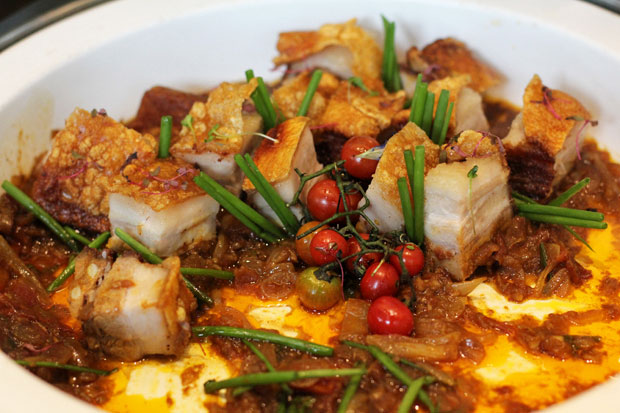 Sinaing na Tulingan (Luzon)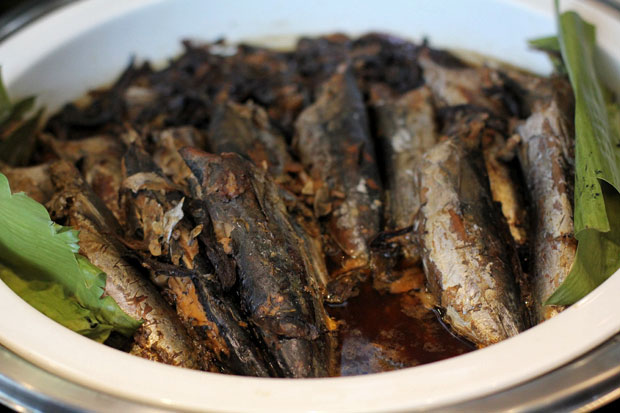 Paklay (Mindanao)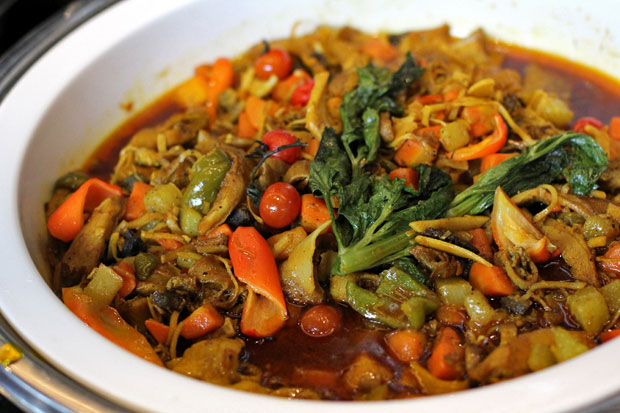 Kilanin Kapampangan (Luzon)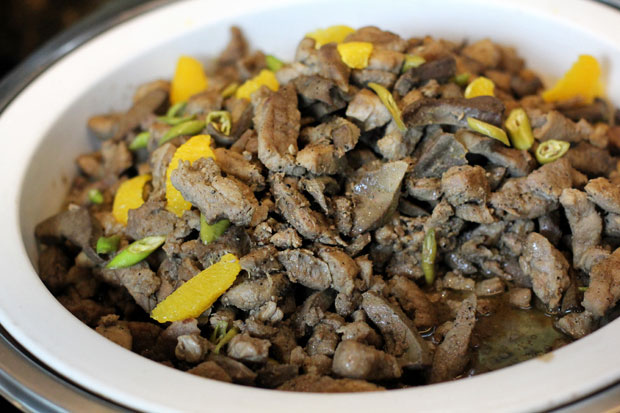 L: Pancit Habhab (Luzon)
R: Pinakbet (Luzon)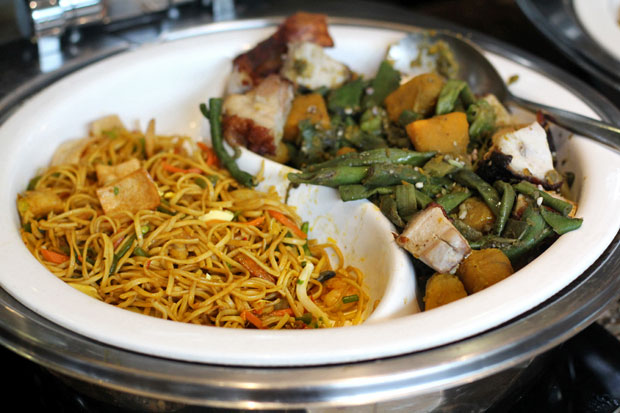 Squash Flower with Kesong Puti (Visayas)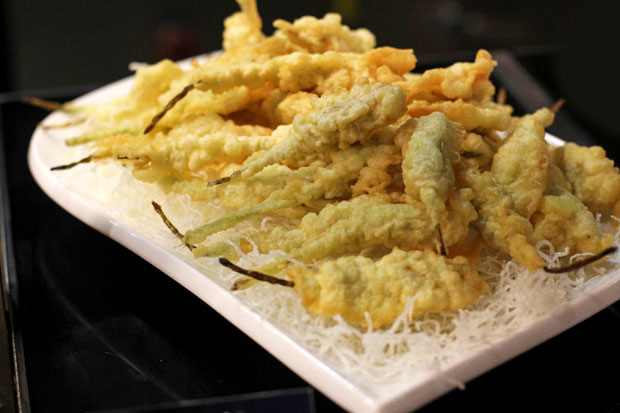 L: Dulong Fried Rice with Garlic and Spring Onion (Luzon)
R: Taba ng Talangka Fried Rice (Mindanao)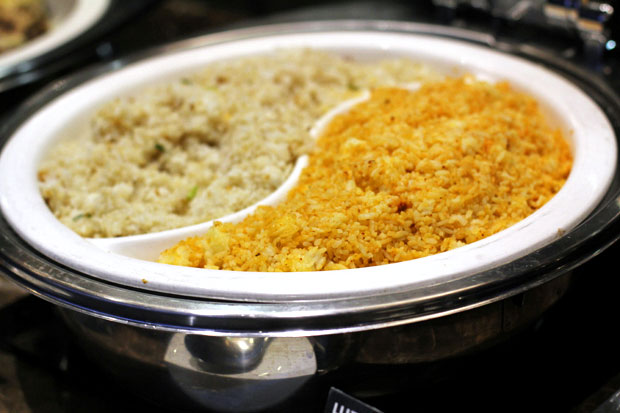 Seafood Fried Rice with Curry (Mindanao)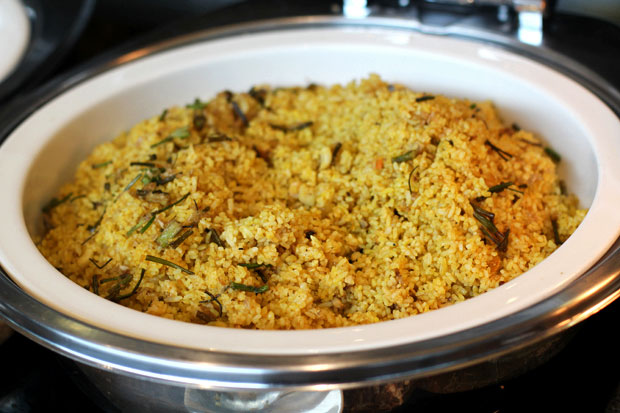 Raw / Salad Bar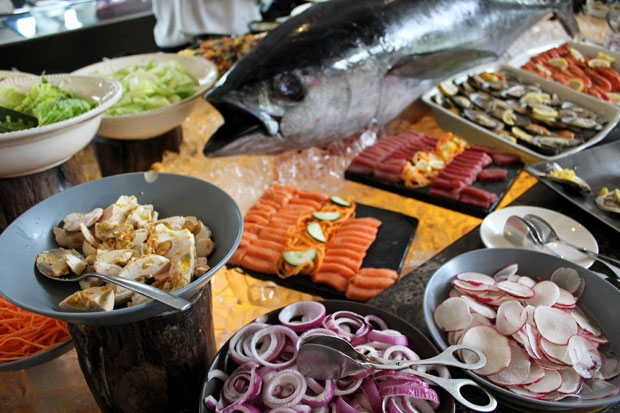 Chicken Inasal at Kesong Puti Maki, the first of four interesting Pinoy sushi rolls that we enjoyed here at Luzviminda. I'm such a sucker for sushi. 😉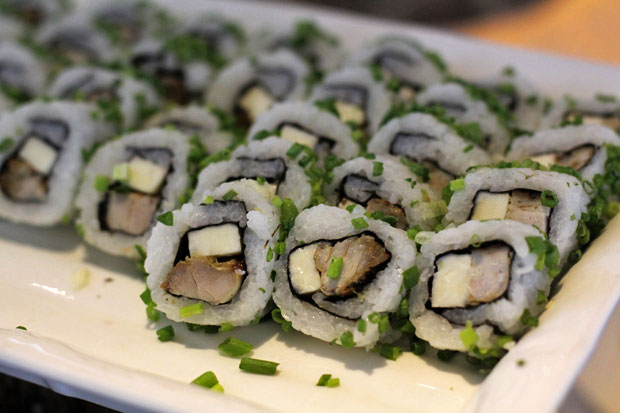 Green Mango and Kani with Bagoong Maki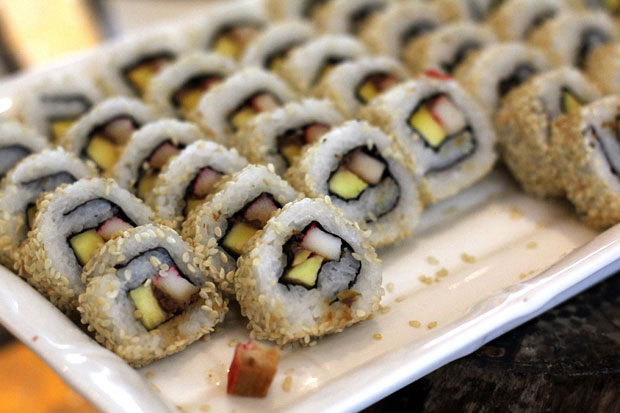 Tinapa and Salted Egg Maki (Visayas)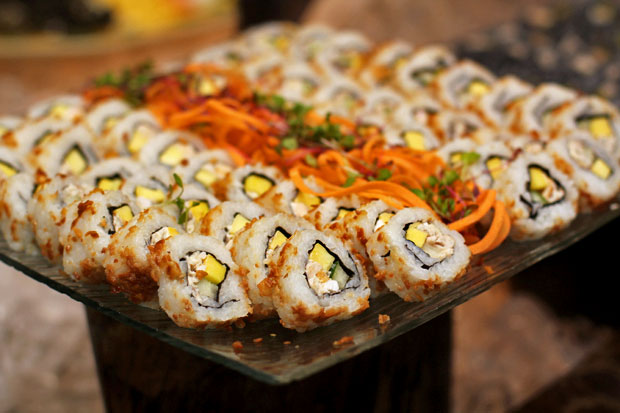 Bagnet Dinuguan Maki (Luzon). Yes, bagnet and dinuguan in a sushi roll. I told you they were interesting!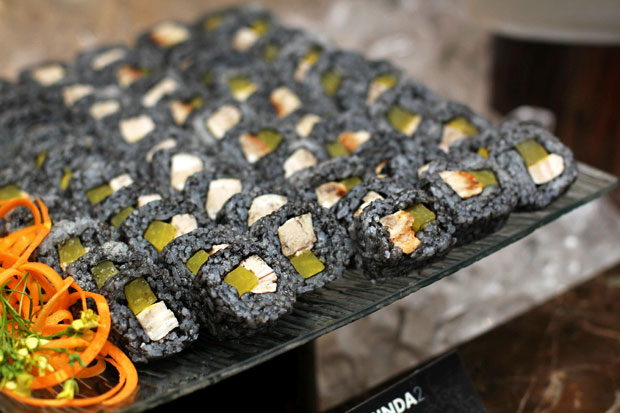 Seared Tuna with Watermelon and Mangosteen Reduction (Mindanao). Tasty and refreshing!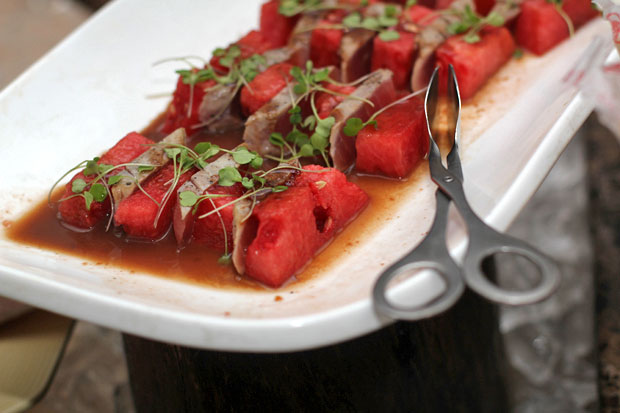 Maya-Maya Mayonesa (Luzon)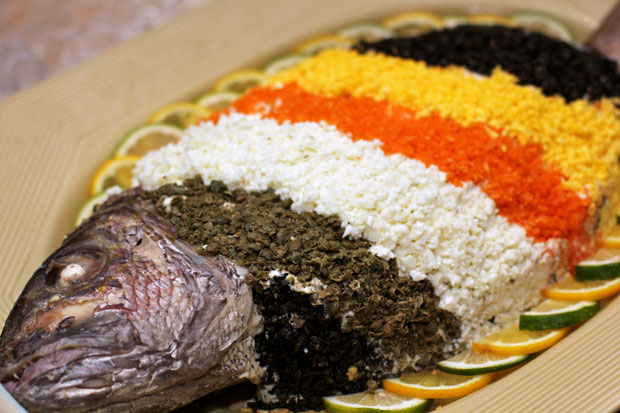 Oysters 3 Ways: Pako (Luzon) / Inasal (Visayas) / Pineapple Salsa (Mindanao). There were supposed to be three kinds but it looks like only the inasal was available on this particular platter.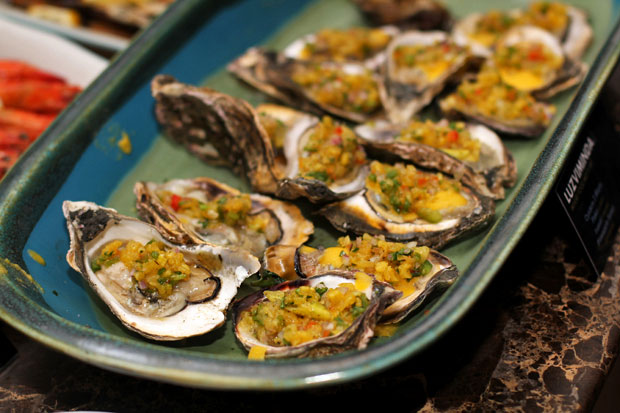 Hipon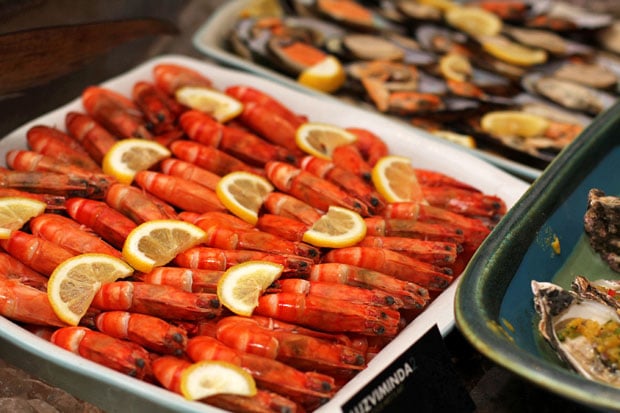 Tahong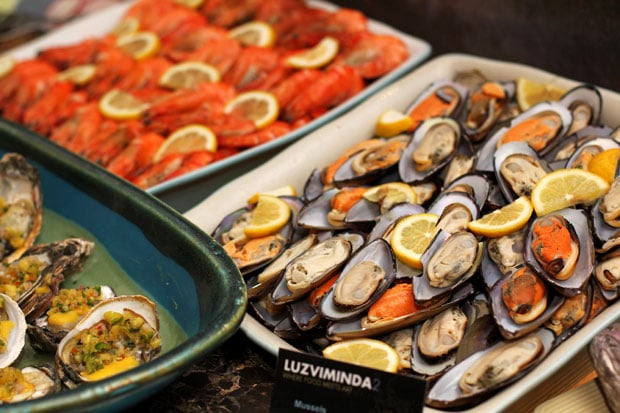 Ensaladang Puso ng Saging (Mindanao)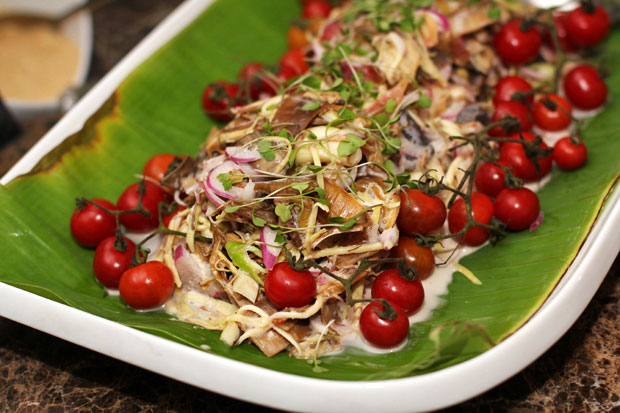 Crispy Catfish Salad (Mindanao)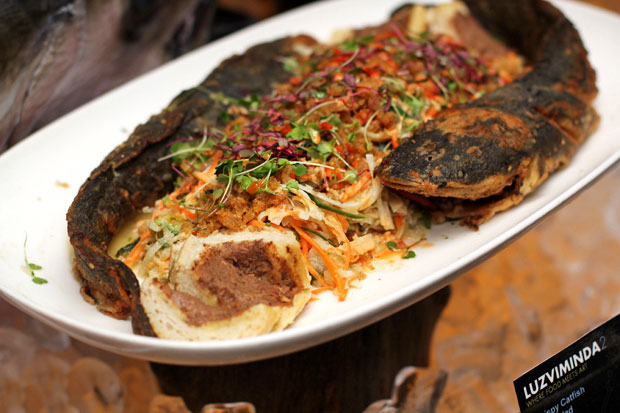 Dessert
Ube Otap Tiramisu with Mangoes (Visayas). This interesting dessert was also part of the cooking demo. Recipe to be posted soon.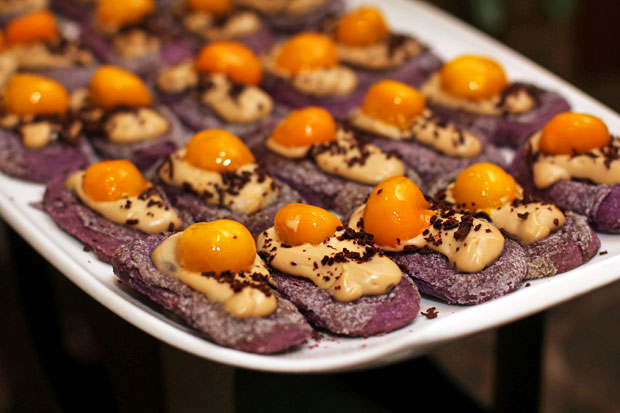 Puto at Kutsinta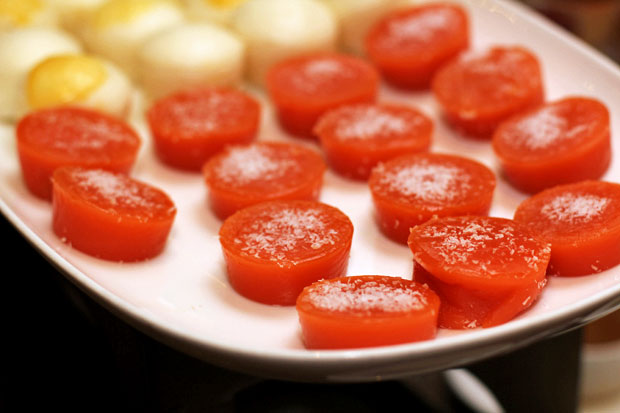 L: Mangosteen Panna Cotta (?)
R: Mangosteen Parfait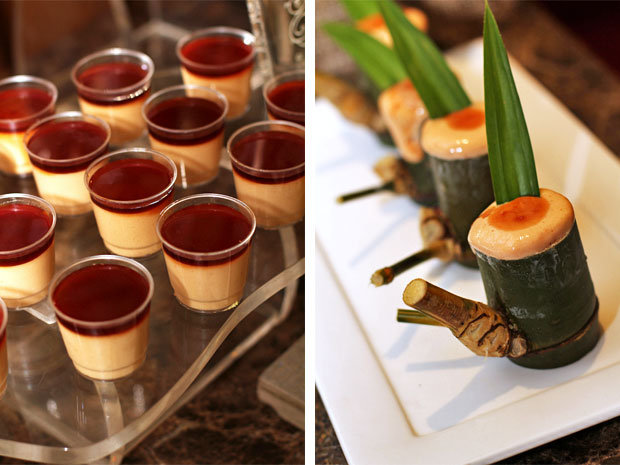 Mangosteen Parfait served in bamboo cups. Aren't they cute?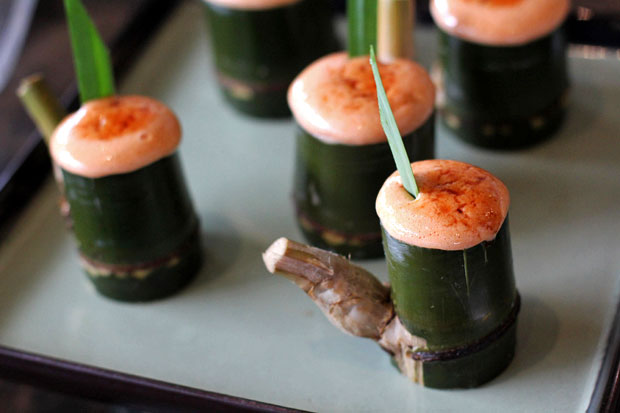 Donya Edith's Pudding (Visayas)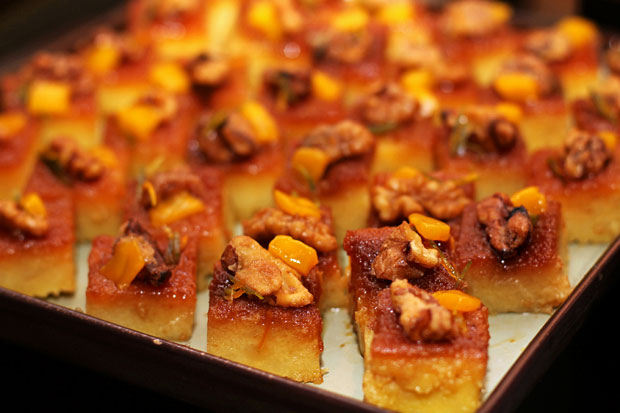 Durian Cheesecake (Mindanao)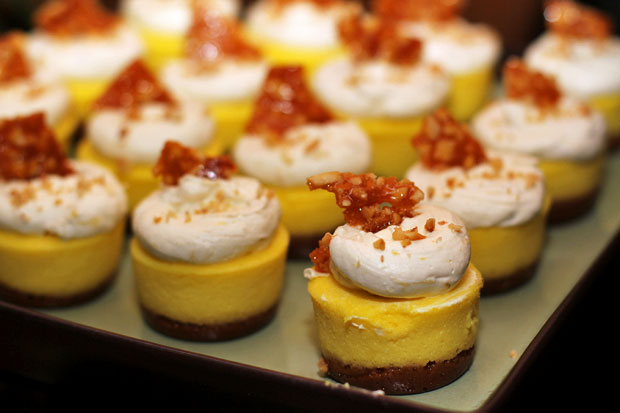 Dulce de Leche Cream Puffs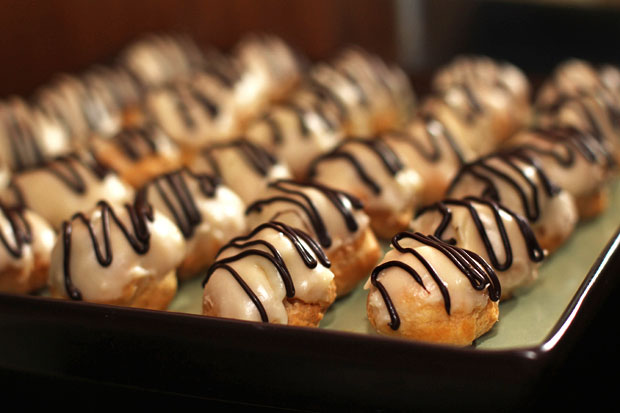 Chocnut Tablea Tartlets (Mindanao)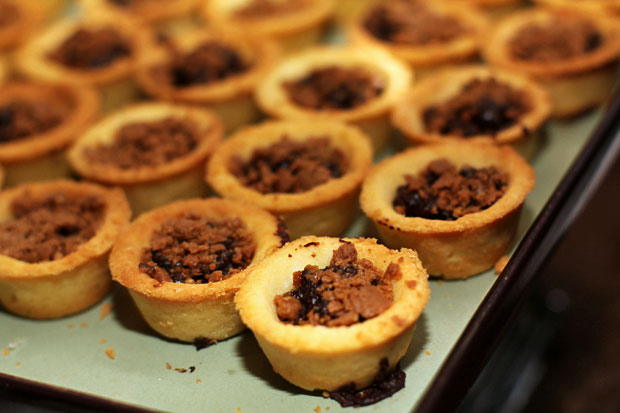 Bibingka Cupcakes with Salted Egg Frosting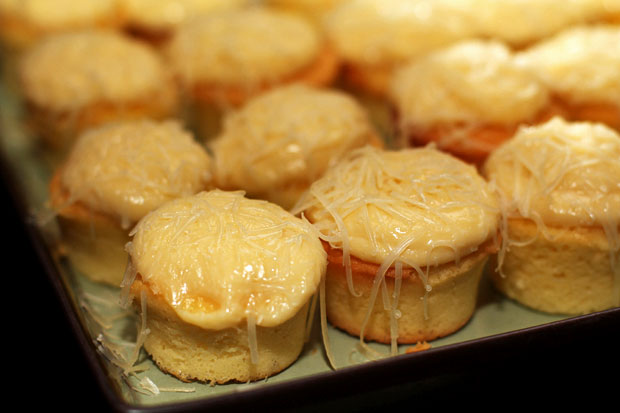 Malagos Tablea and Peanut Butter Pie (Mindanao)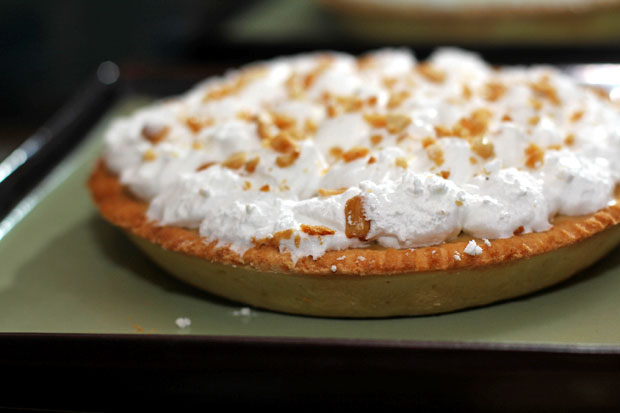 Durian Panna Cotta (?). After sampling several different durian desserts at this buffet, I'm becoming such a fan of this pungent fruit. It's so good with interesting, unique flavors.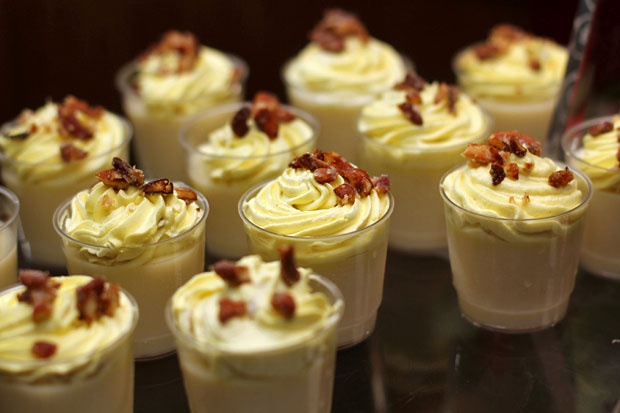 Mangosteen Cheesecake (?)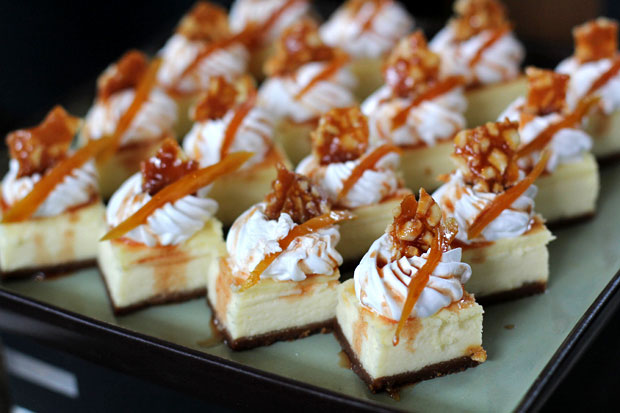 Ube Cake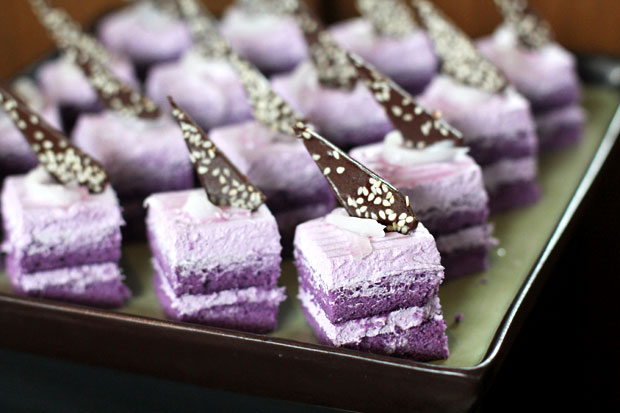 Durian Panna Cotta (Mindanao). Aren't they stunning? A showstopper brought back from last year's inaugural Luzviminda buffet, this is durian panna cotta served in hollowed out young durian vessels. Creative and delicious, I think I had about four or five of these.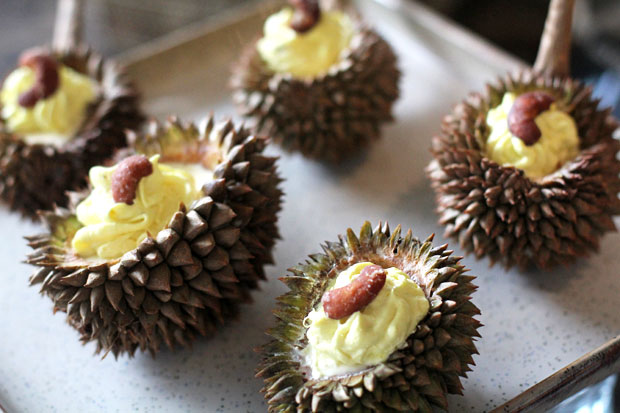 L: Tablea Chocolate
R: Halo-Halo Station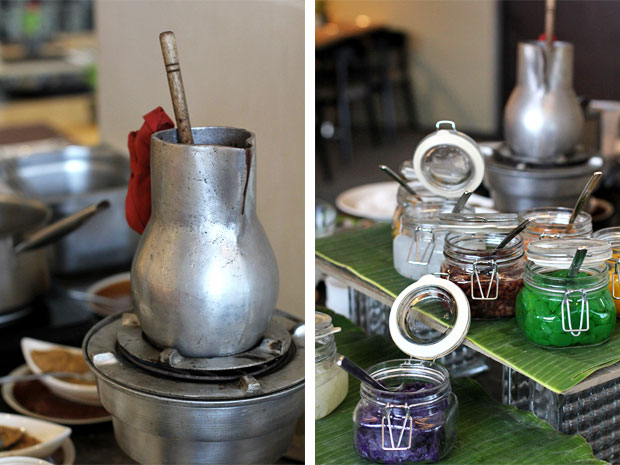 The lonesome Pomelo Creme Brulee. The last thing that we ate at the buffet, this picture perfectly encapsulates how we felt about leaving. 🙁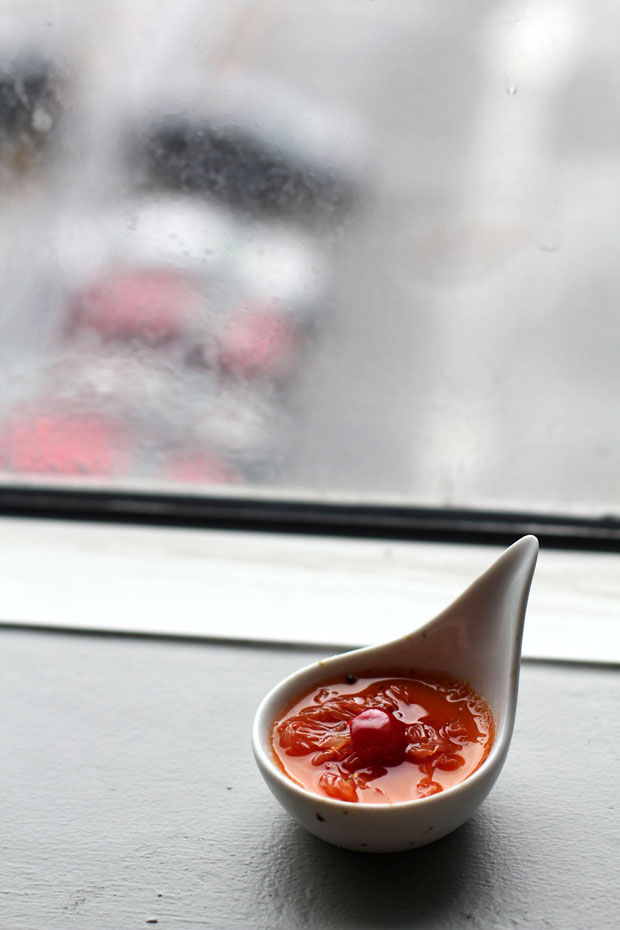 Sad that it all had to end, Ren and I are grateful to F1 Hotel Manila and the entire Luzviminda team for having us. We enjoyed every minute of our stay, so from the bottom of our hearts, thank you!
Here's the talented group of chefs responsible for putting together this event. Mabuhay Luzviminda! 🙂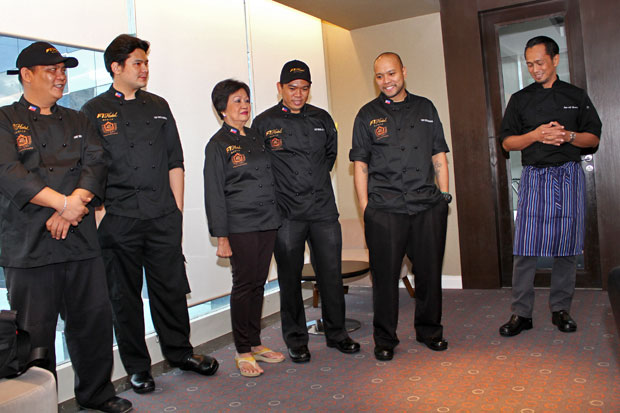 In the spirit of full disclosure, I'd like to reiterate that we were here today as guests of F1 Hotel Manila to cover the opening of the Luzviminda 2: Where Food Meets Art event. As mentioned up top, this buffet and all the dishes pictured above are available to paying guests for a limited time from 12-26 June 2014 for PHP 1,700.
Luzviminda 2, F1 Hotel Manila
Buffet Price: PHP 1,700 per person
Availability Period: 12-26 June 2014
F1 Hotel Manila
3/F F1 Hotel Manila, 32nd Street, Bonifacio Global City
Tel: 928-9888 / 908-7888
Website: f1hotelmanila.com
Facebook: f1hotelmanila
Twitter: F1Hotel
Email: inquiry@f1hotelsandresorts.com
Disclosure
We were here tonight as guests of F1 Hotel Manila. Our meal was paid for by the hotel.
JB is one half of Will Fly for Food and its chief itinerary maker.  He's the one to blame for all the crappy photos and verbal diarrhea on this blog.  Don't listen to him.
Latest posts by JB Macatulad (see all)