Kyoto Tower: A Spectacular 360° View of Kyoto, Japan
We were drinking beers on the steps just outside Yasaka Shrine one afternoon, when I noticed something that struck me – I had a clear view of the Kyoto sky. Pointing this out to my Japanese friend Tom, he explained that there's an ordinance in Kyoto that limits the height of buildings in historical districts to just 15 meters (50 ft).
Having grown up in a big city most of my life, this was an unusual but welcome change. Leaning back on those steps, taking swigs from my Asahi Super Dry, I enjoyed very much just sitting back and admiring the sky without having any big skyscrapers blocking my view. It made the world feel so much bigger.
Which is why at 131 meters high (430 ft), there's no way you can miss Kyoto Tower. 😆
An iconic observation tower, it's Kyoto's tallest building by a mile and a rare modern landmark in this city famous for its ancient temples and shrines. No matter where you are in downtown Kyoto, just look up and you'll spot it. It towers over everything.
We had a couple of hours to kill before taking the train back to Osaka, so Ren and I decided to go up to its viewing deck at 100 meters (328 ft) above street level to get a bird's eye view of this historic city.
L: Kyoto Tower is conveniently located across Kyoto Station, making it an ideal stop en route to Osaka. R: It stands atop a commercial building that contains souvenir shops, restaurants, a hotel, and a public bath in the basement.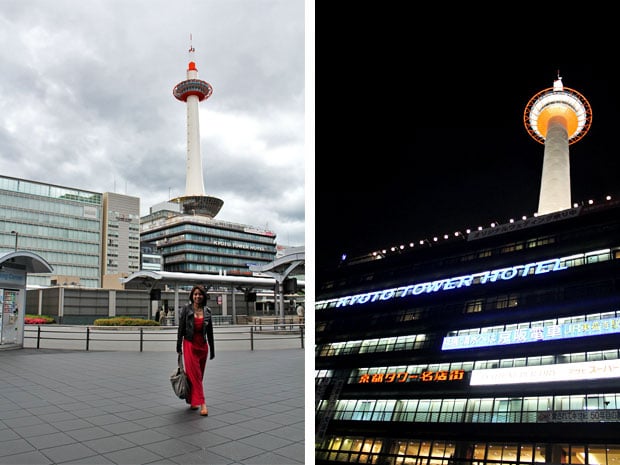 Not wanting to lug our suitcase up the tower, we deposited it in one of these convenient coin lockers found at many subway stations. Depending on the size of the locker, the rental cost is ¥100, ¥300, or ¥500 for 24 hour storage.
There's Ren giving me her classic "hurry the fuck up and take your picture" look. 😆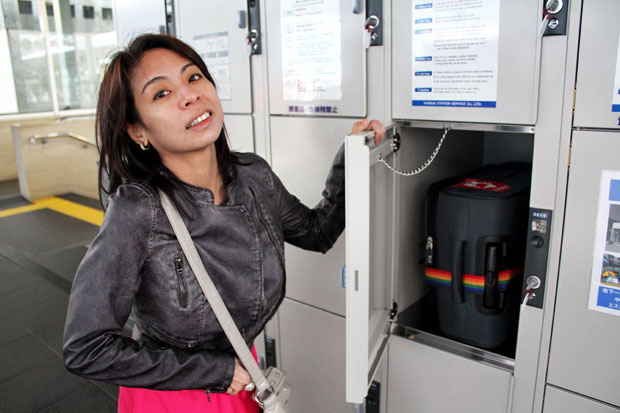 Admission fee to the observation deck is ¥770 via elevator, and ¥5 by stairwell. Just kidding. 😆
Providing 360° views of Kyoto, you can use these high-powered binoculars to find the various landmarks scattered throughout the city. To help you locate them, on the panes of glass are listed the landmarks that are within that pair of binoculars' field of view. There's Ren trying to look for those orange toriis at the Fushimi Inari Shrine.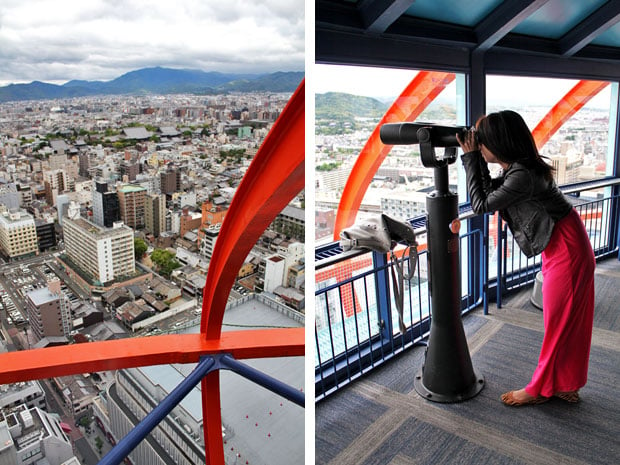 Spectacular view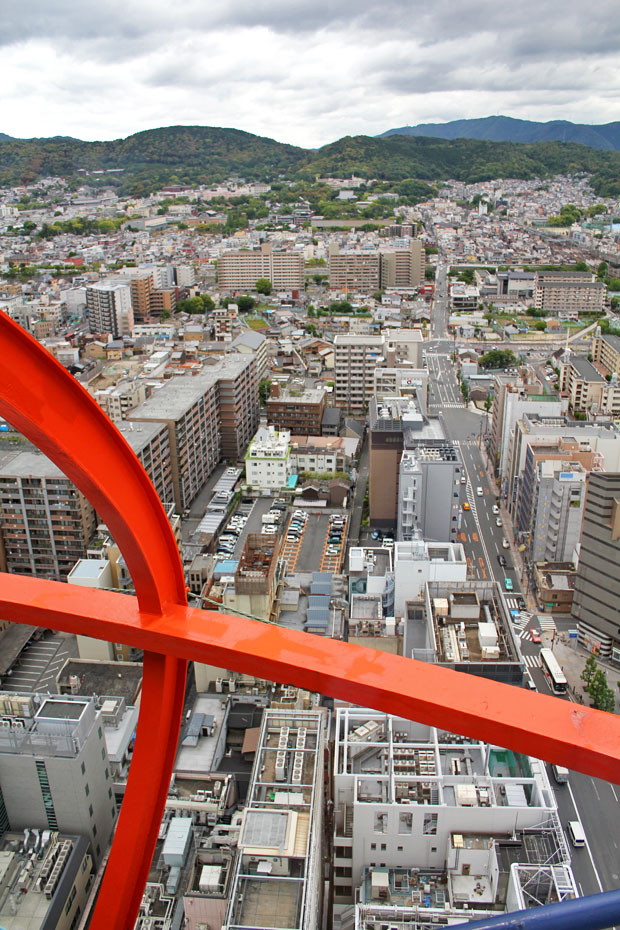 The tower by night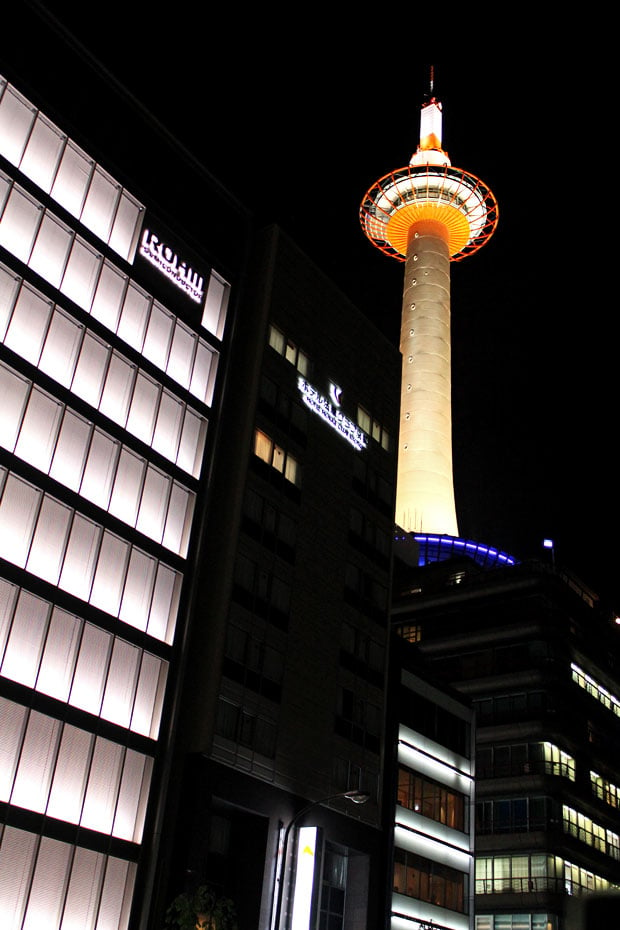 We enjoyed our time here, but with all the remarkable sights to visit in Kyoto, this wasn't a must-see in my opinion, especially if you're low on cash or have little time to spare. We happened to still have both which is why we did it, but you can skip it altogether. The views are pretty awesome, but that's about it.
Kyoto Tower
Karasuma Shichijo sagaru, Shimogyo-ku, Kyoto, Kyoto Prefecture 600-8216, Japan
Tel: 81 75-361-3211
Operating Hours: Mon-Sun, 9AM-9PM
Admission: ¥770
Suggested Length of Visit: 30 mins – 1 hour
HOW TO GET THERE:
Kyoto Tower can be found at the north side of Kyoto Station. CLICK HERE for more information.
JB is one half of Will Fly for Food and its chief itinerary maker.  He's the one to blame for all the crappy photos and verbal diarrhea on this blog.  Don't listen to him.
Latest posts by JB Macatulad (see all)