Akira. A Marvin Agustin Joint.
It's funny, I had a feeling within ten minutes of being seated at this place that Akira belonged to the Marvin Agustin group of restaurants. All the signs were there. The subpar service, the apathetic staff, the glossy interior, the polished graphics, the hipster sushi rolls, all these elements pointed to a template that I had seen (and tasted) a few times before. True enough, googling "marvin agustin akira" as soon as I got home that night confirmed my suspicions.
But instead of reveling in the fact that I was right, I felt a little stupid, and old. 😕 More on that later.
What sorcery is this? Reneelicious and my mom actually sharing a laugh together?! 😆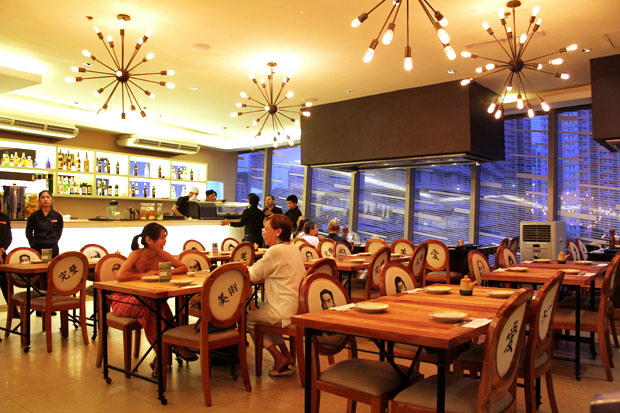 Tuna Sashimi – PHP 268 / Salmon Sashimi – PHP 248
Their sashimi was fresh and very good. (Apologies for the crappy shots. The dim, yellowish lighting in the place wasn't conducive to sexy food porn.)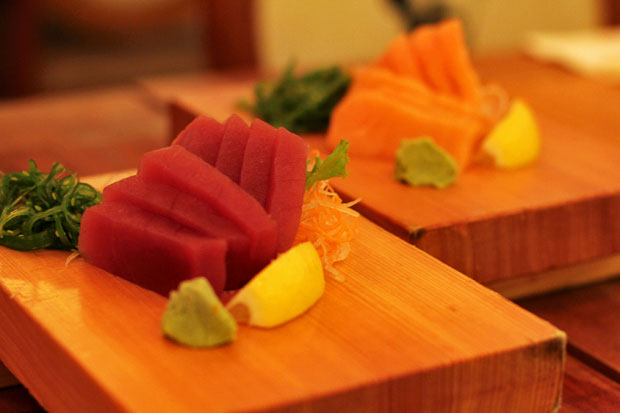 Blow-Torched Maki – PHP 309 – Tuna, salmon, kani, cream cheese, mango, miso mayo
All the designer sushi rolls we had tonight were pretty good, though this one was by far the best. One of their signature rolls, the fish is blow-torched for a few seconds before being garnished with miso mayo and tobiko. I don't know if the blow-torching method had anything to do with it, but the fish had a nice, chewy texture that I really enjoyed. I would get this again.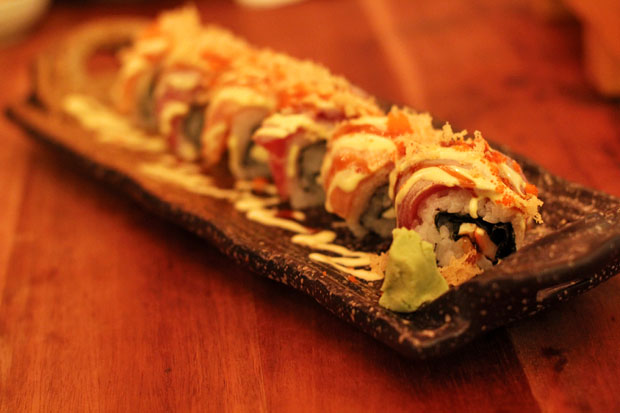 Fried Spicy Ikura – PHP 318 – Choice of tuna or salmon
We got tuna on ours. It was pretty good, though not as memorable as the roll above. I don't remember it being very spicy either.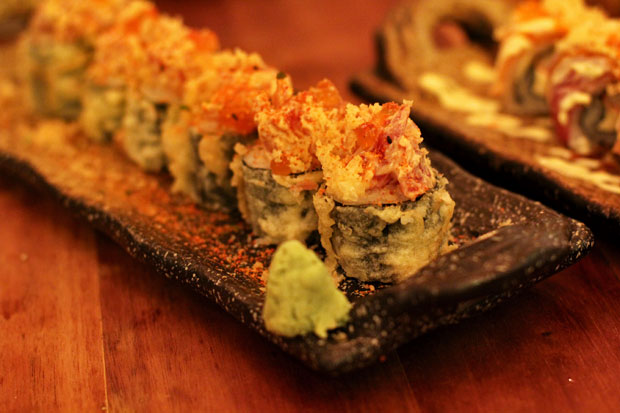 Unagi California Maki – PHP 448
As the name says, basically a California roll with a hunk of unagi on top. 😉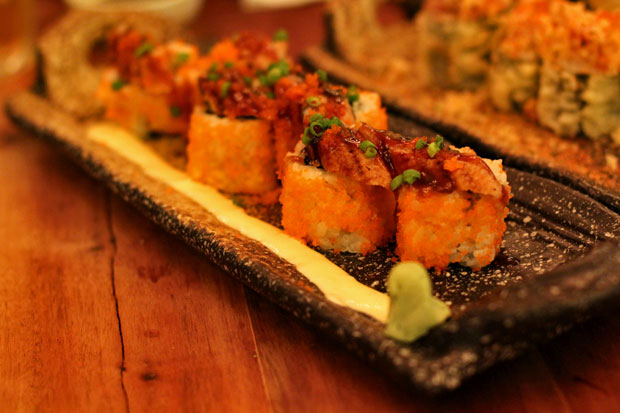 Unagi Teriyaki – PHP 678
I love unagi, but PHP 678 for this cut may have been a little steep?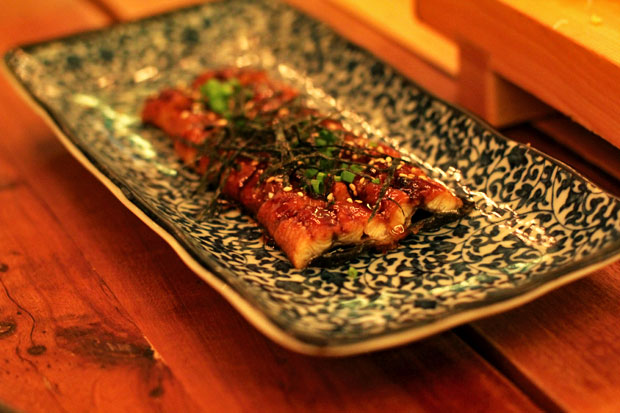 It was my birthday tonight, and I wanted sushi. But not just any old sushi. I wanted authentic, Tsumura-quality sushi, not the theme park variety offered by cookie-cutter establishments like Sumosam, Teriyaki Boy, and Akira.
It's weird. I used to enjoy these designer sushi rolls a lot more when I was younger, but nowadays? Not so much. I guess it's a sign of age. "Classic > Trendy" is pretty much how I feel at forty. *sigh*
Anyway, I chose this place tonight because it was flashy. This seems to be the template for all Marvin Agustin restaurants. I assumed that flashy would translate into awesome, and in many ways it did, but just not in the way I wanted. I was expecting authentic tonight and Akira wasn't that.
Regardless, we still enjoyed the meal though we probably won't be coming back anytime soon. Such seems to be the case with these trendy theme park restaurants. They're nice once in a while, like maybe once a year, but that's about it. I'm sure kids (and hip, younger people) would enjoy it though. The teppanyaki chefs put on a good show for the diners.
As for me? The next time I have a craving for authentic sushi, I know better than to look for it in a mall. 😉
Akira Shangri-la Plaza Mall
5/F Shangri-la Plaza Mall, Shaw Blvd corner EDSA, Wack Wack, Mandaluyong
Tel: 654-3920
Facebook: Akira-PH
Operating Hours: Mon-Sun, 11AM-10PM
Akira Alphaland Makati Place
Alphaland Makati Place, Ayala Avenue, Bel-Air, Makati
JB is one half of Will Fly for Food and its chief itinerary maker.  He's the one to blame for all the crappy photos and verbal diarrhea on this blog.  Don't listen to him.
Latest posts by JB Macatulad (see all)