Ninyo. Old News, but still Making Headlines.
Open for over four years now, I guess you can say that Ninyo is old news.
New restaurants pop up all the time, so I imagine that any buzz about this place has long been drowned out. But just because Ninyo isn't breaking news anymore doesn't make it any less newsworthy. Cut from the same cloth as an Antonio's or a Lolo Dad's, I'd like to think that a place this good, this perfectly good – with its romantic cabanas, oasis-like feel, and impeccably prepared Japanese-French fusion cuisine – will always be making headlines.
At Ninyo for the first time ever today, I can't believe we waited four years to eat here. #whatwerewethinking?!
We sat outside in one of the cabanas but I wanted to check out the restaurant's interior. Rustic but modern in feel, it reminded me of a mini-Antonio's smack dab in the middle of Quezon City. Really beautiful. I can only imagine how gorgeous this place must be at night.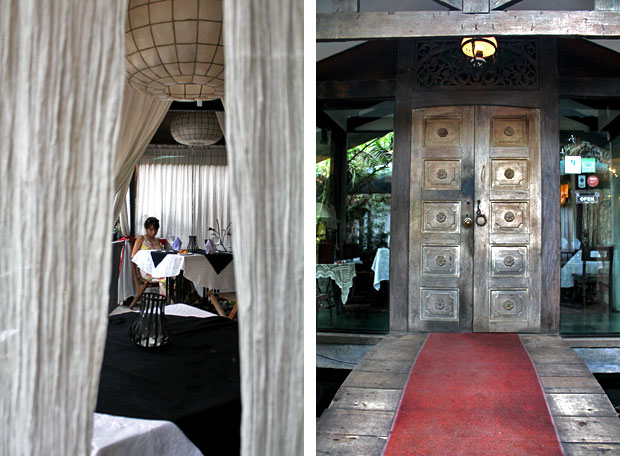 Downstairs seating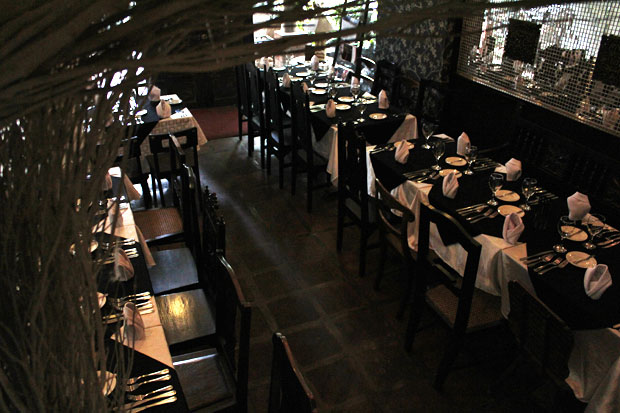 Upstairs seating. Pictured to the right is a private nook with a seating capacity of eight.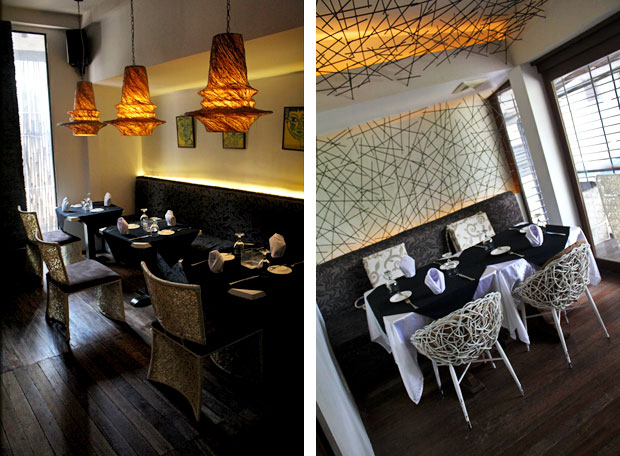 Here today courtesy of a Groupon set meal for two, they started us off with some delicious homebaked bread and a glass of wine sangria (Cabernet red wine mixed with cranberry extract, apple, and pineapple)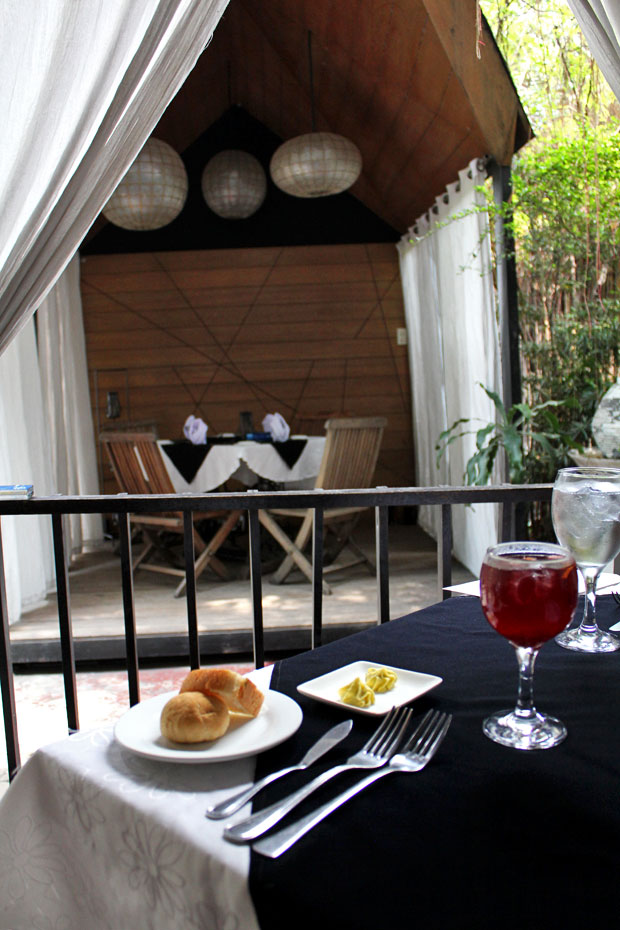 Nasu Miso – Pan-fried Japanese eggplant dressed with a sweet and savory mizo glaze
Pretty right? It tasted every bit as good as it looked too. Loved the edible flower.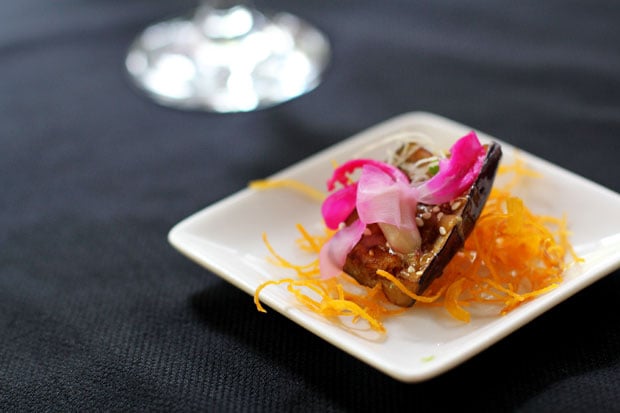 Nori Pumpkin Soup – Creamy pumpkin soup served with pumpkin flower tempura
This soup was really good. It was rich, creamy, hearty, and full-tasting.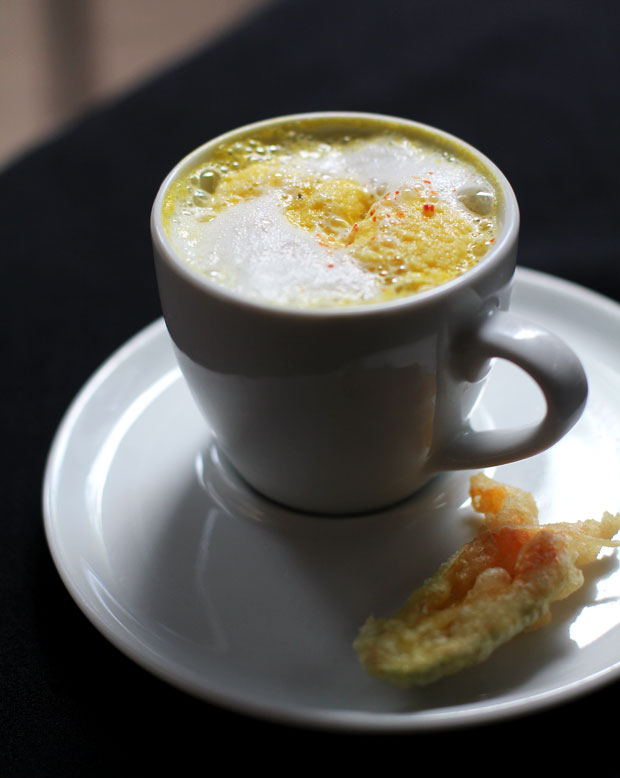 Shiitake Confit Salad – Seasonal fruits and assorted mixed greens with honey ponzu dressing sprinkled with crispy jullienned tofu
One of most beautiful, best-tasting salads I've ever had. Just a bouquet of flavors and textures on your plate. Bite for bite, this was probably my favorite part of the meal.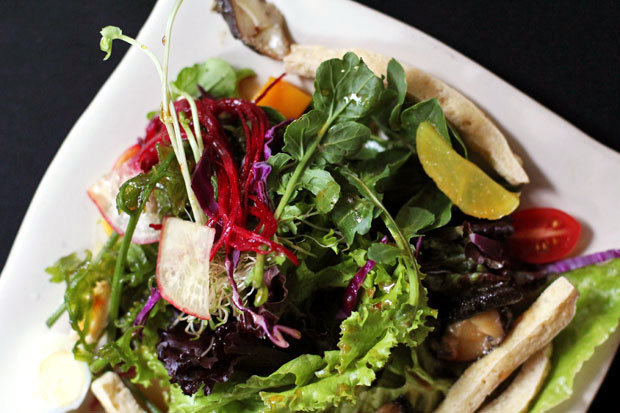 Yuzu Sorbet palate cleanser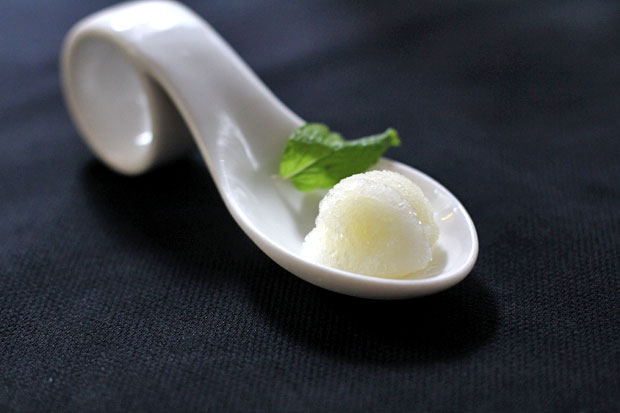 1906 Reserva Especial – PHP 180
With our palates cleansed and our sangrias polished off, we decided to order these Spanish beers to accompany our mains.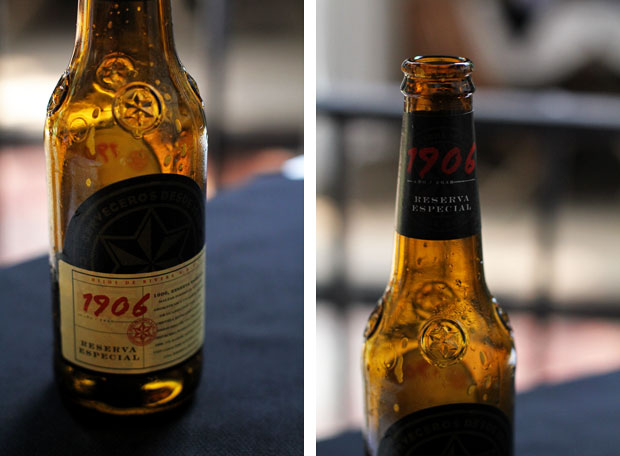 Salmon Confit in wasabi caviar cream sauce
Given the choice of fish or beef, Ren had this salmon as her main and it was delicious. It's hard to tell from this picture, but this was a sizeable plate of food.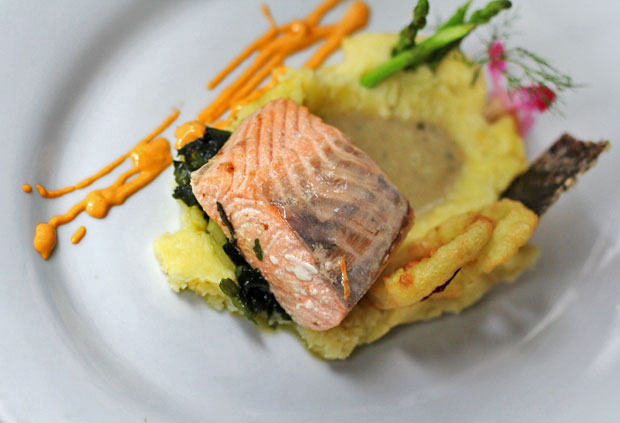 Grilled US Clod Tender in garlic soy marinade served with grilled Japanese sweet corn and seasonal vegetables
Equally delicious was this gorgeous plate of US clod tender sitting on a bed of risotto.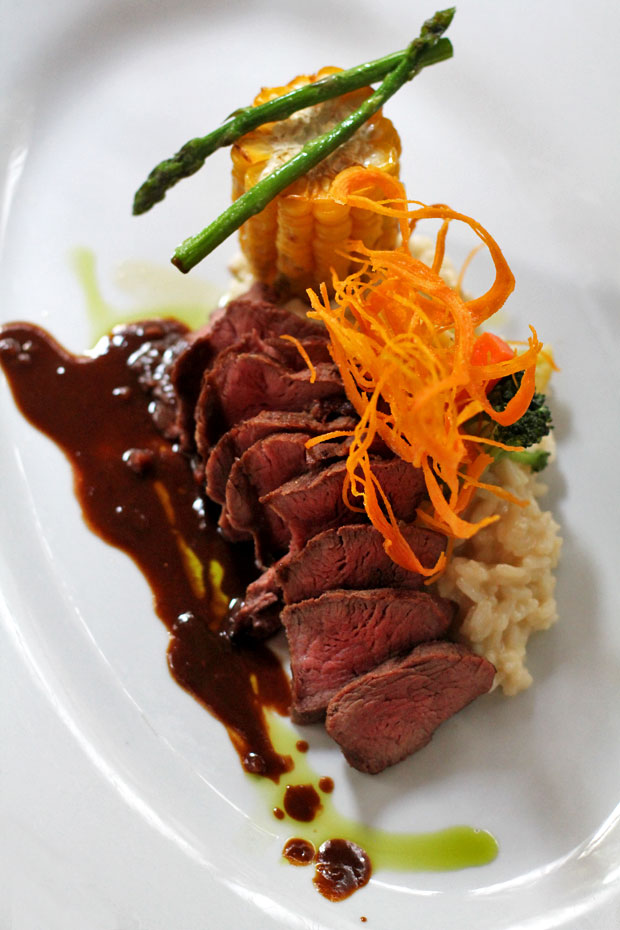 For dessert, they served us this Green Tea Panna Cotta. Wobbly like a woman's breast, it was pure, panna cotta perfection. So seriously good.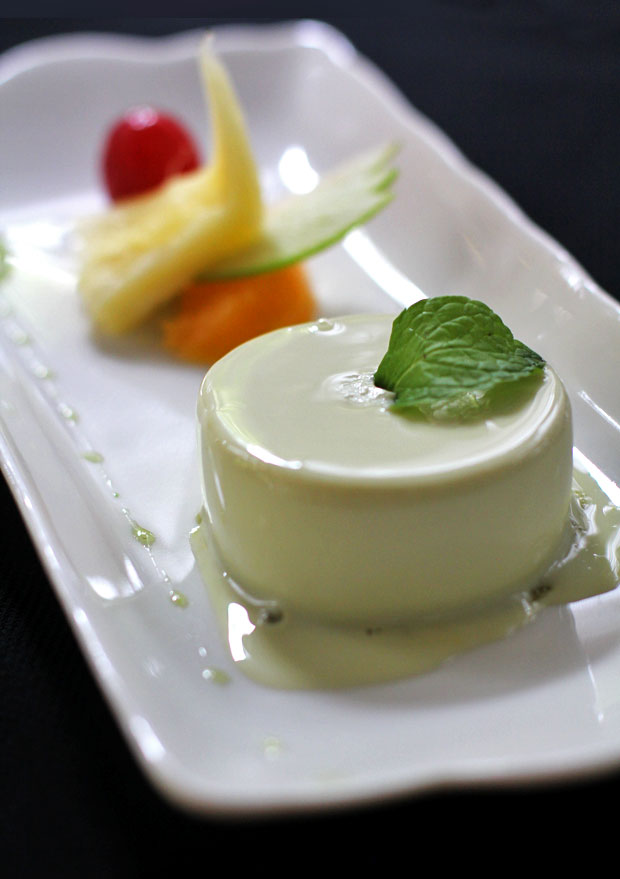 Love locks, a testament to just how date-centric Ninyo is.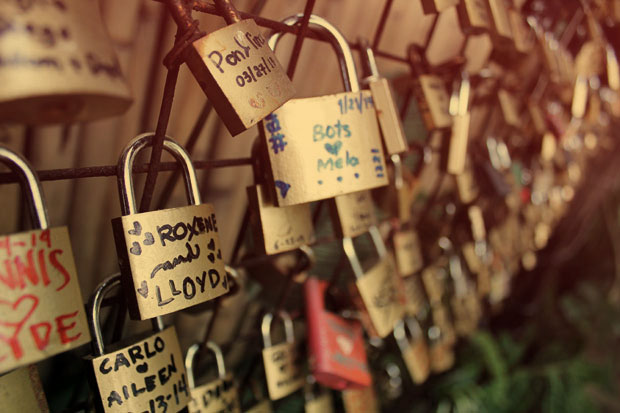 Next time, I'm bringing a lock. ♥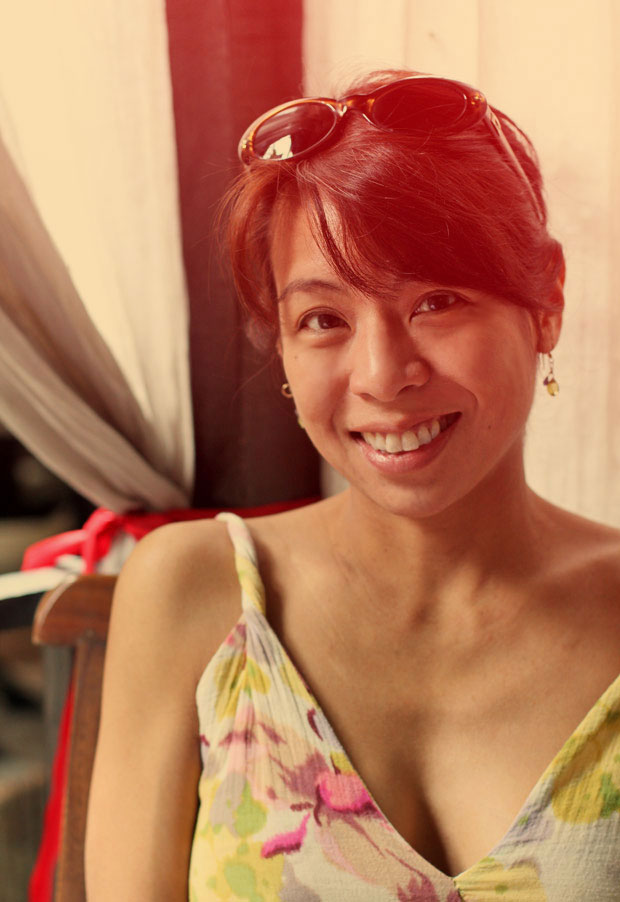 To be honest with you, we'd heard a lot about this place but we were never too keen on going. All because of its name. Ninyo sounded like any other Pinoy restaurant to us. But as we learned today, that couldn't have been further from the truth. It turns out that the restaurant was named after it's chef, Niño Laus. Teach us to judge a book by its cover right? 😕
In any case, we'll definitely be back for seconds. This was an eye-opening meal to say the least and one that we would love to experience again. Ninyo just shot up to my shortlist of favorite fine dining restaurants, with the distinction of perhaps being one of if not the most romantic.
How's that for a news flash?
Ninyo Fusion Cuisine & Wine Lounge
66 Esteban Abada Street, Loyola Heights, Quezon City
Tel: 426-0301
Mobile: 0917-530-2580
Facebook: NINYO-Fusion-Cuisine-Wine-Lounge
Twitter: NinyoFusion
Instagram: ninyofusioncuisine
Email: ninyofusion_manila@hotmail.com (reservations and inquiries) / ninyofusion@gmail.com (other concerns)
Operating Hours: Tue-Sun, 11AM-2PM / 6PM-10PM
JB is one half of Will Fly for Food and its chief itinerary maker.  He's the one to blame for all the crappy photos and verbal diarrhea on this blog.  Don't listen to him.
Latest posts by JB Macatulad (see all)