The Z Compound: An Awesome Little Food Court on Malingap Street
I love Maginhawa. For me, it's still one of the funnest places to go restaurant hunting in Manila.
Ren and I hadn't been there in a while so we drove up and down the street cooing over all the new restaurants. Unlike shopping malls or upscale commercial areas, the restaurants here are never cookie-cutter. Many in fact, are hole-in-the-walls – cramped but unique, with tons of character. They're just so much more fun and interesting.
Today, we wound up at this cute little compound along Malingap Street, just a few meters down the road from Pino. From the banner hanging outside, it looks like the place just opened in November of last year and currently houses five small restaurants in an open air space, some no larger than a kiosk. One thing I liked about it is that it perfectly encapsulates the diversity and unpretentiousness that's come to define Maginhawa. Want some oyster mushroom fries with your Lebanese shawarma and Hungarian sausage? No problem! Give some to your dog too, because they're welcome here.
I looked around to see if this awesome little compound had a name but I couldn't find one, so I'll call it the "Caring" Compound for now. A little cheesy yes, but for those who didn't know (like me until I asked Ren), malingap apparently means "caring". Here's what you can find there.
UPDATE: 7 July 2014
WOW, how quickly things change! The last time we were here was a scant five months ago, but the place looks almost entirely different. From just five eateries in early February, the number of restaurants has tripled to fifteen! How cool is that?!
Updating this post, Here's what you can find at the new and improved Z Compound. Yes, I just found out on this trip that the compound does in fact, have a name. 😉
* * * * *
Meshwe
Specialty: Lebanese shawarmas and other Middle Eastern fare
Mobile: 0927-663-8764
Facebook: Meshwe
Operating Hours: Tue-Sat, 2PM-10PM
We've only been to this compound three times but it's obvious that Meshwe is the most popular place here. They specialize in authentic Lebanese shawarma and Middle Eastern cuisine. I even spotted falafel on their menu which we'll definitely try on our next visit.
Everything we've eaten here thus far has been good, but the chicken shawarma sandwich was exceptional. It's their most popular item so be sure to get one. It's really delicious.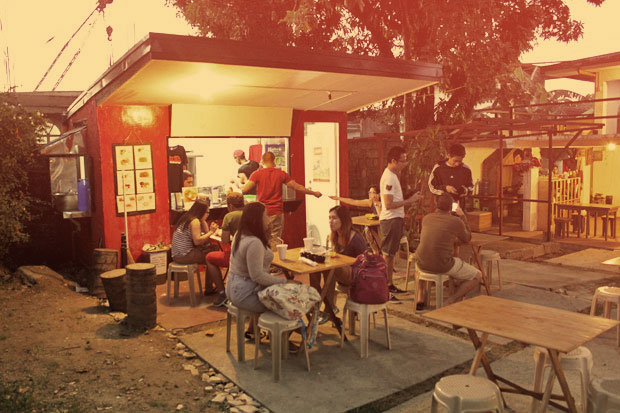 UPDATE: Meshwe has since remodeled its kiosk. I'll post pictures after our next visit.

Meshwe Platter – PHP 100 – Arabic fries, pita chips, and sambousak served with three dipping sauces of harissa, garlic sauce, and chili garlic sauce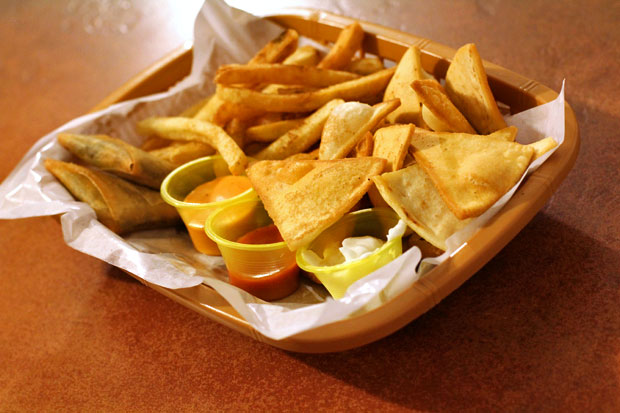 Beef Shawarma Rice Plate – PHP 125 – Bukhari rice topped with beef shawarma and tomatoes served with a spicy tomato salsa and yogurt mint sauce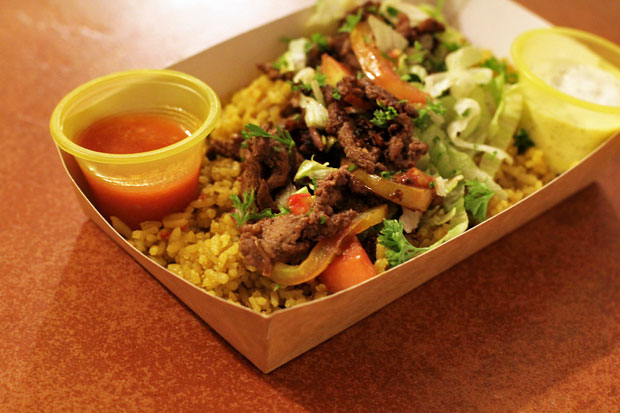 Chicken Shawarma Sandwich – PHP 85 – Grilled chicken shawarma with pickles, Arabic fries, and Meshwe's garlic sauce all wrapped in Meshwe's six-inch pita bread
The aforementioned Meshwe specialty. All the components just went so well together.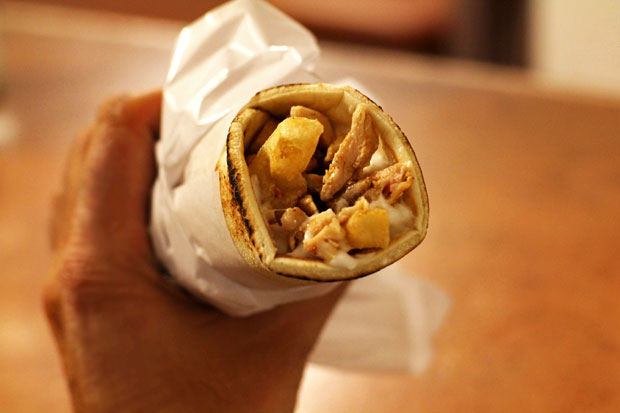 Beef Shawarma Sandwich – PHP 100 – Beef shawarma with pickles, fries, cabbage, parsley, thinly sliced onions, and tarator sauce all wrapped in a six-inch pita bread
Not bad, but chicken clearly is king at Meshwe.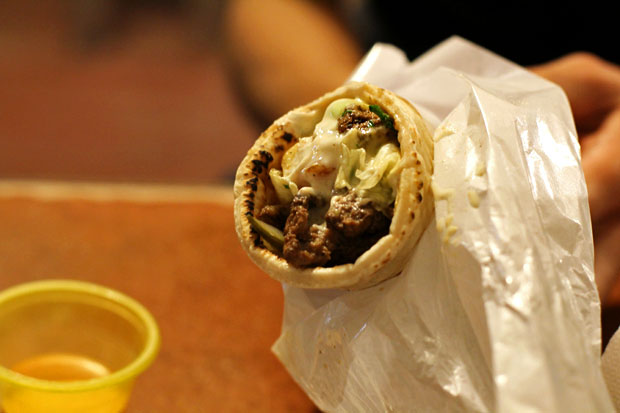 Chicken Shawarma Plate – PHP 150 – Chicken shawarma served on a plate with Arabic fries, pita bread, tomatoes, and Meshwe's garlic sauce and chili garlic sauce
A deconstructed version of the chicken shawarma sandwich.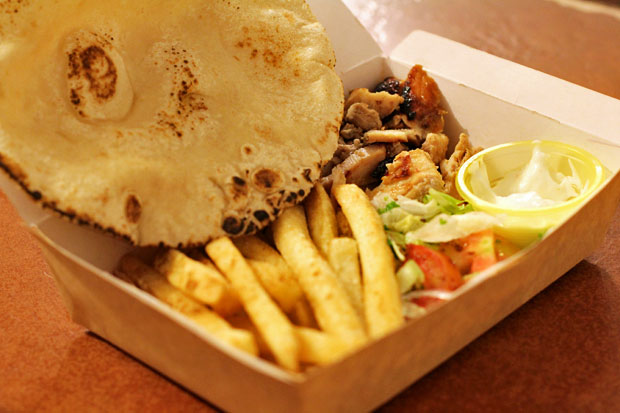 Burger Hub
Specialty: Burgers, sausages, fruit shakes
Mobile: 0917-824-9366
Facebook: burgerhub0318
Operating Hours: Mon-Sat, 10AM-9PM
Apart from burgers, Burger Hub offers all kinds of sausages and fruit shakes as well.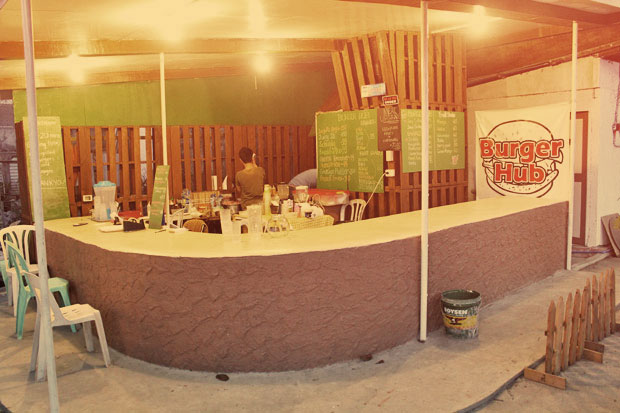 UPDATE: Burger Hub has since remodeled its kiosk. I'll post pictures after our next visit.

Juicy J's Angus Burger – PHP 150
I really enjoyed this angus Juicy J. Nicely seared, it's cooked over coals so you get that delicious, smokey, charcoal-grilled flavor. It came with a slathering of caramelized onions and cheese sauce, and a side of french fries.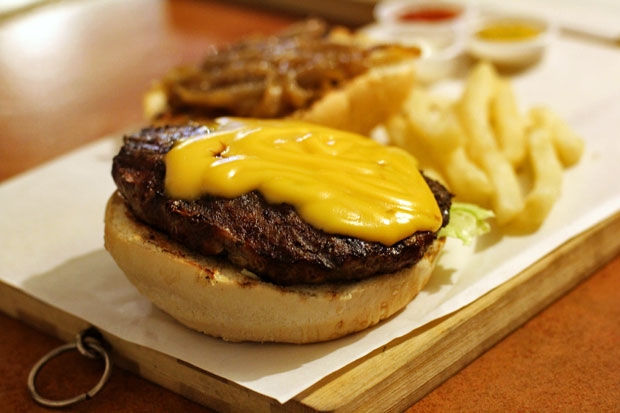 BBQ Zone
Specialty: Ihaw, beer
Mobile: 0927-691-283
Facebook: B-B-Q-ZONE
As far as I can tell, BBQ Zone is still the only place within the compound that serves beer, so guess where we sit every time? 😆 Bottles of San Mig Light go for PHP 50.
As you can see in the picture below, it's a two-level structure. The first level is BBQ Zone while the roofdeck is the common seating area for all the kiosks.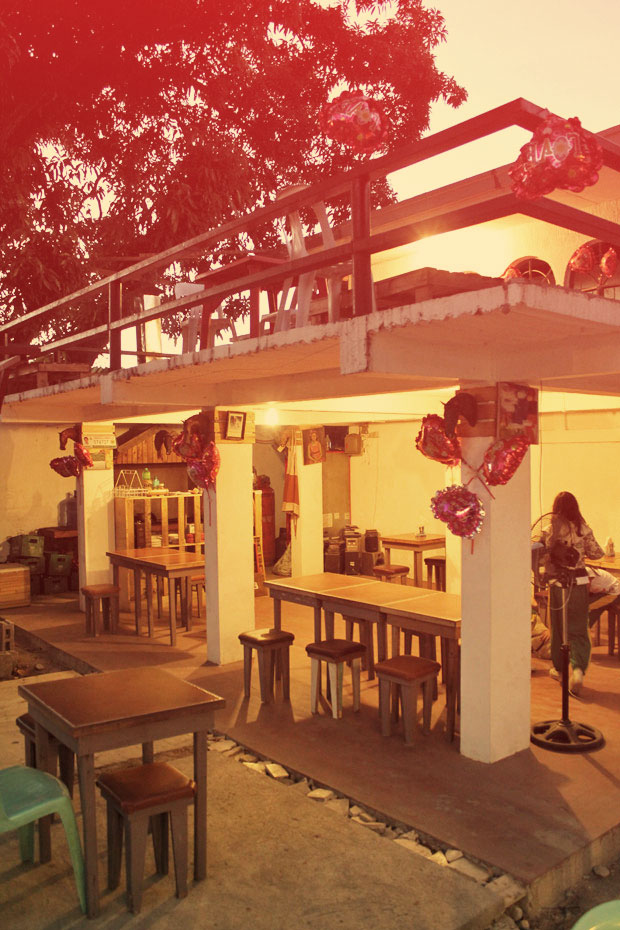 As mentioned up top, the fact that they welcome dogs gives us just one more reason to love this place. ♥ There's Reneelicious with our furry pug babies Henry and Mona. (Henry's behind the stool)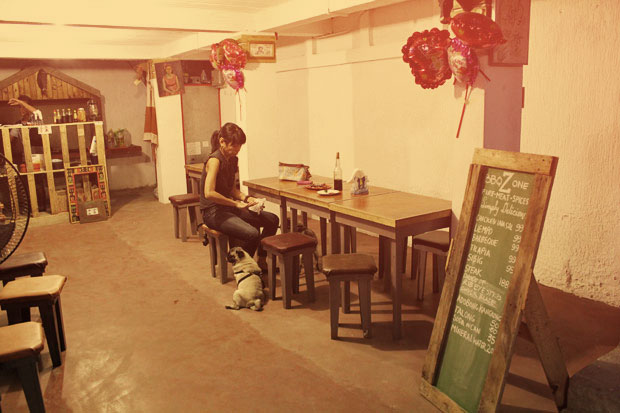 Liempo – PHP 99
BBQ Zone offers steak and a few grilled dishes like this liempo. It was really good. Sweet and smokey.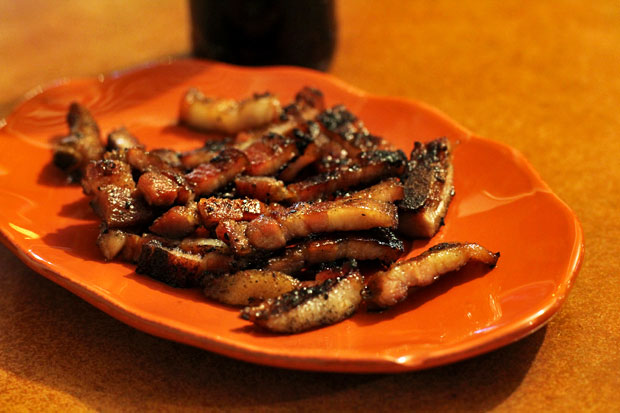 Cuckooh Puffs
Specialty: Pastries
Instagram: cuckoohpuffs
Operating Hours: Tue-Sat, 12NN-10PM
For dessert, we had these pastries from Cuckooh Puffs. The one in the background is a delicious, moist red velvet cupcake, while the cream-puff-looking pastry in front is the cuckooh puff. It's like a chocolate cream puff but with very little cream inside. I love choux pastry so I really enjoyed it.
If I remember correctly, both the cupcake and cuckooh puff went for PHP 45 apiece.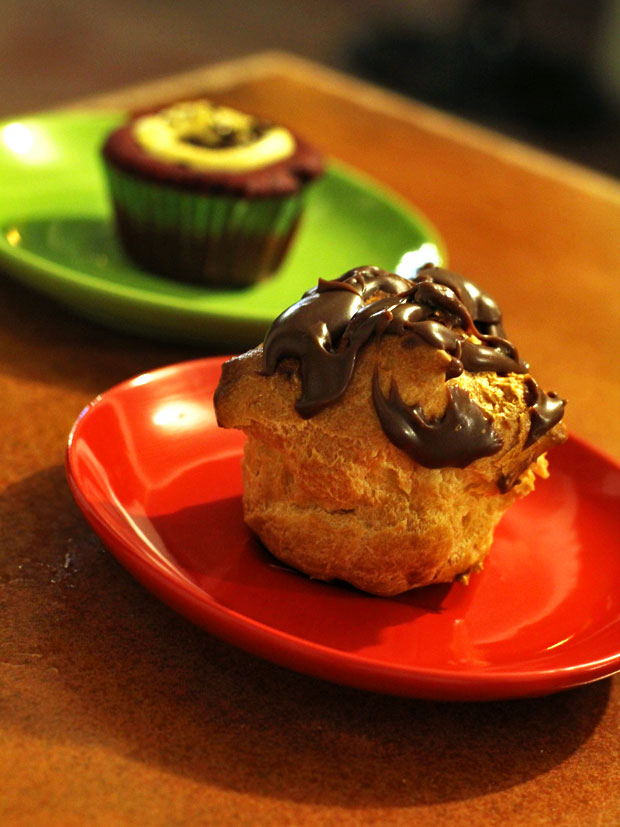 Blueberry cheesecake and red velvet cupcake. I paid PHP 150 for both.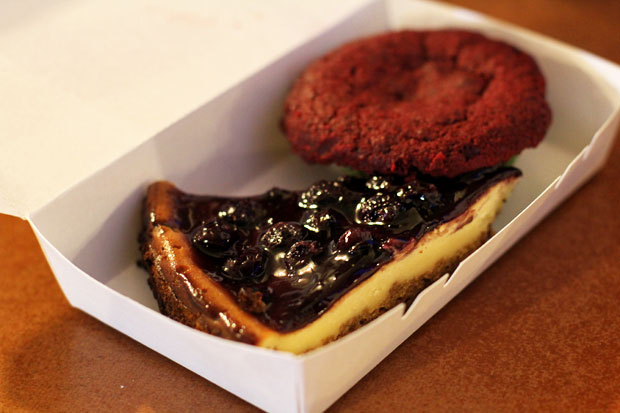 Bochic
Specialty: Pulled pork (turbo-broiled pork crisps), pulutan
Bochic specializes in Pinoy-style pulled pork sandwiches.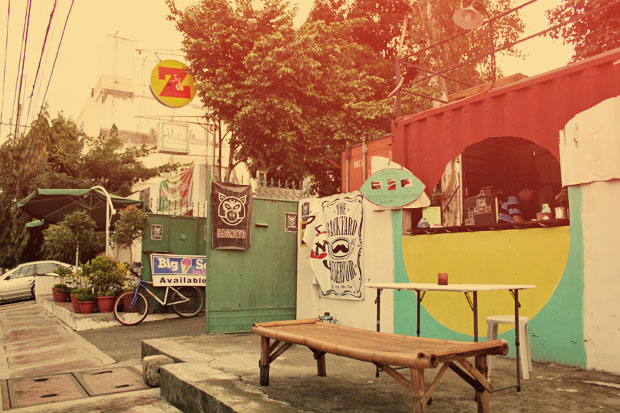 L: Bochic is housed in a converted container van.
R: Bochic Popcorn – PHP 50 – Popcorn cooked in pork fat! Ren loved this. As you can imagine, it was awesome with beer. 😉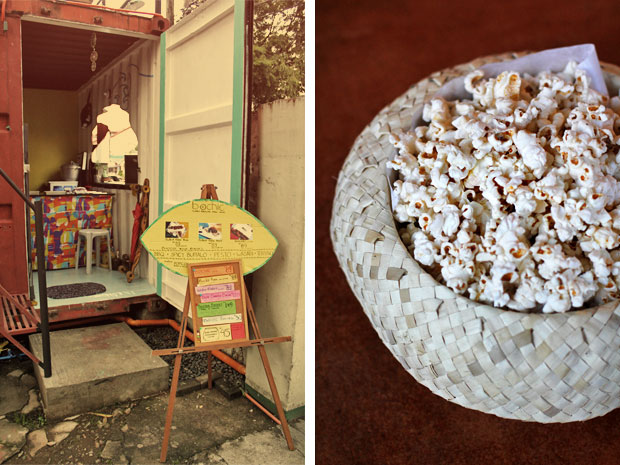 Pulled Pork – PHP 89 – Served in a bun or over rice, the pulled pork comes in different flavors (wasabi, pesto, kimchi, spicy buffalo, teriyaki, bbq).
Not the usual pulled pork that we were expecting, the Bochic version is dry and crisp, reminiscent of twice cooked adobo flakes.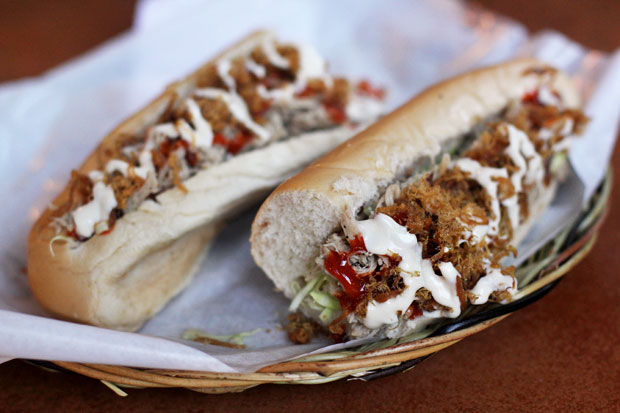 8tea8tea8 Milk Tea to Go
Specialty: Milk tea
Aside from milk tea, you can get Big Scoop ice cream here as well.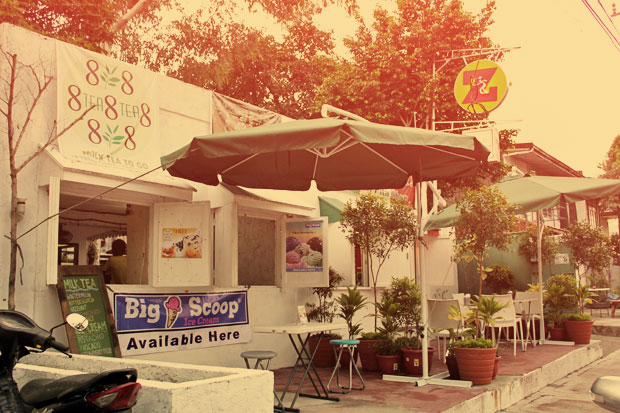 Hijo d' Pita
Specialty: Tex-Mex
Mobile: 0915-887-0977
Facebook: Hijo-D-Pita
Hijo d' Pita is the space next to 8tea8tea8 in the picture above. It's a Tex-Mex restaurant that specializes in chicken and beef pita sandwiches. We enjoyed both.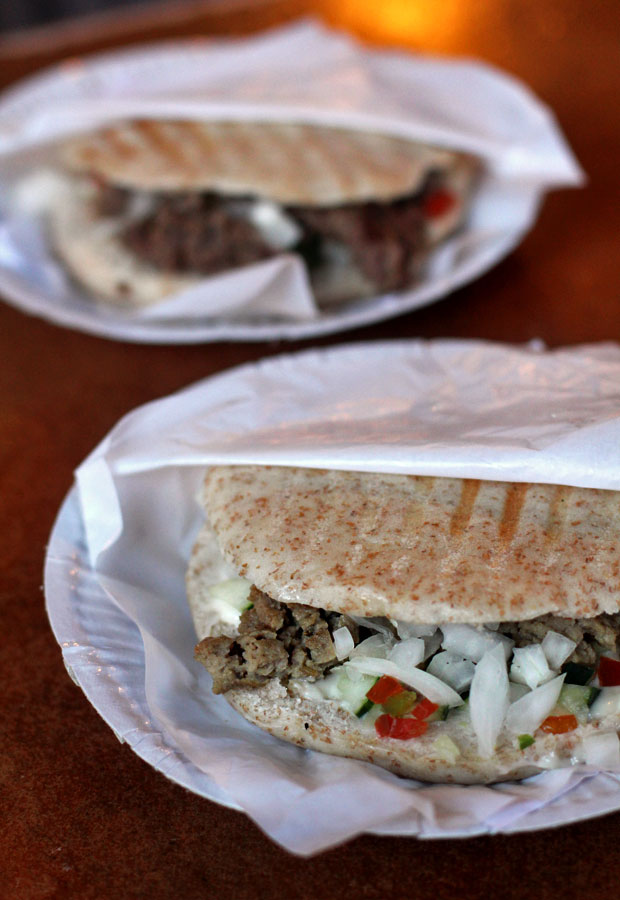 The Backyard Reservoir
Specialty: Pasta, pizza, sandwiches
Facebook: TheBackyardReservoir
Operating Hours: Mon-Sun, 10AM onwards
Probably the best looking space here. Really cool place to hang out.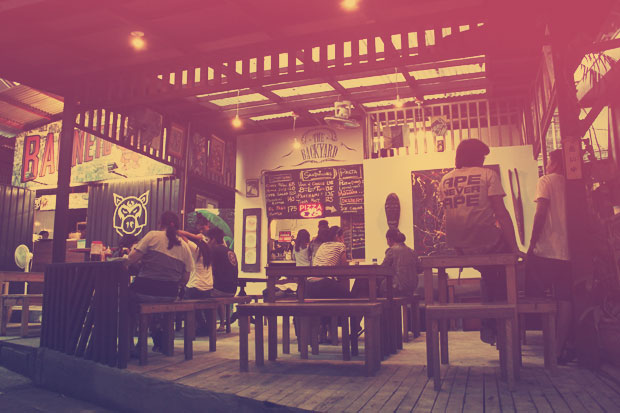 Mozza Stix – PHP 120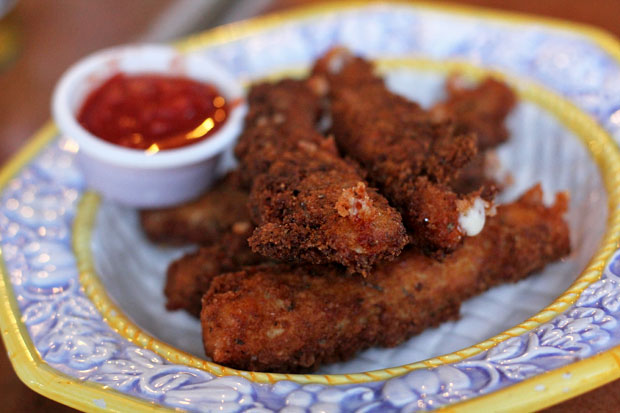 Bagneto
Specialty: Bagnet
Facebook: Bagneto
Operating Hours: Mon, Wed-Sun, 5PM-10PM
Cute right? Love the branding. 🙂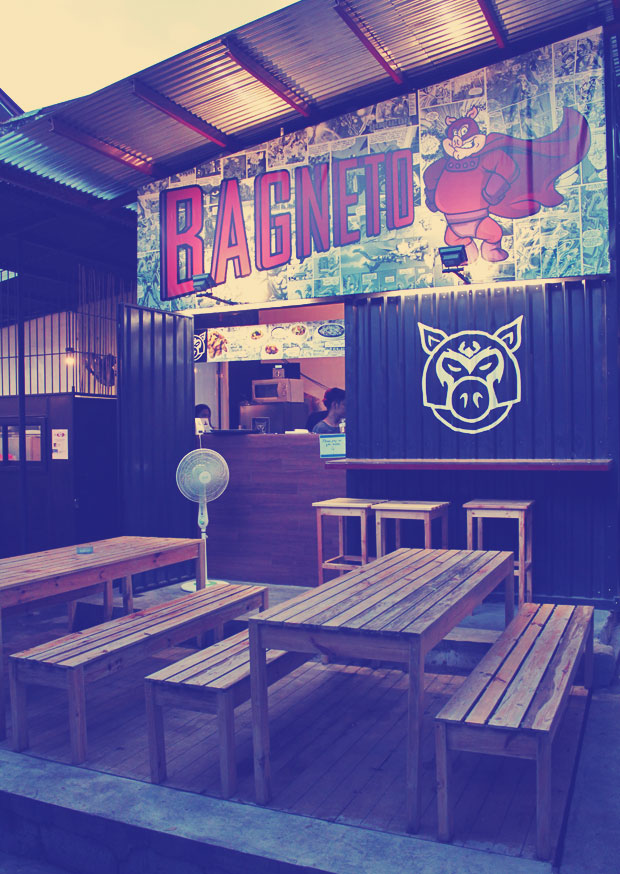 Bagnet with Rice – PHP 110
Crisp bangnet served in a literal rice bowl. It was tasty, but a little too tough for our liking.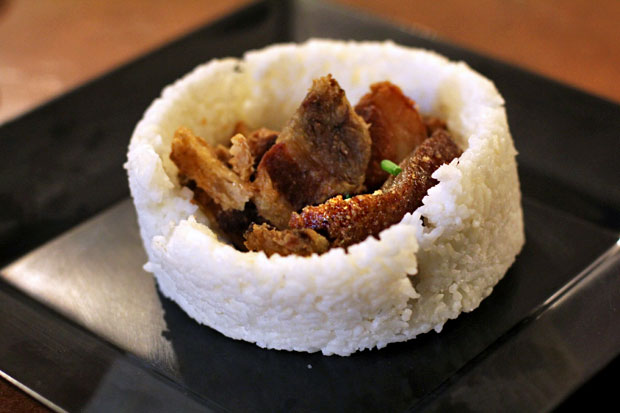 Extra Bagnet – PHP 100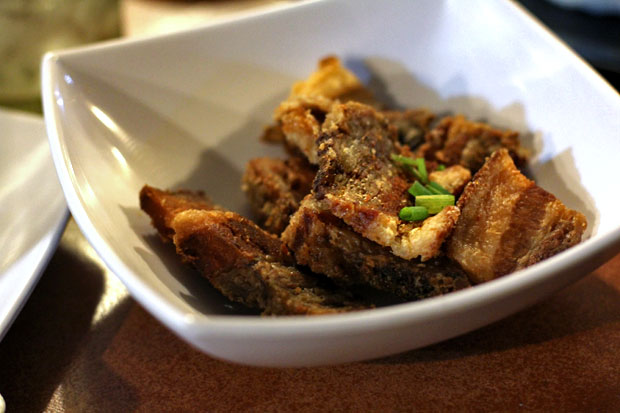 Binagoongan – PHP 130
This tasted really good but still a little tough. We preferred this over the bagnet. (Sorry for the broken rice bowl.)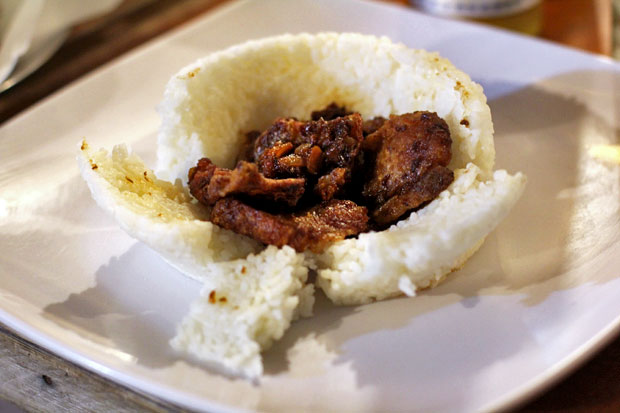 Stoner's: Soul Food to Go
Specialty: Comfort food
Facebook: stonerssoulfoodtogo
Mobile: 0906-488-4644
Operating Hours: Mon, Wed-Thurs, Sun, 12NN-10PM / Fri-Sat, 12NN-11PM
With or without the munchies, you'll enjoy the food at Stoner's. They serve great comfort food and desserts. It's one of our favorite places at Z Compound.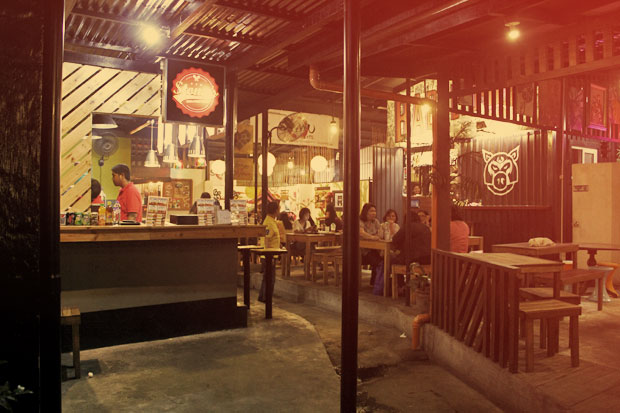 Buttermilk Drummettes – PHP 135 – 2 pcs drumsticks with 11 secret spices, homestyle gravy, coleslaw, and choice of wedges or rice
Reallt tasty fried chicken that tries to emulate KFC's original recipe. It's not quite there, but still good nonetheless. We didn't care too much for the wedges though.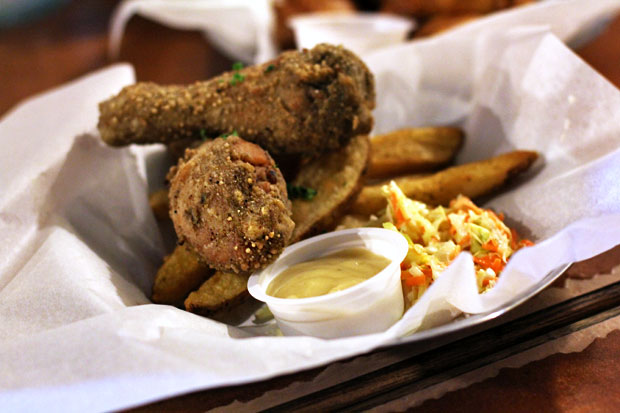 Corndogs – PHP 35 (on a stick) / PHP 90 (minis)
These were really good. Fun to eat too!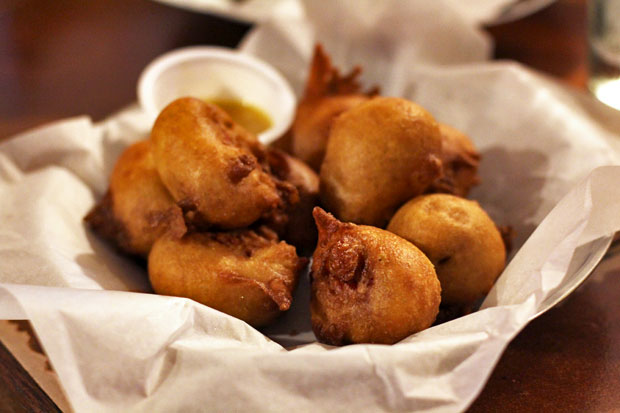 Fried Oreos – PHP 60 (4 pcs) – You can make this a la mode for an extra PHP 50.
Hands down, one of the best things we've eaten at Z Compound so far. It's so effing good, especially with a scoop of ice cream. I can't wait to eat this again stoned. 😉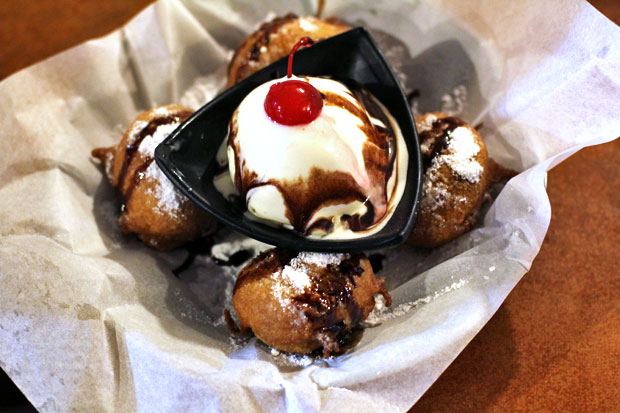 I was expecting the oreo to still be a little hard, but it wasn't. Absolutely delicious.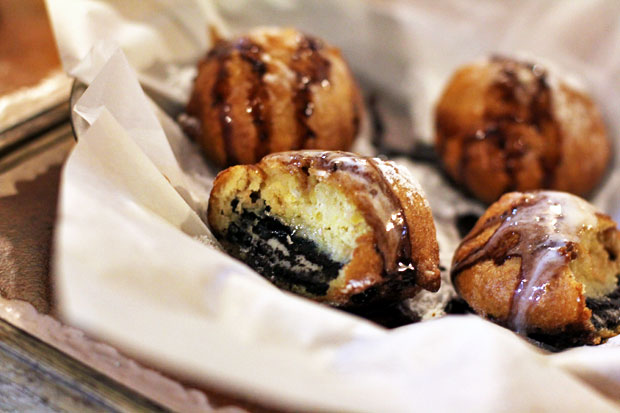 Me Love You Long Time (MLYLT)
Specialty: Vietnamese, Thai
Facebook: meloveyoulongtimeph
Operating Hours: Mon-Sat, 5PM-11:30PM
Samu Eats
Specialty: Japanese
Facebook: SamuEats
Operating Hours: Mon-Sat, 4PM-11PM
We haven't tried these two places yet but we will on our next visit. I can't wait to ask the cashier at MLYLT: "What do we get for ten dollars?" 😆

Lucky Noodles & Dimsum House
Specialty: Chinese noodles, dimsum
Ubiquitous dimsum and noodles place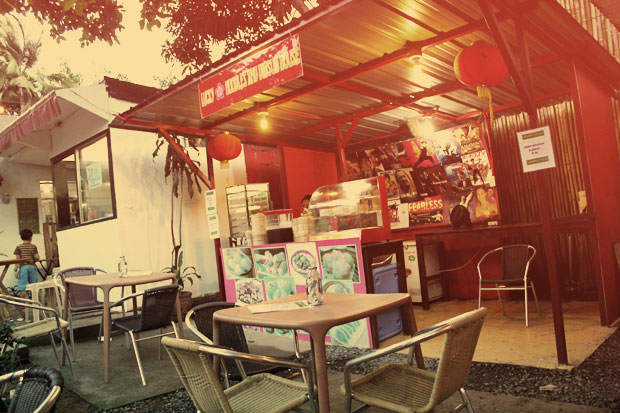 Health Break
Specialty: Salads, juices
The left half of the container van is Health Break with all its salads and juices, while to the right is Bochic with its pulled pork. It's like the angel and devil sitting on your shoulders. 😆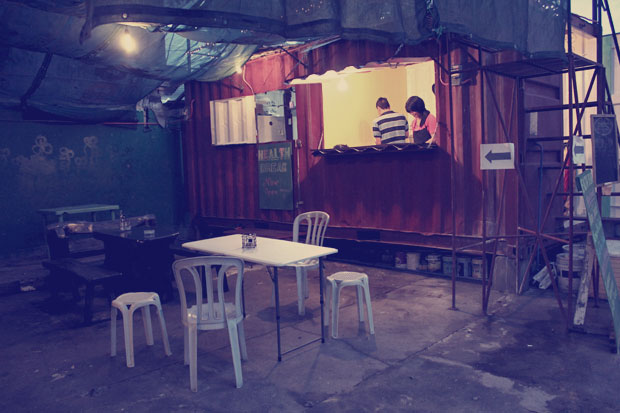 Eats Good
Specialty: Hong Kong street food
The roofdeck used to be just a seating area so I was surprised to find a kiosk up there.



We haven't tried this place yet but they serve Hong Kong street food like wok-fried noodles, fishballs, and pig's ears.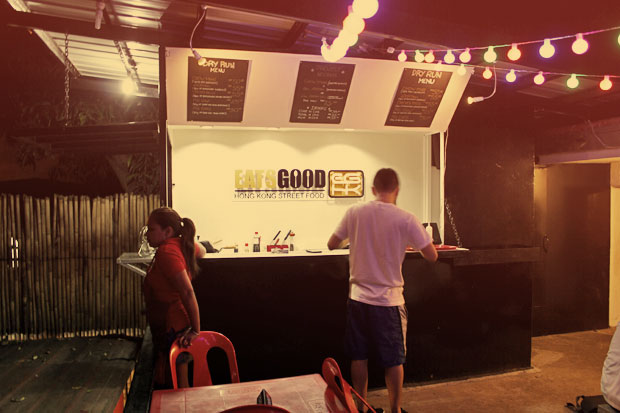 Roofdeck Seating Area
While each kiosk has its own designated seating area, this section is open to all. Cool eh?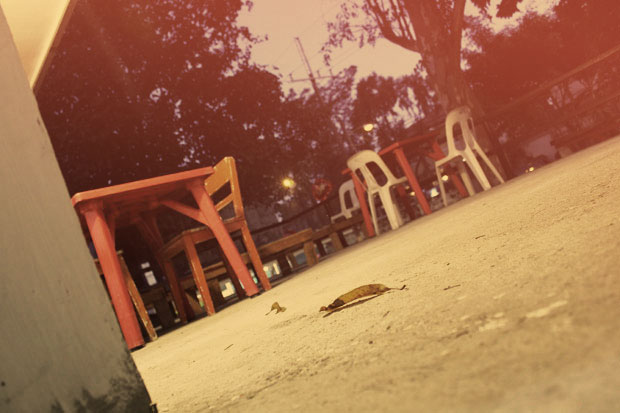 A view from above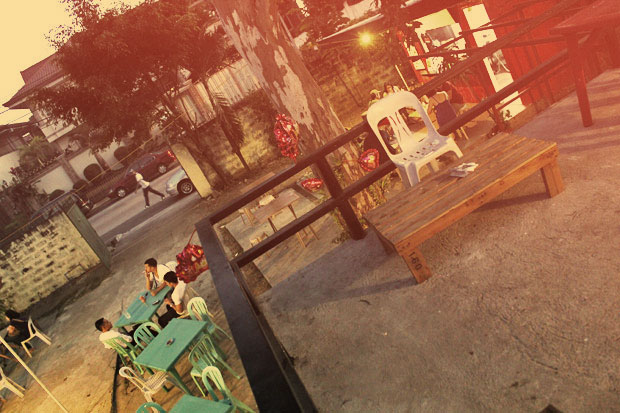 Resident cutie "Kilay" getting a free pita chip from Reneelicious. 🙂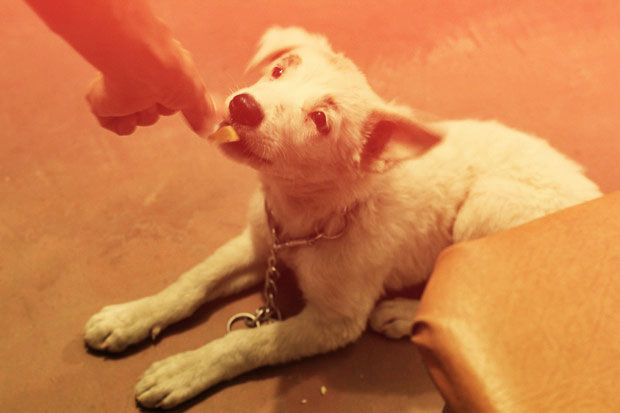 The Z Compound
33A Malingap Street, Teachers Village, Quezon City
JB is one half of Will Fly for Food and its chief itinerary maker.  He's the one to blame for all the crappy photos and verbal diarrhea on this blog.  Don't listen to him.
Latest posts by JB Macatulad (see all)