A Perfect 10 at Brasserie Boheme
For almost three years now, I've been casually documenting my search for the perfect burger. I've compiled a modest list in that time, sampling burgers sold in alleyways, fancy restaurants, even a zoo.
Last Sunday, my quest took me to Brasserie Boheme at the Picasso in Salcedo Village, where I came face to face with the most luxurious specimen I have ever encountered in my life. Confidently dubbed "The Rolls Royce Burger", it came with a half pound of angus beef, two slabs of foie gras, and a mound of truffle fries.
Yes, I know. 😈
Bohemian Gravlax Festival – PHP 450 – Juicy homecured salmon gravlax on freshly baked ciabatta with balsamic reduction, fresh lime juice, shallots, capers, bell peppers and wasabi cream.
In the habit of sharing everything we order (aaawwww), we wanted a second dish that would complement the burger nicely. Ren's a massive fan of salmon so this gravlax dish made for a perfect surf and turf pairing.
On my own, I would never order a salmon dish unless it was sushi, but I would order this one. It was amazing. The strong smokiness from the salmon, the acidity, the tartness of the capers, the crustiness of the bread, the sweetness from the balsamic vinegar, the crunch from the onions, every bite truly was a festival of flavor and texture.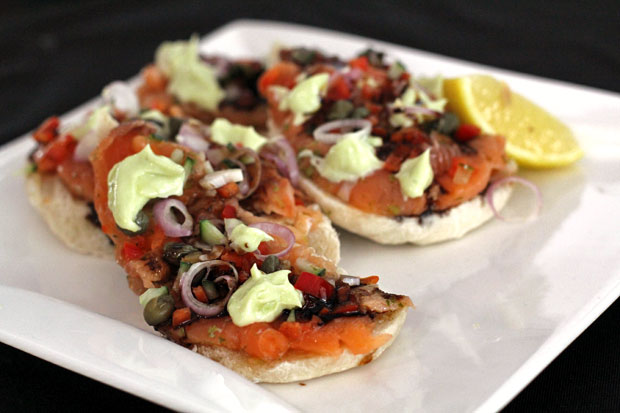 The Rolls Royce Burger – PHP 986 – Pan seared duck liver on a bed of 8 oz juicy Angus beef served with a special house glaze, sweet potato chips, crisp mesclun salad and truffle fries.
If you've been dubbed the "Rolls Royce" of burgers, then you better be good. This one wasn't just good, it was perfect.
One of the first things I noticed was the patty's softness and crumbliness. Though it made for a slightly messy experience, it was a good sign because it meant that the patty wasn't overworked. Cooked to perfection, it was still nice and pink in the middle. Midway through, I commented to Ren that you don't notice any "hardness" against your tounge from the patty. The meat is so juicy and tender that it practically dissolves in your mouth.
And the flavor. Rarely do my eyes widen after just one bite from a burger, but this was one of those times. Rich, creamy, smokey, and juicy with a delicious house glaze made with god knows what, it was amazingly tasty.
For the record, if you think that I'm raving about this burger only because of the foie gras, then you'd be half right. Though the foie gras did impart a decadent creaminess that put it over the top, it would have still been amazing without it.
I know that PHP 986 is a lot to pay for a burger, but this thing was massive. As described up top, it was made with a half pound of angus beef topped with two slabs of foie gras, and served with a side salad, chips, and truffle fries. Pricey as it may be, it was the first perfect 10 in my search, and one that I would happily order again and again.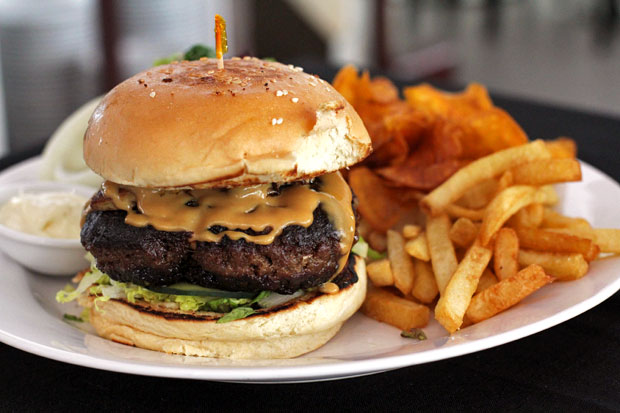 foie grasm /fwä ˈgräzəm/ a climax of gastronomic excitement, characterized by feelings of pleasure centered around the oral cavity and experienced as the pièce de résistance to The Rolls Royce Burger.
These two good-sized hunks of foie gras gave us multiple foie grasms. 😈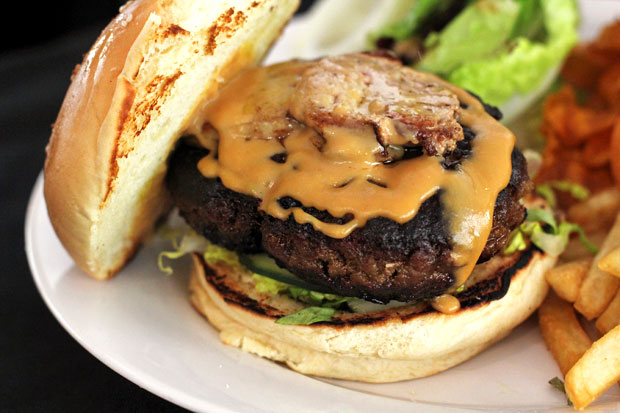 My perfect 10 basking in the afterglow of a foie grasm. ♥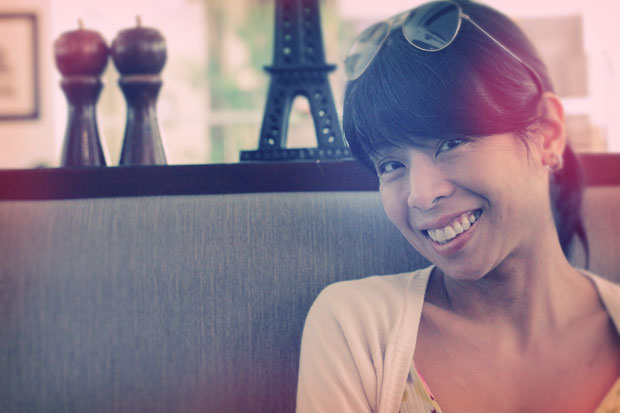 Rumor has it that Brasserie Boheme may be closing at its current location this year. I don't know if they'll be relocating elsewhere, but I wouldn't take that chance if I were you. If you're a burger fanatic and haven't tried The Rolls Royce Burger, then I suggest you make your way to the Picasso pronto. 🙂
Brasserie Boheme
G/F The Picasso Boutique Serviced Residences, 119 L.P. Leviste St., Salcedo Village, Makati
Tel: 828-1506 / 403-4774
Facebook: Brasserie-Boheme
Operating Hours: Mon-Sun, 6AM-11:45PM
JB is one half of Will Fly for Food and its chief itinerary maker.  He's the one to blame for all the crappy photos and verbal diarrhea on this blog.  Don't listen to him.
Latest posts by JB Macatulad (see all)