Quiznos. It's All about the Bread.
I've always felt that a sandwich can only be as good as the bread that it's on, and Quiznos is proof of that. Having enjoyed many Subway sandwiches in the past, one bite of a Quiznos sub was all it took to make me defect.
For lack of a better alternative, I've been going to Subway for years whenever I crave a hoagie, but I've never been wowed by any of their offerings. They're good, not great, with my dissatisfaction mostly boiling down to the bread. Despite being freshly baked on the premises, I always found their loaves to be a little too soft and crumbly, cheap even. I prefer my sandwich bread to be firmer, with bite, and well toasted, which is precisely what Quiznos' bread turned out to be.
Also, I felt that the Quiznos sub tasted more put together as well, like the bread and ingredients were in perfect snych with each other. Looking back on all those Subway sandwiches that I've eaten in the past, I remember always thinking that the bread and toppings felt disconnected. I could taste the bread, and I could taste the toppings, but they never really melded well for me, if that makes any sense.
In any case, with Quiznos now firmly rooted in Manila, I think it's safe to assume that I've eaten my last Subway sandwich. Quiznos really is that much better, at least for me, and if you believe like I do that a sandwich can only be as good as the bread that it's on, then you'll probably agree.
Meatballs in Marinara Sauce – PHP 135 (small – 5″) / PHP 185 (regular – 8″) / PHP 235 (large – 11″) – Italian meatballs, mozzarella, Parmesan, and marinara on white, wheat, or rosemary Parmesan bread
I'm used to meatball subs that are dripping in marinara sauce, so I was taken aback by how dry this one looked. Soon as I took a bite though, I understood that this meatball sub wasn't about quantity, it was about quality.
Flavorful, herby, tangy, moist, chewy, and sharp, this was one of the best metball subs that I've had in a long time. It was surprisingly good.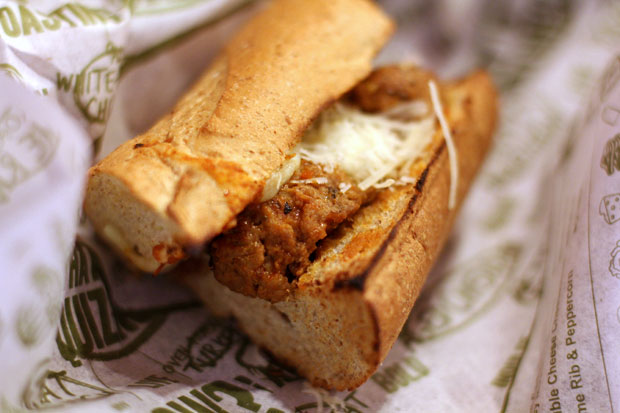 Zesty Grille Steak – PHP 195 (small – 5″) / PHP 295 (regular – 8″) / PHP 395 (large – 11″) – Steak, all-natural mozzarella, cheddar, sauteed onions, mushrooms, zesty grille sauce, and honey mustard on white, wheat, or rosemary Parmesan bread
One of their bestsellers, I thought this Zesty Grille Steak was pretty good, though perhaps not as good as the meatball sub above. It was a little thin on the ingredients I thought, and could have used another layer or so of steak. Flavor and texture were good though.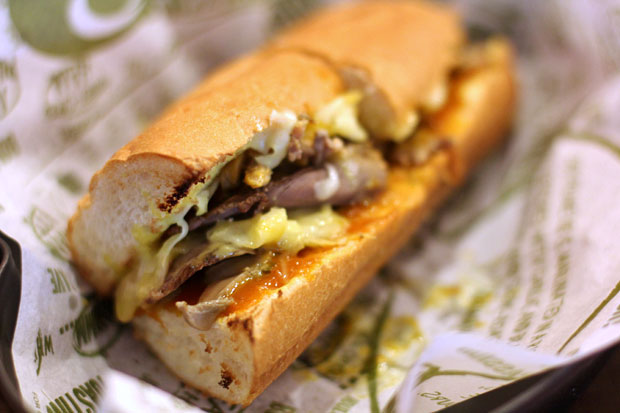 In parting, would you believe that Oprah was the one who first turned me on to Quiznos? It's true.
Before today, I had never even walked by a Quiznos, let alone eaten at one. In fact, the first time I heard about this sandwich shop was when I saw Oprah giving them away to deserving fans on television. This is Oprah mind you, so by "giving them away", I meant she was giving away entire shops to people to run as businesses, not just sandwiches. Did you expect anything less of her? 😆
Though almost a decade would pass before I finally got to taste my first sub, my yearning for Quiznos began that day. After all, if this woman with the Midas touch loved Quiznos that much, then they MUST be really good, right?
With bread like that, absolutely.
Quiznos Trinoma
4th Floor (cinema level) Trinoma Mall, Edsa corner North Avenue, Quezon City
Tel: 372-5007
Website: quiznos.com.ph
Facebook: QuiznosPhils
Twitter: quiznosph
Email: quiznosph@quiznos.com.ph
Operating Hours: Mall hours
CLICK HERE for all other branches.
JB is one half of Will Fly for Food and its chief itinerary maker.  He's the one to blame for all the crappy photos and verbal diarrhea on this blog.  Don't listen to him.
Latest posts by JB Macatulad (see all)