Beef Burger: Chili's Triple Smoked Burger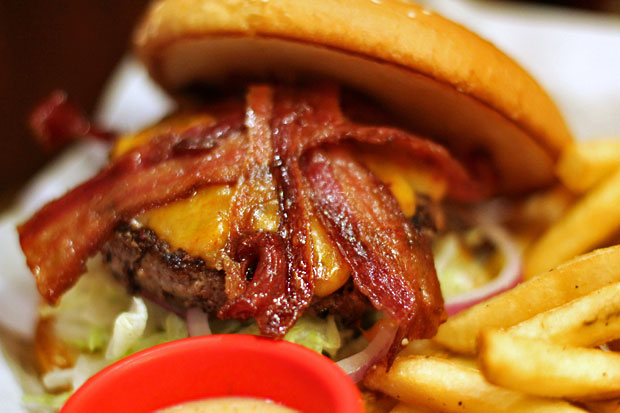 Chili's Triple Smoked Burger
PHP 430 – Seasoned with smoked paprika, salt, and pepper blend, then topped with melted smokey chipotle cheese, crispy bacon, lettuce, tomato, and red onion. Served with Chili's homestyle fries and a side of their zesty chipotle aioli.
…………..
Ren's brother had been going on and on for weeks about Chili's ice-cold beers. "They have the coldest beers ever!" he would gush, so we took him up on his offer one Sunday night and joined him for a few. Sitting at the bar, enjoying our sub-zeros, I started flipping through their menu when I came across a picture for this.
TRIPLE SMOKED burger. With chipotle cheese. And BACON. Pulse rising, I felt like a kid discovering his first Penthouse centerfold. 😯
I started having dreams about this burger, inciting us to come back the following Wednesday so I could wrap my lips around this triple smoked monster. Big, beefy, juicy, bacon-y, and perfectly cooked medium rare, it was everything I imagined it would be, except for one thing.
I couldn't taste its smokiness.
Confounded by its lack of smokey, char-grilled flavor, especially considering its "triple smoked" monicker, I gave Ren a bite and she immediately agreed. Hardly any smokey flavor to speak of. On top of that, it tasted light on the seasoning as well, which was a letdown considering all the awesome things it had going for it.
Though I enjoyed everything else about it – its size, juiciness, doneness – it fell short on the most important thing, the one thing that enticed me to order it in the first place. With a name (and price tag) like that, I was expecting an explosion of smokiness and flavor, but it never came. It was good, just not PHP 430 good, and definitely not triple smoked good.
Oh well. At least Ren's brother was right about the beers. They really do serve the coldest SMLs this side of the Fahrenheit scale.
Verdict: 3.25 / 5
…………..
Chili's Bar & Grill Tomas Morato
199 Sct. Fernandez cor Tomas Morato Ave, Barangay Laging Handa, Quezon City
Tel: 372-5007
Website: chilisphilippines.com
Facebook: ChilisPhilippines
Twitter: Chilis_PH
Email: chilis_philippines@yahoo.com
Operating Hours: Mon-Sun 11AM-12MN
CLICK HERE for all other branches.
JB is one half of Will Fly for Food and its chief itinerary maker.  He's the one to blame for all the crappy photos and verbal diarrhea on this blog.  Don't listen to him.
Latest posts by JB Macatulad (see all)