Brasas: Stoking the Fire for Latin American Cuisine in Manila
No, this isn't a taquería. It isn't a churrascaria either. For many of us Manileños, that's about as far as our experience goes when it comes to Latin American food.
Ren loves cumin, so she's always been partial to Latin American cuisine. For some reason however, Filipinos haven't been as keen on food from this part of the world, so the pickings in Manila are slim at best. At most, you'll find maybe one taquería in a sea of fifty or so Japanese and Chinese restaurants. Though we have noticed considerable improvement in the last few years with places like Ristras, B&T Kitchen, Hermanos, Achiote, and El Chupacabra (all delicious, but all Mexican), it still doesn't provide much in the way of diversity.
Thanks to Brasas however, that may just change.
Helmed by a Colombian chef, recently opened Brasas is Manila's proud purveyor of Latin American street food. A novel concept, they offer a diverse array of dishes hailing not just from one country, but from many. On their menu you'll find Latin American classics such as puerco asado from Cuba, carne asada from Colombia, lomo saltado from Chile, and pollo guisado from the Dominican Republic, just to name a few.
Excited by this concept the moment we spotted their tarp at The Block, I knew it wouldn't be too long before we dined here, enjoying and broadening our horizons with some of that delicious, but hard to find, Latin American flavor.
Not so street, street food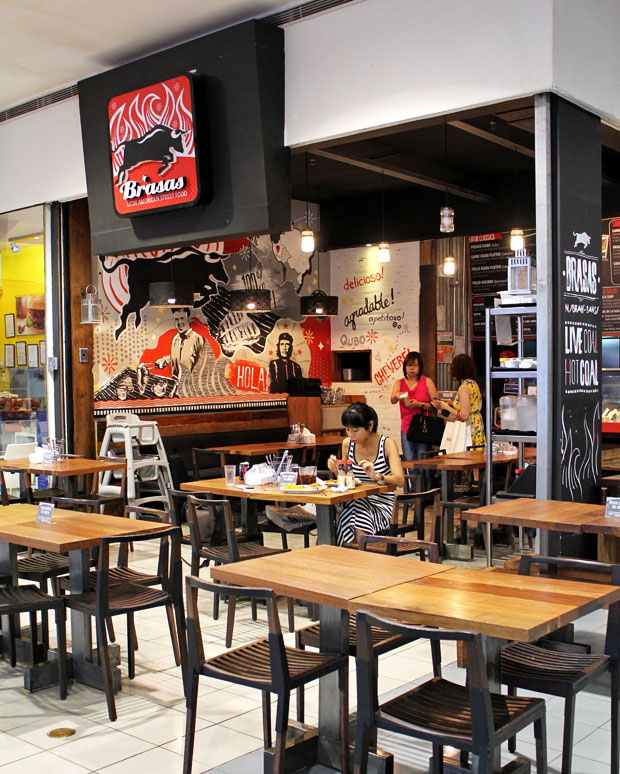 I really liked the graphic, urban interior of Brasas.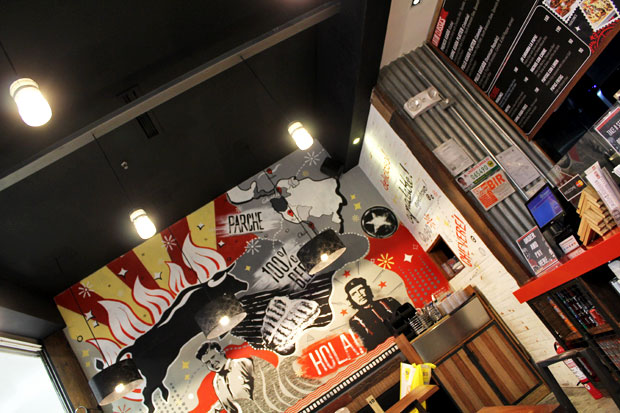 Slapping on that sirloin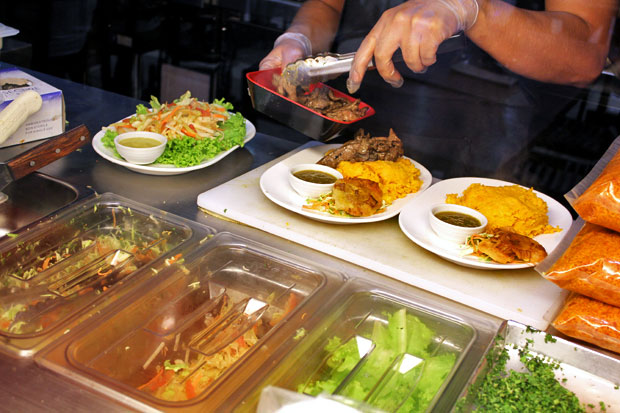 Carne Asada Platter (Colombia) – PHP 250 (regular) / PHP 220 (pequeño) – Charcoal-grilled beef sirloin, South American slaw, Spanish rice, and chimichurri
Ren ordered this one. Smokey, tender, and very juicy, the char-grilled beef was absolutely delicious. Unfortunately, she didn't like anything else on the plate. She found the chimichurri too sweet, the rice stale, and the slaw less than palatable. But hey, at least she loved the beef. 😉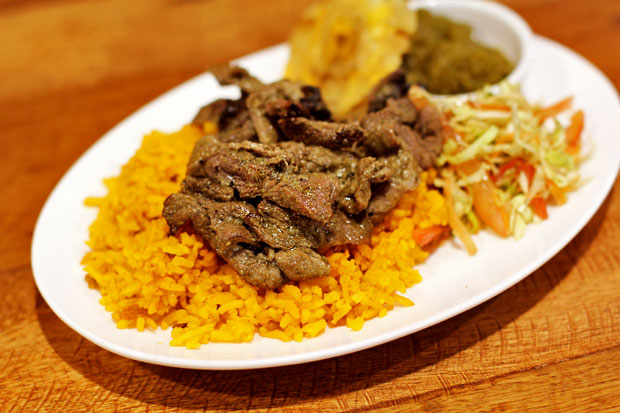 Puerco Asado (Cuba) – PHP 280 – Slow-roasted pork belly with crunchy skin, tejadas, rice, and beans
This pork belly was so good. I rarely order pork at a restaurant, but something about this dish just called out to me. Melt-in-you-mouth tender, it was served with a strip of pork skin that was delicate and crunchy like a potato chip. Delicious!
Ren was right about the rice not being fresh. It was already a little dry, with many of the grains hardened and clumped together. The chimichurri was indeed on the sweet side, though I didn't mind it when eaten with the salty, earthy pork. I really enjoyed this dish and would order it again in a heartbeat.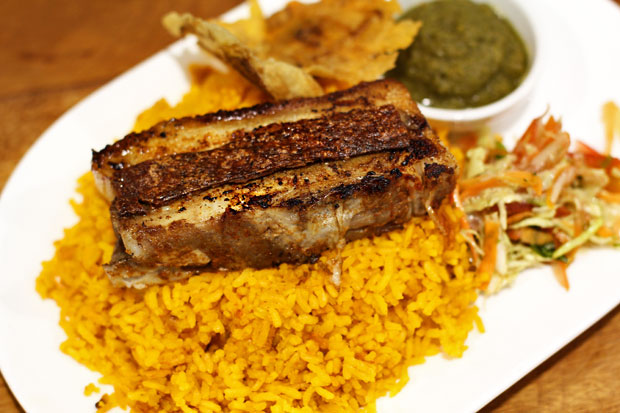 Takeout
After lunch, we watched Gravity in IMAX 3D (our one movie for the year), then walked back to Brasas to grab some takeout for dinner – the pulled pork sandwich for Ren, and the Brasas Street Burger for me. Both were still very good even after being reheated.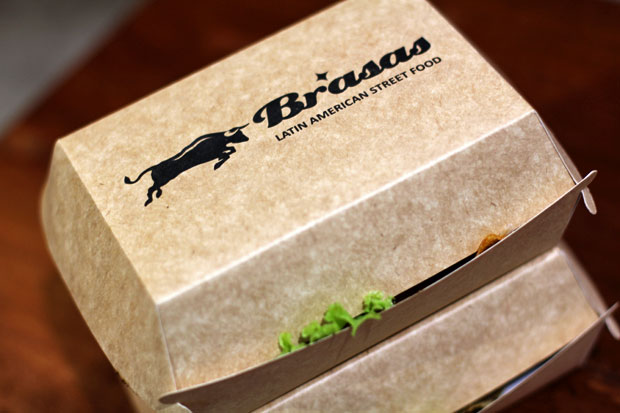 Smoked Pulled Pork Sandwich – PHP 240 – Smoked pork shoulder, sauteed onions, roasted bell peppers, and Monterey jack cheese served on toasted kaiser bun
Ren's always pining for pulled pork sandwiches, so she was pleased to find this on their menu. Smokey, sweet, and served on good bread with a side of homemade chips, she wasn't disappointed.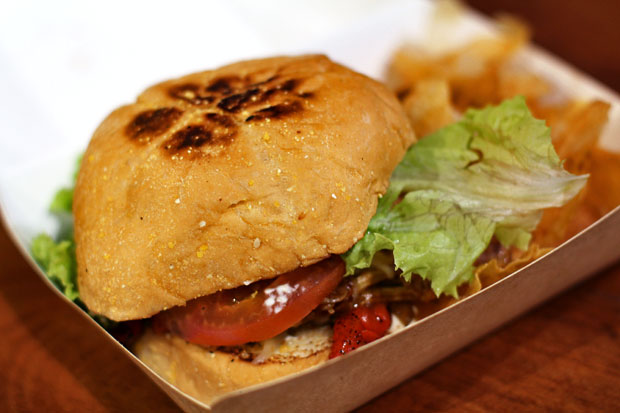 Obscured by the tomato and cheese, you can see some of that delicious pulled pork in this picture.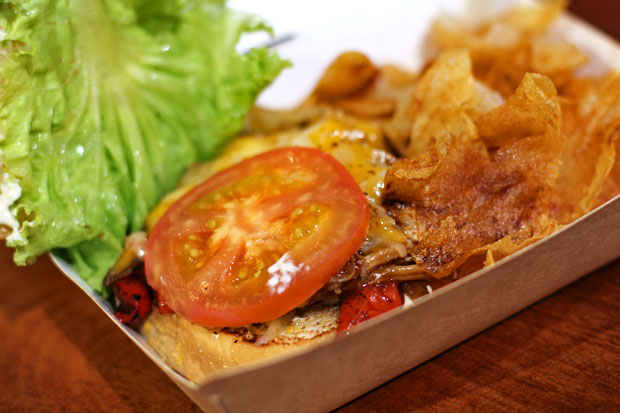 Brasas Street Burger – PHP 260 – 1/3 lb all-beef patty, sauteed onions, roasted bell peppers, and Monterey jack cheese served on toasted kaiser bun
A 1/3 pound all-beef patty sandwiched between good bread, this Brasas Street Burger tasted every bit the Latin American burger that it's touted to be. Juicy and smokey, what made it taste like an authentic Latin American burger was the strong flavor of cumin, which we loved. Imparting much flavor, you don't often find burgers in Manila spiced with cumin. Like the pulled pork sandwich above, the homemade chips made for a nice accompaniment to the burger as well.
Filipino cuisine doesn't use cumin, so some people might find its taste unfamiliar, maybe even off-putting. But if you enjoy cumin like Ren and I do, then you're sure to love this burger. I would definitely order it again.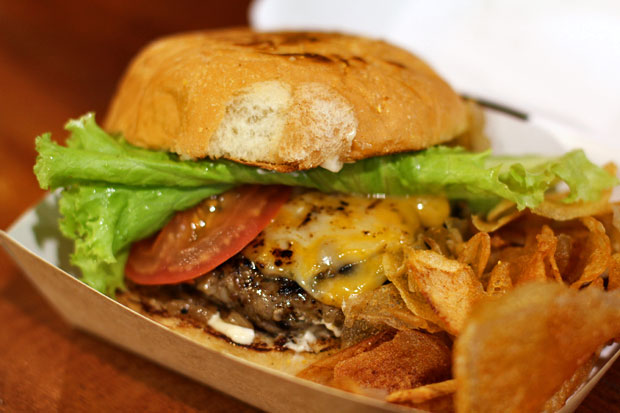 Brasas, in Spanish, means "embers" or "live coals."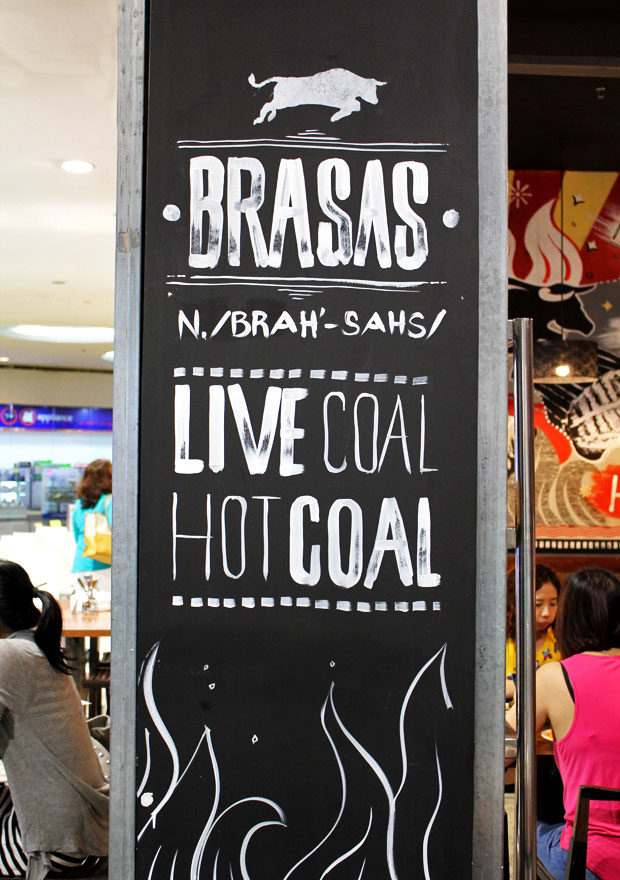 I really enjoyed Brasas, more so than any Mexican-only restaurant I've been to in Manila. I liked the diversity, and the food, not counting the sides, was excellent. If they could only pay as much attention to the side dishes as they do with the mains, then this place would be truly awesome. Who knows? They may even spark a revolution. 😉
Brasas SM The Block
4th floor, SM North Edsa, The Block, Quezon City
Facebook: brasasphilippines
Operating Hours: Mon-Sun 10AM-9PM
Brasas The Podium
5/F The Podium, 18 ADB Ave, Wack Wack, Mandaluyong
Tel: 570-5559
Operating Hours: Mon-Thurs, Sun 10AM-9:30PM / Fri-Sat 10AM-10PM
Brasas SM Aura
SM Aura Premier, McKinley Parkway, McKinley Hill, Taguig
Brasas SM Jazz
Ground Level, Sm Jazz, Nicanor Garcia St corner Jupiter St, Makati
JB is one half of Will Fly for Food and its chief itinerary maker.  He's the one to blame for all the crappy photos and verbal diarrhea on this blog.  Don't listen to him.
Latest posts by JB Macatulad (see all)