12 Answers to the Question: "So, Why Langkawi?"
We got asked that question on more than one occasion during this trip.
"Not many Filipinos come here. So, why Langkawi?"
To be honest with you, I had never even heard of Langkawi until a few days before I booked our tickets. Unlike Bhutan or Santorini, it wasn't one of those bucket list destinations that I'd been dreaming about forever. It was more a spur of the moment thing, utterly spontaneous, and completely unexpected.
Hopping online to see where I could take Ren for our annual trip this year, I stumbled upon Langkawi when I Googled "top 10 islands asia". Having already been to a few places on those lists, I was most intrigued with Langkawi simply because I had never heard of it.
Digging deeper, my curiosity was piqued all the more after I found out that Langkawi was a verdant, natural paradise where rental cars were the default means of transportation. Excited by the prospect of driving around while on vacation, I Googled "how many days needed langkawi", and these were just some of the forum answers that popped up:
"For foreigner, as many days as your VISA allowed you to. For locals, as many days as your remaining life." – Hanz
"14th visit coming up for me in January, and still love every minute of my time spent in Langkawi." – KelmscottPerth
"As long as your money allows you to." – Bundy
"As many as you have left in your life if you choose to." – Y2K
"For us 3 weeks is not nearly long enough, & we are on our 6th visit, Lesley is on her 8th visit & Eva has been there for over 4 years & is still enamoured of the island." – Manicmick
"I have traveled around this planet for many years. When we came here we wanted to stay for 2 weeks. That was in Nov. 2005. We, just like Mick and Lesley, fell under the spell of this beautiful island! Hope you will love it us much as we do!" – CaptainEva*
As you can probably guess by now, that was all the convincing I needed.
Booking a week-long trip to this beautiful island just off the coast of northwestern Malaysia, here are 12 of the many things you can do there to answer the question: "So, why Langkawi?"
*Captain Eva made this comment on TripAdvisor in 2010, and you'll be interested to know that she's still there! Making Langkawi her home, she offers popular sailing tours of the islands from her boats the Damai Indah and Damai Indah Lagi.
1. Drive around Paradise like an Englishman
I'm from the Philippines and lived many years in the US, so I've only ever driven on the right side of the road. Here in Malaysia, a former British colony, I got to drive on the left for the first time in my life. Coolness.



Admittedly, I was a little nervous at first, but all the jitters went away soon as I got behind the wheel. Apart from a few commercialized areas like Kuah Town and Pantai Cenang, the roads here were practically deserted. If you've never driven on the left side of the road before, then this is the perfect place to do it.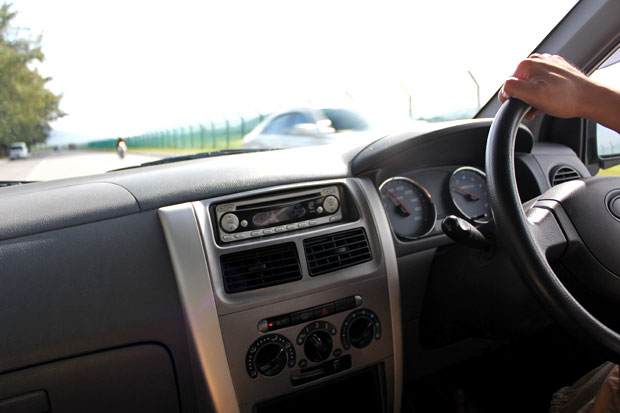 With over 65% of its forest cover still intact, the island of Langkawi is LUSH. This isn't the Philippines (at least the parts I know) where all you see are cleared, wide open spaces with just a few coconut trees sticking out. The rainforest here is dense and thriving, so you often find yourself driving through a landscape of green on these meandering, single-lane roads without seeing any cars or buildings for miles.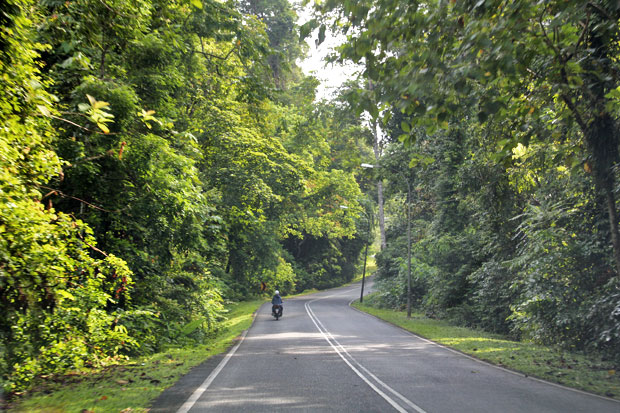 As mentioned up top, part of Langkawi's attraction for me was the promise of driving through landscape as fresh and verdant as this. Everything smelled so refreshing and green, especially after the rain. ♥
More on driving in Langkawi HERE.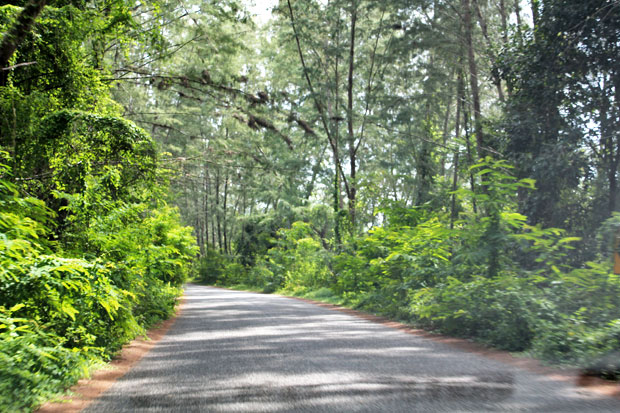 2. Shop Duty-Free
Duty-free since 1987, popular items for sale in Langkawi are wines and spirits, tobacco, apparel, cosmetics, souvenirs, food, cooking ware, and electronics. Most duty-free shopping centers on the island can be found either in Kuah Town or along Pantai Cenang, which is where this one was located.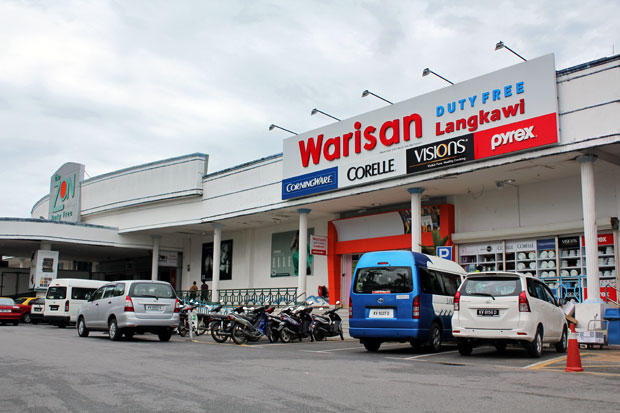 Craft Cultural Complex
If native goods are more your thing, then you'll likely enjoy the Craft Cultural Complex located at the northern part of the island.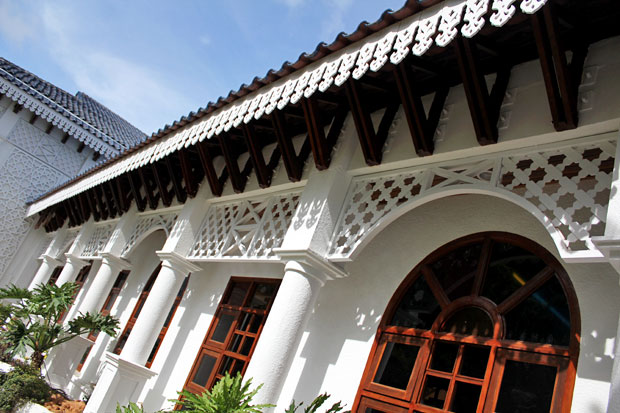 Situated within a large complex, you can easily spend a couple of hours here perusing all the items.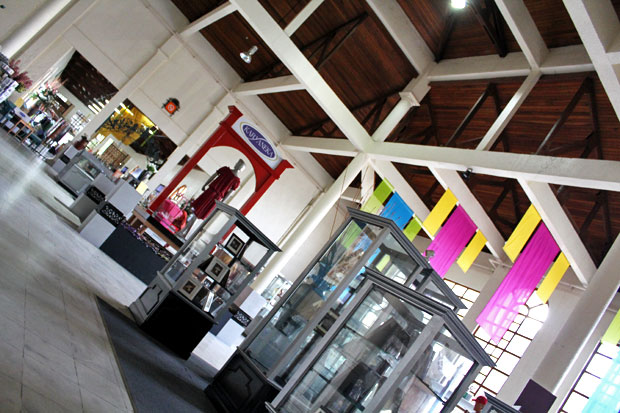 Here you can buy locally crafted products such as batiks, silverware, ceramics, baskets, costume jewelry, wooden utensils, and more.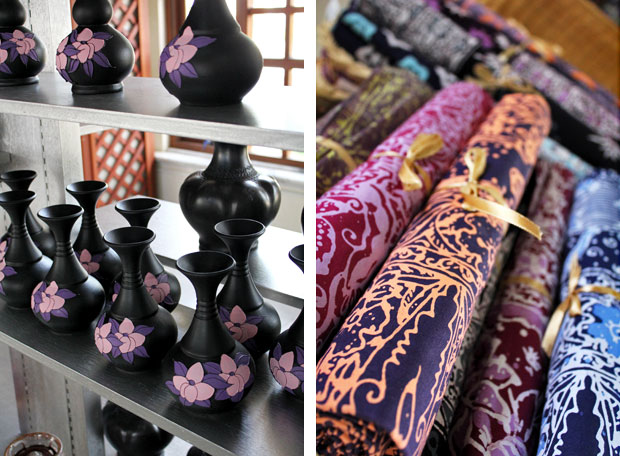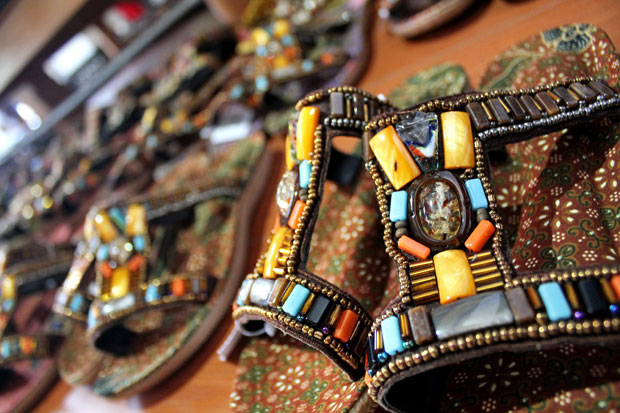 At the far end of the compound, there's a glass-blowing facility selling handmade, blown glass products like these ornamental fish.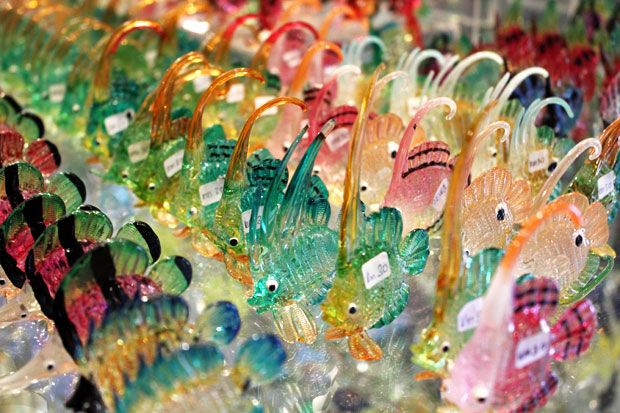 3. Kiss the Sky
What better way to admire the natural beauty of Langkawi than from 700 meters above sea level? Perched atop Mt. Machincang, the Skycab is a three-station cable car system with observation decks that give you 360° views of the island.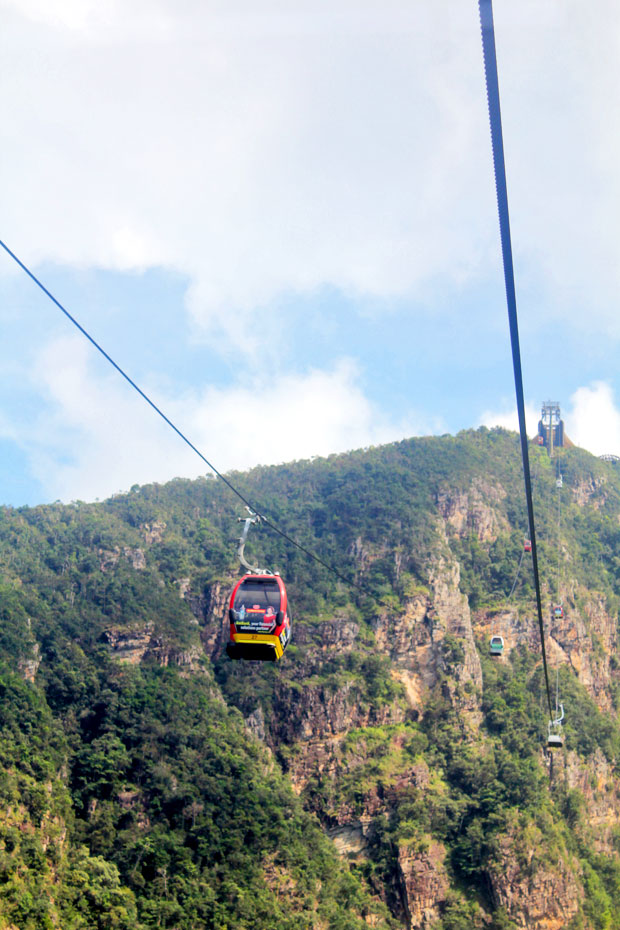 Beautiful eh? I don't know if I'm looking in the right direction, but you can apparently see Southern Thailand from up here.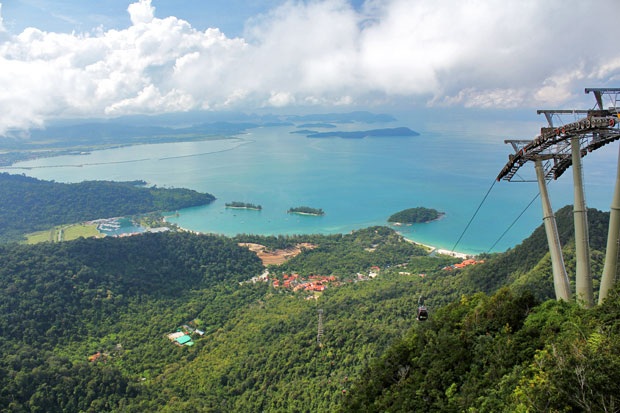 On top of the world ma! Pictured here is the ride between the middle and top stations. More on the SkyCab HERE.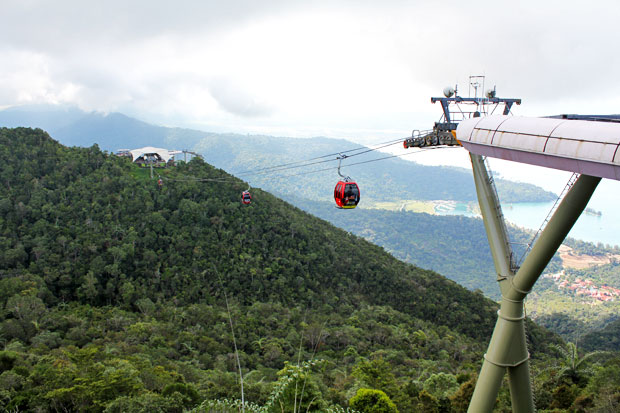 One of the highlights of our trip would have been this SkyBridge. Accessible from the top station, it's suspended from an 82-meter-high single pylon, and hangs at about 100 meters above the top of Mt. Machincang. Measuring 125 meters in length, it's one of the world's longest curved suspension bridges. Too bad it was closed indefinitely for repairs while we were there. 🙁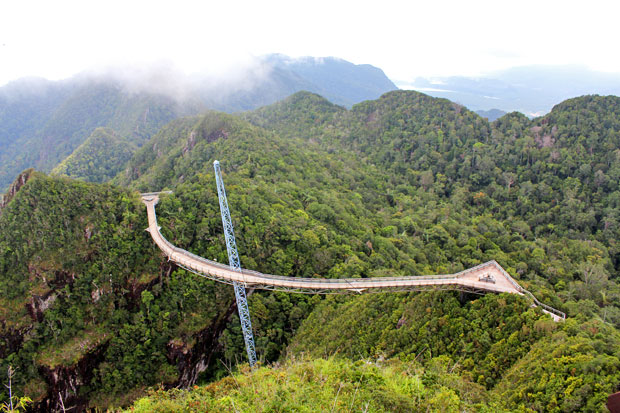 4. Fly like an Eagle in Kuah Town
Langkawi's most developed area, Kuah is home to the island's most prominent landmark, Eagle Square. Massive at 12 meters tall, it's situated near Kuah Jetty and is one of the first things that visitors arriving by ferry will see.
Some interesting architecture at the square.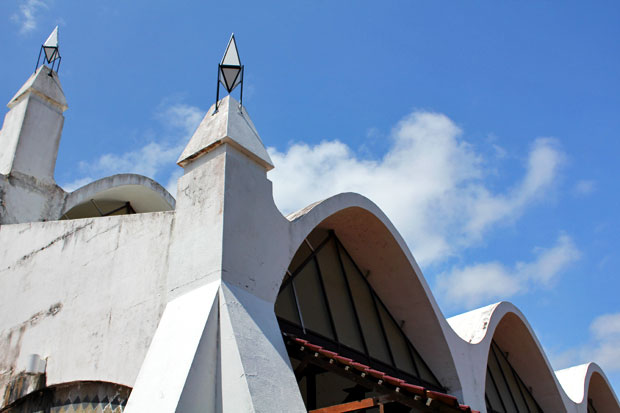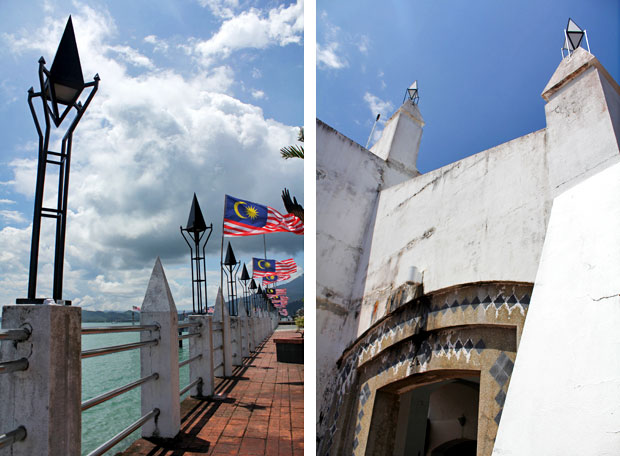 According to local folklore, Langkawi derived its name from the eagle or helang. In old Malay, kawi means "reddish brown", so Langkawi translates to "reddish brown eagle."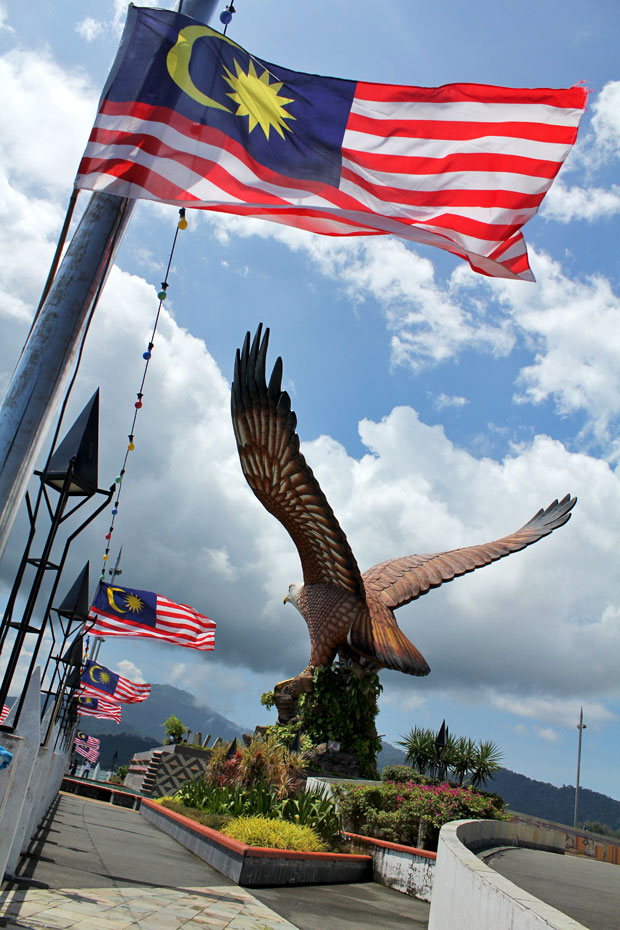 Too bad though that the majestic bird poised for flight here isn't an eagle, it's a Brahminy Kite. 😆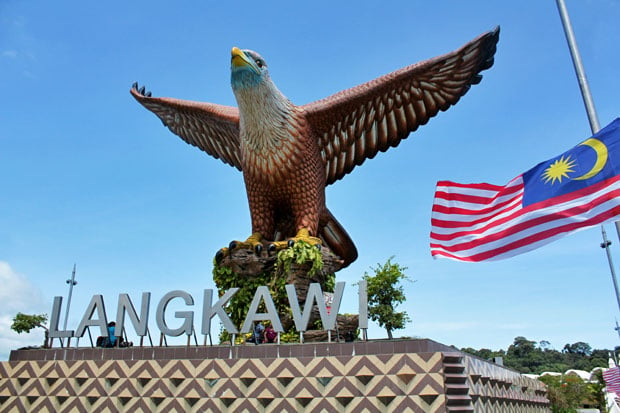 5. Canoodle with a Hot Chick at a Lighthouse
Apart from the breathtaking scenery, the best part about having a rental car was the freedom. We could stop absolutely whenever, and wherever, we wanted. This lighthouse, at Telaga Harbour Park, was one of those spontaneous stops.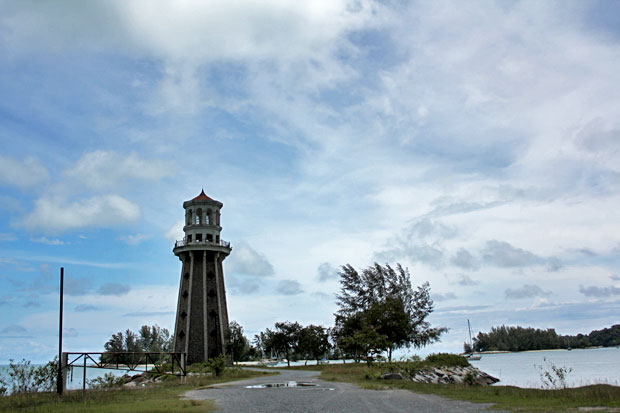 Touchdown!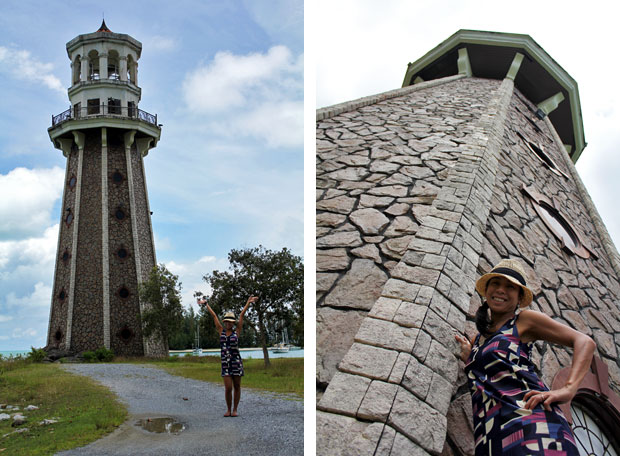 Ren stealing a kiss. It was electric.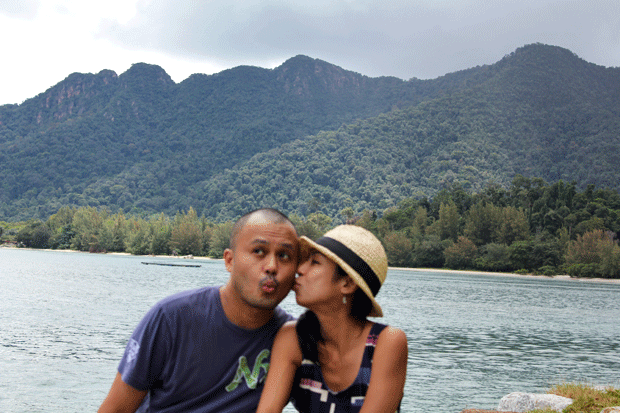 6. Walk down a Gorgeous Stretch of Beach at Sunset
An archipelago of 99 islands, Langkawi has no shortage of gorgeous beaches. Pictured here is arguably its most impressive, Pantai Cenang. Around the same length as Boracay but twice as wide, the sand here isn't quite as white, but it's just as powder-fine. Ren and I walked from one end to the other at sunset.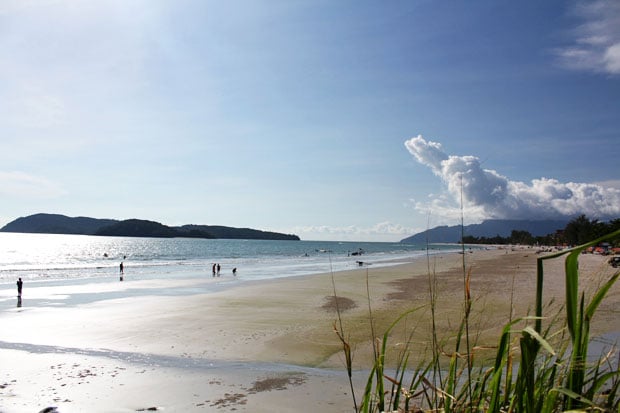 Similar to Boracay but less crowded, there were bars and boutique resorts like this one all along the entire length of the beach. Like Boracay, the nicest resorts were located at the very end too, a la station 1.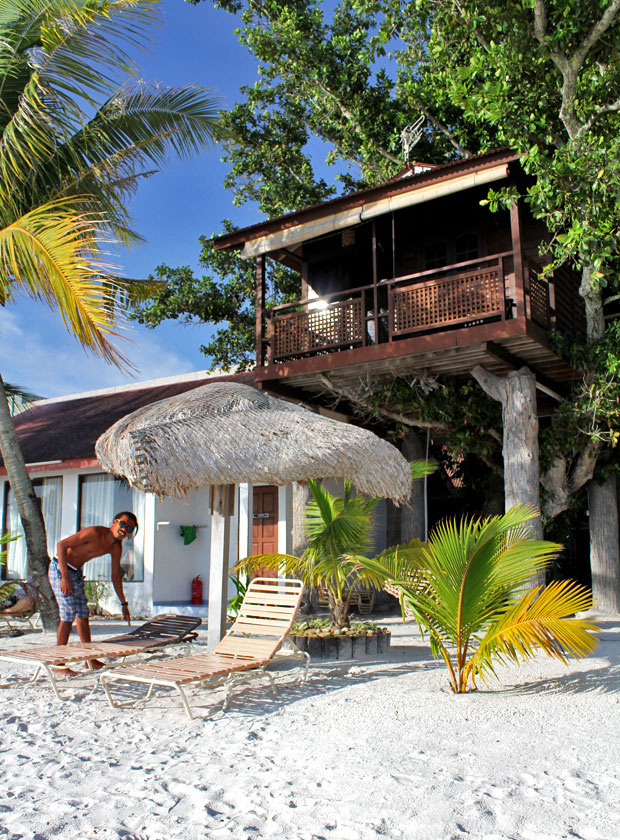 I don't know how crowded it gets during peak season, but the beach felt refreshingly empty in parts. Loved it.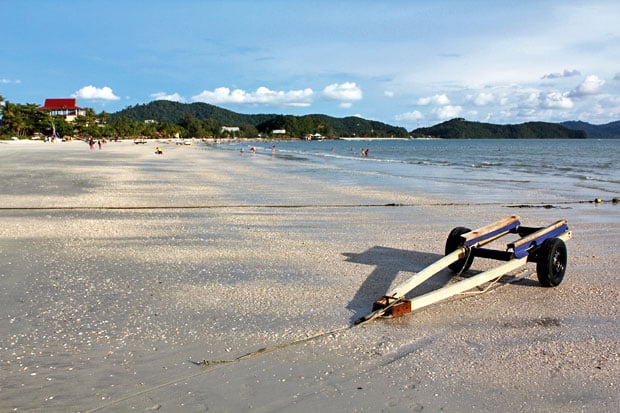 Midway through, Ren and I stopped for a beer. It was happy hour after all. 😉 Here's Langkawi's token reggae bar.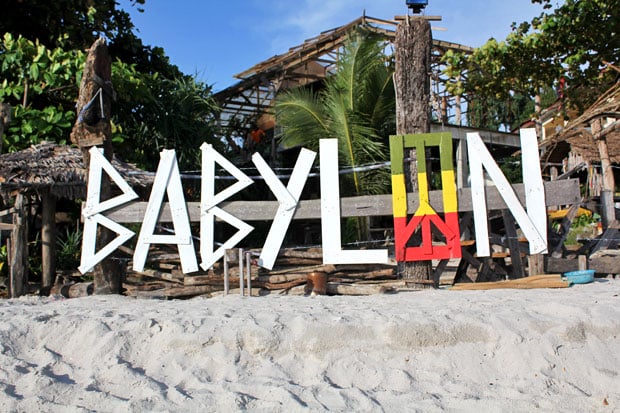 Romantic beachside dinner setting for two. Too bad it wasn't for us. 🙁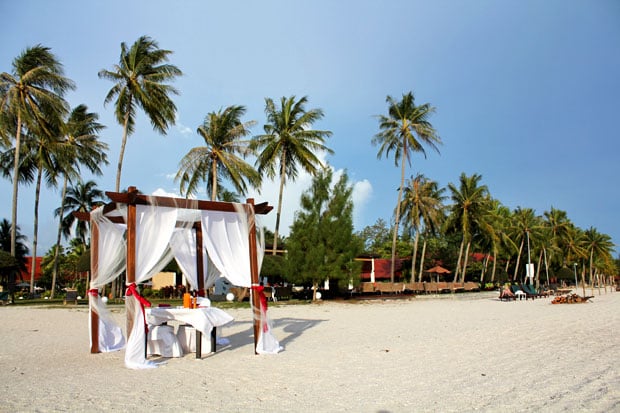 My lovely, glowing wife. ♥ More on Langkawi's beaches HERE.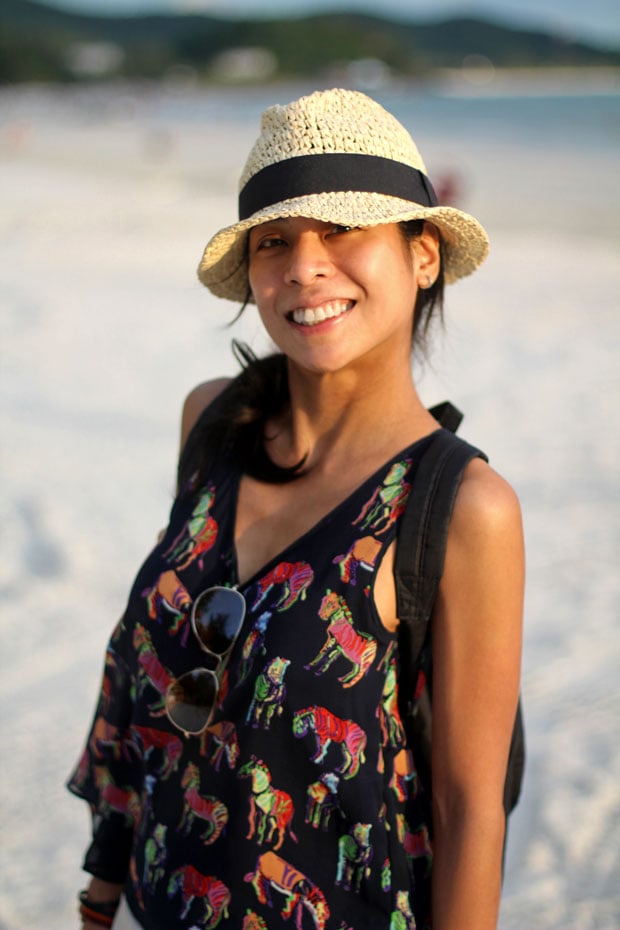 7. Pedal through a Rubber Tree Plantation
As described up top, one of the things that drew me to Langkawi was the promise of nature. Dev's Adventure Tours, an eco-tours operator and recipient of TripAdvisor's Certificate of Excellence in 2013, helped deliver on that promise.
Here we are nature cycling, the first of three tours that we booked with them.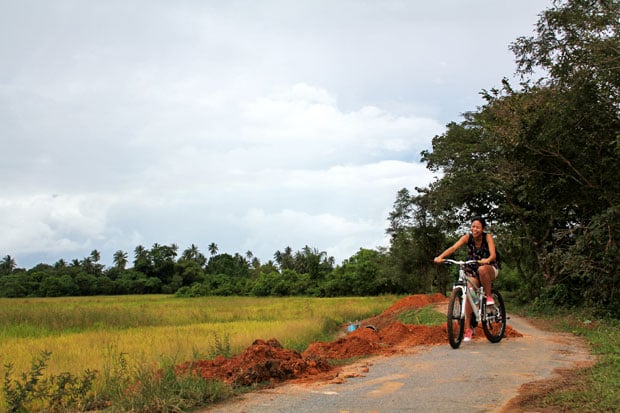 Biking through rice fields. That speck on the wire was a kingfisher.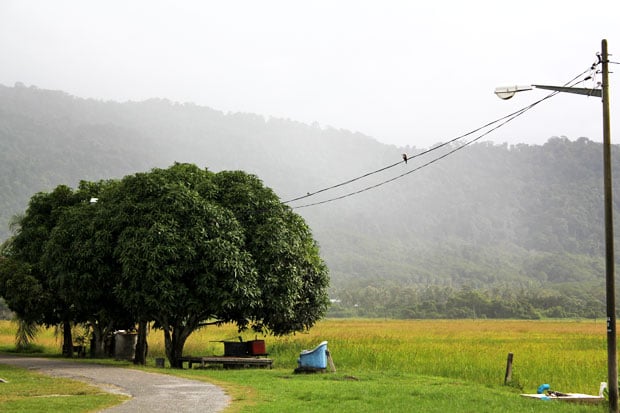 My favorite part of the tour, riding through a rubber tree plantation.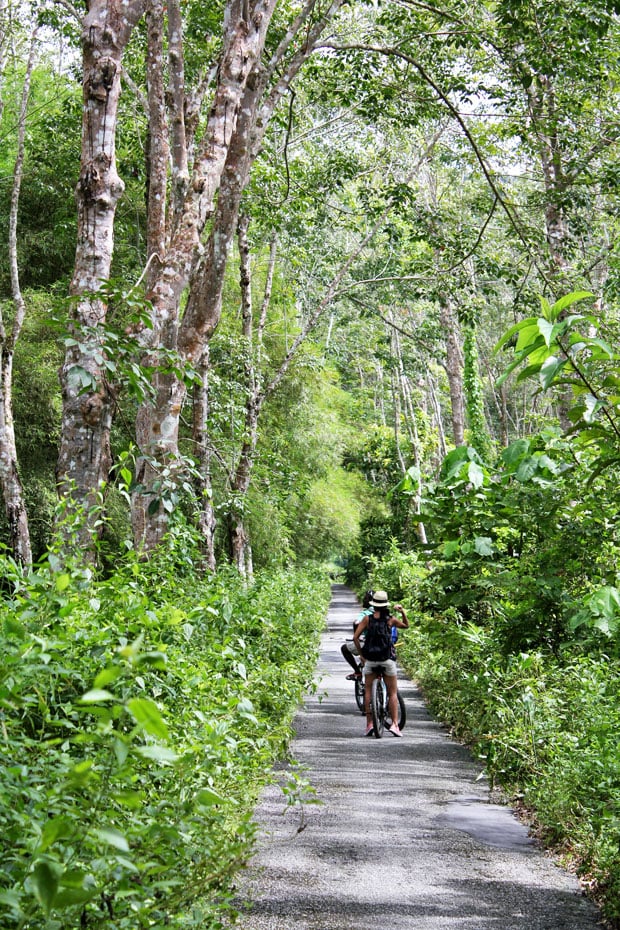 Beautiful eh? They look almost mystical to me, like a faerie playground.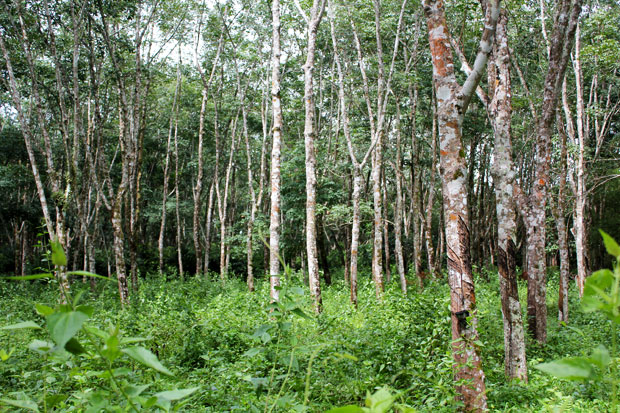 See you later awesome rubber trees! More on nature cycling with Dev's Adventure Tours HERE.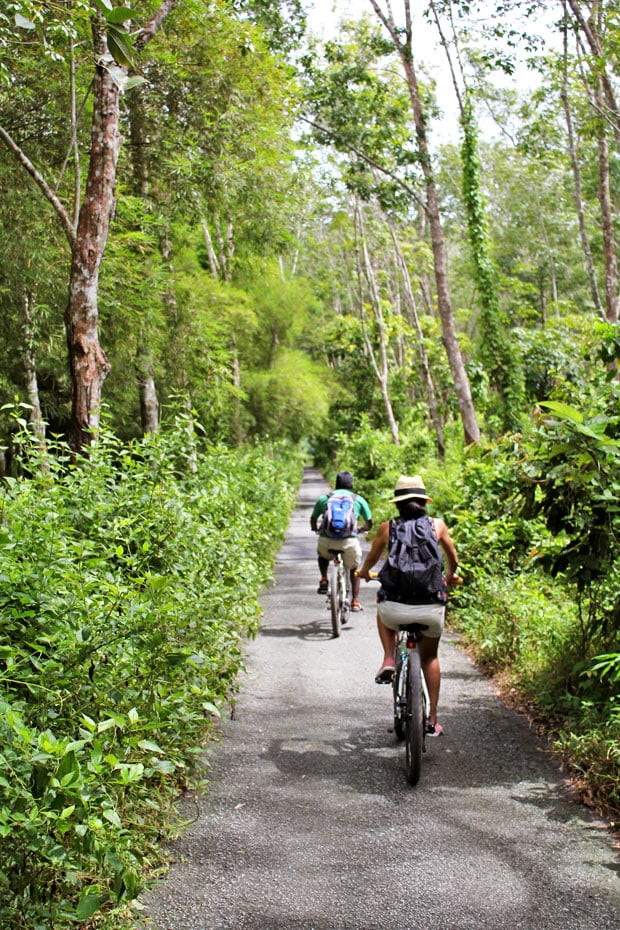 8. Take a Shower in the Jungle
Part 2 of our Dev's Adventure Tours Triathlon was this evening trek through the rainforest. As you can probably guess from the heading, it rained. Heavily. Read the full story HERE.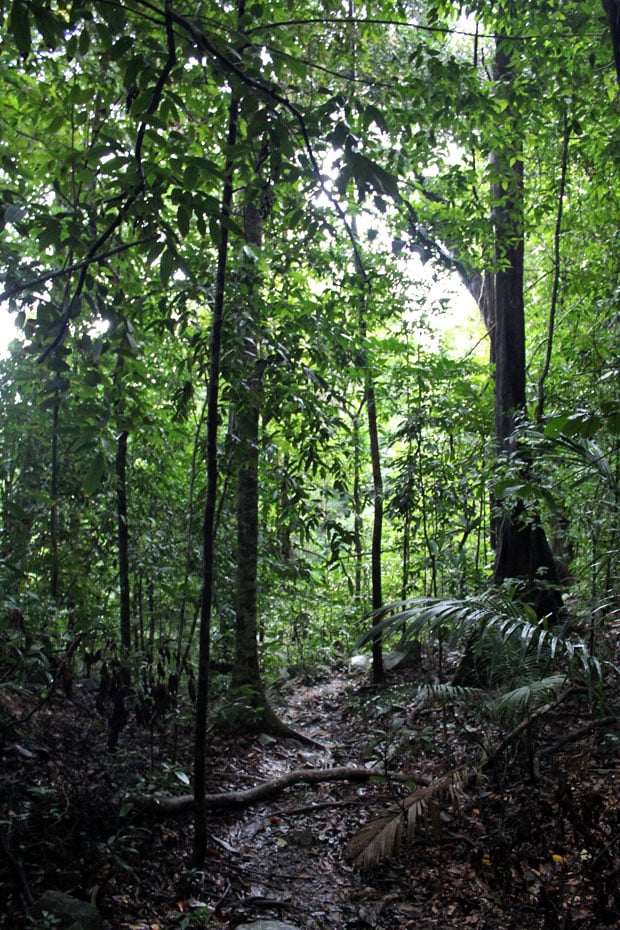 Lianas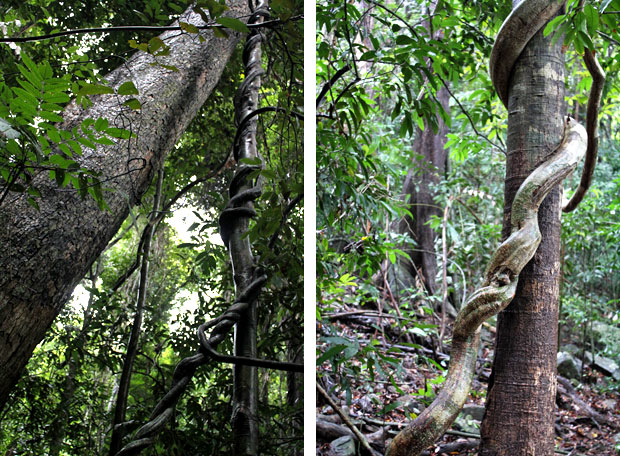 That furry, balled-up wad up top that looks like it's part of the tree is actually a lemur.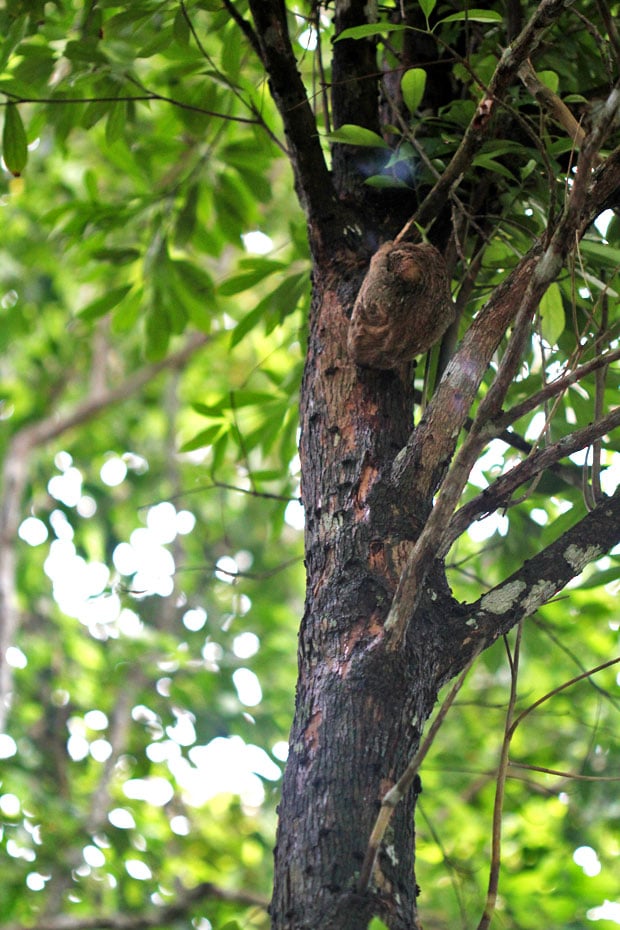 This seemingly innocuous walk turned out to be the most unforgettable and thrilling part of our vacation. Read why HERE.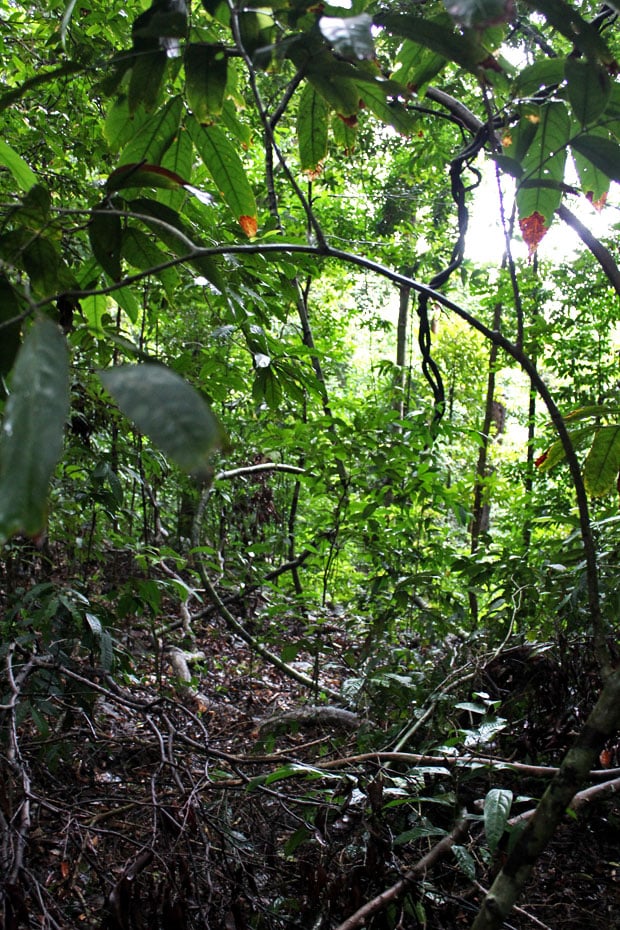 9. Kayak through the Mangroves
The third and final leg of our Dev's Adventure Tours Triathlon – kayaking through Langkawi's lush mangrove forest. This experience was truly AMAZING.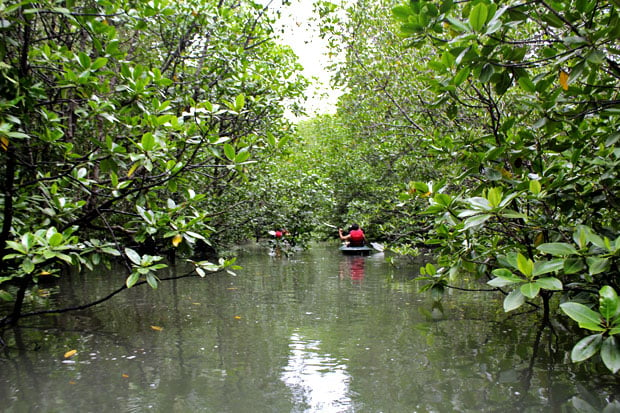 Entering a mystical world. Though Langkawi was one of the first islands to be hit by the tsunami in 2004, they suffered minimal damage with just one casualty, all because of these mangrove trees that absorbed the brunt of the wave's impact. Nature is boss.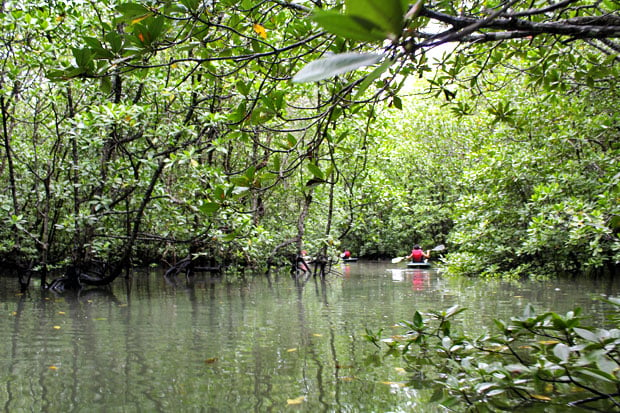 We've been through a mangrove forest before, in Palawan, but it was nothing like this. Today felt like we were completely immersed in the forest, rather than just skirting through it on an amusement park ride. Pictured here are the wider, easier pathways, but there were some very tight corridors that we had to fight our way through, pushing ourselves off roots and doing the limbo through some low hanging lianas. Tiring, but super fun!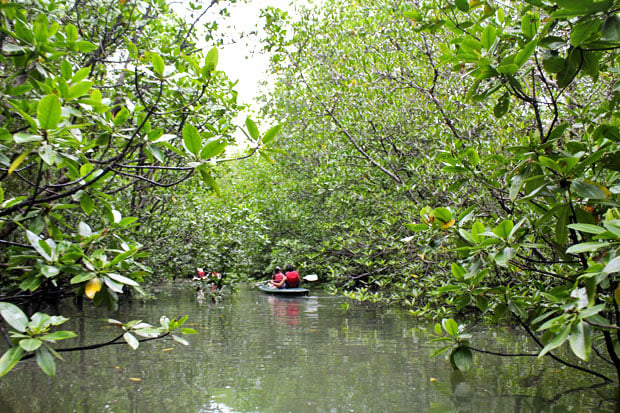 There's the exit! If you ever visit Langkawi, then this is something that you absolutely must do. Dev's offers two versions of the mangrove tour – by kayak or by boat. I strongly suggest doing it by kayak like we did because it allows you to physically enter the forest and immerse yourself in the mangroves. It's truly a different world in there. Incredible.
More on mangrove kayaking with Dev's Adventure Tours HERE.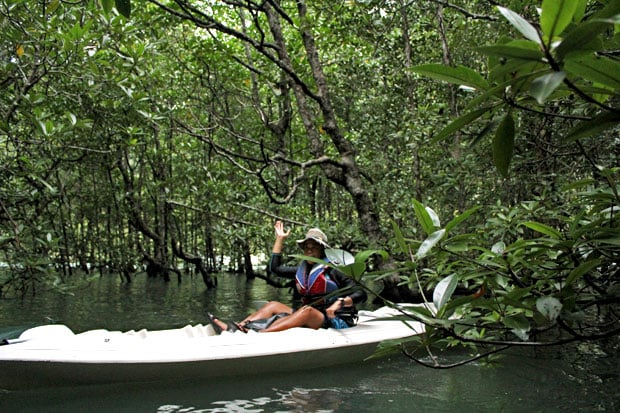 10. Feed a Stingray by Hand
This was awesome. Part of the mangrove kayaking tour, you'll stop for lunch at the Hole in the Wall restaurant and fish farm, where you'll get the opportunity to feed these sting rays by hand. Here's our guide Wendy showing us how to do it.



You trap the fish between two fingers before making a fist, then lower it for the sting rays to reach. Barb-less and accustomed to being fed, they practically fly out of the water to retrieve their meal. Badooosh!



There's me giving it a go. After feeding it several chunks of fish, I got to pet the little guy, whose skin felt like fuzzy leather. So cool!
More on fish feeding at Hole in the Wall restaurant/fish farm HERE.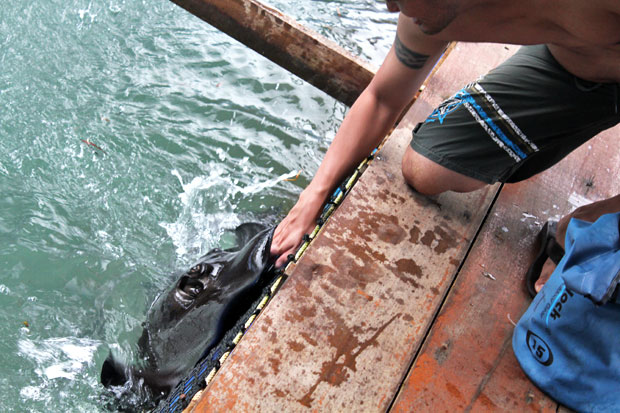 11. Feast on Amazing Malaysian Food
A rich tapestry of Malay, Chinese, Indian, Thai, and Arabian influences, Malaysian food, in a word, is awesome. Here are just a few of the amazing dishes we enjoyed in Langkawi.
Located in the heart of Kuah Town, this sign says it all.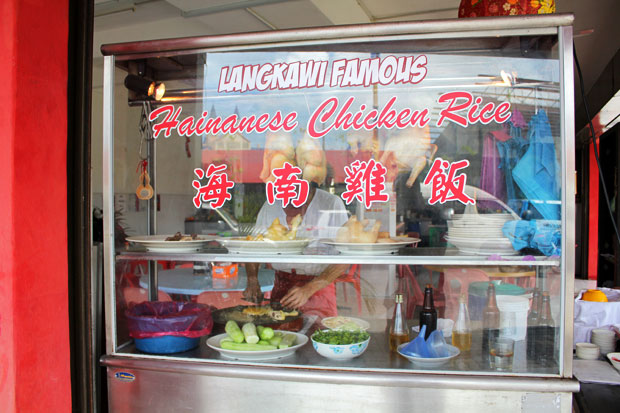 Clean-tasting but immensely flavorful, this entire plate of Hainanese chicken was gone in a matter of minutes. It was so good, especially with the rice and sprigs of coriander.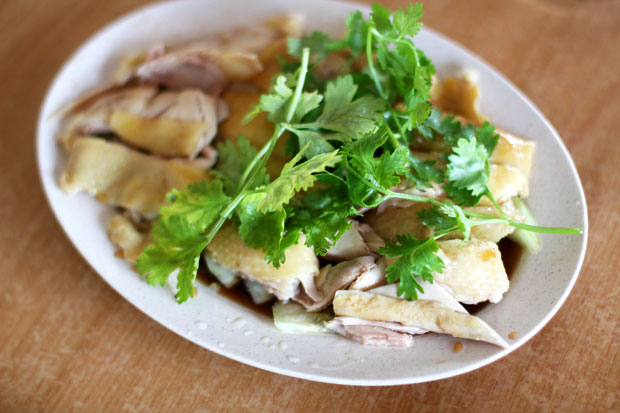 A dining experience that you should definitely try in Langkawi is nasi campur. Literally meaning "mixed rice", nasi campur traditionally refers to a dish of rice topped with various meats, vegetables, peanuts, eggs, and fried-shrimp keropok (crackers). Nasi campur restaurants offer a buffet-style setting with many different vegetables, meats, and side dishes that you can freely top onto your plate of rice.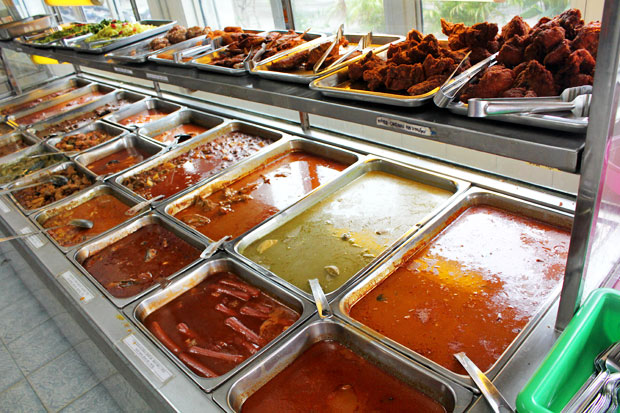 They price your plate based on what you get. All this food went for just RM9, if I remember correctly.



Here's another delectable example.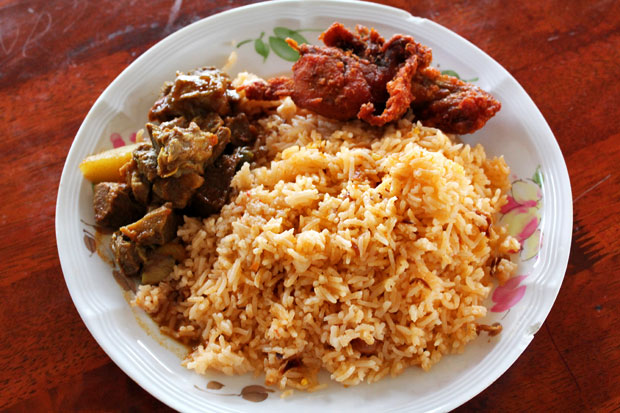 Ikan bakar, a generic term literally meaning "burnt fish", is used to describe any type of charcoal-grilled fish or seafood. Here's our delicious silver snapper seasoned with turmeric.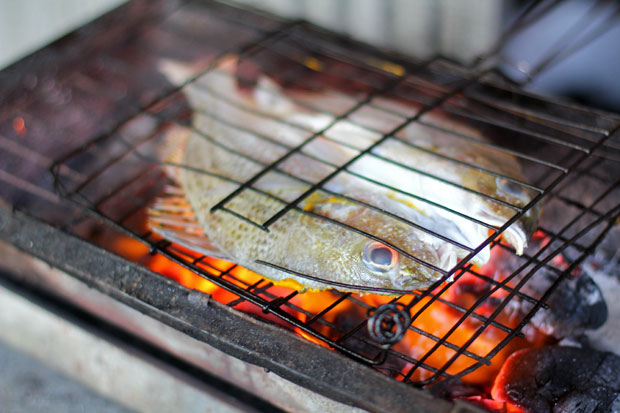 One of the most delicious examples of char kway teow that we've ever had.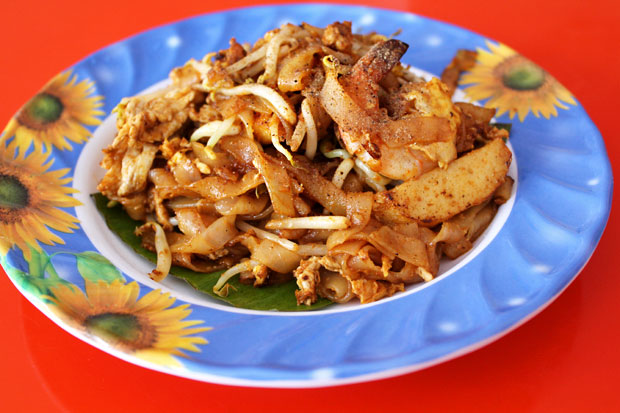 Even the roadside grub was awesome. Sold in plastic bags by the main road, you couldn't get any more street than this! Absolutely delicious, and so cheap too.
More on Malaysian food HERE.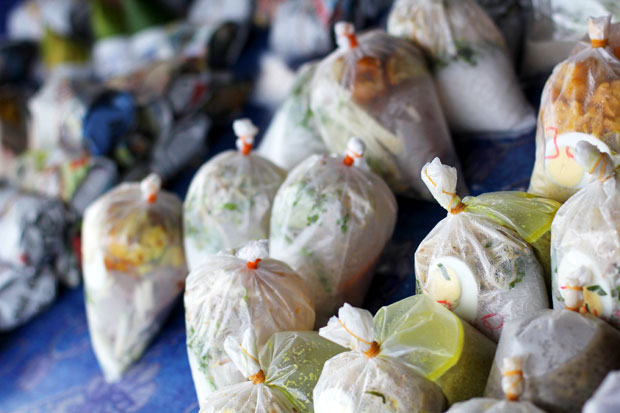 12. Dance like Nobody's Watching under a Waterfall
Its name meaning "Seven Wells Waterfalls", Telaga Tujuh is a remarkable sight. Arguably the most impressive waterfall on the island, Ren was so bewitched by its magic that she decided to do a little dance as a show of her appreciation.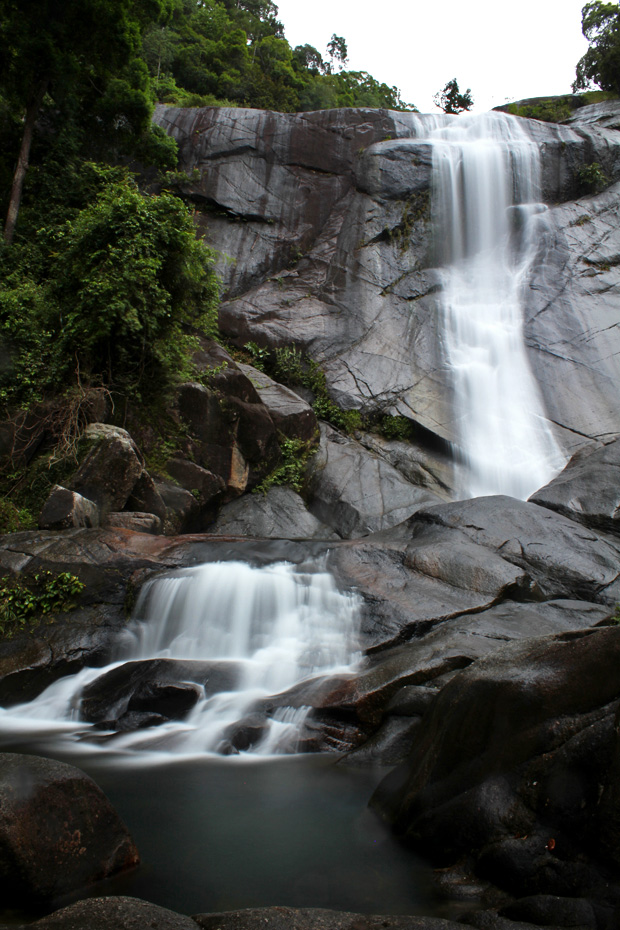 Wait for it…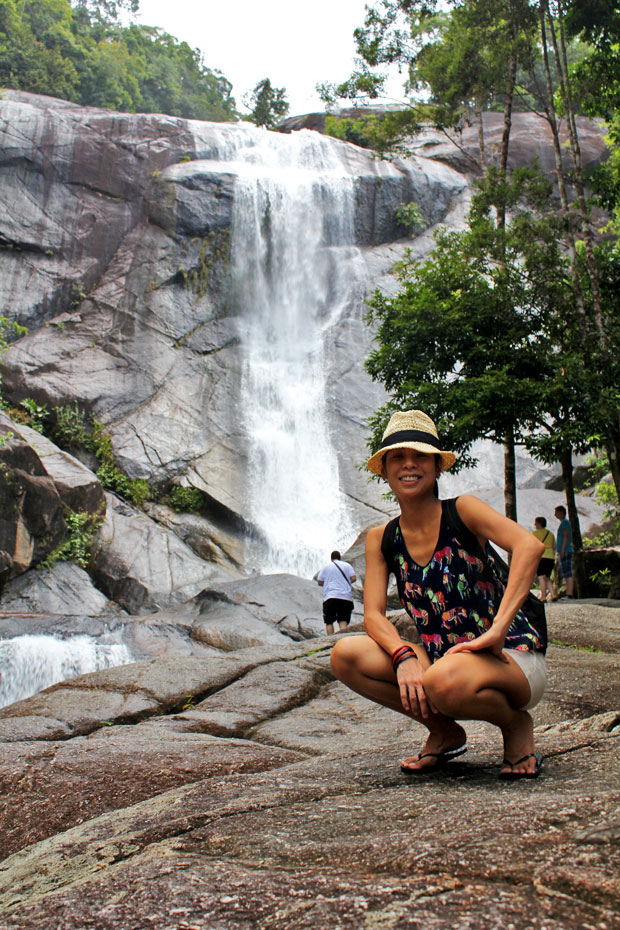 BOOM. 😯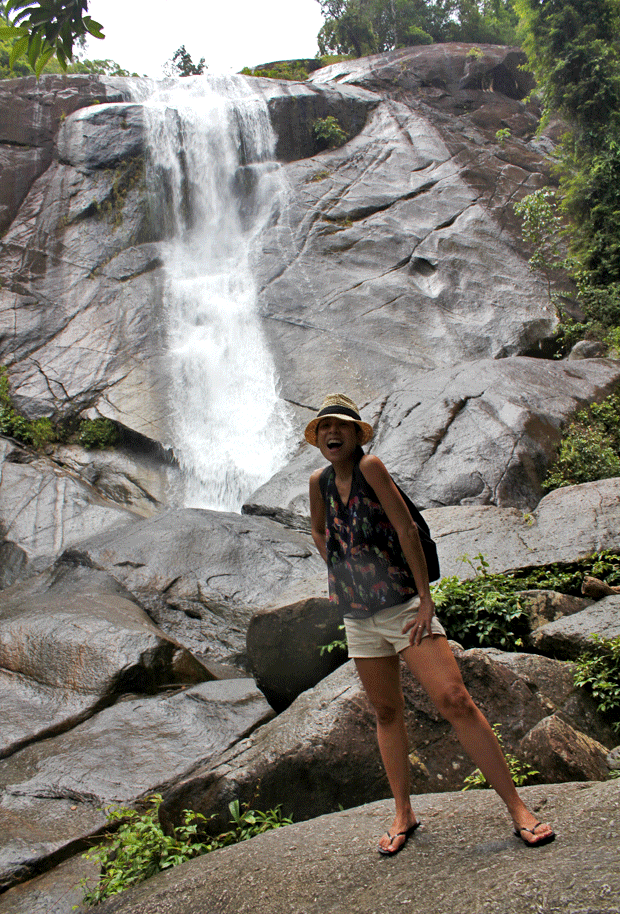 I think Ren's performance piece pretty much sums it up. 😆
Though I only listed twelve, I could easily have cited a dozen more reasons why you should consider Langkawi for your next vacation. For a rundown on everything that this island has to offer, you'll find a list of its most popular activities and attractions on TripAdvisor. Having done just a handful of all that's listed there, we certainly have plenty of reason to come back.
Thank you Langkawi for making this one of our best vacations ever. We'll never forget it. 🙂
CLICK HERE for a First-Timer's Travel Guide to Langkawi, Malaysia
Disclosure
Some of the links in this post are affiliate links, meaning we'll get a small commission if you make a purchase or reservation at NO extra cost to you. We really appreciate your support as this helps us keep this website going. Thank you!
JB is one half of Will Fly for Food and its chief itinerary maker.  He's the one to blame for all the crappy photos and verbal diarrhea on this blog.  Don't listen to him.
Latest posts by JB Macatulad (see all)