Driving on the Wrong Side of the Road in Langkawi, Malaysia
I'll admit it. I was nervous. On the way to the car rental agency, you might even say that I was a little scared.
I'd be lying to you if I said that I didn't have second thoughts, all the way until I signed the car rental agreement and handed them my money. Accustomed to driving on the right side of the road, I had no idea what it would be like to switch sides. Would it come naturally? Or would it be hopelessly confusing, like rubbing your tummy while patting your head at the same time? Will I forget my right from my left as I've been known to do, and come home in a wooden box? Frankly, I had no idea, but it was too late to turn back now. Chickening out at this point would have made me look like the biggest fucking pussy to ever visit this island, and I didn't want that.
Telling Ren to strap her seatbelt on real tight (after strapping on a pair myself), here's what it was like to drive on the other side of the road, on this beautiful island of Langkawi. 😉
T Shoppe
T Shoppe caters to all tourist needs. Apart from renting out cars and motorbikes, they also sell snacks, drinks, clothing, souvenirs, bags, fishing supplies, you name it. If I'm not mistaken, they organize tourist activities as well, even boasting their very own guest house. They have three branches in Langkawi, but most tourists stay around the Pantai Cenang area so you'll likely be renting yours from there (pictured below).
Though there are larger car rental companies like Kasina or Envomarine on the island, many of which have booths directly at the airport and jetty, we chose T Shoppe because it was recommended to us by the owner of Pondok Keladi Guesthouse. I'm glad that we did because rental prices, like many things, tended to be less favorable at the airport.
If you can, I suggest taking a cab to your hotel from the airport, then renting a car from one of the agencies in town. Taxis in Langkawi are unmetered with fixed rates, so you don't have to worry about being taken for a ride. If you arrive by ferry, then you can probably find a car rental agency within Kuah Town itself.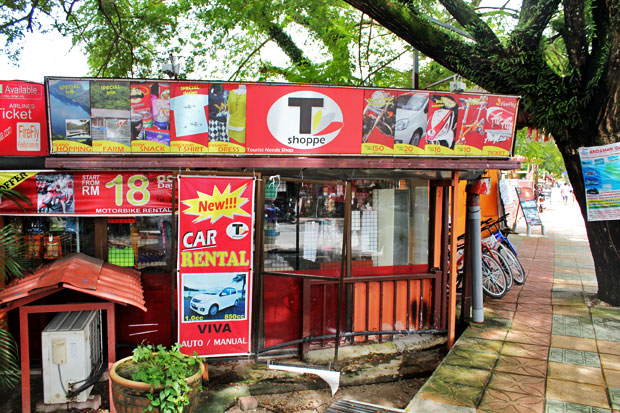 Perodua Viva, our humble Malaysian steed for 48 hours. It may have felt like a tin can, but it handled like an actual car. 😆 Joking aside, the handling was great, the air conditioner nice and cool, and the gas mileage awesome. We were very happy with it.
For this officially licensed and registered compact automatic, daily rental (24 hrs) started at RM130, and went down by RM10 after each succeeding day, bottoming out at RM90/day if I remember correctly. Full coverage insurance went for RM20/day, so my two-day grand total came out to RM290. You leave a deposit of RM100 on the first day, which you get back upon return of the car provided you don't incur any penalties. Be sure to bring it back with the same amount of gas (and number of wheels).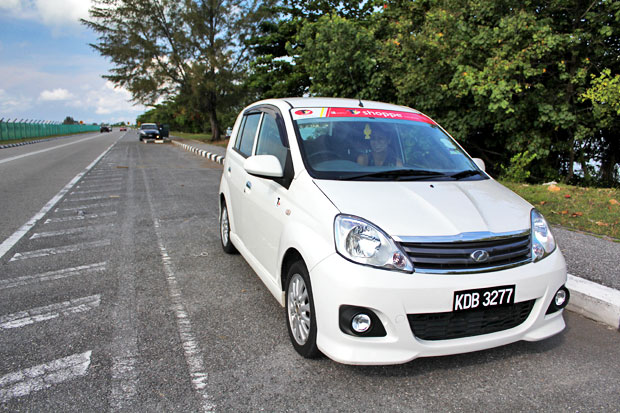 What sorcery is this?! 😆 #feelingalittledyslexicrightnow



Me in complete concentration, reminding myself every few minutes that left is by the windows, right by the bookcases. Don't ask. 😆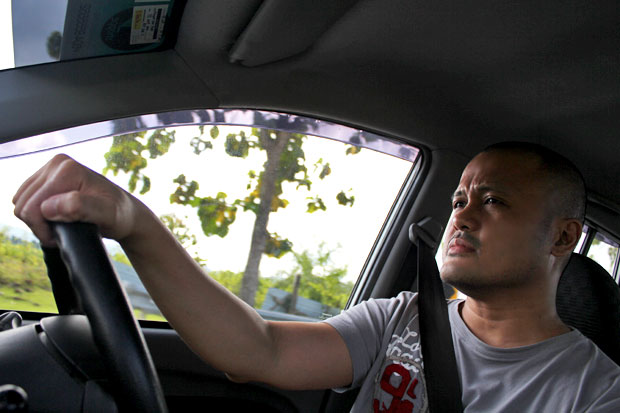 About to cross the great divide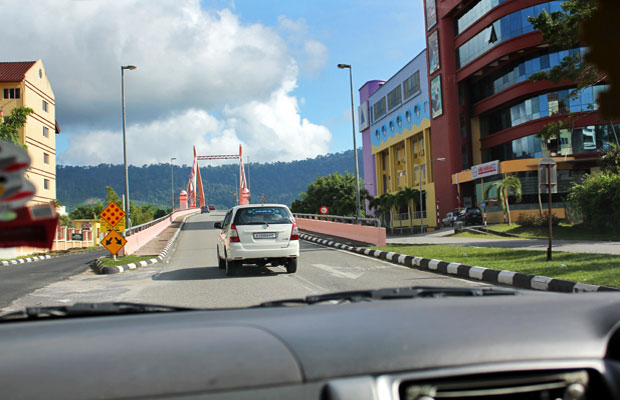 Crossing the bridge, brought to you by T Shoppe.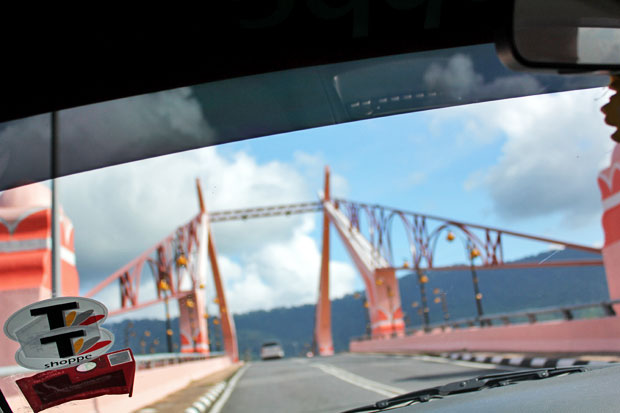 With over 65% of its forest cover still intact, the island of Langkawi is LUSH. This isn't the Philippines (at least the parts I know) where all you see are cleared, wide open spaces with just a few coconut trees sticking out. The rainforest here is dense and thriving, so you often find yourself driving through a landscape of green on these meandering, single-lane roads without seeing any cars or buildings for miles. ♥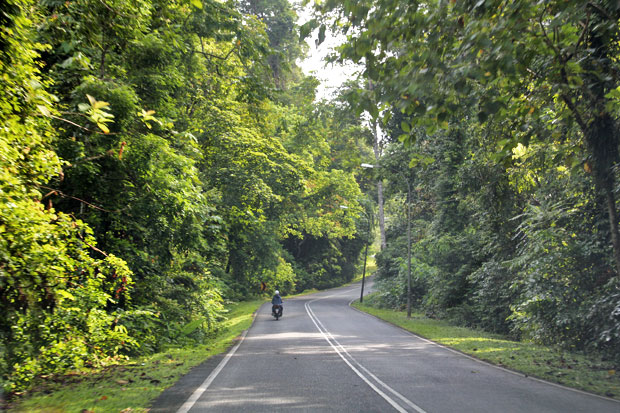 Zipping past a rubber tree plantation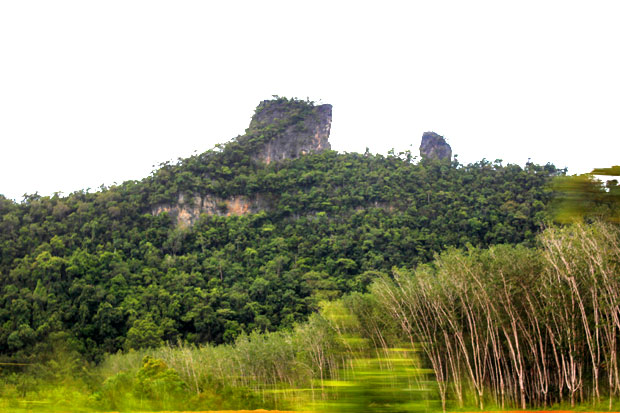 As mentioned up top, part of Langkawi's attraction for me was the promise of driving through landscape as fresh and verdant as this. Everything smelled so refreshing and green, especially after the rain.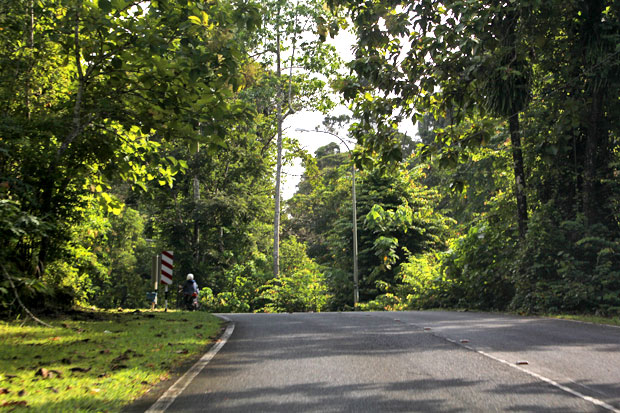 If I remember correctly, this picture was taken on the drive up to Tanjung Rhu, home to some of Langkawi's most posh resorts like the Four Seasons.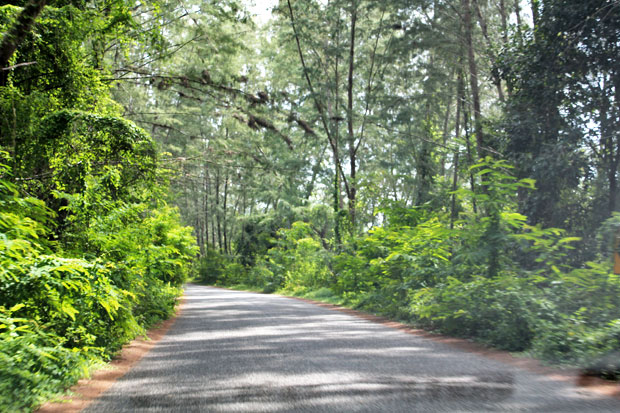 Driving through Kuah, Langkawi's main town and home to its port. As advised up top, if you're traveling by ferry, then it's probably best that you rent your car here. That way you can drop it off before leaving the island. T Shoppe has a branch here as well (telephone number at bottom).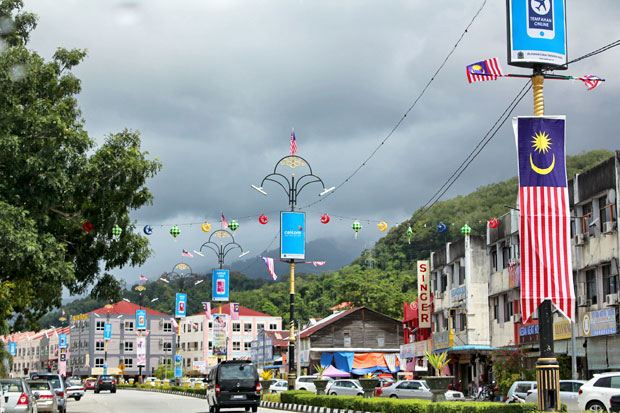 Map of Langkawi (CLICK to enlarge). You can find maps pretty much anywhere on the island, though they do give them away for free at the airport.
You can do that entire outer loop in around three hours. As you can see on this map, there are plenty of petrol stations in Langkawi. Gas here is pretty darn cheap, just RM1.90 per liter as of this writing, so you're free to drive around all day, stopping wherever and whenever the hell you wanted.
Exploring this magical island was just awesome. So much freedom, so much fun. 🙂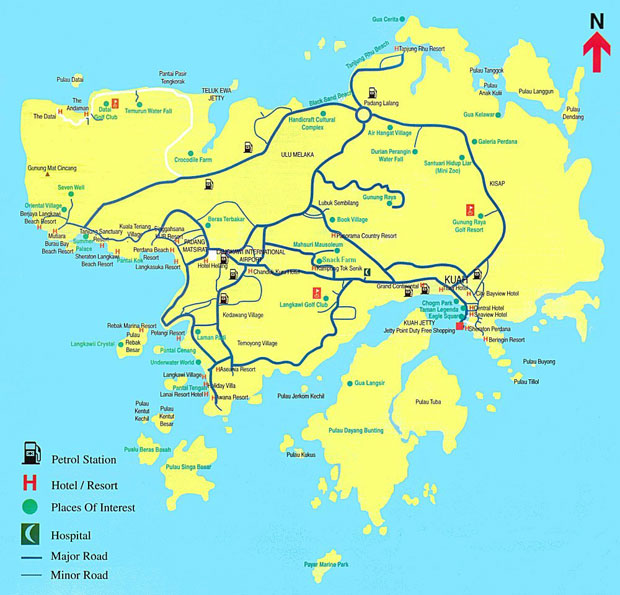 It's worth noting that I acquired an international driver's permit from our local AA before our trip, but as it turns out, I didn't need it. All they asked for at T Shoppe was my driver's license and passport. I'm assuming that this is the way it is for many of the island's car rental agencies.
Needless to say, I was very happy that we rented a car. It gave us the freedom to really explore this mystical, awe-inspiring island. There's a lot to see and do here, and having a car afforded us the opportunity to experience Langkawi at our own pace. The trip would hardly have been the same without it.
As for driving on the wrong side of the road? No sweat. As is often the case with me, my anxieties far outweighed the outcome. Driving on this island was a breeze. No traffic, hardly any cars, except for central areas like Kuah Town and Pantai Cenang. But even then, it wasn't bad at all, especially if you're used to a crazy, congested city like Manila. Pretty much all of the island has paved, single-lane roads, with the majority of commuters driving at a reasonable speed, around 70 km/h.
If you're accustomed to driving on the right side of the road, it does get a little confusing at intersections, roundabouts, and parking lot entrances because everything is in reverse. Just keep that in mind and you'll be fine. As mentioned above, there aren't many cars on the road, so you can take your time making that right-hand turn without worrying about pissing anyone off. 🙂
T Shoppe, Pantai Tengah, Langkawi
Jalan Awana Porto Malai, Pantai Tengah, Mukim Kedawang, 07000 Langkawi, Kedah
Tel: +604-955-5551/2/3 (Pantai Tengah) / +604-955-7859 (Pantai Cenang) / +604-966-9600 (Kuah Town)
Fax: +604-955-7978
Email: tshoppe_tdr@yahoo.com / tshoppe@live.com
Facebook: tshoppe.langkawi
JB is one half of Will Fly for Food and its chief itinerary maker.  He's the one to blame for all the crappy photos and verbal diarrhea on this blog.  Don't listen to him.
Latest posts by JB Macatulad (see all)