Having to catch up on two weeks of work after our recent trip to Malaysia, it's hard to find the time to go through and organize nearly 1,500 photos for this blog, so I thought I'd get myself going with this first post about Malaysian food.
When planning our vacations, food always plays a major role in our decisions. For us to even consider a place, it has to have good food. It's every bit as important to us as landmarks like Angkor Wat or the pyramids, so we're always reluctant to visit a country that doesn't offer the promise of mind-bending grub. With this country being the confluence of three major ethnic groups and their cuisines, we expected Malaysia to be as exciting a gastronomic destination as any, and it was.
True to what we had always heard, Malaysian cuisine is a rich tapestry of Malay, Chinese, Indian, Thai, and Arabian influences, a melting pot of flavors and textures that happily delivered on its promise of an exotic, deeply delicious, near religious culinary experience.
Here's a taste of the many interesting, colorful, often fiery dishes that we enjoyed during our 10-day Malaysian adventure. 🙂
Nasi Lemak – A fragrant rice dish considered by most to be Malaysia's national dish. The term nasi lemak literally translates into "fatty rice", with "fatty" in this context referring to the richness of the aromatic rice cooked in coconut milk.
Though traditionally a breakfast meal, it's now become an all-day, anytime type of dish, usually served with chicken, fried Ikan Bilis (small anchovies), roasted peanuts, cucumber slices, spicy sambal, and a hard-boiled egg. Rich in flavor and texture, I had this dish on three different occasions if I remember correctly, with the one pictured here enjoyed at the Central Market food court in KL.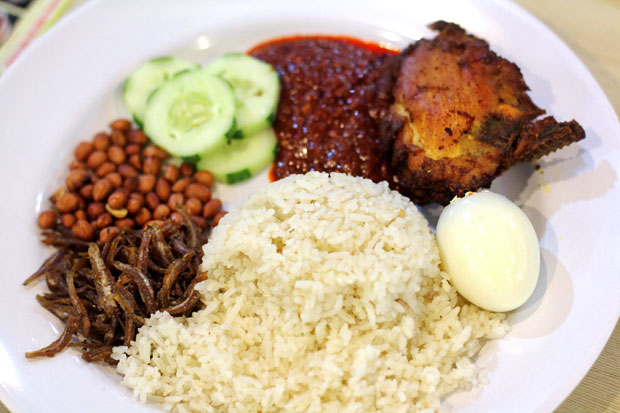 Char Kway Teow – Literally translating to "stir-fried ricecake strips", char kway teow is made from flat rice noodles stir-fried over high heat with light and dark soy sauce, chili, belachan, Chinese sausage, prawns, cockles, fishcake, egg, bean sprouts, and chopped Chinese chives. One of Ren's favorite dishes, we enjoyed this one at a hawker food stall along Pantai Cenang in Langkawi. Yum!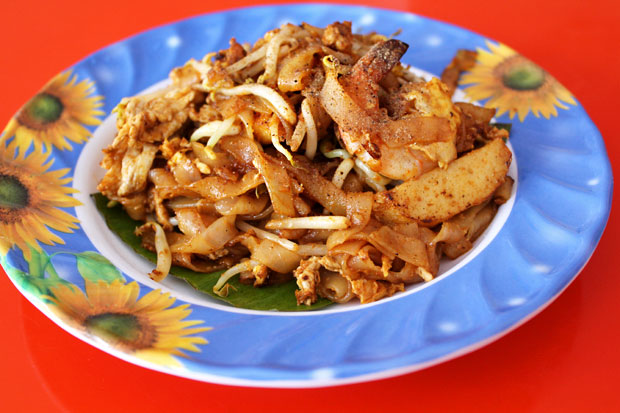 Curry Laksa – A spicy, coconut-based curry noodle soup popular in Malaysia, Singapore, and Indonesia. Another of Ren's favorite dishes, she happily slurped this one down at the Central Market food court in KL.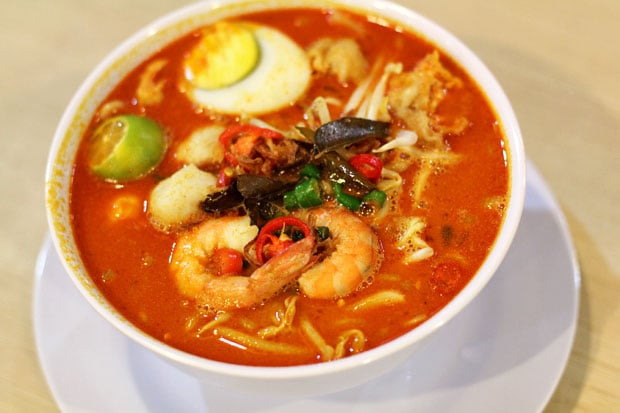 Roti Canai – Ren and I both love roti canai, which is a type of Indian-influenced flatbread found in Malaysia and Indonesia. We enjoyed this on multiple occasions, both in Langkawi and KL. This one was from a restaurant along Pantai Cenang in Langkawi.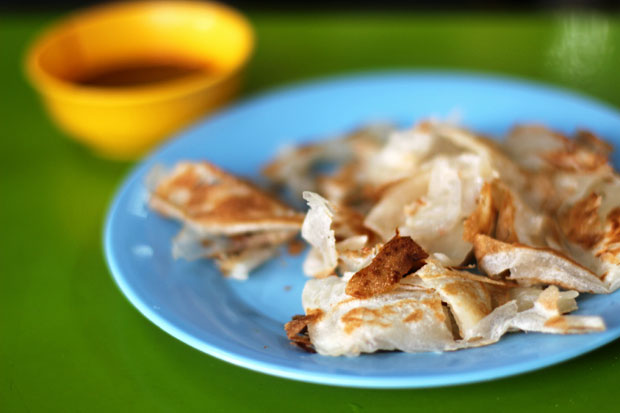 Satay – The very first thing we had the night we arrived in KL, we enjoyed this at a street-side stall together with a few bottles of Malaysian Skol beer. 10 sticks of beef and chicken satay for just RM9. What a way to start our vacation. 🙂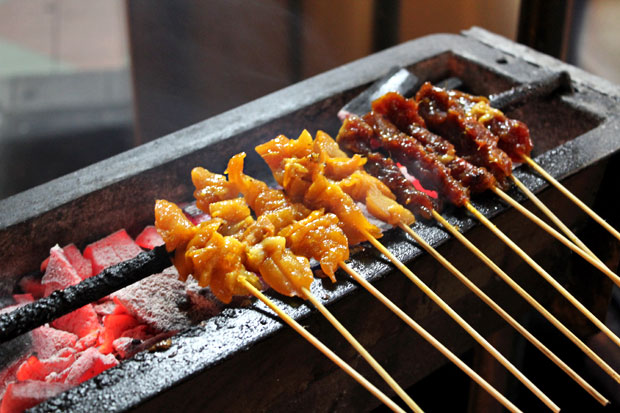 Usually made with chicken or beef, satay is a dish of seasoned, skewered, and grilled meats served with a sweet peanut sauce. So good, especially with the beer.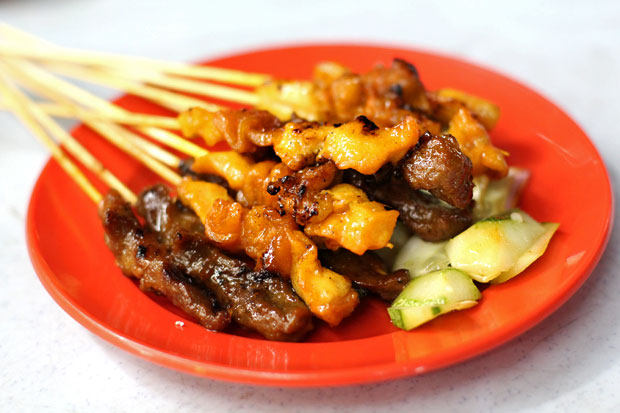 Roadside grub. Bought at a roadside stall while walking home from Pantai Cenang to our hotel, you can't get any more street than this.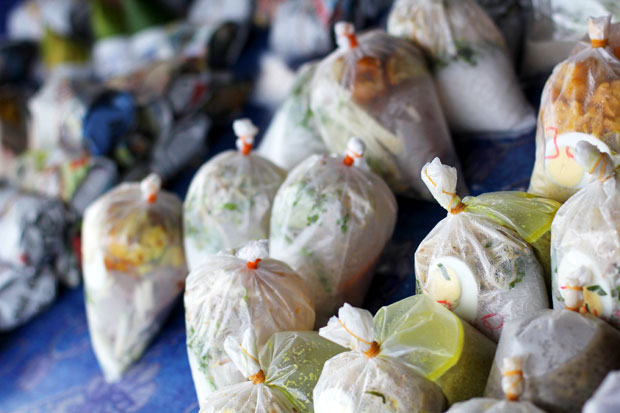 All the deliciousness that you see here went for just RM9. I don't remember exactly what each one was, but the dish at the lower left corner is called rojak. It's a dish of fried dough fritters, bean curd, boiled potatoes, prawn fritters, hard boiled eggs, bean sprouts, cuttlefish, and cucumber mixed with a sweet, thick, spicy peanut sauce. So good!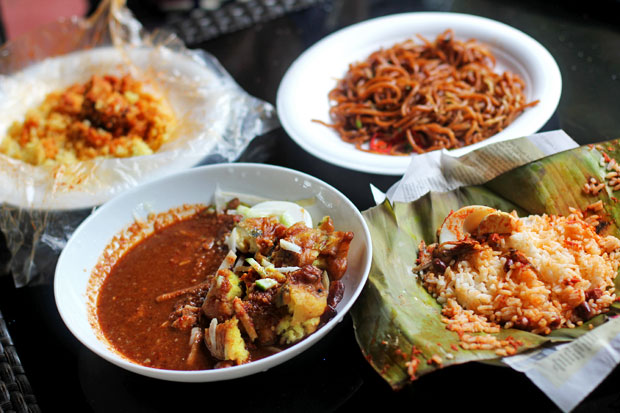 With so much good food to be found literally everywhere, we didn't really need to seek out any special restaurants. Here are just a few memorable meals from restaurants that were either recommended to us by the locals, or discovered purely by chance.
Hainanese Chicken Rice, Langkawi
We had actually read about this place in a blog, though we didn't have any real intention of finding it. Luckily for us, we spotted it while driving one day. As you can see from this picture, they purportedly serve the best Hainanese chicken rice in all of Langkawi.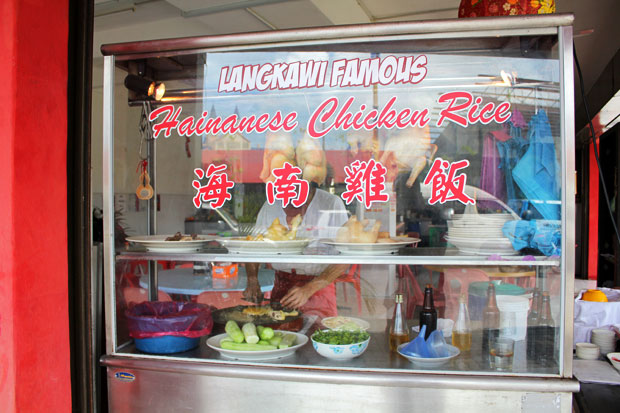 According to the blog we read, this place sells out of chicken rice by 3 pm. As fate would have it, it was only 11 in the morning when we discovered it. Check out that cool customer with the shades. 😉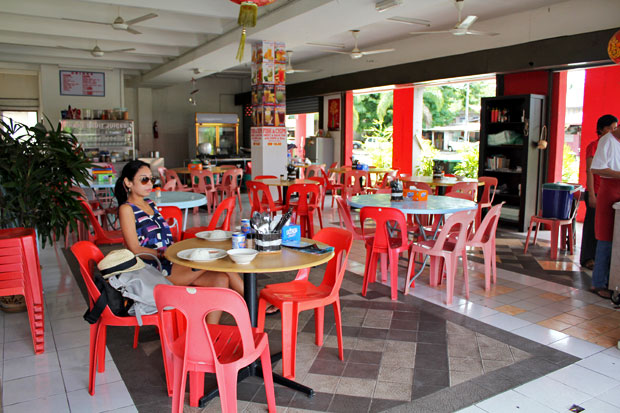 How can something this colorless taste so damn good?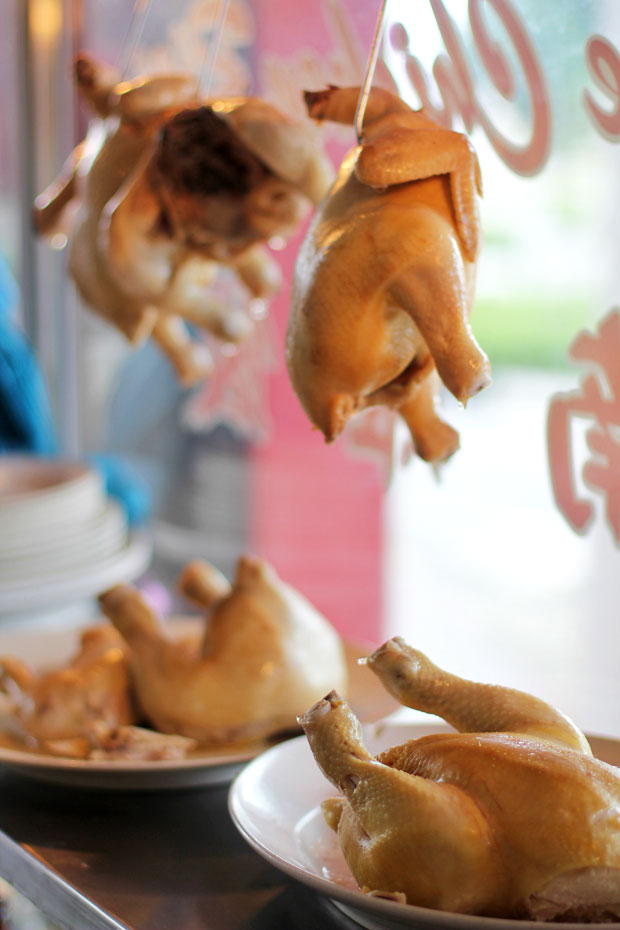 Sensei preparing the day's first plate of chicken rice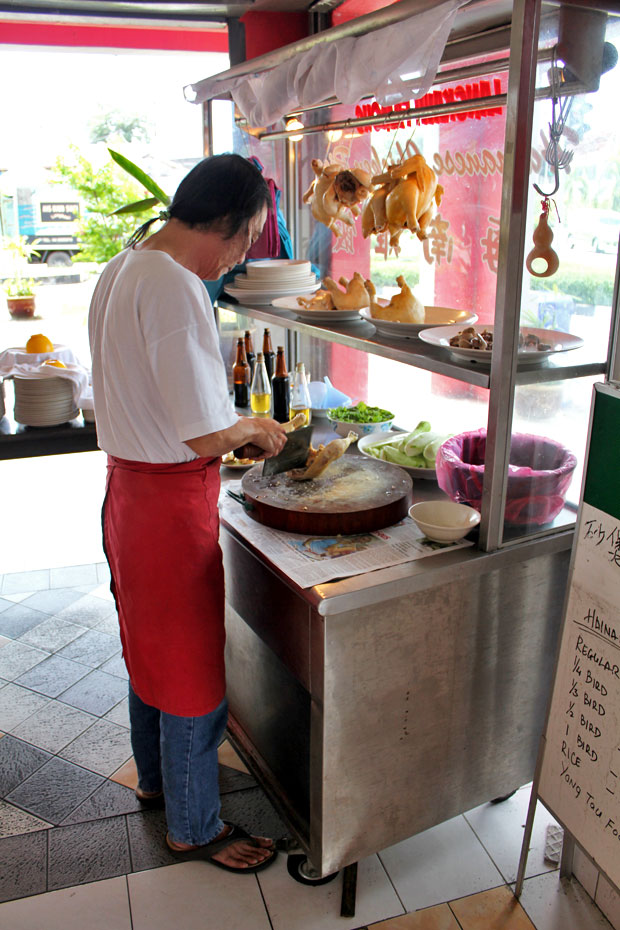 Clean-tasting but immensely flavorful, this entire plate of chicken was gone in a matter of minutes. It was so good, especially with the rice and sprigs of coriander.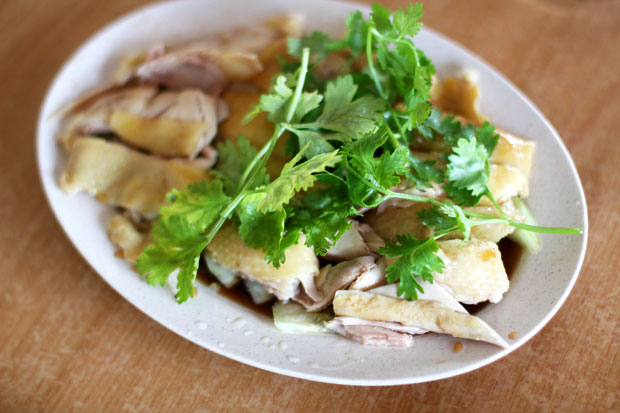 The fragrant chicken rice, famous throughout all of Langkawi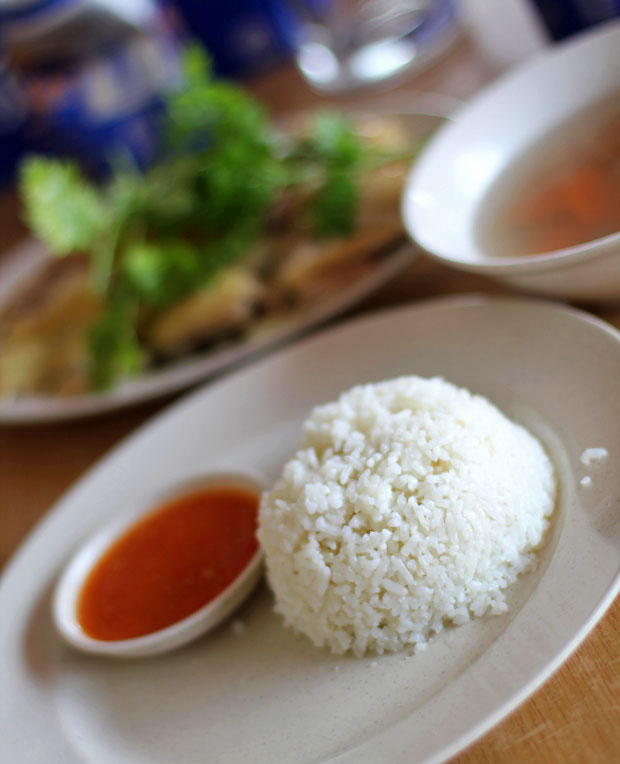 Restoran Khatijah, Langkawi
This restaurant was recommended to us by Marc, one of the owners of Pondok Keladi Guesthouse in Langkawi. A favorite amongst the locals, it gave us our first taste of nasi campur, which literally means "mixed rice." The term nasi campur traditionally refers to a dish of rice topped with various meats, vegetables, peanuts, eggs, and fried-shrimp keropok (crackers). Nasi campur restaurants such as this one offer a buffet-style setting with many different vegetables, meats, and side dishes that you can freely top onto your plate of rice. They then price your plate based on what you get.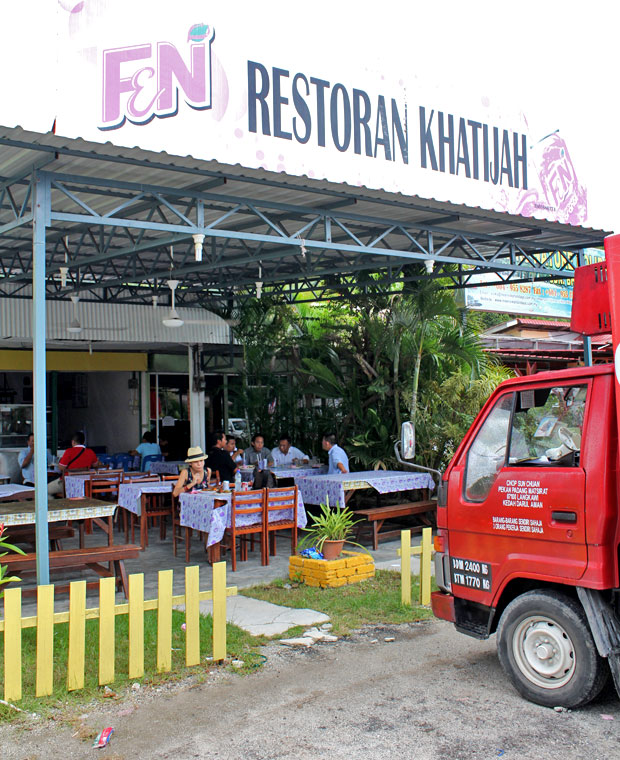 According to Marc, this place is so popular that they almost always run out of food early. As you can see from the near empty buffet trays, we arrived just in the nick of time. 😉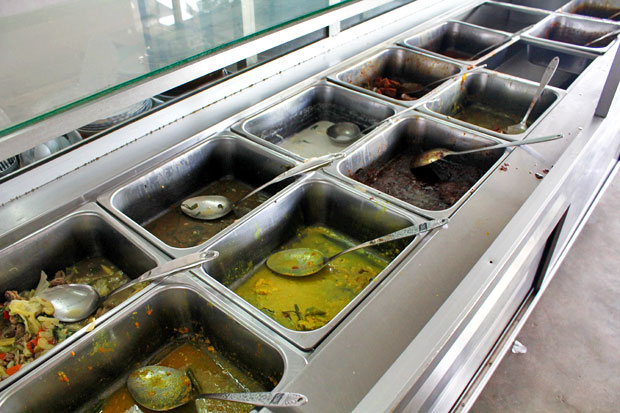 My delicious plate – spicy chicken, potato fritter, veggies, hard-boiled egg, and the spiciest fucking sambal I've ever tasted in my life. So good though!



Ren's plate that was every bit as good as mine – fried chicken, some type of mee (noodle), deep-fried fish, curried chicken innards, and hard-boiled egg.
Both our plates, along with 2 cans of soda and a small bottle of water, came out to just RM18. This place kicked ass. 😀

Tomato, Langkawi
Another nasi campur restaurant popular amongst locals and tourists alike. Located in the heart of Pantai Cenang, Tomato offers a wide variety of food at very reasonable prices.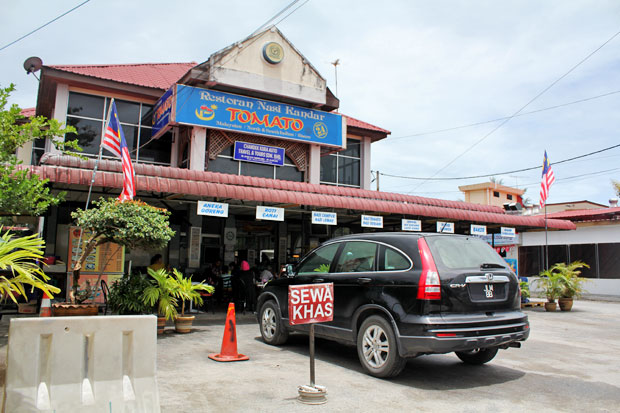 A backpacker favorite, Tomato offers buffet-style nasi campur meals, as well as an ala carte menu full of Indian, Malay, Chinese, and Thai dishes.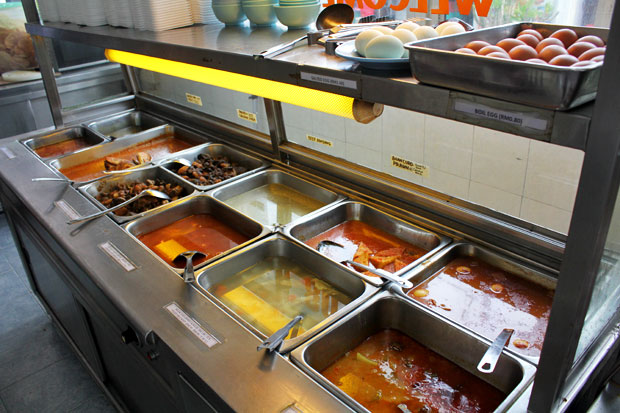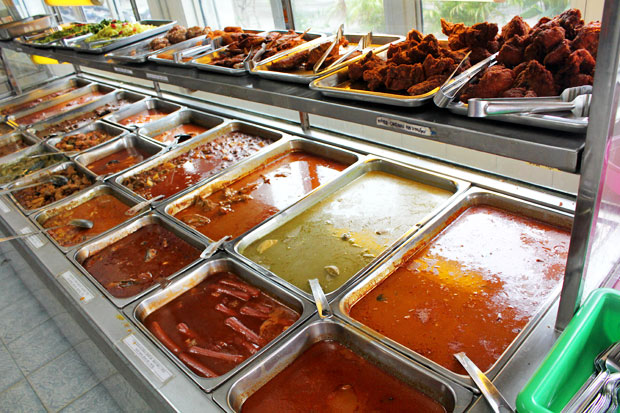 Lamb biryani, mutton curry, and fried chicken. Delish!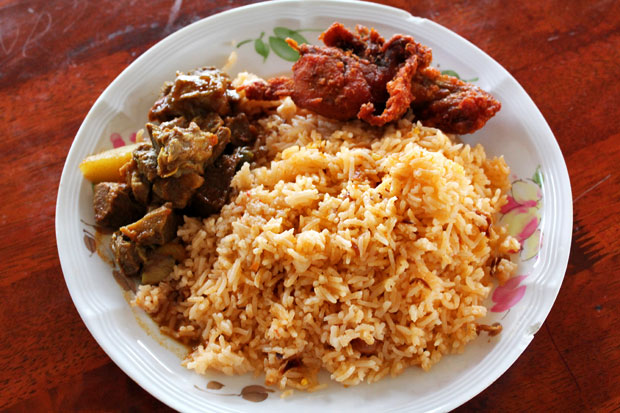 Omelette, potato fritter, and beef curry. Also delish!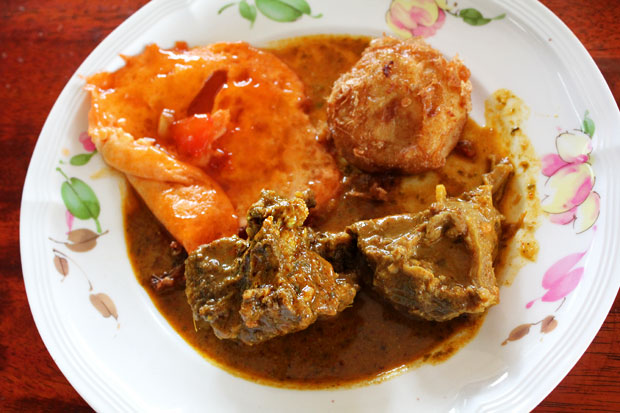 The roti nazi begrudgingly making our order of roti canai. Clearly not in a jovial mood, he would give curt, resoundingly negative one-word responses to all our questions. "Do you have this?" "NO!" "Can I take your picture?" "NO!" "Can we eat for free?" "NO!!!" Sincerely amused by his almost caricature-like persona, Ren and I would giggle at every response, which only succeeded in annoying him all the more. 😆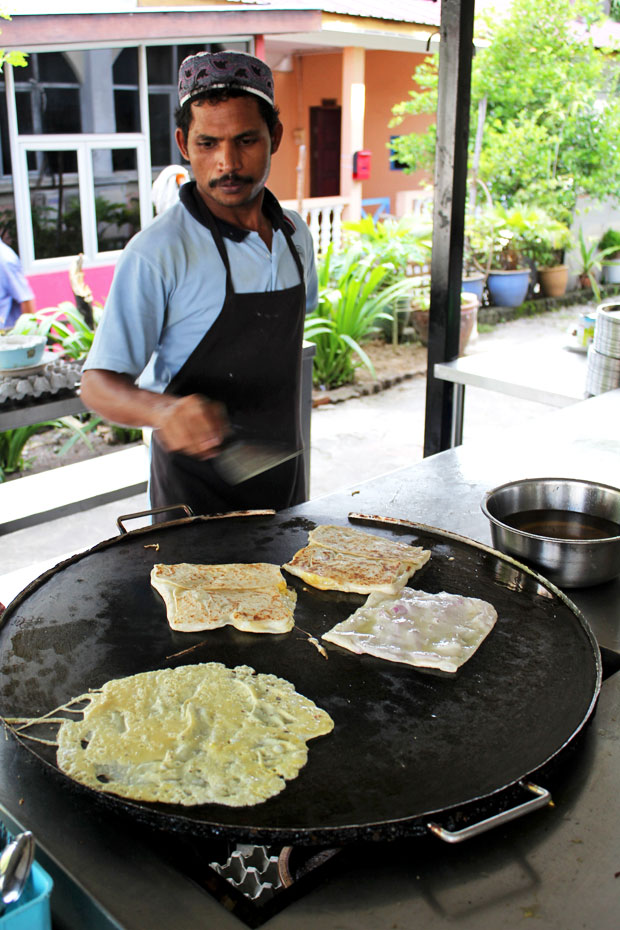 Mangga, Langkawi
A restaurant more popular amongst the locals, Marc suggested this place to us as well. They have two branches – Mangga and Mangga 2.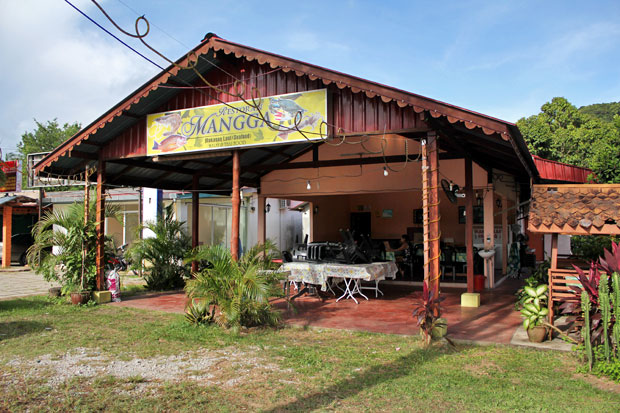 Here we got our first taste of ikan bakar, a generic term literally meaning "burnt fish", used to describe any type of charcoal-grilled fish or seafood. We chose silver snapper.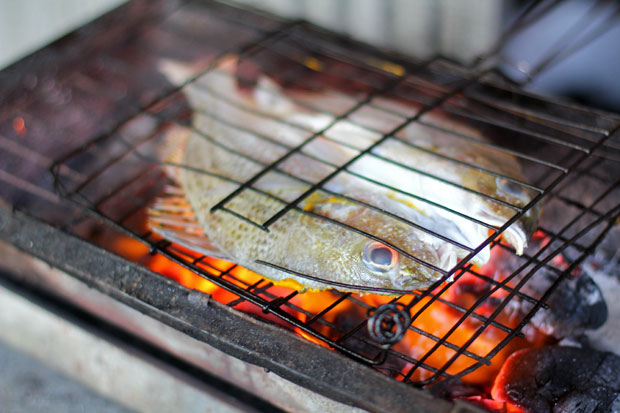 Seasoned with turmeric and mighty delicious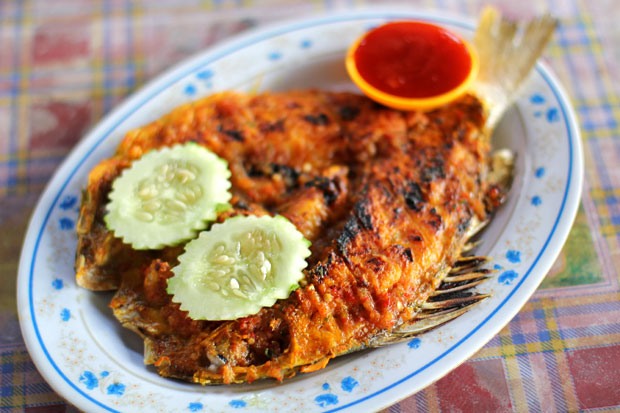 Redolent with wok breath, this salted fish fried rice was really good.



Deep-fried, crusty omelette imparting richness to our meal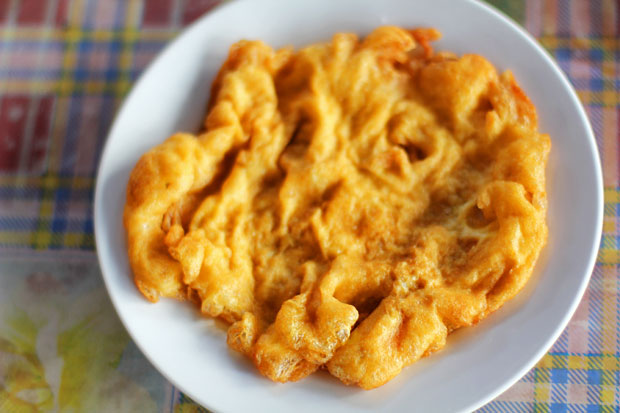 Hole in the Wall, Langkawi
Inaccessible by foot, you have to be ferried to this restaurant / fish farm that's a popular stop for people on the mangrove tour. It's a floating restaurant attached to the side of a limestone cliff, getting its name from an actual hole in the limestone wall.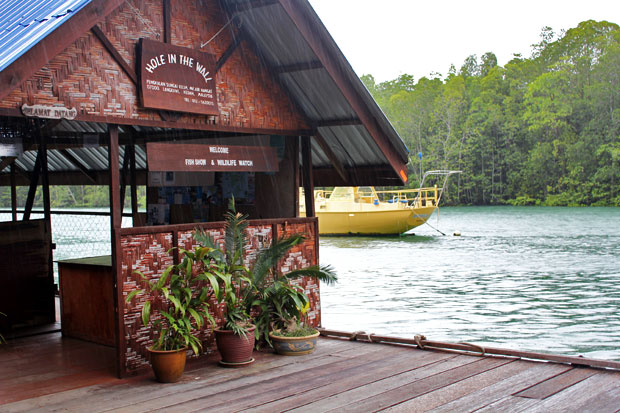 We were here today as part of the mangrove kayaking tour, so we were served set meals. They have many types of fresh seafood available though, so it's well worth checking out on your own.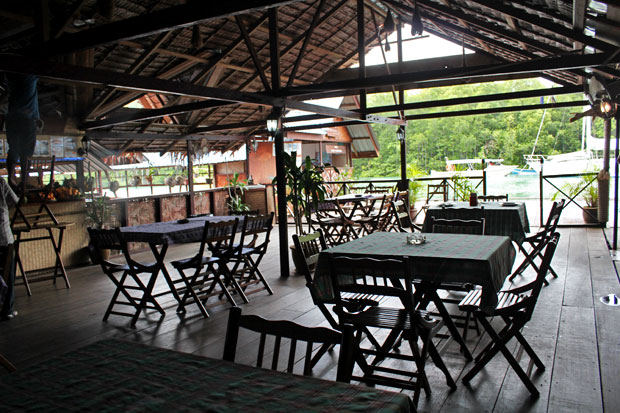 Pens for live, farmed fish and other kinds of seafood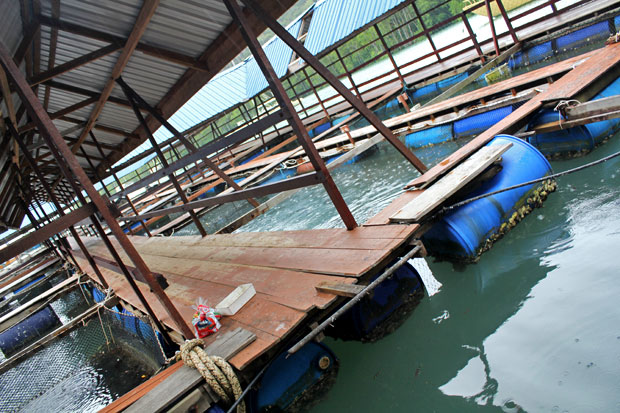 Spicy, sour Tom Yum soup with prawns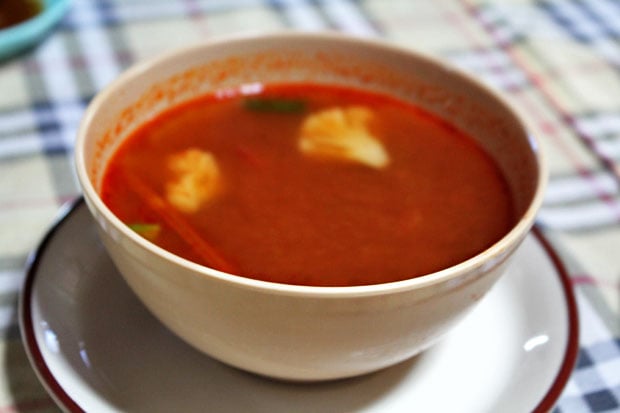 Fried rice with shrimp crackers and prawns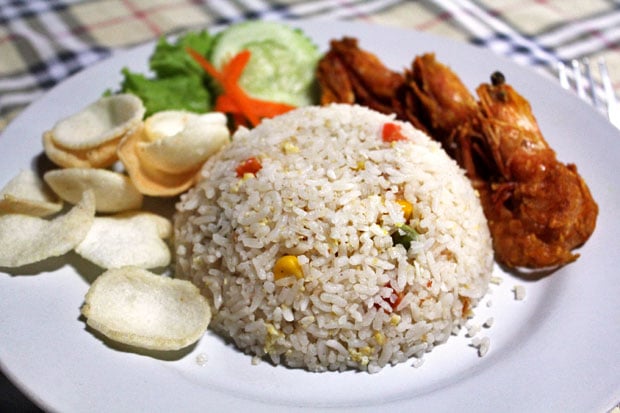 Lot 10 Basement Food Court, Kuala Lumpur
Though we didn't plan on doing any real shopping in KL, we marched straight into the Lot 10 mall upon exiting the metro at Bukit Bintang. I think the very large H&M out front had a lot to do with that, right Ren? 😆
With an awesome basement food court which Ren had read about in several blogs, it turned out to be the perfect place to stop for lunch.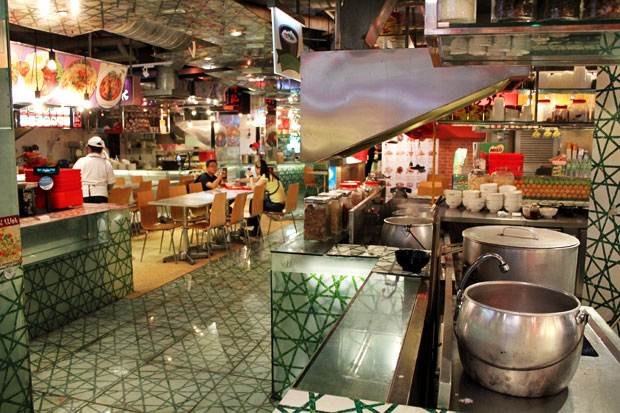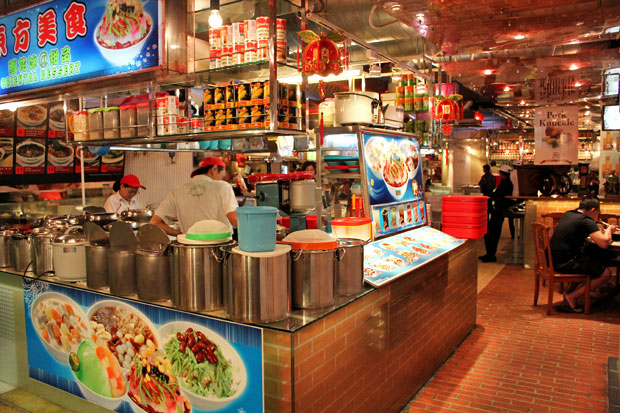 Seriously, this place was like a labyrinth of food.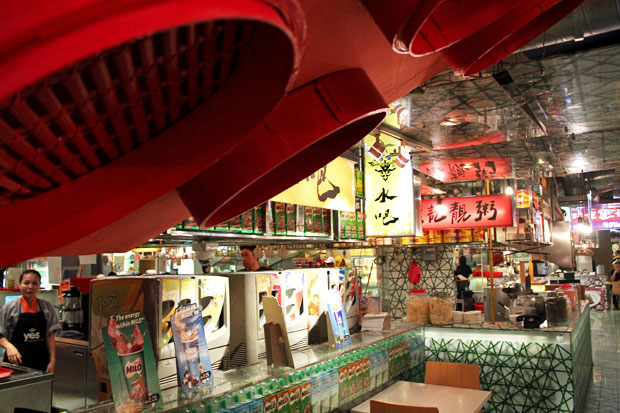 Without exaggeration, I had to really fight and resist the pull of this sushi spread. Sold by the piece, I was literally glued to this spot for several minutes, eyes as big as futomaki rolls, reminding myself that I'm in Malaysia, not Japan. Get yourself together and eat Malaysian food like you're supposed to, you sushi slut. 😯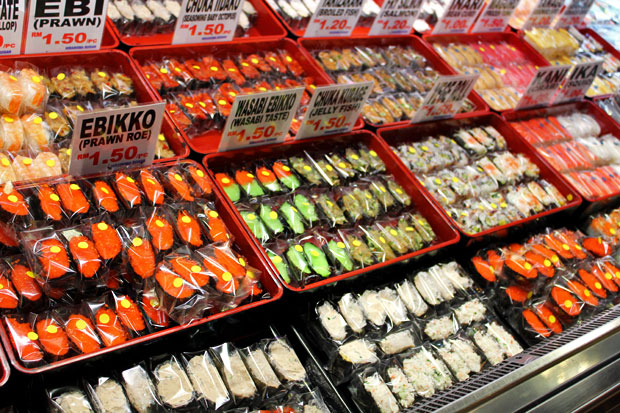 Oyster Omelette – Hands down, the best I've ever had.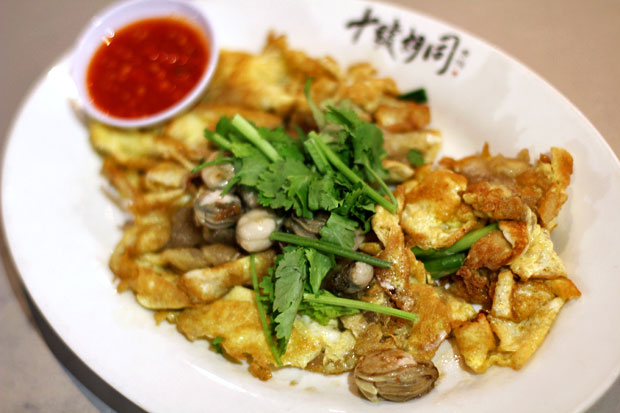 Bak Kut Teh – Literally translating to "meat bone tea", bak kut teh is a Chinese soup consisting of meaty pork ribs simmered in a complex broth of herbs and spices with offal, mushrooms, choy sum, and pieces of dried tofu. Despite its name, the dish in fact contains no tea, the name referring instead to a strong oolong Chinese tea that's usually served with it.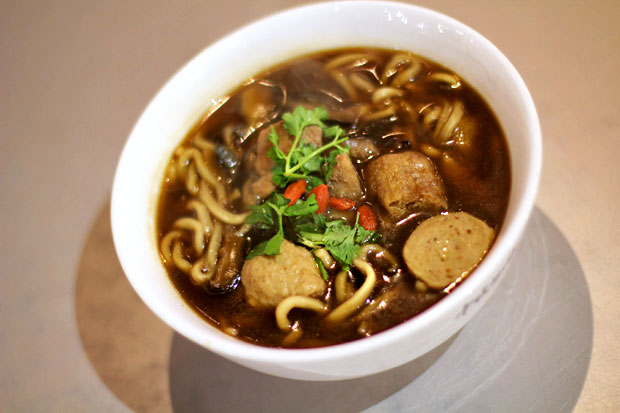 Ramly Burger, Kuala Lumpur
Aaah, the iconic Ramly Burger, the Malaysian equivalent of Burger Machine. Sold throughout Malaysia in stalls like this one since 1979, a typical Ramly Burger consists of a beef or chicken patty, margarine, onions, an egg, cabbage, mayonnaise, Worcestershire sauce, and Maggi seasoning.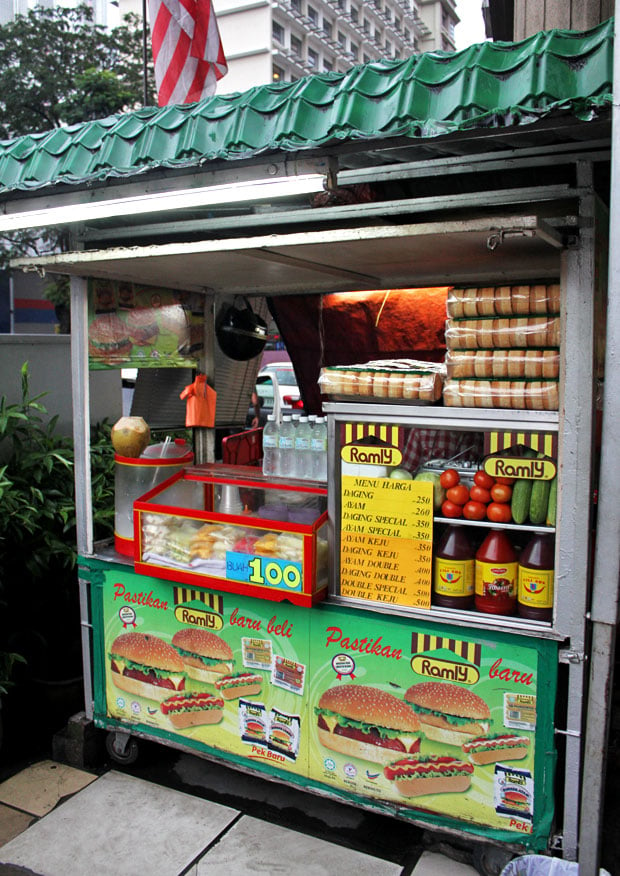 Our beef patty frying up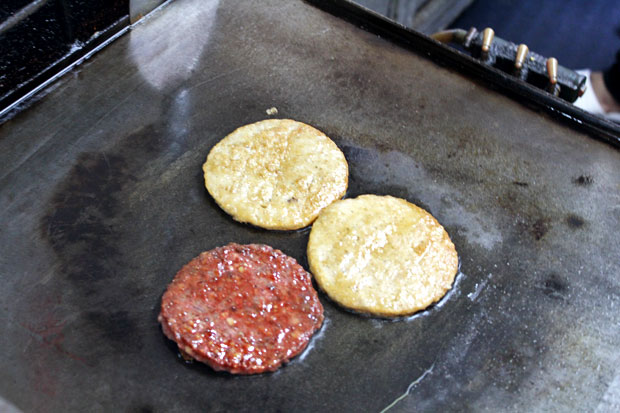 So beloved is this burger by the Malay community that it's actually considered a local delicacy. In fact, our guide in Langkawi, Jerome, said that there are just three things he misses about KL – a proper moviehouse, nasi kandang, and an authentic Ramly Burger. 😉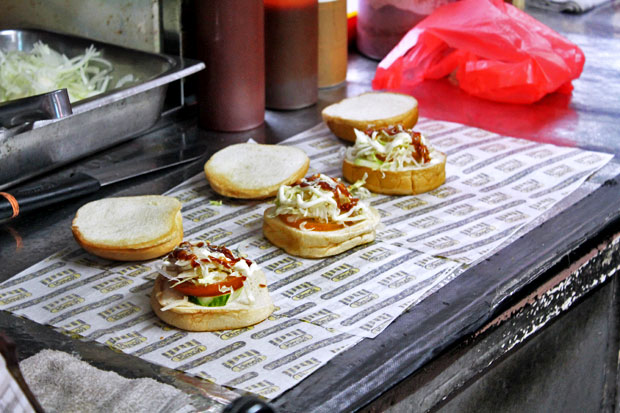 Topped with egg, here it is in its full, ready-to-be-eaten glory. Tasty indeed, and much better than a Bart Burger, I must admit.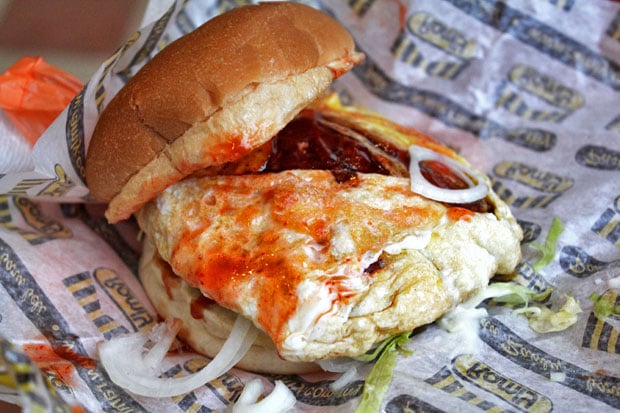 Moorty's Mathai Restaurant, Kuala Lumpur
Located just around the corner from our hotel near KL Sentral, this place looked to serve really good Indian food so we stopped here for lunch.
Roti Tissue – This was really interesting and a version of roti canai that we had never seen before. It's basically a crisp, chewy, paper thin roti served with condensed milk. Ren wasn't too keen on it, but I loved it. Very much. 😀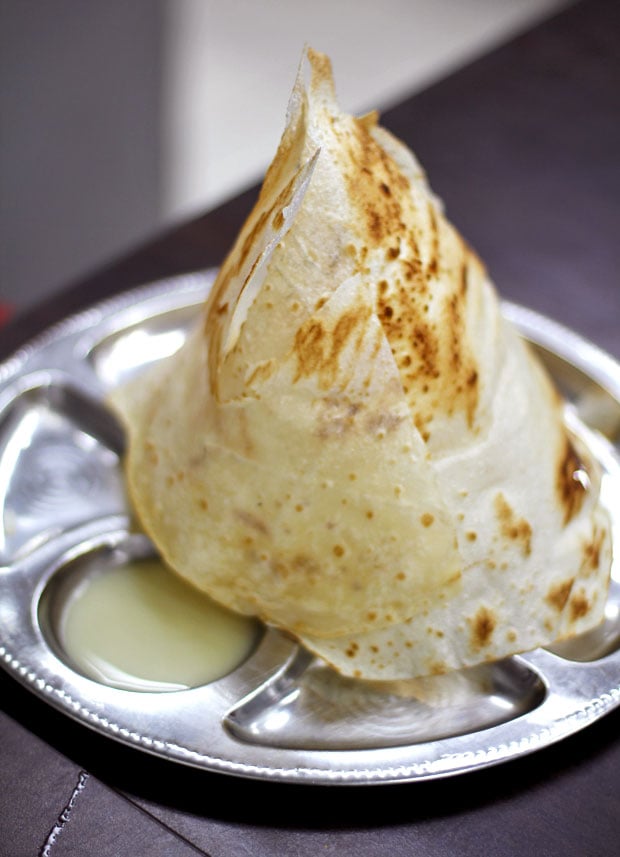 MM's Banana Leaf Set Meal with Chicken – This set meal was just a joy to eat. Everything was so good, especially the papadum which was by far the best I have ever had. If you've never had papadum, it's a thin, crisp, seasoned dough made from black gram (urad flour) that's fried or cooked with dry heat. So toasty and delicious!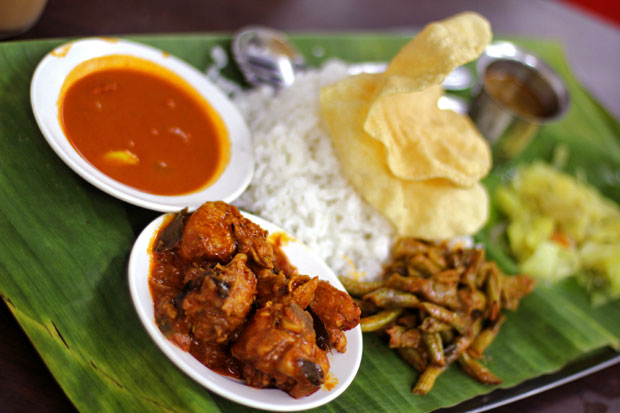 Lamb Biryani – Ren LOVED her lamb biryani, calling it one of the best she's ever tasted. I would have to agree.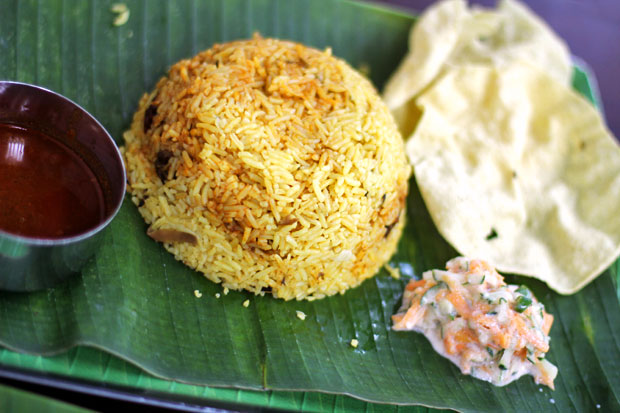 Nestled within that mound of rice are these big, thick, juicy chunks of lamb. There was a whole hard-boiled egg in there too. So good!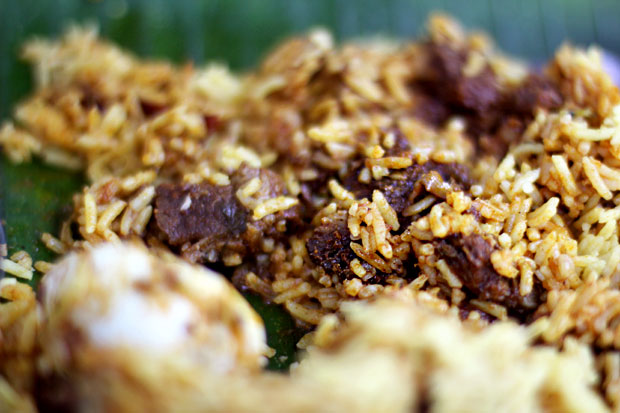 Teh Tarik – Ren washed down her meal with this cup of teh tarik, which tasted similar to Thai iced tea. Literally translating to "pulled tea", it's a hot Indian milk tea beverage that's made by pouring the tea mixture back and forth repeatedly between two vessels from a height, giving it its thick, frothy top.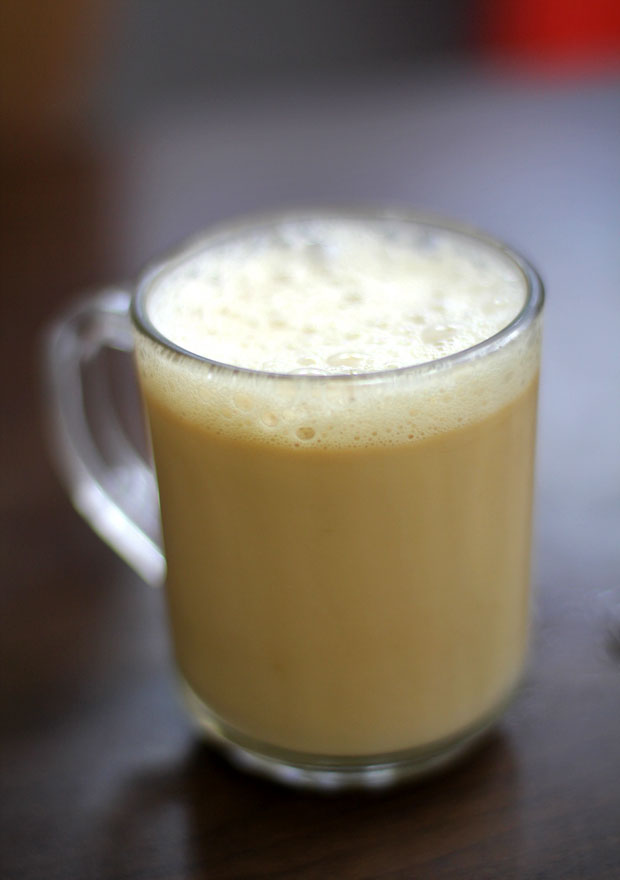 Old Town White Coffee, Nationwide
The Malaysian equivalent of Starbucks or Figaro, famous for serving Malaysian white coffee, a drink made from coffee beans first roasted in margarine, then brewed and served with sweetened condensed milk in a cream-color form. Located all over Malaysia, this one was in the same building as our hotel in KL.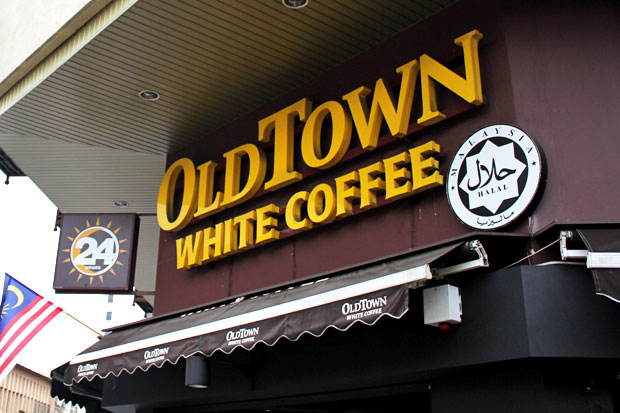 See? Like Starbucks.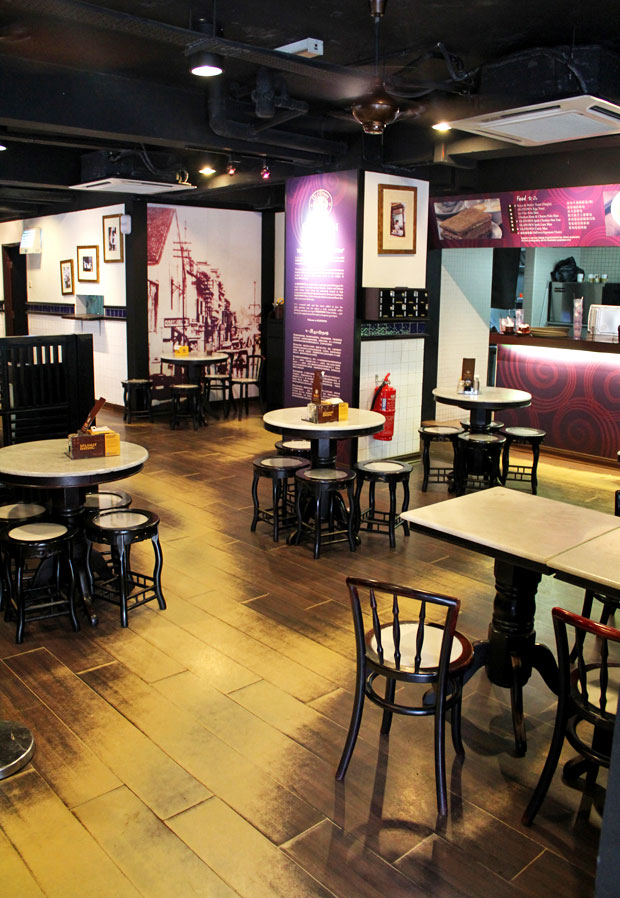 Kaya Toast Set – Our last breakfast in Malaysia, consisting of white coffee, soft-boiled eggs, and kaya toast. Kaya is a sweet, creamy spread made from coconut milk and eggs, flavored by pandan.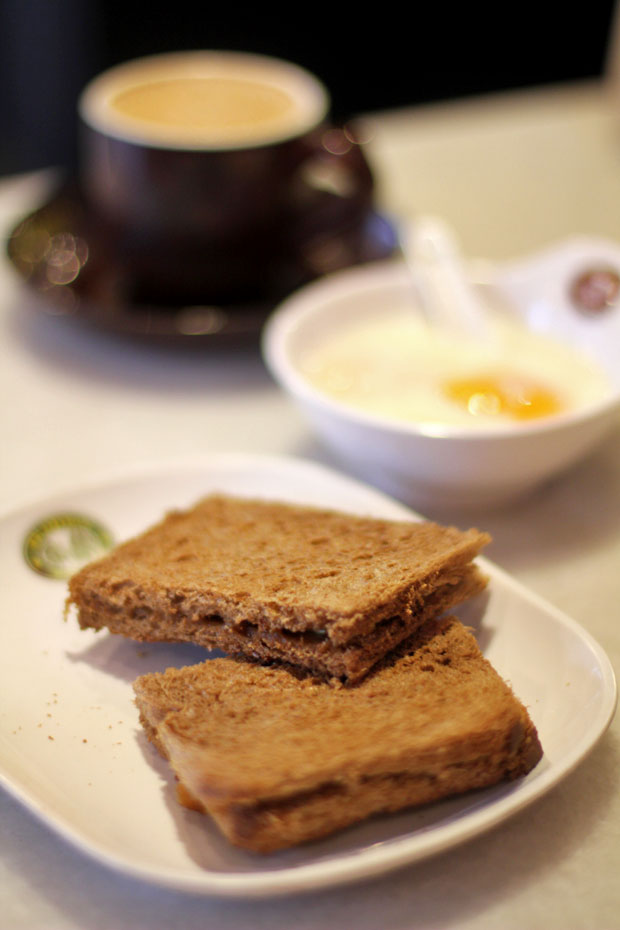 A side of sausage. These reminded me of those pinoy hot dogs that I used to eat as a kid. 🙂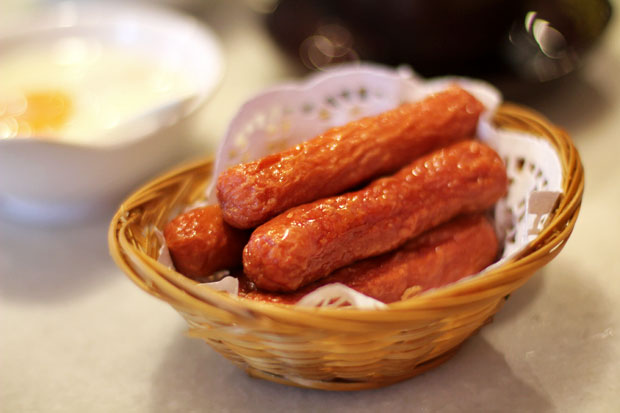 Marry Brown, Nationwide
The Malaysian equivalent of McDonald's or Jollibee, known for their chicken burgers and fast food versions of staple Malaysian dishes like nasi lemak. They call theirs Nasi Marrybrown. 🙂
Though we tried many of their offerings, what really stood out for me were these delicious, creamy durian bites.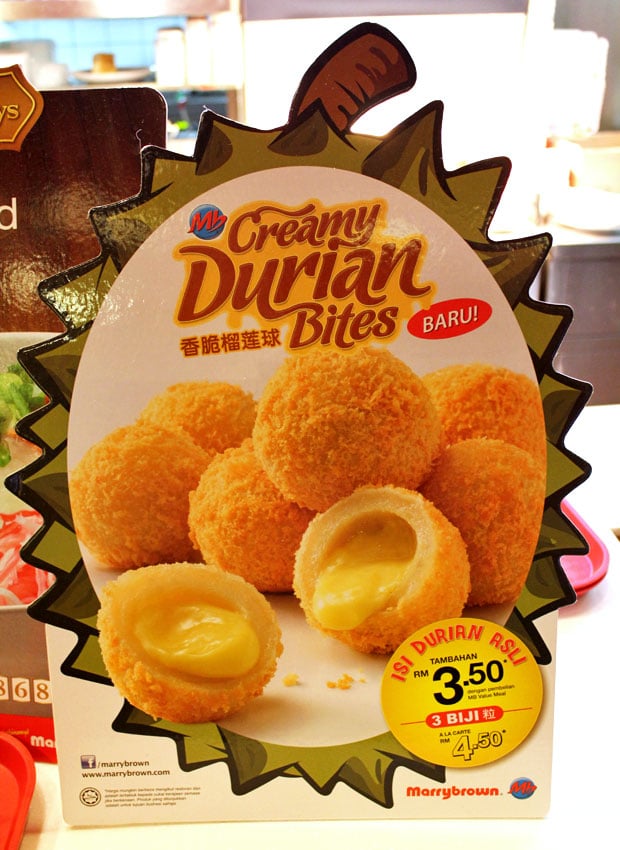 Crisp on the outside with a creamy durian filling that tasted just like durian, minus the stench. 🙂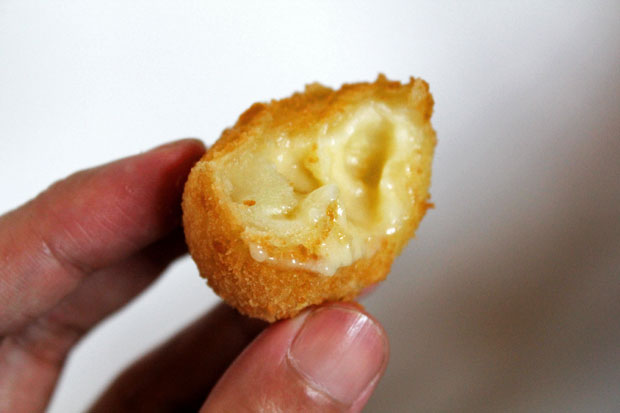 Skol
And last but not least, our good buddy Skol. We may have been strangers before this trip, but we were fast friends by the end of it.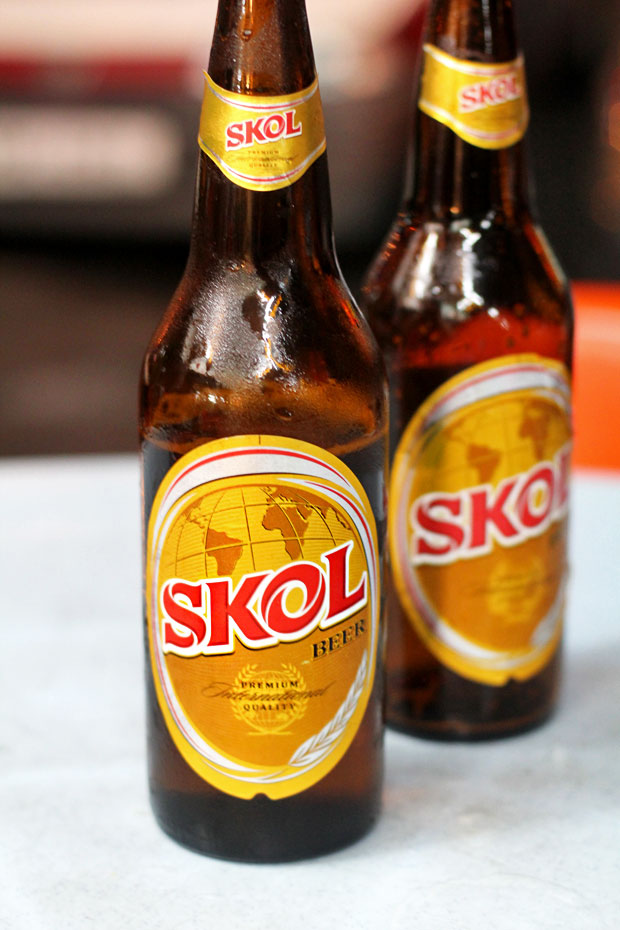 On a side note, not only did this trip turn out to be an amazing gastronomic journey for Ren and I, it turned out to be a big confidence booster for her as well.
If you've been following the recipes on this blog, then you'll recognize many of the dishes above. Ren's made quite a few of them, mostly by mixing and mashing various recipes that she finds online until she comes up with her own delicious, Reneelicious version. I've always known them to be good, but without a true basis for comparison, there were always lingering doubts in her mind about just how good, or at least how authentic, they really were. After this trip however, all her doubts were laid to rest, because she brought back from Malaysia something that she wasn't expecting to find – validation.
To her surprise, every Malaysian recipe in this blog measured up to the real thing. Her nasi lemak? Just as good. Her Hainanese chicken rice? Even more flavorful. Her curry laksa? Pffft!
Brimming with confidence after this trip, she's become doubly inspired, now assured of the one thing that I, her personal food taster, have known for quite some time – Reneelicious, you rock! 😉
More on Kuala Lumpur
KL Bird Park
Where to Stay in Kuala Lumpur: MyHotel @ Sentral
LCCT-KLIA-KL Sentral: A Getting-to-and-From Guide for Travelers to Kuala Lumpur
4 Things You can do with a Full Day in Kuala Lumpur
CLICK HERE for a first-timer's travel guide to Langkawi, Malaysia.
JB is one half of Will Fly for Food and its chief itinerary maker.  He's the one to blame for all the crappy photos and verbal diarrhea on this blog.  Don't listen to him.
Latest posts by JB Macatulad (see all)