Still a Table for Two at Cafe Provençal
There are trendy places. High-profile, glitzy places like The Establishment that create a lot of buzz one night, but are gone the following morning. And then there are places like Cafe Provençal. Places that endure.
If I remember correctly, the last time Ren and I ate here was in 2004. We were shopping in Shangri-la Mall that day, when we were lured into Cafe Provençal by the promise of rustic French food for lunch. I still remember what we ordered too. I had a squid dish stewed in tomato sauce, while Ren, unsurprisingly, had the lamb. Both were very good.
Here again to do more shopping, I can't believe that nearly ten years have passed since that day. Sitting in a booth, watching today's lunch crowd trickle in, I overhear the servers addressing a few of the diners by name. It's apparent that Cafe Provençal has amassed a loyal clientele over the years, which helps explain its amazing longevity. Fourteen years, in the same spot, in a shopping mall. Wow.
A testament to their enduring appeal, Ren's mom told us about some dear friends of hers who had been dining here every week for years. A married, retired doctor couple well into their eighties, they would have lunch at Cafe Provençal every Thursday afternoon without fail. It would always be just the two of them too. No kids, no grandkids. Just them in the winter of their lives, out on a date. Isn't that cute?
Taking a page from their book, Ren and I decided to have lunch here again, our first visit in almost a decade. Though much time has past, I'm relieved to find that little has actually changed. The layout and decor may be somewhat different, but the feeling, and quality of food, remain the same. Sincere and to the heart, it's a good feeling indeed, a welcoming feeling, one that encourages people to keep coming back, despite the lack of fanfare. Come to think of it, a place like this doesn't even need it.
With the wave of trendy establishments that come and go with the seasons, it's comforting to find places like Cafe Provençal quietly, and unceremoniously, endure. Fourteen years. By restaurant standards, that's practically a lifetime.
Melba toast with some type of basil aioli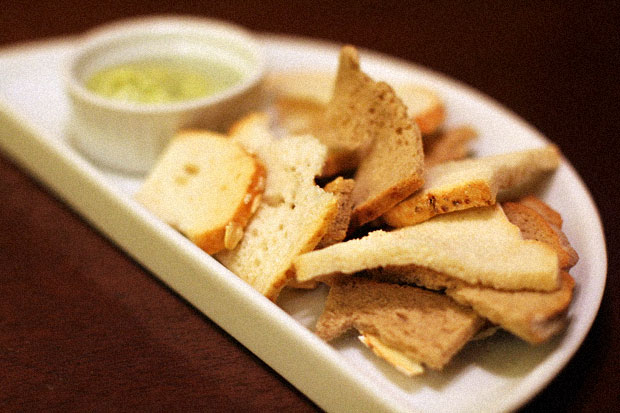 Pissaladiere – PHP 300 – Provençal onion tart specialty with black olives and anchovy fillets
This was delicious. Popular in the South of France, it's basically a tomato-less, cheese-less pizza topped with caramelized onions, olives, garlic, and anchovies. Though traditionally made with thicker dough, Cafe Provençal's version has a lighter, paper thin crust which I preferred. The pissaladiere is mostly sweet from the caramelized onions, but midway through each slice are these sharp, jolting bursts of saltiness and brininess from the anchovies and black olives. Really good.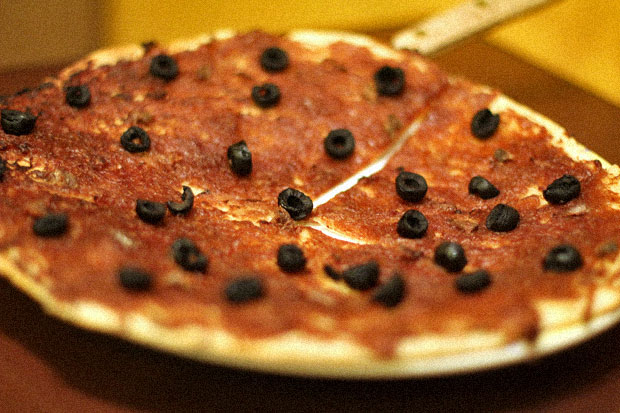 Signature Lamb Chops Provençal – PHP 540 – Signature dish of herb-marinated lamb chops on couscous
These were good, tender, but just a little sinewy.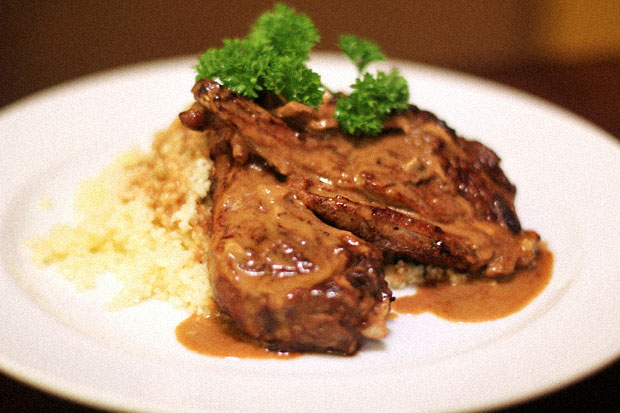 Sizzling Squid – PHP 320 – Squid on sizzling plate with mushrooms and vegetables in mustard sauce, and served with steamed rice
I love sizzling squid, and this was by far the best version of this dish we've ever had. It was so flavorful, likely due to the mustard sauce. I would make Cafe Provençal a monthly habit just for this. 😉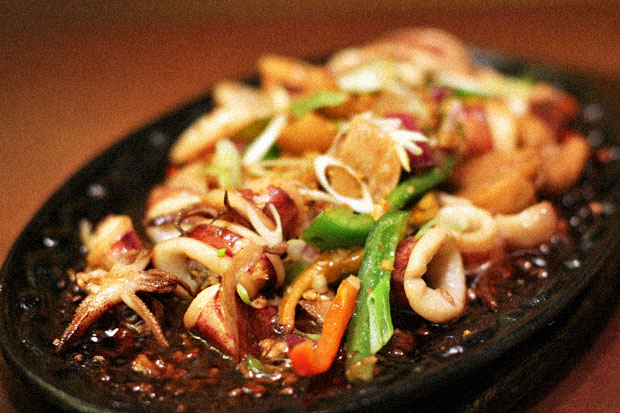 Without even realizing it, we basically wound up ordering the same dishes that we did ten years ago. Ren got the lamb, and I, the squid. Had that stewed squid still been on the menu, I probably would have ordered it too. Familiar and comforting indeed. 😉
Cafe Provençal
2/F Shangri-la Plaza Mall, EDSA, Wack Wack, Mandaluyong
Tel: 631-0675
Facebook: Cafe-Provençal
Operating Hours: Mon-Thurs, 11AM-9PM / Fri, 11AM-10PM / Sat, 10AM-10PM / Sun, 10AM-9PM
JB is one half of Will Fly for Food and its chief itinerary maker.  He's the one to blame for all the crappy photos and verbal diarrhea on this blog.  Don't listen to him.
Latest posts by JB Macatulad (see all)