I ♥ Croughnut from Le Coeur de France
If you haven't already heard, the world has gone crazy over Cronuts.
Invented by French pastry chef Dominique Ansel, the Cronut is half croissant, half donut (hence "cronut"), and is literally taking the world by storm since its New York introduction less than three months ago. Copycat versions have emerged everywhere, from the Dossant in Chicago, to the Frissant in Vancouver, to the Zonut in Australia. A bed and breakfast in Las Vegas is reportedly serving a fried croissant that they like to call, "One of Those".
Without a doubt, the Cronut is a global pastry phenomenon, one that's causing quite a stir, even here in Manila.
To date, several local establishments are already offering some bastardized version of the Cronut. Wildflour, Yamato, Chatime, and Dunkin Donuts spring to mind. One place that we didn't know about though, but discovered completely by chance today, was Le Coeur de France. Picking up a box with all three of their flavors, I'm proud and quite frankly surprised to say, that for the first time ever since the inception of this blog, we weren't the last ones to arrive at the party.
So what did we think of this croissant-donut hybrid playfully dubbed the Cronut? Flaky and chewy, it was nice and flewy.
I ♥ box of four croughnuts. With Chef Ansel trademarking the term Cronut, Le Coeur de France refers to their version as the "croughnut".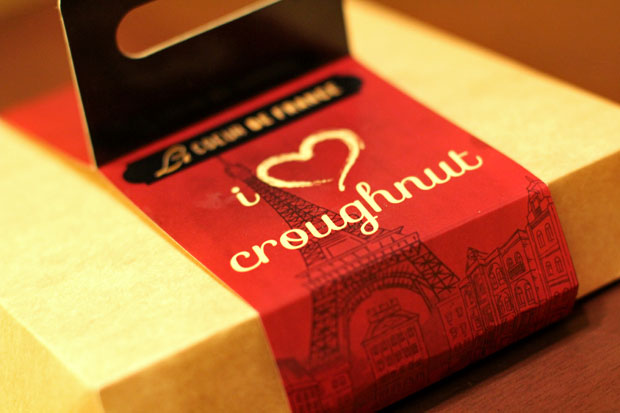 At present, they have three flavors – Double Belgian Chocolate, Mixed Berries, and Parmesan Cheese – each going for PHP 89 a croughnut.
As its name suggests, the croughnut truly is a cross between a croissant and a donut, at least texturally. It's simultaneously flaky and chewy, though not quite as flaky as a croissant nor as chewy as a doughnut. As Ren says, it's neither, but both. A true hybrid indeed. 😉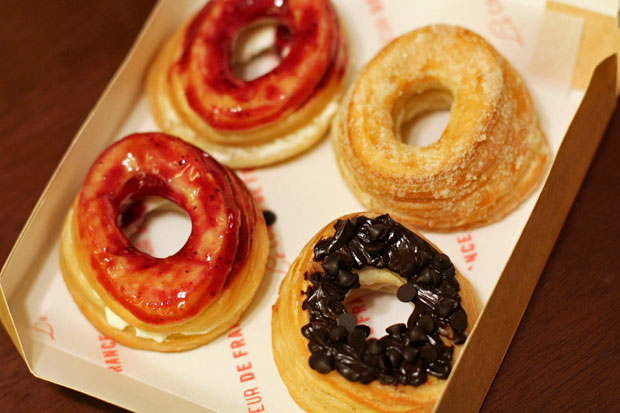 Double Belgian Chocolate (foreground) – Specially glazed baked croughnut filled with luscious bavarian cream and topped with Belgian chocolate ganache and chocolate chips.
My least favorite of the three, but only because I'm not big on chocolate. As you can see from the pictures though, it's got solid, gooey, just partly melted chocolate chips on top. Chocolate lovers will likely dig this, especially those who appreciate dark, bittersweet chocolate.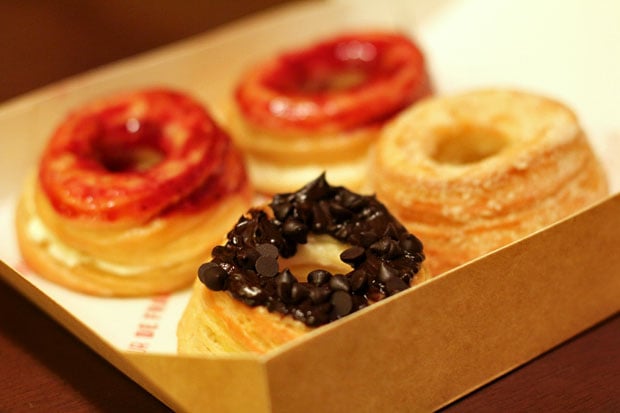 Mixed Berries (foreground) – Baked croughnut filled with whipped cream cheese and topped with mixed berry glaze.
My favorite of the bunch. The combination of pastry cream and raspberry glaze reminded me of Au Bon Pain's heavenly raspberry cheese croissants. I don't know if Au Bon Pain ever offered them in the Philippines, but they're basically croissants filled with raspberry jam and pastry cream. These differed from those texturally, but flavor-wise, they're almost spot on. So good.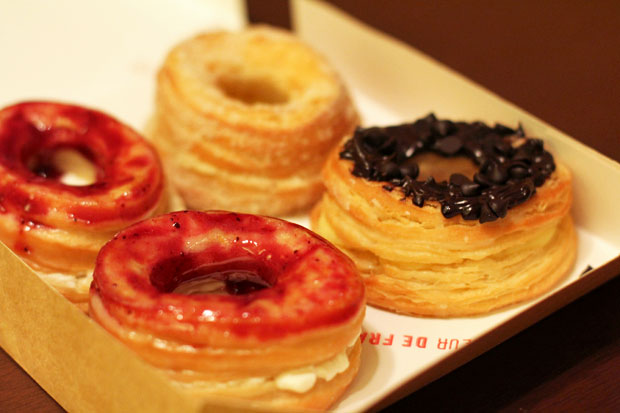 Parmesan Cheese (foreground) – Baked croughnut filled with whipped cream cheese and topped with Parmesan cheese.
Because it wasn't all gooey and sticky like the other two, this was the only flavor that I peeled away and ate in layers. It was an entirely different experience eating it that way. It made it seem lighter and flakier, more like a croissant and less like a doughnut. The sharp saltiness from the Parmesan was terrific with the sweetness of the pastry cream as well.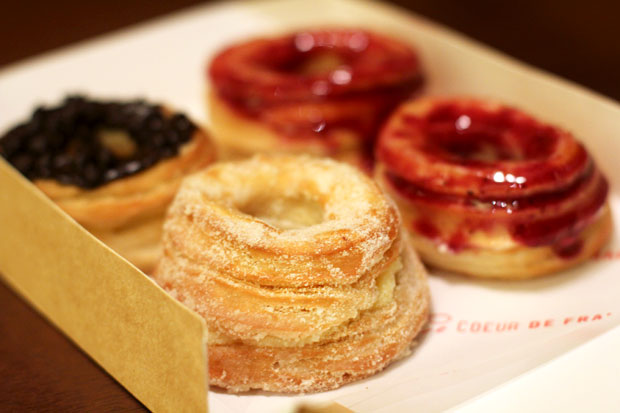 Hating magasawa. Cross-section of a croughnut.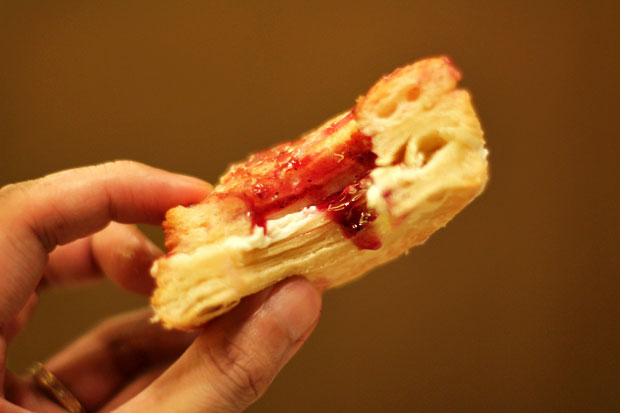 Overall, our first experience with the Cronut, or croughnut in this case, was good, but not life-changing. We both enjoyed it, but it isn't something that we would eagerly look for again. As described above, it really does taste like a cross between a donut and a croissant. Though interesting in concept, I'm not entirely sure that's a good thing, because what you're essentially getting is half the allure of each. At least that's how I felt. I love croissants for their flakiness, but this croughnut was just halfway there for me. Similarly, I enjoy the light, fluffiness of doughnuts, but I found these to be light but not light enough.
Though we weren't blown away by this first experience, I wouldn't be surprised if these croughnuts grew on us over time. This was a copycat version after all, so we have little idea what the original is like. The fact that it took food-jaded Manhattan by storm has to mean something. I have a feeling that I'm looking at this pastry in an unfair light as well. My brain hardwired to expect the familiar, I think I need to stop thinking of it as a hybrid between a donut and a croissant – two things that I know all too well. Eliminating these preconceived notions will, I believe, allow me to see the Cronut for what it truly is, something completely new and revolutionary.
Underwhelmed as we may have been by this initial experience, unintrigued we definitely were not. Inspired by this new food, Ren spent all day today making her own version of the Cronut. Yes, you read that correctly. Ren is already busy making her own version of this flewy pastry, the recipe and pictures for which I'll be posting on this blog very soon. Stay tuned. 😉
Le Coeur de France Shangri-La Plaza Mall
G/F Shangri-la Plaza Mall, Shaw Blvd. corner EDSA, Wack Wack, Mandaluyong
Tel: 635-6887
Website: lecoeurdefrance.com
Facebook: LeCoeurPh
Operating Hours: Mon-Sun, 10AM-8PM
CLICK HERE for all other branches
JB is one half of Will Fly for Food and its chief itinerary maker.  He's the one to blame for all the crappy photos and verbal diarrhea on this blog.  Don't listen to him.
Latest posts by JB Macatulad (see all)