On Miso-Ten, Ramen, and the Awesomeness of Momofuku Ando
I'm no authority on ramen. I rarely eat the stuff, so I can't tell you with any real insight where Miso-Ten stands in Manila's ongoing ramen wars. Hopping online to look for something else to say about ramen, I stumbled upon a story that proved far more captivating. As it turns out, the man who invented instant ramen, Momofuku Ando, was one seriously awesome dude.
As Karen Leibowitz explained in Lucky Peach magazine, all those cliches you hear about instant ramen being invented for poor college students are untrue. The truth is, Mr. Ando's goal was grander and more far-reaching than that – he wanted to end world hunger. I know it sounds hokey, but it's apparently true.
After the factory and two office buildings he had built were destroyed in the war, Mr. Ando was walking around his ravaged hometown of Osaka in search of new employment, when he came across a gathering of people lined up outside a makeshift ramen stall. Waiting patiently amongst the wreckage for something to eat, it was at that moment when Mr. Ando realized just how comforting noodle soup was for many. "People are willing to go through this much suffering for a bowl of ramen?", he thought to himself. With food shortages continuing to plague Japan for years after WWII, he concluded that hunger was the most pressing issue of the time, believing that "peace will come to the world when all its people have enough to eat."
And so began his quest to feed the world, with ramen.
In creating the ideal mass-produced noodle soup, Mr. Ando believed that it had to meet five criteria – it had to be tasty, inexpensive, nonperishable, healthy, and easily prepared in just three minutes. After spending a year trying to preserve ramen without any success, he threw noodles in the tempura oil his wife used to cook dinner one night, and discovered that frying the ramen not only dehydrated them, but also created tiny perforations that enabled them to cook more rapidly.
And thus, instant ramen was born. "I came to understand that all of my failure — all of my shame — was like muscle added to my body," he would later say.
With sales taking off almost immediately in Japan, Mr. Ando set his sights internationally. While demonstrating his product to supermarket executives in Los Angeles, he became intrigued when he observed them refashioning Styrofoam coffee cups into ramen bowls. Getting the idea of packaging instant ramen in its own heat-resistant container, he launched his Nissin Cup Noodles line in 1971.
It was an instant success.
To date, Nissin has sold over 20 billion units, growing into a USD 3 billion dollar a year company by providing what has essentially become the staple relief food for disaster victims and the poverty-stricken. By 2008, global consumption of instant ramen had reached a staggering 94 billion units per year. That's an average of fourteen bowls per person! In his quest to end world hunger by designing a food that could sustain human life through the most difficult of circumstances, he displayed a keen awareness that resources are in fact limited relative to human demand, warning that "the fundamental misunderstanding of humanity [is] believing that we can achieve all of our desires, without limitation."
Feed the world. Never give up. Live sustainably.
I told you this dude was a rockstar.
SOURCE: The Humble Origins of Instant Ramen: From Ending World Hunger to Space Noodles
Now on to Miso-Ten…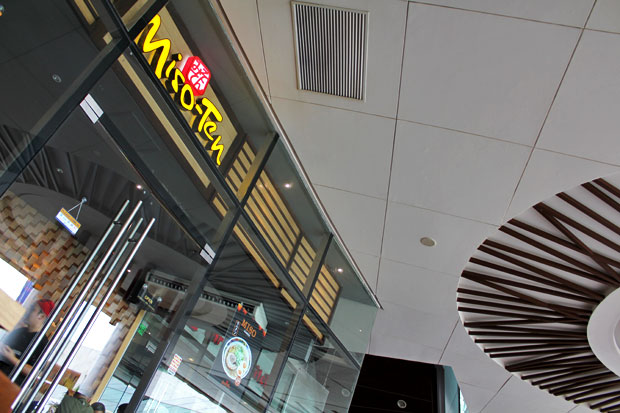 L: Gyoza – PHP 140 (ala carte) – Ren eats a lot of gyoza and she enjoyed these. They were nicely seared with a delicate, golden brown crust. Good flavor too.
R: Tori Karaage – PHP 220 (ala carte) – These weren't as good as the gyoza. The chicken was moist and tender, but the coating was a little heavy and tough. It didn't have much in the way of flavor either.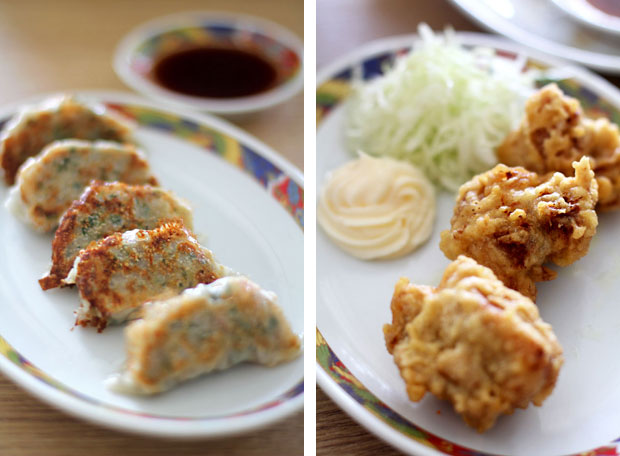 Miso-Ten Spicy Ramen – PHP 275 (ala carte) / PHP 400 (with side of Gyoza) – Miso-based ramen topped with chasyu, green onion, sesame seeds, garlic paste, and aji tamago, then blended with special spicy sauce
This was tasty, though not as spicy as we had hoped. The ramen was perfectly chewy and springy, and the miso broth was delicious. I didn't care much for the chasyu, but I enjoyed the aji tamago. As mentioned up top, I don't eat a lot of ramen, but this is one bowl that I wouldn't mind having again.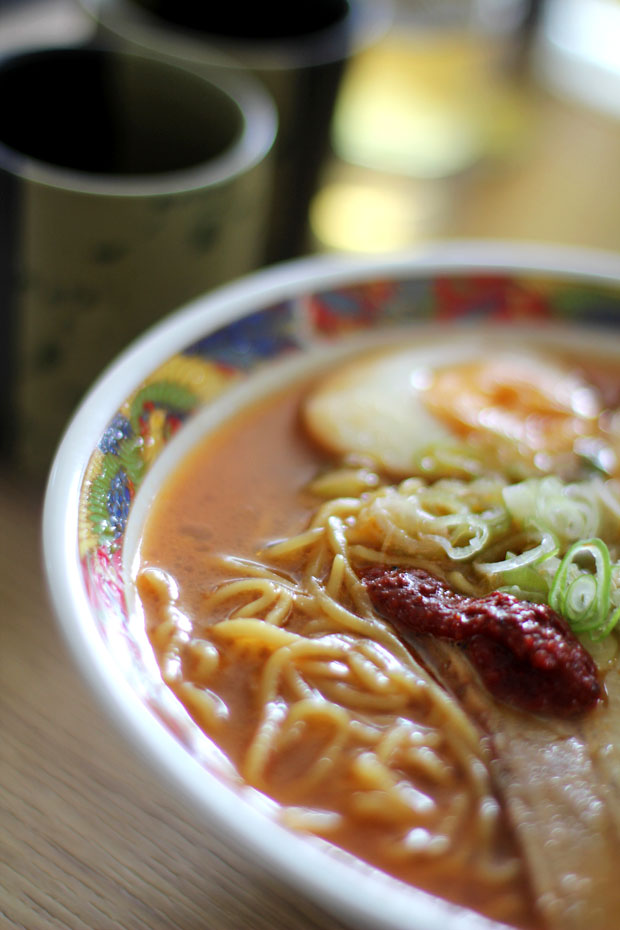 Tan Tan Mien Ramen – PHP 275 (ala carte) / PHP 400 (with side of Tori Karaage) – Spicy chili and sesame soup with ground pork
This ramen's broth was noticeably sweeter than the one above. I didn't like the flavor of the broth as much, but I did enjoy the texture of the ground pork. I like minded meat so I much preferred it over the chasyu. Overall though, the Miso-Ten Spicy was better, at least for me.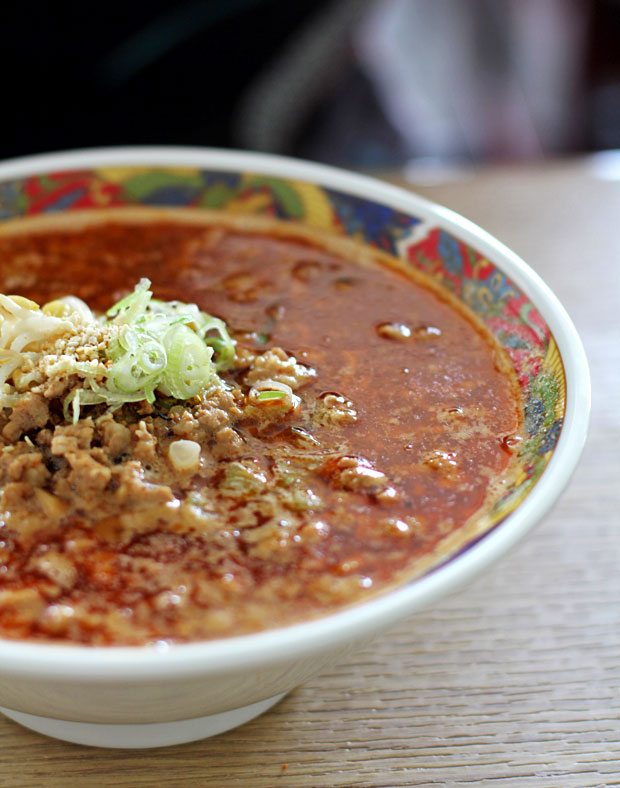 Aside from Miso ramen, Miso-Ten specializes in Tendon as well (hence the portmanteau name). As much as I love tempura, we were both nursing hangovers from Saturday's festivities, so our bodies needed hot bowls of ramen to settle our stomachs and lighten our heads. On top of tasting good, Miso-Ten's offerings did just that.
If you've never cured a hangover with a spicy broth like kimchi soup or ramen before, then I suggest you try it sometime. I promise you, there's no better remedy. 😉
Miso-Ten Robinson's Magnolia
2/F Robinsons Magnolia, Aurora Blvd, Valencia, Quezon City
Tel: 442-5914
Facebook: MisoTenPh
Twitter: MisoTenPH
Email: misotenph@gmail.com
Operating Hours: Mon-Sun, 10AM-9PM
Miso-Ten Robinson's Place Manila
G/F Robinsons Place – Manila, Adriatico Street, Ermita, Manila
Tel: 353-1864
Operating Hours: Mon-Sun, 10AM-9PM
JB is one half of Will Fly for Food and its chief itinerary maker.  He's the one to blame for all the crappy photos and verbal diarrhea on this blog.  Don't listen to him.
Latest posts by JB Macatulad (see all)