Greeka Kouzina's Arni Lemonato
As described in THIS POST, Greeka Kouzina isn't exactly the kind of place that Ren and I would visit often. Parking in the area isn't easy, the place gets agonizingly crowded, and the food, as a whole, was hit or miss. With that said however, one thing was obvious. Greeka Kouzina knows its lamb, and they know it VERY well.
Treated to two outstanding lamb dishes on our first visit – the Anoghia Lamb (lamb chops) and Lamb Souvlaki – we find ourselves here again today a mere two weeks later, to try that other lamb dish that was the centerpiece on nearly every table – their bestselling Arni Lemonato, or five-hour roasted lamb. Legend has it that this lamb is so fall-off-the-bone tender, that you can literally strip the meat off the bone, simply by pounding on the table. 😯
Salata Horiatiki (Greek Salad) – PHP 180 (ala carte) – Tomatoes, cucumber, olives, peppers, capers, and feta cheese served with traditional Greek vinaigrette
With every entree, you get your choice of one free side that would otherwise go for PHP 180 ala carte. Today, we chose this refreshing (but boring) Greek salad.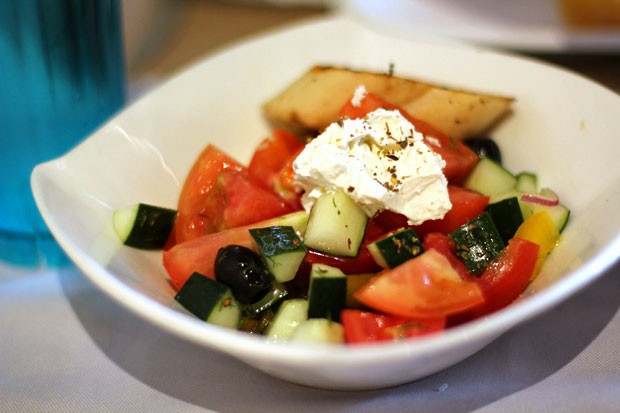 Arni Lemonato (Greek Lamb) – PHP 580 – Five-hour roast lamb
Aaah, the legendary arni lemonato. Slow-roasted for five hours, it was every bit as fall-off-the-bone tender as we had heard. Stripping the meat clean off the bone was so easy that you could have done it with a spoon.
With that said however, the lamb's tenderness was pretty much all it had going for it. Unlike the chops and souvlaki, this one was pretty bland, so much so that we had to ask for salt and pepper just to give it some flavor. And I'm not exaggerating when I say that either. It practically had no taste, which was a shame for such a fork tender dish.
At just PHP 580 for a serving good enough for 2-3 people, this would have been a keeper dish, had it not been for its woefully inadequate seasoning.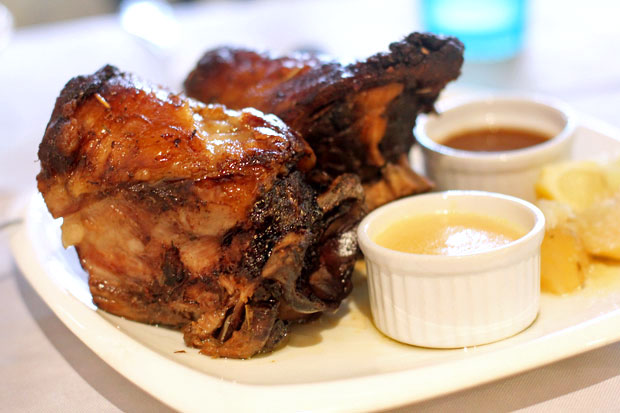 If I remember correctly, I think there are three more lamb dishes on their menu that we haven't tried yet – the lamb shoulder, lamb cutlets, and lamb burger. Without question, we'll be trying those on our next visit.
Though we didn't enjoy the Arni Lemonato as much, it's worth noting that Greeka Kouzina gives you very good value for your money. Along with the dishes above, we also had the lamb souvlaki (which was again excellent), a side of moussaka, and drinks for three, all for around PHP 1,200. That's a damn good deal on lamb if you ask me, especially considering how stuffed we all were by the end of the meal.
If you haven't eaten here yet and are interested in trying it, then I suggest you get the Anoghia Lamb or Lamb Souvlaki. You can't go wrong with those. And sit downstairs too if you can. We made the mistake of sitting upstairs this time around, and the terrible acoustics made for a fairly stressful, distracting meal.
Greeka Kouzina
Units 4&5, 285 P. Guevarra Street, Little Baguio, San Juan
Tel: 624-5974
Facebook: GreekaKouzina
Operating Hours: Mon-Sun, 11:30AM-3PM, 6PM-10PM
JB is one half of Will Fly for Food and its chief itinerary maker.  He's the one to blame for all the crappy photos and verbal diarrhea on this blog.  Don't listen to him.
Latest posts by JB Macatulad (see all)