On Looking Like Homo Erectus at Ho Galbi
To be honest with you, I wasn't expecting much from this place. I thought it would be one of those sparsely decorated hole-in-the-walls frequently found in Makati or BF. As a result, I didn't dress up for it.
On regular days, I already look like a bum. But today, it was even worse. I hadn't shaved my face in days, and my head in weeks. I usually shave my head clean every week or so, but today, it was at that really awkward, unkempt stage between shaved and grown out, all spikey and prickly like a chia pet. I'm 5'10", but today, I was closer to 6′. I had on the same wrinkly cargo shorts that I always wear (Ren calls them capris), along with a shirt that was once really nice, but had been washed and faded to the point of looking like sleepwear. Anyone who knows me knows that I rarely wear shoes, so rounding out today's ensemble was a pair of worn out flip flops showing off my claw-like, un-pedicured feet. In hindsight, it was a miracle that I even remembered to brush my teeth that morning.
Looking the way I did, I braced myself for an embarrassing lunch the moment I realized I had underestimated the place. Surprisingly, it was nice, much classier than I expected, with most of the diners dressed like decent human beings. Instantly, I felt the weight of their stares. Like the zoo's main attraction lured out by the promise of food, I was here to give them their money's worth.
To my surprise however, the caretakers…I mean servers at Ho Galbi didn't treat me like an ape, not even after I handed them my discounted Groupon voucher. What a shock!
But before I go on, there's something you have to understand. When Ren and I go out, she often gets treated better than I do. She's beautiful after all, and is almost always mistaken for an actress. Me on the other hand, I'm frequently tabbed as her driver. A devastatingly handsome driver I might add, but a driver nonetheless, especially when I'm dressed the way I was today.
The servers at Ho Galbi however, didn't treat me like a driver. They were friendly and helpful, affording me the same respect as a full-paying customer, in spite of my slovenly appearance. At times, they even went ouf of their way to make our meal more enjoyable, rushing to fix us a plate of leafy greens at one point when their shiso leaves ran out. They didn't have to do that. They could have just told us that they were out, and that would have been that. Needless to say, the extra effort left a good impression.
All things considered, this experience reminded me that quality of service can often make or break a meal. I may have looked like a primate carrying a food stamp today, but I was treated like a prince, making an already pleasant dining experience that much more enjoyable.
Thank you Ho Galbi. 😉
Ho Galbi is located within the Tiendesitas complex.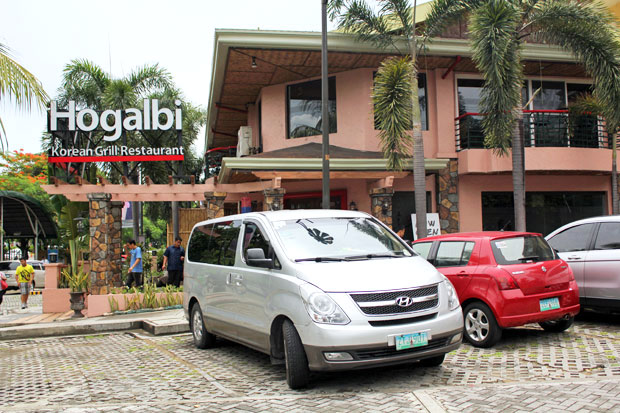 Though they serve the usual banchan, theirs was better than most. At least the dilis and potatoes were. They were drenched in a thick, dark, sweet sauce that I liked very much.



Woosamgyup – PHP 350 – US Angus short plate
Not every Korean restaurant serves woosamgyup, so we were ecstatic to find it here. Woosamgyup is a dish of thinly cut slices of grilled beef fat, which we've enjoyed just once before at Go! Kizip in Malate. Needless to say, we never forgot that experience. Though Ho Galbi's woosamgyup wasn't as life-changing, it was still pretty good. We'll take this over sam gyeop sal any day.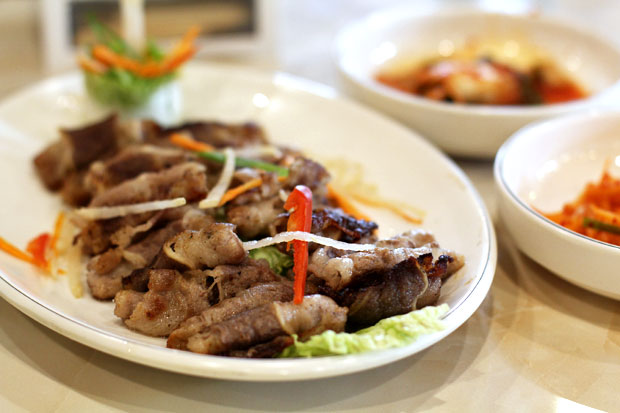 Gochujang, sesame oil, and salt served with the woosamgyup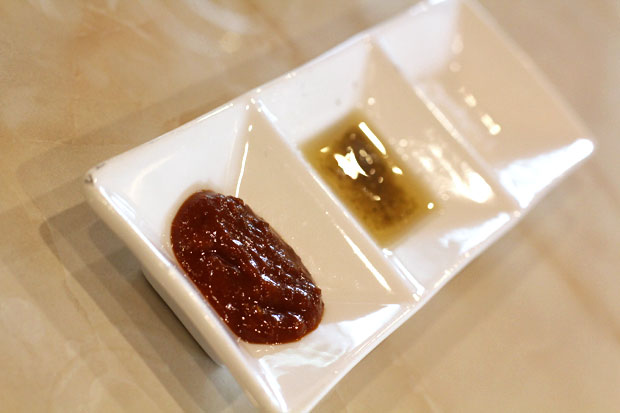 Haemul Doenjang Jjige – PHP 500 – Soybean stew with assorted seafood and vegetables in a hot stone pot
We enjoyed this. Our first time trying it, it's a tasty soybean stew made with crab, clams, and shrimp, along with a few vegetables, potatoes, and tofu. Not at all spicy, it's similar in flavor to Chung Guk Jang, a hearty, fermented bean paste stew, but minus the stink. 😉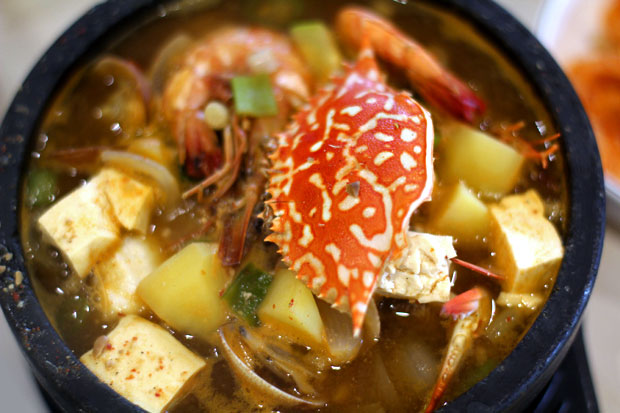 Aside from the usual clam, it was served with this bigger, wider variety of clam as well. I don't know what they're called, but I really enjoyed them. They're a lot meatier and more substantial than your typical clam.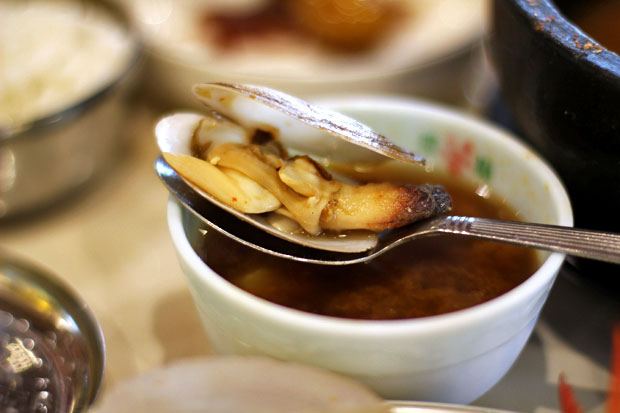 Daily Buffet
We were surprised to find Ho Galbi serve a daily buffet, which was what most people were here for today. Their weekend buffet goes for PHP 599 for either lunch or dinner. Weekday lunch buffets go for PHP 399. I forgot to ask about dinner prices, but I'm assuming it's also PHP 599. For more information, you can contact them directly via the details provided at the bottom of this post.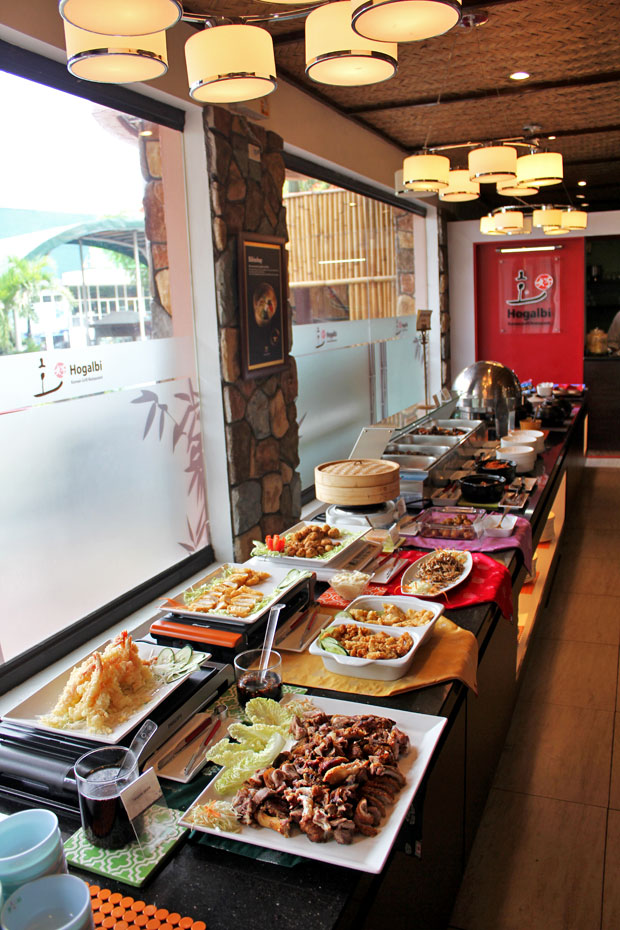 They offer both Japanese and Korean dishes.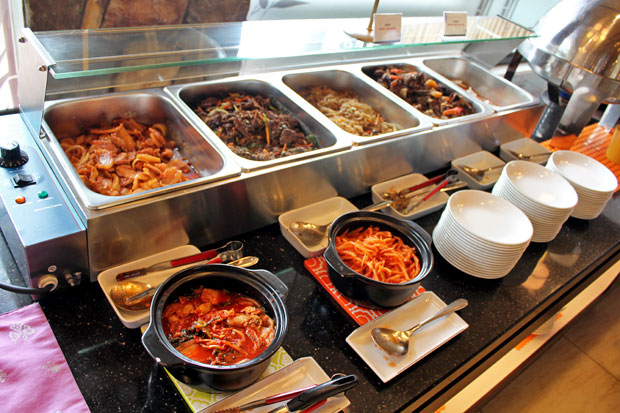 DIY bibimbap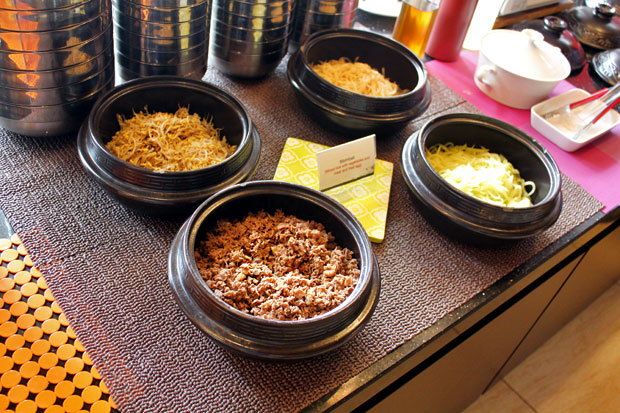 You pick out all the proteins you want, which they'll cook for you in the kitchen.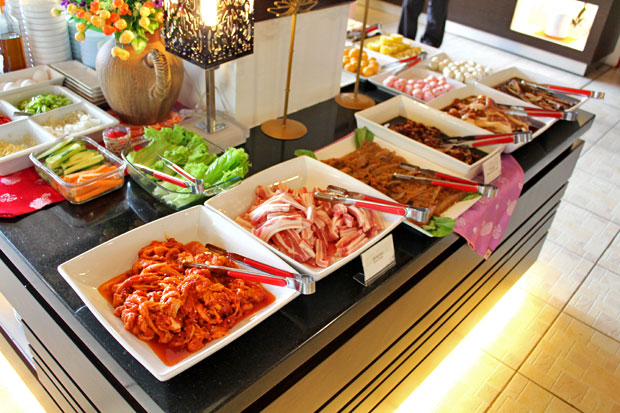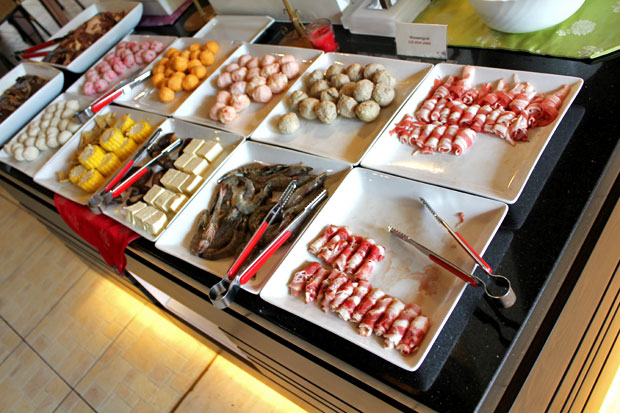 After today, I promised Ren that I'll be making a conscious effort to look more presentable each time we go out. Being caught dressed like that in an environment like this was embarrassing, and inexcusable at my age. With the way I was rocking that hobo look, I'm lucky the servers didn't lead me to the driver's lounge instead. 😆 🙁
Ho Galbi Korean Grill Restaurant
Food Village Tiendesitas, Ortigas Ave cor E Rodriguez Jr Ave (C-5), Barangay Ugong, Pasig
Tel: 634-2010
Mobile: 0915-746-4985
Website: hogalbi.com
Facebook: HoGalbiKoreanGrillArtGalleryRestaurant
Twitter: HoGalbiRestau
Email: myhogalbi8888@yahoo.com
JB is one half of Will Fly for Food and its chief itinerary maker.  He's the one to blame for all the crappy photos and verbal diarrhea on this blog.  Don't listen to him.
Latest posts by JB Macatulad (see all)