Get Kracking with Krispy Kreme's Kreme Brulee
Those crazy, beautiful lunatics at Krispy Kreme are at it again. I'm not big on dessert, but they manage to change my mind every single time I visit their shop.
Walking around Trinoma, looking for an interesting place to have lunch, I didn't even intend to stop by Krispy Kreme, but I did anyway just to see what new creations they had. After all, it had been years since my last visit. To my amazement, staring back at me from the other side of that glass vitrine, was the most beautiful donut I had ever seen in my life, the Kreme Brulee. I literally gasped when I saw it. Glistening and golden with that burnt, caramelized surface, all I wanted to do right then and there was to take a spoon and crack that thing.
Tap…crack! Just like that. It looked so fucking good.
I didn't buy any then because I didn't want to spoil our lunch, but I did drive through their Greenhills branch a few days later to pick one up, along with a few other goodies. Being the uncool, misinformed kid that I am, I brought home a couple of these savory baked thingies called Pull Aparts, which for a moment there I thought were also new, but apparently have been around for almost three years now. Duh.
And oh yeah, we picked up another donut too, a new premium flavor filled with this stuff called Speculoos. Ever heard of it?
Sausage and Cheese Pull Apart – Beautiful eh? It looks like a souffle. Different from what I was expecting, it had a pillowy texture similar to soft dinner rolls. Nice and buttery with a big hunk of sausage in the middle, it was pretty good, though I thought that it actually looked better than it tasted. The bread really sticks to that wrapper too, which is probably why they used such heavy paper for it, so it holds up to your teeth and fingers pulling at it. Hence "Pull Apart" I guess?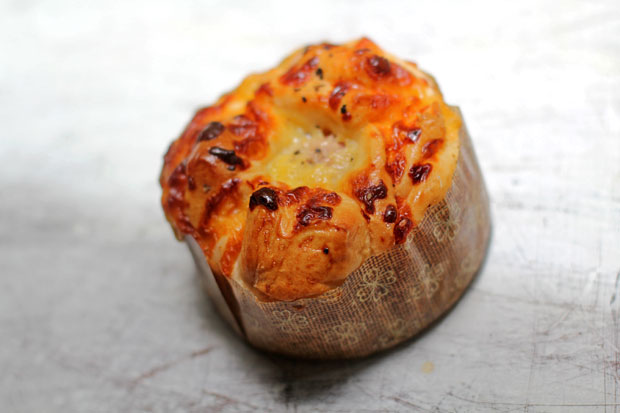 Bacon and Cheese Pull Apart – Exactly the same as the one above, but with soft, half-cooked bacon instead of sausage. I think I preferred the sausage. You get more meat for your money. (That's what she said.)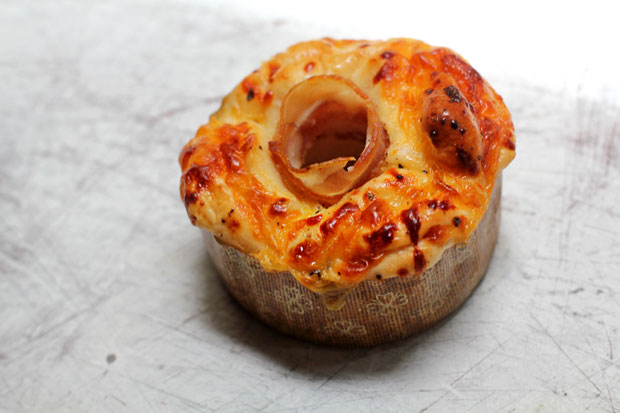 Speculoos Dark Chocolate – Aaah Speculoos, when will this craze ever end? Though I never quite got what all the fuss was about, I have to admit that this was damn good. Dark, bittersweet chocolate sprinkled over top with crunchy cookie bits, then stuffed with a filling of gingerbread-like cookie butter. The bitterness from the dark chocolate and the melt-in-your-mouth consistency of the donut real made the Speculoos sing for me.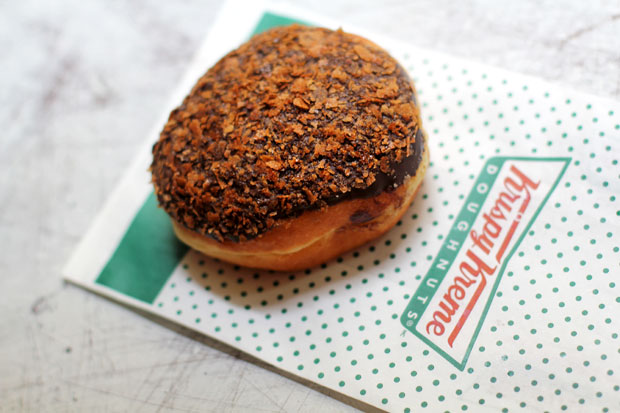 Kreme Brulee – And there she is, in all her seductive, caramelized, crackling glory. You see all those dark spots? Like real creme brulee, they really do brown the sugar with a torch until it's nice and caramelized. The slight bitterness from the caramelization takes you by surprise at first, but it grows on you big-time the more you get into the donut. By the end, I was hooked. Filled with my favorite custard cream, this is one delicious donut that I shall be meeting again.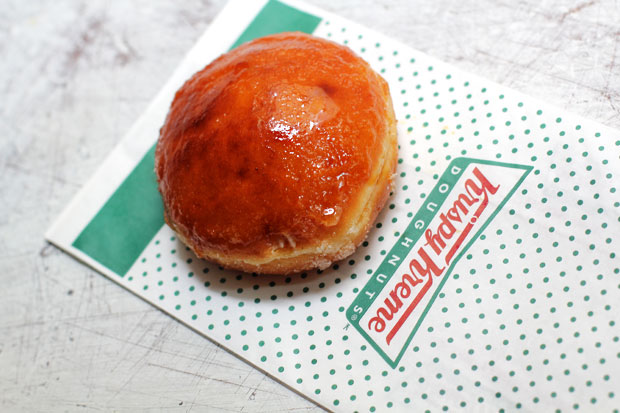 Speaking of donuts, we picked up two boxes of Pon de Rings from Mister Donut just before driving through Krispy Kreme. With a dozen donuts already resting in plain view on Ren's lap, the cashier at the drive-through window gave us a funny look when she handed us our donuts.
"What a couple of dough nuts", she must have thought to herself. Har har.
Krispy Kreme Greenhills Drive-Thru
Unit RP2-B Greenhills Shopping Center, Greenhills
Tel: 726-0162
Delivery: 7-9000
Website (with online ordering): krispykreme.com.ph
Facebook: krispykremeph
Operating Hours: Mon-Sun, 5:30AM-12MN
CLICK HERE for all other branches
JB is one half of Will Fly for Food and its chief itinerary maker.  He's the one to blame for all the crappy photos and verbal diarrhea on this blog.  Don't listen to him.
Latest posts by JB Macatulad (see all)